Resistance Isn't Futile: 'Star Wars: The Last Jedi' Delivers, With Rebellious Detours Along The Way
OK, Star Wars fans. To answer your first question: Yes, "Star Wars: The Last Jedi" delivers.
In this latest installment, you'll find all the elements you've come to expect from the franchise: Head-spinning dogfights between rival spacecraft. Lightsaber duels and laser blaster shootouts. Interplanetary trips and against-all-odds escapes. Heroes and villains who, when they're not slinging one liners at each other, fight their own inner impulses across the moral and psychic landscapes of dark and light.
In short, in the hands of new director and writer Rian Johnson, the Star Wars universe feels intact. But this big-hearted, socially-minded and long-winded sequel to "The Force Awakens" also stretches that universe in new, unexpected and sometimes unwelcome ways. (This stretch also includes length. Clocking in at 152 minutes, "The Last Jedi" is not for the faint of bladder.)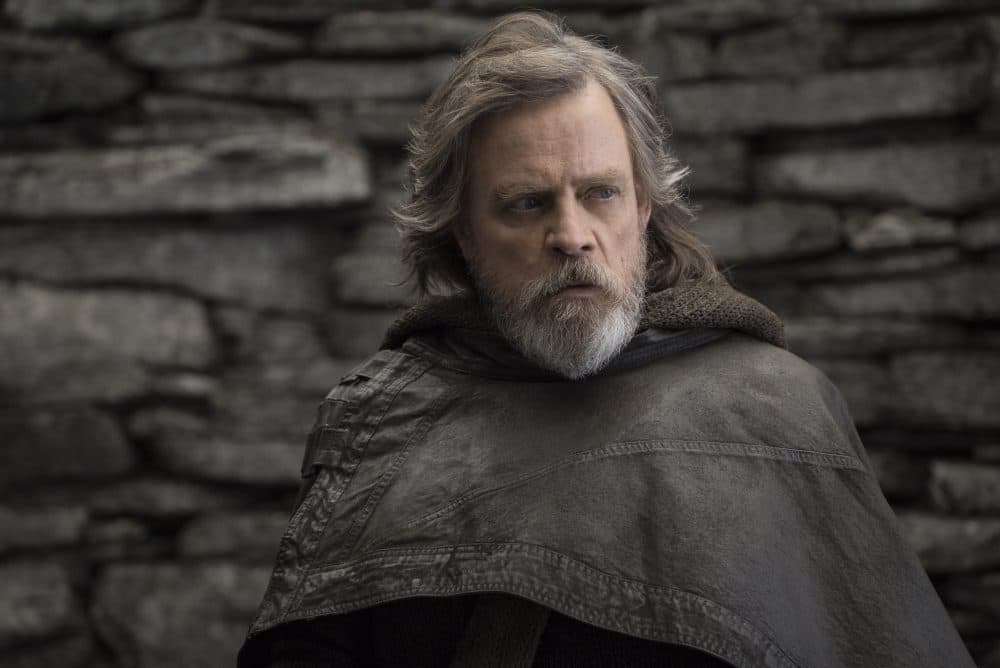 As Luke Skywalker (Mark Hamill), in a much meatier role this time around, quips in an early scene, "This is not going to go the way you think."
If nothing else, the film becomes an echo chamber of familiar-sounding Star Wars speak: "Reach out with your feelings," one character tells another. "Together we can rule the galaxy," says another. Also: "Do you know the truth about your parents?"; "Strike me down in anger and I'll always be with you"; and "The greatest teacher, failure is."
Johnson, the filmmaker behind the neo-noir mystery film "Brick" and science fiction thriller "Looper," has smartly extended the bridge that J.J. Abrams built with "The Force Awakens" (2015). His series reboot successfully spanned the desire of fans of yore like me who were turned off by George Lucas' disastrous prequels, to the demands of new viewers who need young characters to hang their hopes on.
Abrams crafted a story that combined the fates of the original trio — Luke, Leia (Carrie Fisher) and Han Solo (Harrison Ford) — with a new generation. These protagonists include Rey (Daisy Ridley), the scavenger with an unknown past and nascent Jedi powers; the offspring of Leia and Han, the tortured Kylo Ren (Adam Driver); Finn (John Boyega), the "woke" First Order stormtrooper who joins the Resistance; and cocky fighter pilot Poe (Oscar Isaac) with his plucky sidekick droid BB-8.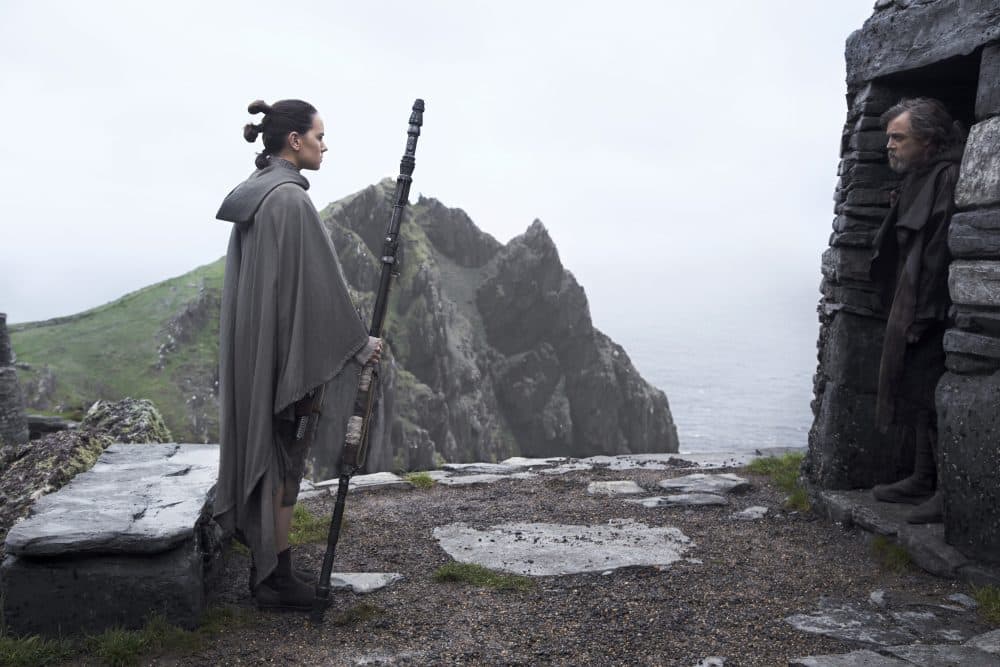 Episode VIII picks up where Episode VII ends. Han Solo is dead. Rey and Chewbacca (played by Peter Mayhew and Joonas Suotamo) have just located Skywalker on "the most unfindable place in the galaxy" — a green, rocky, ocean-swept island that looks a lot like Ireland (where in fact the exteriors were shot). Meanwhile, having recovered nicely after their Starkiller Base was obliterated at the end of "Force Awakens," a resurgent First Order has the Resistance on the run.
Fans of "The Empire Strikes Back," the original trilogy's middle movie, will immediately recognize Johnson's storytelling plan. That film split its attention between a wider Rebel versus Empire plot, and Luke's Jedi training with Yoda on the isolated Dagobah swamp planet. In "The Last Jedi," we see this same gambit. The bulk of the film intercuts the action of the rebels being pummeled by the First Order as they scramble to find a new home base, with moodier moments between Rey and Luke on his island hideout.
Seeking Luke's tutelage in her uncertain journey, Rey says, "I need someone to show me my place in all this." But Luke has soured on the Jedi and the Force. "The legacy of the Jedi is failure," he grumps. The order was brought down by "hypocrisy" and "hubris." While he nailed his "whiny kid becomes hero" part back in the 1970s and 1980s, Hamill has never been a strong actor. Here, his role as a wiser, grayer-bearded Luke demands a gravitas Hamill never seems to muster. His authority as an actor is only redeemed in a final scene where, suffice it to say, Luke finally finds his mojo.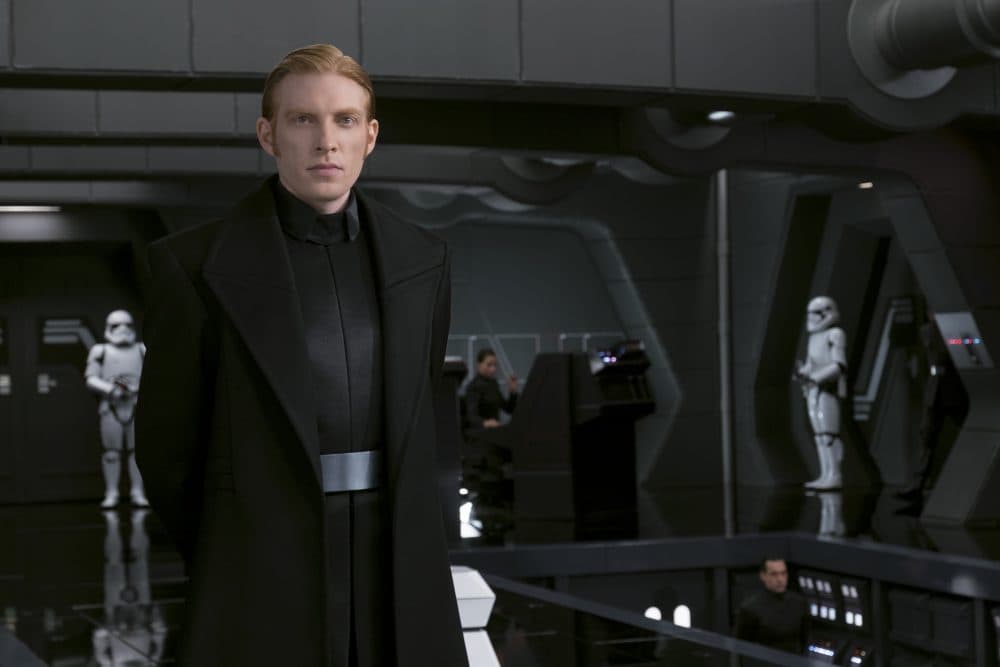 As for the villains, being evil is taxing. On the military front, the First Order military dictatorship is led, again, by sullen and spent looking General Hux (Domhnall Gleeson), stormtrooper commander Captain Phasma (Gwendoline Christie) in gleaming armor and Supreme Leader Snoke (Andy Serkis, via computer effects), whose gruesome, half-collapsed skull looks like it met the business end of a laser sword eons ago. Serkis, who also played the CGI characters Gollum from "Lord of the Rings" and Caesar from the "Planet of the Apes" series, has become a master at creating characters behind the mask of motion capture. I think he deserves an honorary Oscar for his digital/real world hybrid work that's challenging the acting profession.
While Hux commands the fleet and jackbooted troops, Snoke works behind the scenes to manipulate other characters, including his protégé, the Darth Vader wannabe Kylo Ren. Driver shines again in this role. "Let the past die. Kill it if you need to," he says at one point, seething with petulant energy. "That's the only way to become what you were meant to be." I won't reveal much about his or Rey's plight, or their parallel tracks on the Force-train. But these conflicts do result in a satisfying battle that shifts the balance of power in the galaxy.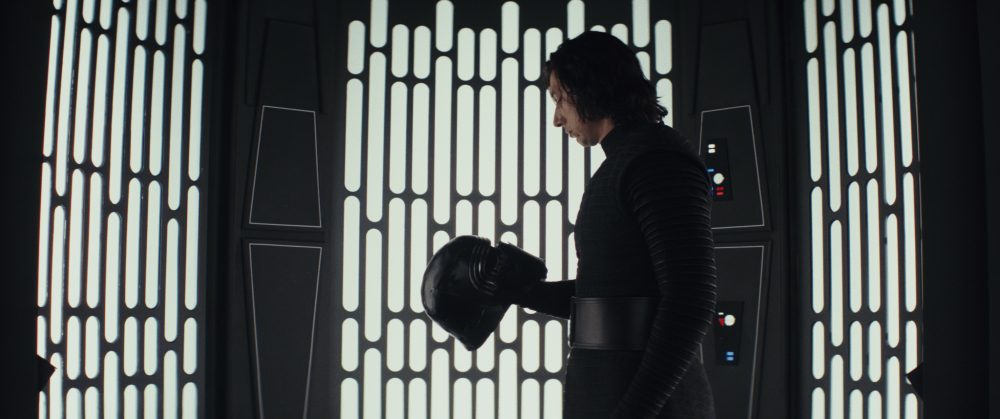 The charm and heat of "Star Wars" has always arisen from character-driven, situational conflict: Leia and Han battling for control, or playing hard to get with each other, or in "The Force Awakens," Finn and Rey navigating the same terrain. In "The Last Jedi," of course, Han's character is dead. But our main Rey-Finn-Poe trio spends most of the movie apart from each other. Poe is mainly at loggerheads with Resistance Vice Admiral Holdo (a purple-coiffed Laura Dern), who dresses him down for being a "trigger happy fly boy." Poe's best line comes when he finally wins her over: "Permission to jump into an X-wing and blow something up?"
The camaraderie and banter-building work is largely left to Finn and newcomer Rose Tico (Kelly Marie Tran). Rose is a Resistance mechanic who joins Finn for a side-mission to a casino planet, where they become entangled with DJ, a Han-meets-Lando-Calrissian scoundrel type (Benicio Del Toro, with a stutter).
But each of these new faces leaves less time to spend with ones "The Force Awakens" established, like the delightful E.T.-like rogue Maz Kanata (Lupita Nyong'o), who barely gets five minutes this time around. What gives?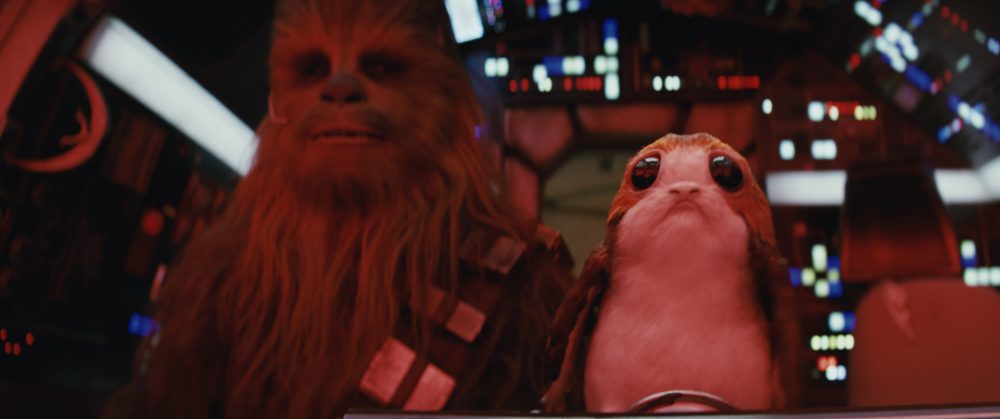 It's during the plot-wise pointless detour to Las Vegas-on-steroids, in the overlong second act, that Johnson's screenplay begins to drag. "The Last Jedi" could easily be trimmed by half an hour, especially from this flabby middle. You might also say "The Last Jedi" suffers from extended climax syndrome — there's at least one too many final showdowns. Luckily, there's no Death Star to destroy, a MacGuffin that wore out its welcome in the last installment.
Another flaw: Johnson can't equal Abrams' skills eliciting performances from his actors, which perhaps explains Hamill's one-note turn as Luke. Johnson tends to aim for silly, slapstick gags: Finn falling out of bed in sick bay, BB-8 shooting coins as ammunition at security guards. The bird-like porgs that inhabit Luke's island do threaten to become this Christmas's cuddly toy, but thankfully don't veer too deep into cutesy Ewok territory. Another quibble: After the demise of Han Solo, Chewbacca — now relegated to being Rey's personal chauffeur and mechanic — gets shafted. His reunion with Luke amounts to a nerf-burger. Weren't these two old adventuring buddies? Where's the love?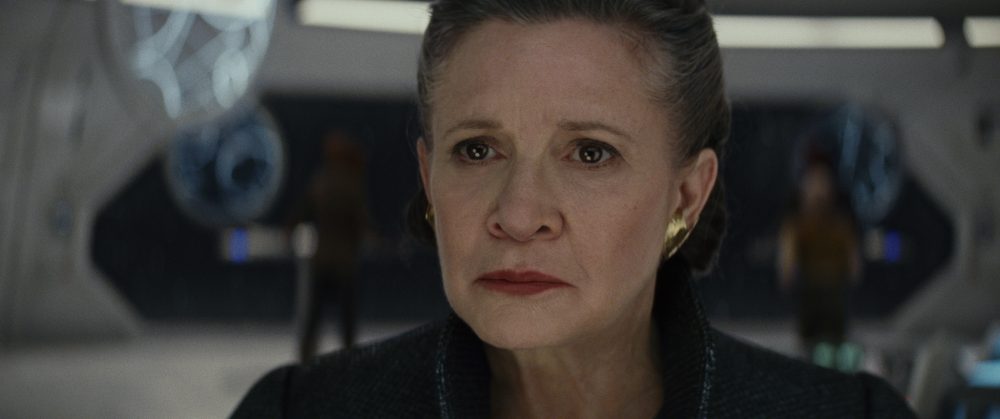 Of course, what many fans will have paid to see is Carrie Fisher's final screen role. Fisher died right after filming her scenes as General Leia Organa, and she's given ample screen time, and some of her old spitfire self still glimmers. In one scene, she quips to the perennially neurotic C-3PO: "Wipe that nervous expression off your face." In another, Leia uses a hitherto unseen power of the Force that can only be described as jaw dropping. I'd only wished Johnson had found a way to give Fisher and Daisy Ridley more screen time together.
If you haven't noticed by now, the iteration of the Star Wars mythos in "The Last Jedi" skews female. Leia, Holdo, and Rey all hold positions of power. Indeed, unlike the monochromatic First Order, heroes and agitators of the Resistance can be any gender, race and species — white, Asian, Mon Calamari, Tarsunt.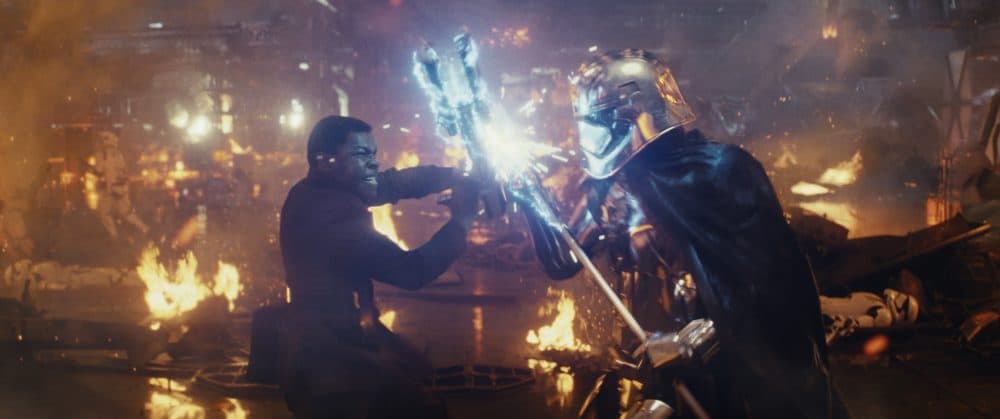 By the time Finn (played by British-Nigerian Boyega) proudly proclaims, "I'm rebel scum," he's reclaimed his oppressor's terms of abuse and worn it as a badge of honor, and I couldn't help but project beyond this fictional authoritarian regime. My mind stretched past this story set a long time ago in a galaxy far, far away, to other movements and uprisings right here on planet Earth: #nastywoman, Black Lives Matter, #metoo.
Vader once famously said to Skywalker, "It is useless to resist." With its socially conscious, subversive soul, "The Last Jedi" builds its case for resistance. Yes, your generals may die. You may be holed up in your last rebel outpost. Your back might be against the wall, and all hope may seem snuffed out. But you don't triumph by embracing the Dark Side. As Rose tells Finn in the film's climactic battle, the Resistance will finally win, "Not by fighting what we hate, but saving what we love."
---
"Star Wars: The Last Jedi" opens nationally on Friday, Dec. 15 (with select theaters showing previews Thursday, Dec. 14).