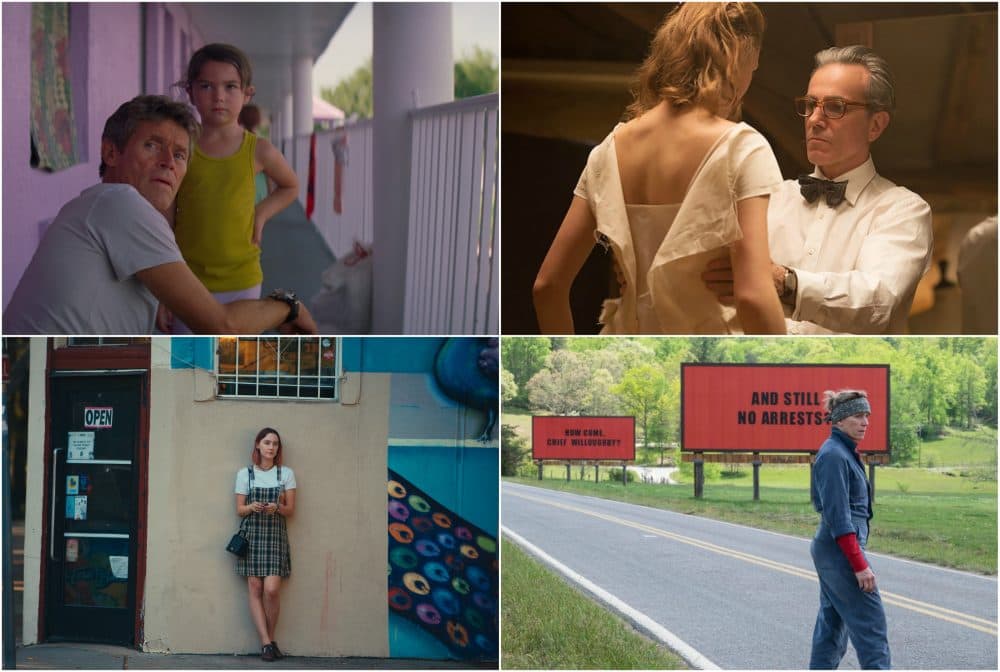 This article is more than 4 years old.
As is tradition, our film critics take a look at the movies that defined our year. "Lady Bird," "The Florida Project," "Three Billboards Outside Of Ebbing, Missouri" and "Phantom Thread" show up on multiple lists.
Sean Burns:
The most psychically fraught moments of this obnoxiously stressful year were always the three or four times a week when I'd emerge from the soothing darkness of a movie theater and begrudgingly turn my phone back on.
That moment wondering "What in hell can it possibly be this time?" while it booted up, before the inevitable barrage of infuriating and embarrassing breaking news alerts, had me contemplating what's the point of even doing all this anymore. Why stay up all night writing about the arts when the world is such a trash fire?
Luckily, 2017 offered a fair amount of films that provided solace, reminded us of our shared humanity or just gave us a plain old escape. Here are my five favorites:
Writer-director David Lowery's cosmic whatzit tells its doomed love story in innovative edits instead of words. A moody meditation on the passage of time, it stars Rooney Mara and Casey Affleck as a young couple torn asunder by his untimely death, with Affleck hanging around the house for an eternity afterward wearing a morgue sheet over his head like a Peanuts cartoon. Somehow this silly image grows to be quite plaintive and moving, with an element of deadpan Kabuki in the wry observations of a world that refuses to stop turning in the face of a single tragedy. Admittedly not for all tastes, this is a truly original picture.
The sumptuous surfaces and voluptuous visuals of Paul Thomas Anderson's eighth feature give way to something more sinister and perverse as the story unspools. Daniel Day-Lewis -- in what we can only hope is not, as he claims, his final performance -- stars as a persnickety 1950's fashion designer who abruptly discards his adoring young female muses just as quickly as he seduces them in the first place. This is, until he meets his match in a mistress (Vicky Krieps) who wrestles for control of the relationship in ways that range from the passive aggressive to the near fatal. This fiendishly funny film depicts love as war, keenly attuned to the most peculiar mysteries of attraction. (Opens in Boston on Jan. 12.)
Irish playwright Martin McDonagh pokes around our national sore spots with this profanely hilarious provocation, in which Frances McDormand's grieving mother taunts her local police department in a war of words that rapidly escalates to the absurd. It's the movie that felt most to me like what it feels like to be alive in 2017, with blind allegiances and an inchoate, fulminating rage fueling every interaction. McDonagh has been criticized because the film fails to "solve" racism, domestic abuse or any of the psychic rot eating away at this tiny town. Instead he just acknowledges that since institutions like the church and law enforcement have failed us, all we really have left is each other.
Greta Gerwig's enchanting solo directorial debut covers such well-trod terrain in the plot department that any synopsis does it a disservice. This umpteenth teenage coming-of-age saga sprints through our feisty heroine's senior year with such tenderness and generous attention to detail it feels like you're seeing all these old tropes for the very first time. Star Saoirse Ronan's constant squabbles with mom Laurie Metcalf have the exhausted, lived-in banter of two people who love each other very much but probably shouldn't be in the same room most of the time. The film rockets along at a screwball pace to an emotional payoff that's both achingly uncertain and genuinely lovely.
I'd just about given up on blockbusters in our desultory franchise era, and then along comes writer-director Rian Johnson's rousing space opera about the last gasps of a resistance on the verge of being wiped out forever. Stirring, funny and altogether grand, it's the first "Star Wars" movie since "The Empire Strikes Back" that you don't have to make excuses for enjoying. Even better, this one actually feels like it's about something -- reflexively interrogating its own representations and questioning the legacy of these interstellar legends. Johnson does what Ryan Coogler's "Creed" did for the "Rocky" movies, honoring the past while bringing a beloved story into a more troubling, complicated future.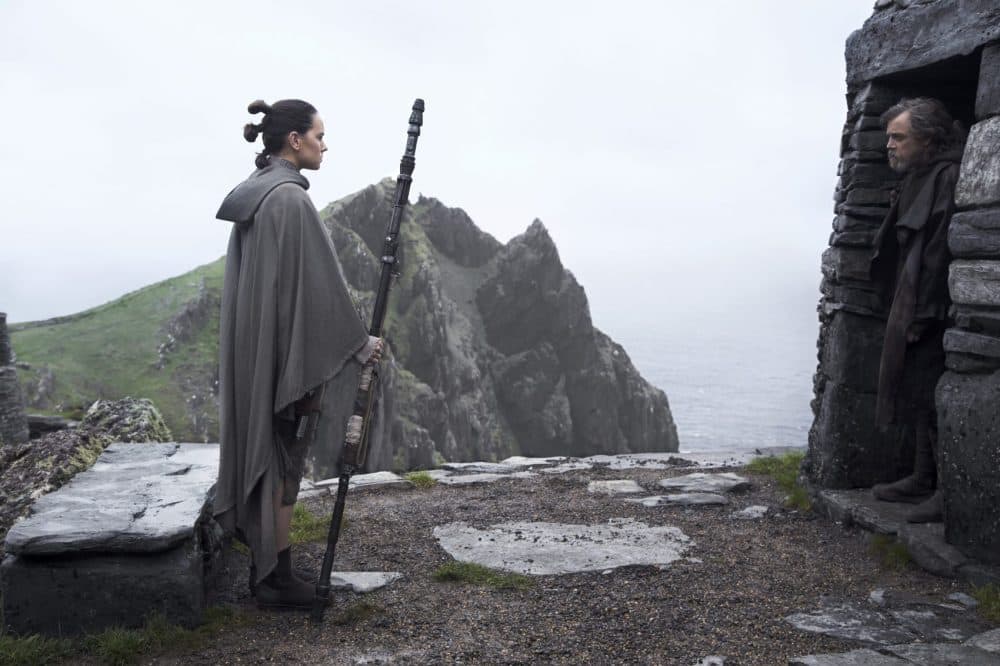 ---
Joyce Kulhawik
It's been another tough year for me at the movies. The swamp of superhero sequels and action sludge pulled me down -- but not out. I hung on until late fall, when the cinematic floodgates opened to release a wave of excellent movies I'm still riding.
I was unable to see the one advance screening of "Phantom Thread," a film that has been widely praised as among the year's best. That said, my top 10 would include Jordan Peele's shocking, racially-charged horror flick "Get Out," the sublimely understated "Dunkirk," the existentially haunting "A Ghost Story" and Guillermo del Toro's paranoiac Cold War fable "The Shape of Water." Called on to name five, I choose the following:
This swooningly erotic coming-of-age tale directed by Luca Guadagnino left me breathless. Set in northern Italy during the early '80s, the story is based on André Aciman's 2007 novel about 17-year-old Elio who is jolted by his first glimpse of his professor father's visiting American doctoral student who is spending the summer at the family's villa. Armie Hammer's blonde godliness as Oliver ignites Elio's intense sexual feelings and we are swept along in the beauty of the place and the ecstatic awakening of a young man in the throes of his first deep passion. The dance they do relentlessly builds to transcendent, heartbreaking intimacy. Newcomer Timothée Chalamet as Elio is extraordinary — tender and precocious. Watching his face over the final credits is like looking through a window at a cascade of pain and longing. Crack open a bottle of wine and surrender.
Witty, wise and full of heart, "Lady Bird" is hilariously and accurately observed by writer/director/actress Greta Gerwig. This gem of a film stars the glowing Saoirse Ronan, who received an Oscar nomination for her radiant performance in "Brooklyn." Here, she plays a senior at a Catholic high school in Sacramento, California, navigating transitions familial, romantic and collegial. Her given name is Christine McPherson but she has given herself her own name, "Lady Bird," and stretches her identity to include a reach for admission to East Coast colleges, which everyone — including her guidance counselor and her mother — thinks is beyond her grasp.
Gerwig is particularly attuned to the whipsaw emotional shifts between mother (the marvelous Laurie Metcalf) and daughter, and the undercurrents of closeness and tension that percolate through this most tortuous of human relationships. The dialogue is hilarious and true; her characters speak in ways wise and wacky. Gerwig knows this territory, who these characters are emotionally and psychologically, and she knows how to put it all on screen with warmth and economy.
For all I know, director/co-writer Sean Baker strapped an invisible camera to the back of a kid running wild on the fringes of society, so unfettered and unadorned are these performances. Brooklynn Prince as 6-year-old Moonee, along with pals Scooty and Dicky, live at The Magic Castle motel, churning in the shadow of Disney's nearby Magic Kingdom but light-years from the fairy tale. They scramble in and out of their cramped rooms, mouthing off, scavenging handouts from tourists, getting into trouble and absorbing the toughness of the adults around them who are living paycheck-to-paycheck, dodging eviction notices, shooting up -- and worse — as the law closes in. Willem Dafoe plays Bobby, the building supervisor, with extraordinary equilibrium. Dafoe, whose grooved visage suggests hard won scars of his own, manages to be the only constant in many of these catastrophic lives. It was hard to watch, but impossible not to. The last scene is a surreal sprint toward hope that left me gasping and aching with sorrow.
Without question, this is the best documentary of the year. It's not only a document of the "stuff" of film itself, but a movie within a movie made up of many movies. Writer/director Bill Morrison has assembled a treasure trove of "lost" images -- silent films, newsreels and archives from the turn of the last century -- that was buried deep in the permafrost of the Yukon.
Those archives excavated in 1978 also uncovered the history of the Klondike Gold Rush, the indigenous people it displaced and a dramatic narrative about the culture that replaced them. The film is part history, murder mystery, love story, social commentary. I could have feasted on every luscious strip of celluloid twice as long. It's a haunting communique from a place and a time gone by captured forever, the way movies capture mortality in a flash. Stunning.
Frances McDormand is the toughest customer yet as Mildred, a mother who puts up three billboards in an effort to jump-start an investigation into the unsolved rape and murder of her daughter. What emerges is a picture of an insular town where the pace is slow, wounds fester and dysfunctional families inflict the worst on each other. The murder is a "MacGuffin" of sorts, the mystery more about what drives this unruly collection of hardscrabble town folk, everyone of whom has a burden to bear. Sam Rockwell is brilliant as a despicable, dumb-as-a-post lawman, like a cruel Barney Fife, with some of his vulnerability. Gradually, in its final and unexpectedly tender moments, the film slouches toward redemption.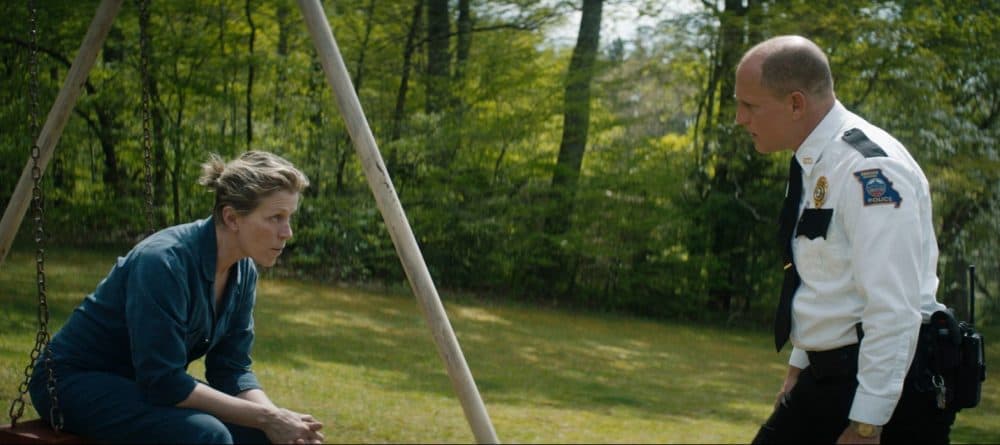 ---
Erin Trahan
This year my viewing hardly had the chance to leave the country. Yet "Get Out" made me watch and think differently about American "horror." I time-traveled the California coast on the Lois Smith bandwagon ("Lady Bird" and "Marjorie Prime"). And I was inspired by people in my own backyard like the Somerville bike instructor in "The Glorious Future." Now if 2018 could truly get me out of this country, we'd be in business. So here are my favorites, in alphabetical order:
Terence Davies deserves a pat on the back for deftly tackling both the poetry and life of Emily Dickinson in "A Quiet Passion." This historic biopic delivers on not just Dickinson's literary genius but also the pent up spiritual lust that precipitated her verse. With a witty screenplay and authoritatively long shots that pan the film's fine ensemble cast, Davies accomplishes what few contemporaries could. His film unleashes how poetry stirred Dickinson's soul — and ours ever since.
High school "senior year" movies rarely capture what's at stake for kids or parents. That's what sets "Lady Bird" apart. Greta Gerwig doesn't allow her first film as writer/director to substitute quirk for substance, or worse, death for drama. It turns out that attempting to individuate is conflict enough for Lady Bird (the name Saoirse Ronan's character gives herself) as it is for most kids. Lady Bird struggles with being from Sacramento, with dubious boyfriends and with her mom (an excellent Laurie Metcalf). But she's a teenager: Her biggest problem is herself. The film asks if Lady Bird can become who she wants without abandoning who and what made her. Gerwig's answer is at times irritating but ultimately tender and open-hearted. Again, like most teens, if you're paying attention.
When it comes to fully grasping women's realities from within the United States, there's always a need to zoom out to a global lens. The documentary "Motherland" does so with the raw portrayal of postpartum Filipina women caring for their newborns in a factory-like public hospital. The keen observational footage shows how family, religion and social class box in the mothers' already limited choices. It also shows how they band together to make the most of their common experience.
"Mudbound," based on a novel of the same name, shoulders a hefty literary burden. Its story of two farm families in the Jim Crow South — one black, one white -- could unfold like a worn out genre film. But this film holds its shape with origami precision. There are war heroes and clansmen; commandments upheld and broken. Carey Mulligan is the known quantity among an impeccable cast. She seethes as a shy piano player plucked from civilization and plunked into her husband's romanticized idea of farm life. Mary J. Blige commands yet another art form as the black matriarch and caregiver to both families. Director Dee Rees got some but not enough attention for the gritty and gripping teen coming-of-age story "Pariah" in 2011. Here, she deploys the full armament that period dramas require along with a whopping Story with a capital S. It's a masterful turn that says Rees is ready, and capable, of making any film she sees fit.
"The Last Pig" will not likely make other critics' year-end lists. At 52 minutes, it's neither a short nor a feature documentary. Plus, it's awfully simple. (What others would wrongly call a "small" film.) That's because it commits to the razor sharp point-of-view of one pig farmer who, after a decade, can no longer take his animals to slaughter. His narration coupled with the film's immersive cinematography bears witness to pigs' lives. The result is a film that demonstrates how pigs are sentient creatures whose fate as livestock may be happenstance, unjust, and for at least one farmer, impossible.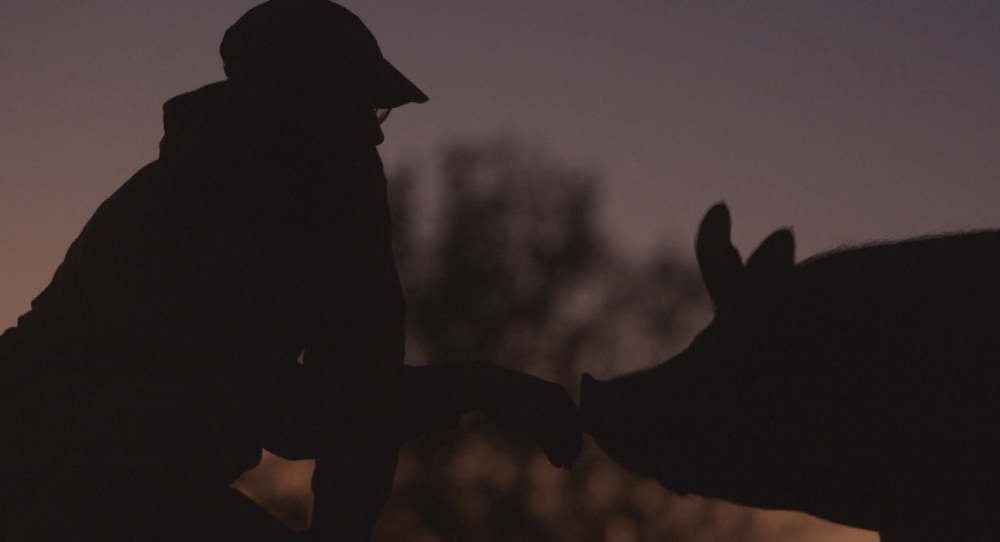 ---
Tom Meek
Much like the past two years, 2017 saw quiet and quirky small films tap into the heart of the human condition and the struggle to be heard. It was also a year of superb performances, strong documentary offerings ("Dawson City: Frozen Time" and "Jane" should not be missed), the return of some masters (Steven Spielberg, Paul Thomas Anderson and Ridley Scott) and strong new voices (Jordan Peele and Greta Gerwig leading the way).
Steven Spielberg's somber film, detailing the struggles of the Washington Post to stay afloat prior to the big Watergate scoop, hinges on lineage and nostalgia. At the core are the leaked Pentagon Papers and the freedom of the press.
Screenwriters Liz Hannah and Josh Singer (who won an Oscar for his work on "Spotlight") keep the minute details of journalistic pursuit riveting as Tom Hanks and Meryl Streep bring the bigger crisis of conscience to the fore as The Post's editor Ben Bradlee and owner Katharine Graham.
Hanks is no Jason Robards (who played Bradlee in "All the President's Men") but makes the role his own. Streep's Graham fights against the glass ceiling in the early '70s and the perception of her as only a socialite. The two play off each other seamlessly and the cast gets big boosts from Bob Odenkirk as reporter Ben Bagdikian and Bruce Greenwood as former Secretary of Defense Robert McNamara. The brief tie-ins to Nixon and Watergate and the overall state of the media and its ties to the government tell an ugly side of Americana that remains relevant.
Who knew that the Peele part of the "Key & Peele" team on Comedy Central had enough stinging social commentary to fuel a feature film -- and one that would quietly sail to the top of many best of lists? Peele's directorial debut smartly samples familiar constructs from "Guess Who's Coming to Dinner," "The Stepford Wives" and even "The Wicker Man" and rebrands them afresh, where in the rolling bucolic hills all the upper crust whites have zombified Afro-Americans as adored house and grounds keepers. Something's not right and just how wrong things are gets exposed when one family's daughter (a sassy Allison Williams) brings her African-American beau (Daniel Kaluuya) up to the lake to meet the parents. The biting subtext on race and class is spot on and Kaluuya gives a breakout performance that's already been recognized by the Boston Society of Film Critics and Golden Globes.
This film proves to be an apt follow-up for director Sean Baker who in 2015 blew audiences' minds with "Tangerine," a super low budget gem shot on iPhones starring transgender heroines. Baker stays in the seedy sun drenched underbelly of society, this time swapping LA for motel in the shadow of Disney World. Of the motel's economically challenged malcontents, Halley (Bria Vinaite), a young, tattooed single mom — part vixen and all viper — struggles with addiction. Her daughter (Brooklynn Prince) isn't so much the victim as she and the other kids of the motel roam the strip mall sprawl with the kind of feral knowledge that filled the frames of "The 400 Blows" and "Salaam Bombay!" Prince and Vinaite are electric and raw in their portrayals, and Willem Dafoe adds a touch of class and weary stewardship as the motel manager who watches over the place with more heart than he's willing to show.
A year ago, had you told me the elegant Australian actress Margot Robbie ("Suicide Squad" and "The Wolf of Wall Street") would portray infamous figure skating villain Tonya Harding, I would have thought you were pulling my leg. But here she is in Craig Gillespie's devilish spin on the obstreperous outsider from humble origins trying to become America's figure skating princess. She nearly achieves that goal until her husband unleashes an ill conceived plot to break rival Nancy Kerrigan's knee cap. Done with a dark mockumentary overlay and biting character asides, the film takes on the tang of "Fargo" as the plot twist become increasingly outré. Robbie stretches herself as an actress and does so convincingly, giving the determined Harding nuance and soul as she endures both an abusive mother (Allison Janney, stealing every scene with repressed vitriol) and husband (Sebastian Stan, able to evoke empathy in the thankless role). As absurd as its title implies, "I, Tonya" is a worthy rewind of a life and an event that we all think we know so well, but likely don't. It builds a sharp, humorous portrait of the American Dream gone horribly sideways.
Allegedly Daniel Day-Lewis' last role, his turn as an OCD dress designer Reynolds Woodcock is a fine way to go out, but not exactly the way you'd expect the finest thespian of our era to conclude his career. Directed by Paul Thomas Anderson, "Phantom Thread" is set in the breast pocket of 1950s haute couture culture in London. Woodcock obsesses ceaselessly over his creations, his reputation and the next young female companion to become his short-lived muse.
The intentionally understated composition, mesmerizingly scored by Jonny Greenwood, unfurls with the wondrous rapture of a slow blooming flower as Woodcock falls for a woman (Vicky Krieps) able to hold her own. The chemistry between the two thespians is paramount to the film's success let alone their characters' passive aggressive posturing that tells us more in the things they don't say, and ultimately turns poisonous. Lesley Manville adds a tour de force turn as Woodcock's, tell-it-as-it-is sister to round out the subtly sleek and seductive production.