Despite Higher Minimum Wage, Teen Unemployment In Mass. Is At An 18-Year Low
This article is more than 5 years old.
A higher minimum wage hasn't led to a drop off in teen employment, according to a study out Tuesday by the Massachusetts Budget and Policy Center.
In fact, the unemployment rate among teenagers — those aged 16 to 19 — is at its lowest level since 1999, when the minimum wage was $5.25 — or about half of the $11-an-hour pay floor now.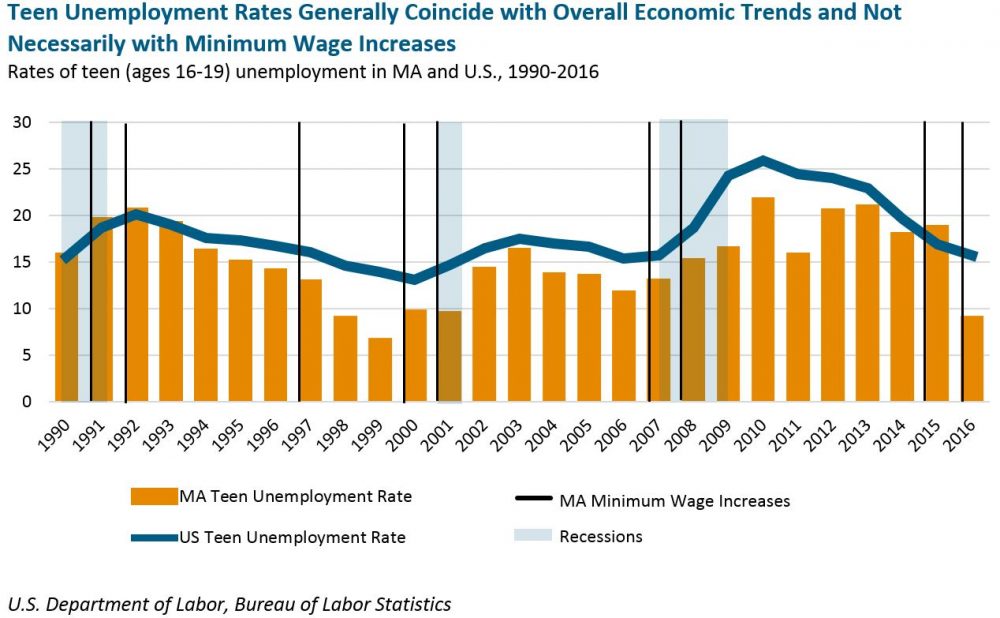 The report's findings could boost the argument of those who support a $15 minimum wage in Massachusetts. The group Raise Up Massachusetts collected enough signatures to push a ballot question to raise the minimum wage forward. Now lawmakers will have to act on the measure, or it could go to voters in November.
"It's hard to know for sure if we'll see exactly the same effects at 15 [dollars an hour] as we have at 11, but the evidence so far is that as the minimum wage has increased in Massachusetts, overall the economy has stayed strong," Mass. Budget president Noah Berger said.
Business groups say a higher minimum wage would devastate businesses and lead to lower employment.
Mass. Budget also found teenagers in low-income families contribute a significant share of the family's income — almost 18 percent for families earning less than $47,000 a year. That's more than double the average contribution for all families in Massachusetts.
"It's important to recognize that in low-income families, the wages teens earn can be important," Berger said, "and if they're paid a little more it gives them greater capacity to help their family to make ends meet, to pay for food or rent or other basic necessities."