The Year In Local Theater — From Demonic Possession To Matricide And Bouts Of Beckett
It's always a pleasure to look back on the high points of the theatrical season. But this year there's a crater in the landscape: the immeasurable loss of consummate, chameleonic actor Thomas Derrah, an area treasure since 1980.
Derrah died in October, at the age of 64, having left us with only a couple of hundred stellar stage metamorphoses when certainly we deserved more. I am happy to have seen the last, in which this gentle man portrayed a Nazi general with more than a few cards up his sleeve in last spring's "Gabriel" for Greater Boston Stage Company (then Stoneham Theatre) and bereft that there will be no more such judicious and perfectly crafted scenery nibbling to look forward to.
Derrah came to us direct from the Yale School of Drama as a founding member of the American Repertory Theater where, over some 30 seasons, he played everything from Bucky Fuller juggling mathematical abstractions in "R. Buckminster Fuller: The History (and Mystery) of the Universe" to a crippled Captain Trash in "Ubu Rock," delivering an abrasive patter song that went on so long it left the audience amazed and exhausted.
In more recent years, Derrah, as a yearning Fräulein Schneider, was the beating heart of A.R.T.'s 2010 "Cabaret." And in 2012, for SpeakEasy Stage Company, in Josh Logan's "Red," he conjured a portrait of Mark Rothko that was as vivid and as visceral as the artist's paintings. There was seemingly nothing this transformative actor could not do — except brag on himself.
But on to happier memories of 2017 — if indeed demonic possession, marital warfare, matricide and Samuel Beckett can be called happy. (Absent are some significant shows I did not see; my colleagues will fill in the gaps.)
O.W.I. (Bureau of Theatre) and Phoenix Theatre Ensemble
This near-solo show written and performed by the riveting Keith Hamilton Cobb takes the form of an audition for "Othello." The actor auditioning is Cobb, who filters through his consideration of the Moor his oft-infuriating experience as an African-American actor, indeed an African-American man, in a predominantly white society uncomfortable with "black men, like me, raising their voices." I didn't totally buy into Cobb's arguments about "Othello." But as a performance, alternately stentorian and scathing and bristling with contemporary anger, his was wholly compelling.
Druid Theatre Company, presented by ArtsEmerson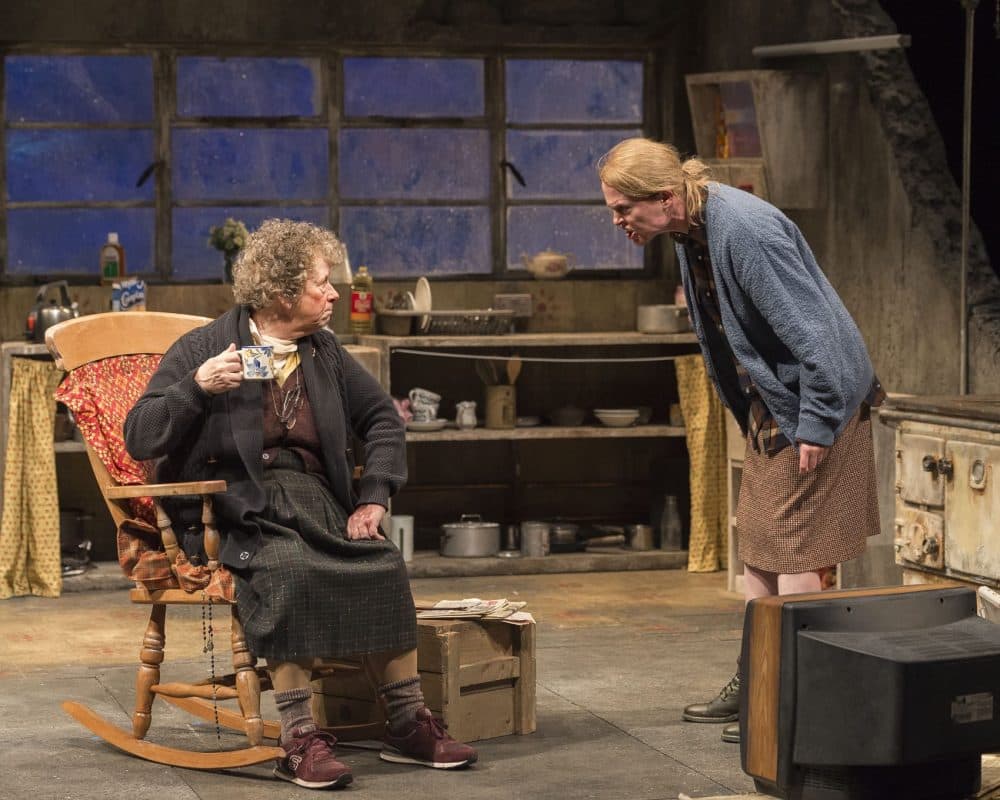 Galway-based Druid Theatre Company, which first presented Martin McDonagh's lilting black comedy more than 20 years ago, reprised it in a dark, wet, flintily acted, linguistically spot-on staging that touched down at the Paramount Center. Once again directed by Garry Hynes, who won a Tony Award for her original staging, the claustrophobic, vitriolic dance of death by mother and daughter on the wild western shore of Ireland featured Marie Mullen and Aisling O'Sullivan in a thespian fight that produced only winners.
Commonwealth Shakespeare Company
Jim Seymour helmed this achingly affecting bill of short plays by the famously terse and utterly merciless vaudevillian of the Void: the enigmatic, strikingly staged metaphor for the creative process, "Rough for Radio II"; "The Old Tune," in which two addled old Dubliners meet by chance and stop to recall bits and pieces of their salad days; and "Krapp's Last Tape," in which the superb Will Lyman, whether slipping on a banana peel or slipping into an echo chamber of sonorous regret, contemplated death.
Broadway in Boston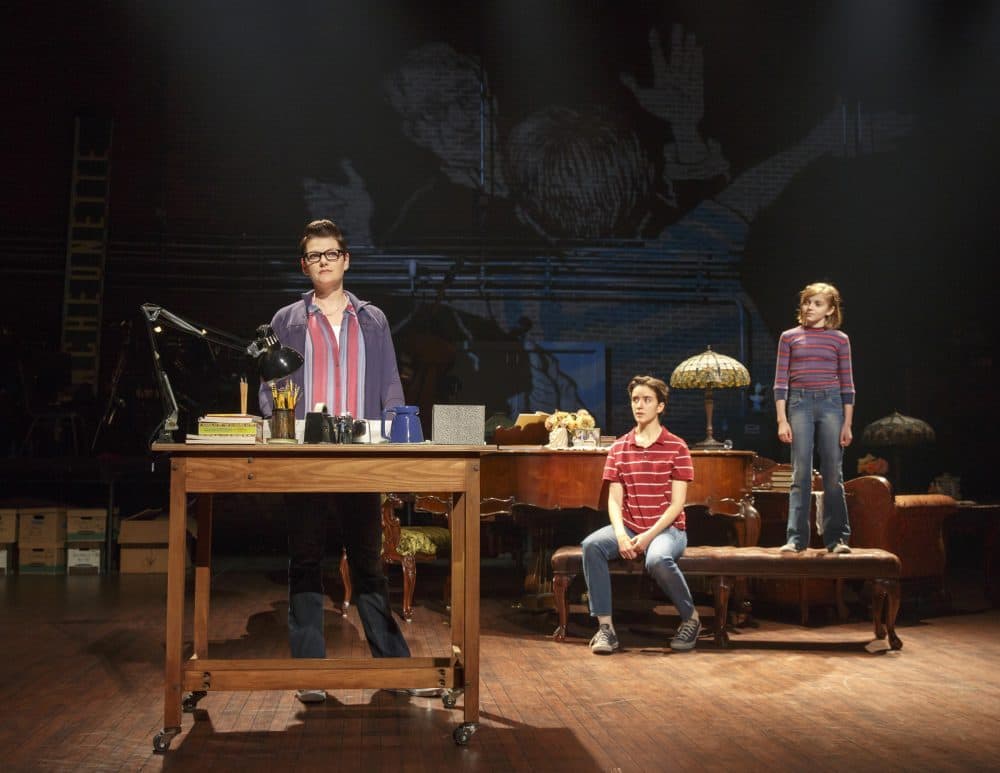 Based on award-winning cartoonist Alison Bechdel's 2006 graphic memoir, this 2015 Tony-winning musical with book by Lisa Kron and music by Jeanine Tesori graced the Opera House with a fluidly staged, sharply acted national touring production. The richly harmonic, emotionally affecting show centers on the lesbian cartoonist's complicated relationship with her distant, explosive, closeted dad. It embodied not only the trickiness of memory but also the way in which a particular childhood can become a sort of universal madeleine, evoking that place to which one can never go back but from which one can never shake free.
SpeakEasy Stage Company
David R. Gammons helmed this savvy rendition of Robert Askins' unlikely Broadway hit centered on a lewd sock puppet run amok in a Texas church basement. The staging artfully toed the line between adolescent acting out by a grieving teen and true demonic possession. Ably acted, particularly by Eliott Purcell as the kid with the devil on his arm and Marianna Bassham as his devout dominatrix of a mom, the production found the poignancy amid all the sacrilege and R-rated laughs.
Boston Playwrights' Theatre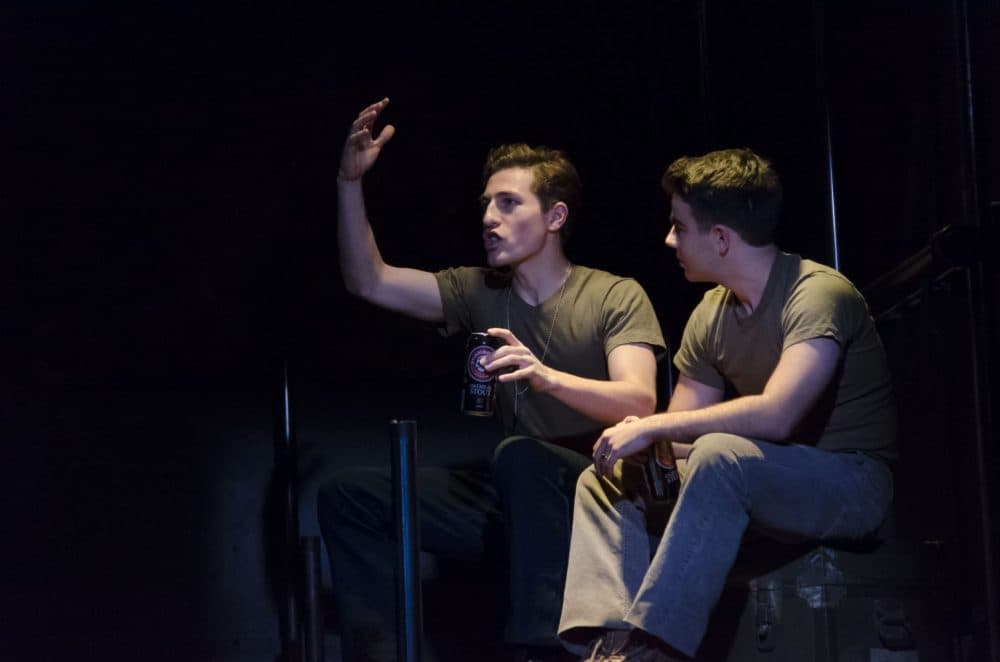 BPT had an exceptional year, staging sparky revivals of Ronan Noone's "The Atheist" and Molly Smith Metzler's "Elemeno Pea." But this compelling new work by Leo McGann proved a particularly arresting dance of past and present set to the music of The Troubles that rattled Northern Ireland during much of the 20th century. The play flashes back and forth between now, when a former British Army soldier is being interviewed for an oral-history project, and the 1970s, when his young fellow soldier got caught in the IRA-baited ensnarement of the title. A study of guilt, revenge and regret, the play retained its considerable charge to the very end.
American Repertory Theater
New York-based theater troupe Bedlam brought its delightfully exuberant 2014 staging of Jane Austen's "Sense and Sensibility," in a frisky adaptation by Kate Hamill, to Cambridge, where it skitters and spins around the A.R.T.'s Loeb Drama Center playing space (through Jan. 14) like the pieces and parts of some love-racked pinball machine. In Eric Tucker's staging, with choreography by Alexandra Beller, Regency accouterments from French windows and doors to period furnishings are all put on wheels and launched, pushed or spun around the stage, often with actors perilously attached, as seemingly recklessly as the novel's more emotive characters fling their hearts.
Lyric Stage Company of Boston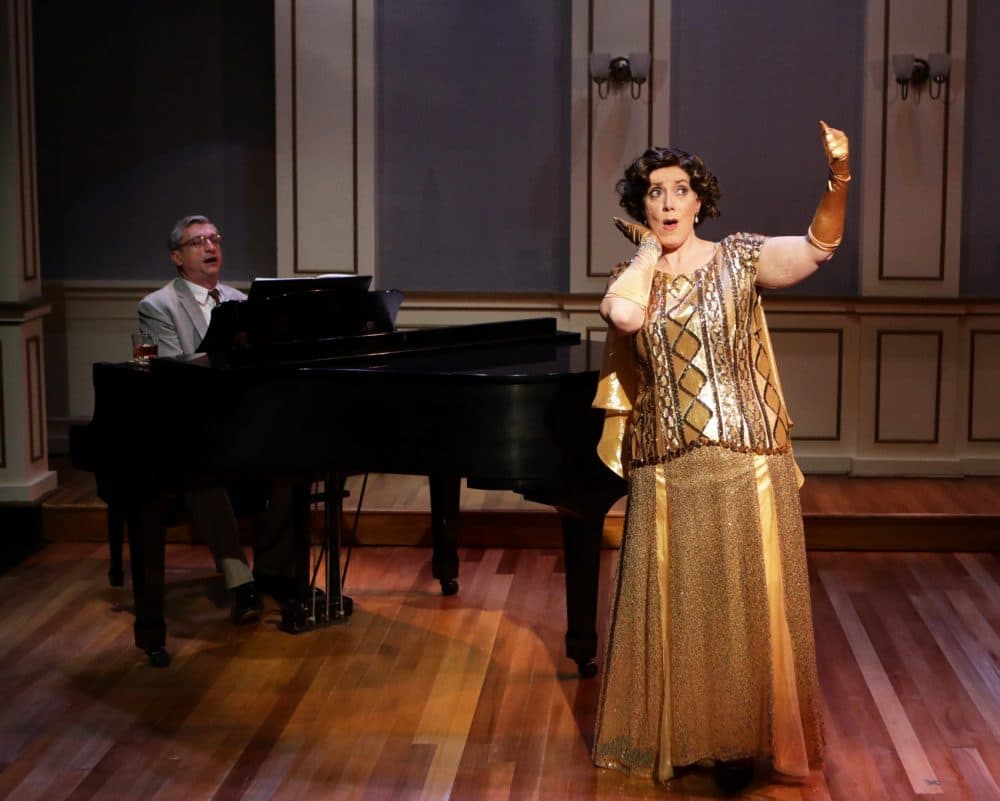 To celebrate his 20 years at the helm of the Lyric Stage, artistic director Spiro Veloudos reprised his 2007 production of Stephen Temperley's tender if screeching "fantasia" built on the curious relationship of indomitably tone-deaf socialite soprano Florence Foster Jenkins and her appalled but protective accompanist, Cosmé McMoon. Now as then, the hilarious yet poignant work featured Leigh Barrett as Madame Flo and the irreplaceable Will McGarrahan as the ivory tickler whose affectionate commingling of horror and admiration allowed us to see the Muse-murdering Jenkins as both ridiculous and somehow valorous.
Huntington Theatre Company
Billy Porter helmed this crackling production of Suzan-Lori Parks' most accessible play, a 2002 Pulitzer Prize winner that picks up on one of the author's favorite riffs: the repeated penny-arcade reenactment of Abraham Lincoln's assassination by John Wilkes Booth. Here Lincoln and Booth are two African-American brothers sharing a rented room — in Clint Ramos' intriguing design a flophouse set above metal spikes that might just enclose Parks' Great Hole of History. The play, about sibling rivalry as well as the struggles of black men in America, was further enhanced by the terrific performances of Tyrone Mitchell Henderson as a melancholy Lincoln and Matthew J. Harris as a dexterously showboating Booth.
Lyric Stage Company of Boston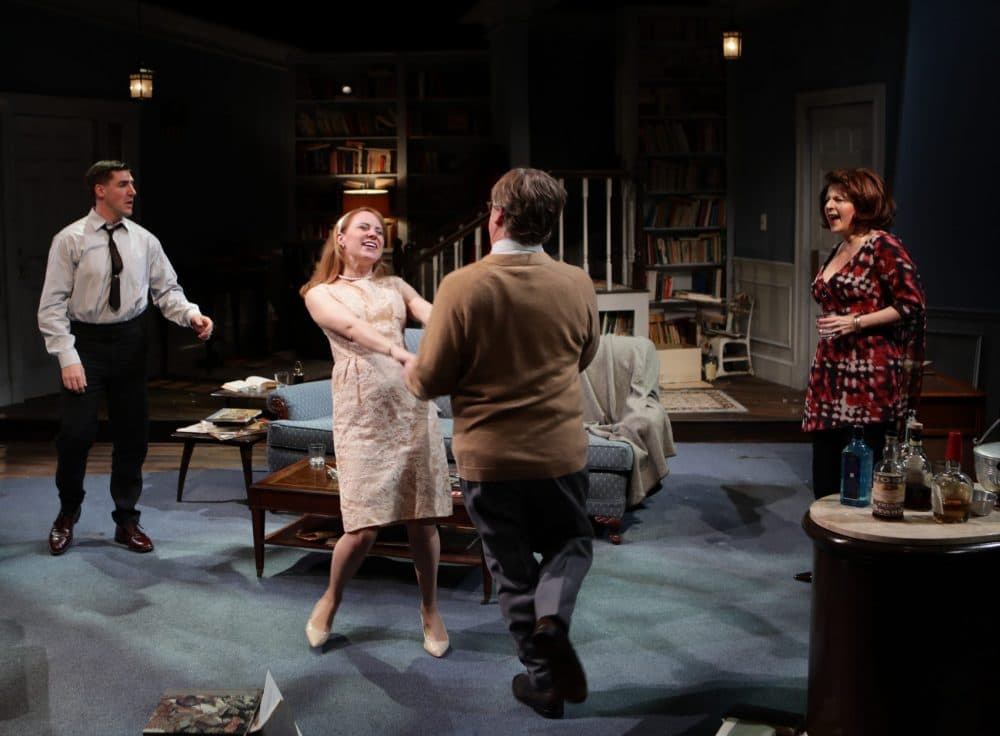 Director Scott Edmiston presided over this pitch-perfect, period-perfect revival of Edward Albee's 1962 marathon marital battle whose combatants are named for America's original First Couple. Paula Plum was magnificent as a warm, vulnerable but also breast-waggling, ball-breaking Martha. And Steven Barkhimer, as the less vulgar George, was in her face from start to finish. His academician character may be a "bog" in the history department, but Barkhimer was a bog with whitecaps.
— Carolyn Clay
---
Flat Earth Productions
Flat Earth took audiences back to a time when women, no matter how competent or brilliant, were excluded from the practical work of astronomy. Not allowed to touch the telescope at the Harvard Observatory, the real life women scientists whose work is celebrated in Lauren Gunderson's "Silent Sky" nonetheless found ways to make significant — and literally universe-expanding — contributions. The production boasted a top-notch cast featuring Erin Eva Butcher, Juliet Bowler and Cassandra Meyer. The creative staging and design work -- set design by Debra Reich, costumes by Cara Chiaramonte, lighting by PJ Strachman and direction by Dori A. Roberson — underscored the power of theater to remind us of lessons learned that are worth remembering. Erin Eva Butcher garnered a nomination from the Elliot Norton Awards for Outstanding Actress, Small or Fringe Theater, while the production took the prize for Outstanding Production, Fringe Theater.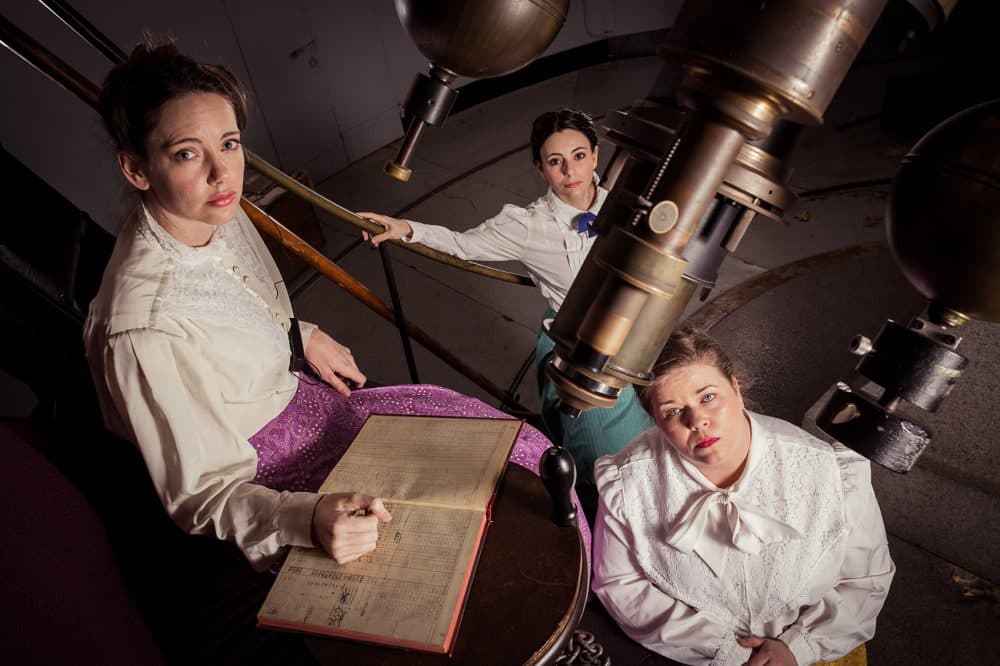 'The Little Dog Laughed'
Take Your Pick Productions
Rising phoenix-like from the ashes of Happy Medium Theatre, the newly minted Take Your Pick Productions surprised and delighted Boston theatergoers with its inaugural production, a shoestring -- but inventive -- reading of Douglas Carter Beane's astringent comedy "The Little Dog Laughed."
Victor L. Shopov played Mitchell Green, a closeted gay Hollywood actor on the brink of global success. A night's diversion with rent boy Alex (Matthew Fagerberg) opens an even more dazzling door for Mitchell, though: true love. So smitten is Mitchell that he's ready to chuck his career in order to live authentically, but his agent Diane (Take Your Pick founder Audrey Lynn Sylvia) isn't about to see all her grooming of Mitchell, and all her potential profits based on his career earnings, go up in smoke. Alex's girlfriend Ellen (Aina Adler) is none too pleased with the situation, either. The production's black box staging was a perfect fit for the show's tightly wound black comedy, as was director Cassandra Lovering's light, sure touch.
Boston Playwrights' Theatre
Boston Playwrights' Theatre did some superlative new work this year -- "The Honey Trap," springs to mind -- but BPT's production of Cliff Odle's new play "Lost Tempo" shook me up and blew my mind. The story examines the twin drives of a jazz musician named Willie Jones, a man feeling the itch to venture into fresh, and controversial, creative territory and also feeling the burn of his heroin addiction. Jones' life and creative process are not all that's afire — so are his relationships, including his collaborative bond with bandmates Sporty (Arthur Gomez) and Mack (Mishell Lilly), his on-and-off romance with club manager Barbara (Evelyn Howe), and his strained ties to his sister, Sheila (Miranda Adekoje). Those fractious family ties are further complicated by Sheila's romantic entanglement with Willie's other bandmate, best friend and creative rival Lane (Kinson Theodoris).
Every member of the ensemble turned in outstanding performances, and the jazz club setting -- where audience members sat at small tables while a trio played at the back of the room -- gave the show an intimate, immediate quality. Diego Arciniegas' direction was whip-smart, and so was Odle's script, which crackled with authentic, poetic dialogue shaped from the vernacular of a place, a time and a particular demimonde.
Sleeping Weazel
Sleeping Weazel's co-production of "3/Fifths' Trapped in A Traveling Minstrel Show" only ran for about a week, but that brief run was a short, sharp shock that jolted audiences and left them feeling both challenged (maybe even bruised) and uncomfortably illuminated as to issues of race throughout America's history, and the ongoing experiences of African-Americans today.
Staged as a mash-up of minstrel show, game show and participatory theater in which the audience had the chance to weigh in on some hot, divisive topics, the play took a hard left turn -- or maybe right turn, depending on your point of view -- that deliberately took a wrecking ball to comfortable liberal notions, all while demolishing the illusions of a "post-racial" nation. The 90-minute work demanded courage from its ticket holders, but more so from its cast of three actors; Michael Bryan and Wesley T. Jones ventured into the politically charged badlands of blackface, while Vienna Carroll served as emcee (and, later, judge).
Video designer Jason Batcheller nailed the show's messages with spot-on images, Mark Rayment refused any and all temptations to soften the play's points or cop out of its continual provocations and Sleeping Weazel once again cemented its reputation for bold and relevant work that dares speak up and speak out.
Praxis Stage Company
With this rendition of Dario Fo's "Accidental Death of An Anarchist" — only its second production -- Praxis Stage issued a sharp reminder (or was it a rebuke?) to our complacent assumptions about what can and cannot happen here, and what atrocities can safely be said to have been consigned to the dustbin of history. Though the play is from 1970, and tells a story set in police headquarters in a fascistic nation, Fo's text -- and the improv asides the script allows the actors to make — remains sharp enough to cut to the very bone of today's contentious and frightening politics.
The anarchist of the title is a fellow who either fell or was pushed from a fourth floor window at police headquarters. But another anarchist is leading the charge when it comes to dissecting accounts about what led up to the incident -- when, that is, he's not actually helping the police improve their alternative facts in order to gloss over any irregularities. Given the name The Maniac in the script, this leaping, kaleidoscopic character (played by Alexander Castillo Nunez with a looseness that enables him to seemingly channel multiple personae) confounds the cops (played by Daniel Boudreau, Michael Anderson, Danny Mourino and Alexandra Smith) and sets a classically paradoxical, fundamentally insoluble dilemma before an idealistic journalist (played by Tenneh Sillah). He also poses that same conundrum to the audience: namely, the problem of how to remain a virtuous person in ruthless, vicious state without becoming its victim -- or, conversely, how to live through a spasm of oppression and bureaucratically sanitized bloodletting without becoming a killer, if only through inaction, in one's own turn.
The energetic ensemble walk the line between farcical resistance and existential resignation as the story's ever-darkening turns unfold on a picture-perfect set. Director James Peter Sotis adopts a laissez-faire approach that lets his actors run wild (maybe a little too wild sometimes), but, like a smoldering coal, this production ignited from dread into terror, jolted anxiety into seething anger and lingered uncomfortably in the psyche.
— Kilian Melloy
---
Actors' Shakespeare Project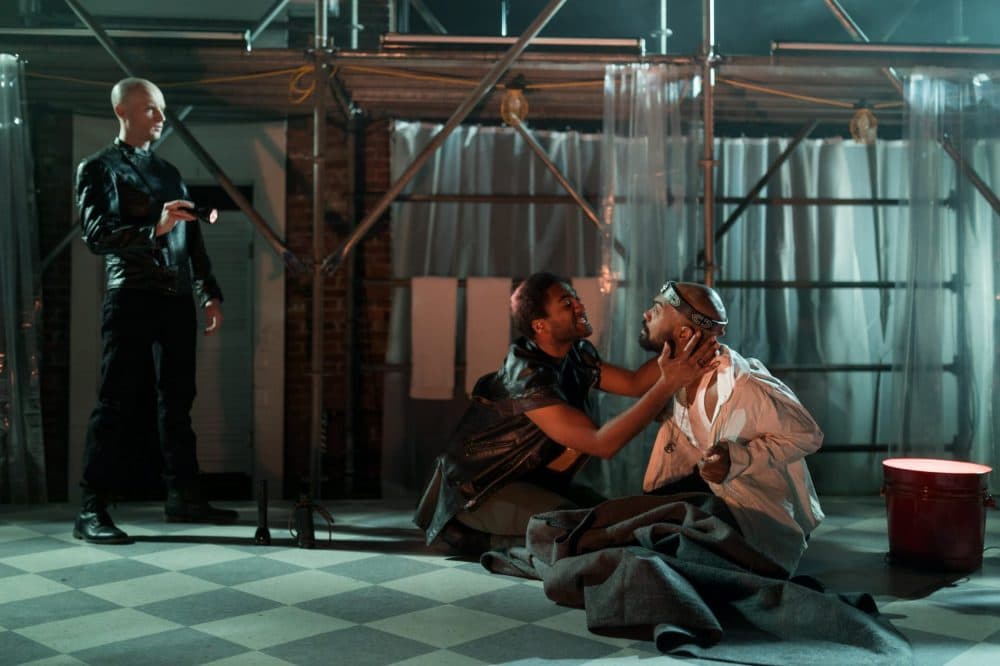 I'm a sucker for highly stylized, conceptual productions of plays by Shakespeare and, in this case, writers Shakespeare hung around with. That doesn't mean I think they always work. When a flashy concept is more of a director's conceit than an attempt to get inside the text in a fresh way, it shows. But I love when people give it a shot. This production of Christopher Marlowe's play is one of those thrilling occasions when the vision of a bold director (and his talented design team) crack open an old text in a new way.
The play is in large part concerned with the same-sex romance between the titular king (a wonderful Maurice Emmanuel Parent) and nobleman Gaveston, played here by Eddie Shields with sexy swagger tempered by vulnerability. Director David R. Gammons and team, including set designer Sara Brown, re-imagined Charlestown Working Theater as a steamy, subterranean bathhouse. Sex, violence, class resentment, power — this irresistibly stylish production had it all. Gammons even spun a minor, easily cut scene into a Shakespearean ghost encounter, upping the spooky stakes. There was palpable interplay among the creative visions of the author and of the artists behind this production … and that's what you want to see.
Huntington Theatre Company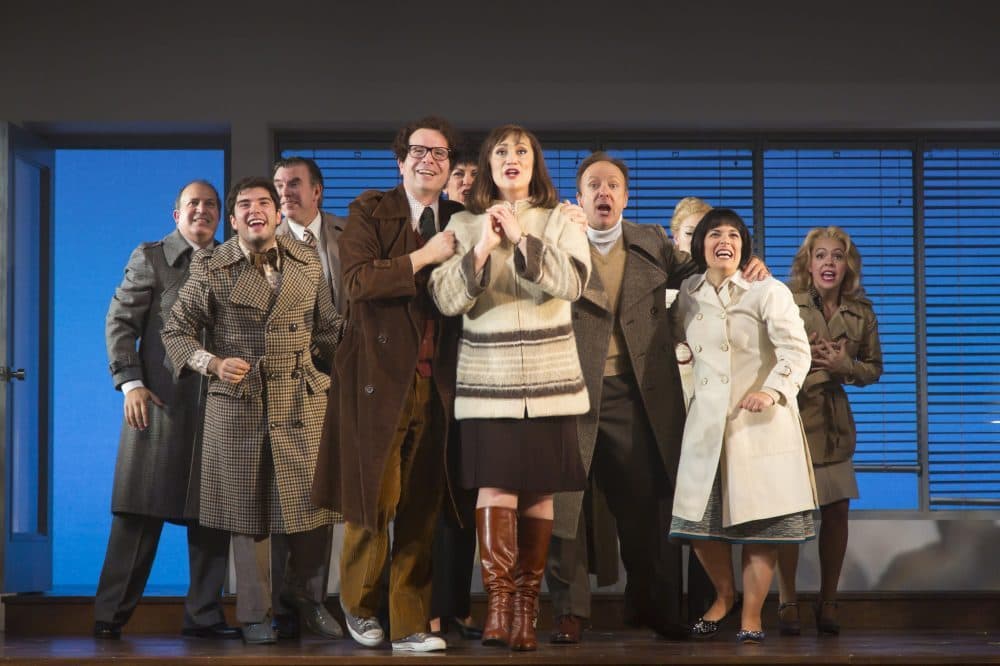 The original Broadway production of this show was a famous bomb, temporarily halting Stephen Sondheim's run of critical and commercial hits. Maria Friedman starred in a 1992 production for which Sondheim performed extensive edits, and she knew the material could work. Based on her Olivier Award-winning production in London — which itself grew from a no-profile student production, Friedman's first time in the director's chair — this production proved a great winner for the Huntington Theatre Company, creatively and commercially. Strong performances by Eden Espinosa, Mark Umbers and Damian Humbley, during both the snappy songs and George Furth's extensive book, paired nicely with Friedman's clear-eyed vision of the material.
Dispensing with distracting prosthetics, Friedman had her actors portray a 20-year period in reverse chronology with help from the special effect of precise vocal control. (Their speech patterns got subtly quicker and their spoken registers got higher the further the story went back in time.) This is complicated material, but Friedman's production made us wonder how this show had ever been a bomb in the past. It won't be a surprise if some version of this production rolls right along to New York before too long.
'This'
Barrington Stage Company
Melissa James Gibson's script seems like a tough nut to crack — it alternates expertly rendered, ping-ponging dialogue among a group of friends with long speeches that could either grind the momentum to a halt or serve as a microscope into the psychology of the characters who deliver them. Fortunately, in director Louisa Proske's production, the latter effect wins out. "This" is a story about college friends adapting their relationships to fit the realities of 40-something life.
It's the third tart, serio-comic look at generational issues that Proske — who leans more toward fringe work in her home base of New York City — has directed at Barrington Stage in recent years. Let's hope she continues to hone her "kitchen sink" chops in the Berkshires, if she's given material this smart and relevant. A five-person cast (including Barrington Stage favorite Mark H. Dold) really made this material sing, alternating humor and pathos, and arguing that there's more to growing up than growing old.
Wheelock Family Theatre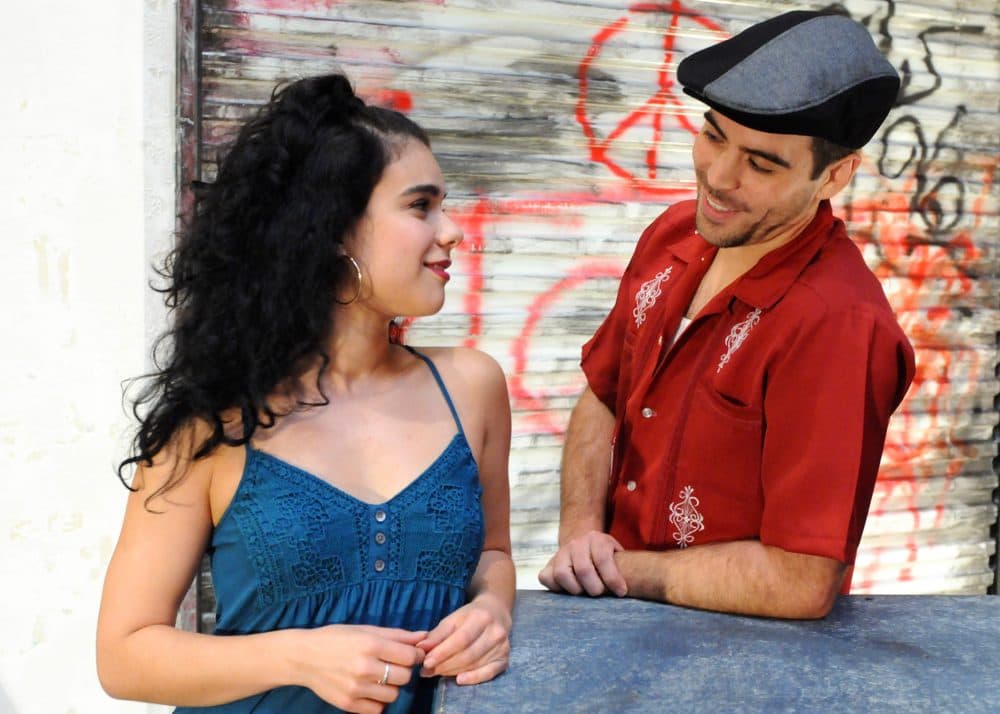 The success of "Hamilton" has prompted a fresh round of takes on Lin-Manuel Miranda's earlier work, itself a breakthrough when it opened on Broadway in 2008 and subsequently won the Tony Award for Best Musical (with a Pulitzer Prize nomination to boot). Unlike its blockbuster follow-up, "In the Heights" uses hip-hop just as one flavor in a score that is also happy to deploy more traditional, widescreen musical theater weepers. The story of three days in the Washington Heights neighborhood of New York City — one of which happens to be Independence Day — the show is clear about its aspiration to tell an American story about asserting your own identity amid the swirl of assimilation and gentrification. Suitably big and bold, director Rachel Bertone's production finagled a large cast (and an impressively grand set) in service of a swiftly moving, pleasingly slick effect. (In a nicely inclusive touch, the action was accompanied by Spanish-language supertitles.)
I happened to see the final performance, a Sunday night show that had been added to the schedule because of heavy audience demand. The house was packed with a multi-generational, multi-ethnic audience that actually looked like the city of Boston. (While I've seen plenty of kids enjoying Boston-area performances of stuff like "Matilda" and "Wicked," it was a treat to see so many children fully enthralled with material of this thematic weight.) I found it a thrilling moment when patrons leapt to their feet at curtain call to shower the cast with a well-deserved ovation, both because of the artistic merits of the production and because Wheelock had made it clear that everyone was welcome.
At its best, theater brings people from different walks of life together for a shared experience. This production was a great reminder of theater's potential as a pluralist art form.
Apollinaire Theatre Company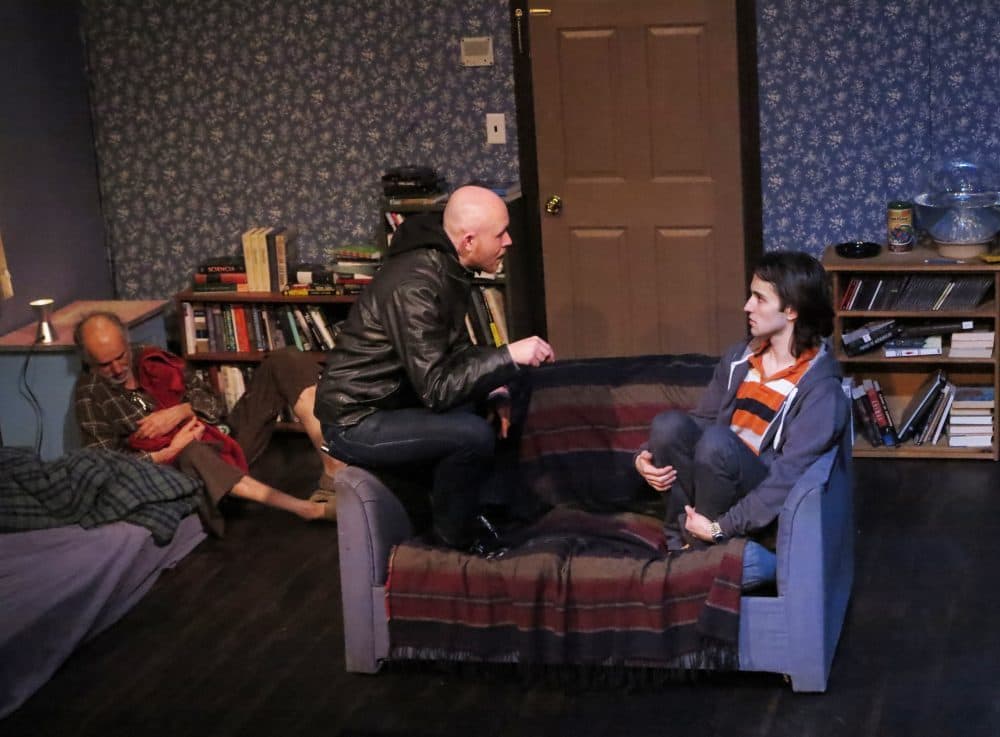 Apollinaire's artistic director and guiding spirit Danielle Fauteux Jacques kicked off the year with a riveting production of this little gem. British writer Alistair McDowall's 2011 play is a mixture of science fiction and social-realist observation about life in a run-down housing project in the industrial town of Middlesbrough, which is located in the northeast of England. Sam Terry brought understated pathos to the role of Luke, a 19-year-old living off of disability benefits who is beset by the demands of his drug-dealing brother (an excellent Michael Underhill, who was also a delight in two very different roles at shows by Gold Dust Orphans later in the year) and his best-but-generally-useless friend Greg (a strong Geoff Van Wyck).
Brooks Reeves played a suitably menacing drug dealer who sees the societal breakdown all around him as a business opportunity — particularly when circumstances give him a chance to demand that Luke hand over his prized possession, a time machine made from a refrigerator box. In the play's magic-realist perspective, this impossible contraption is viewed calmly as simply a desirable item with potentially grave side effects. Things get stranger when a double of Luke (played by Eric McGowan) arrives from the past. Jacques wisely approaches this as a naturalist social drama, drawing universally strong performances from her cast and leaving us to wonder that, perhaps, the most fanciful idea is that a hollowed-out industrial town can offer any kind of hopeful future.
— Jeremy D. Goodwin