Fierce Winds And Flooding. Snow. Then Really Cold. Nasty Nor'easter Hits Mass.
This article is more than 5 years old.
Wind-whipped snow blanketed eastern Massachusetts Thursday, and midday high tides flooded coastal areas, as the state endured its first nor'easter of 2018.
The storm was set to depart the region late Thursday, with very cold temperatures arriving overnight. Boston and many other districts cancelled school for Friday.
Midday high tides on Thursday brought the tide levels in Boston and elsewhere to their highest marks in decades.
The flooding, which was worse than forecasters expected, led Newburyport to call in the National Guard to help evacuate people from Plum Island, and it created some dramatic images and videos: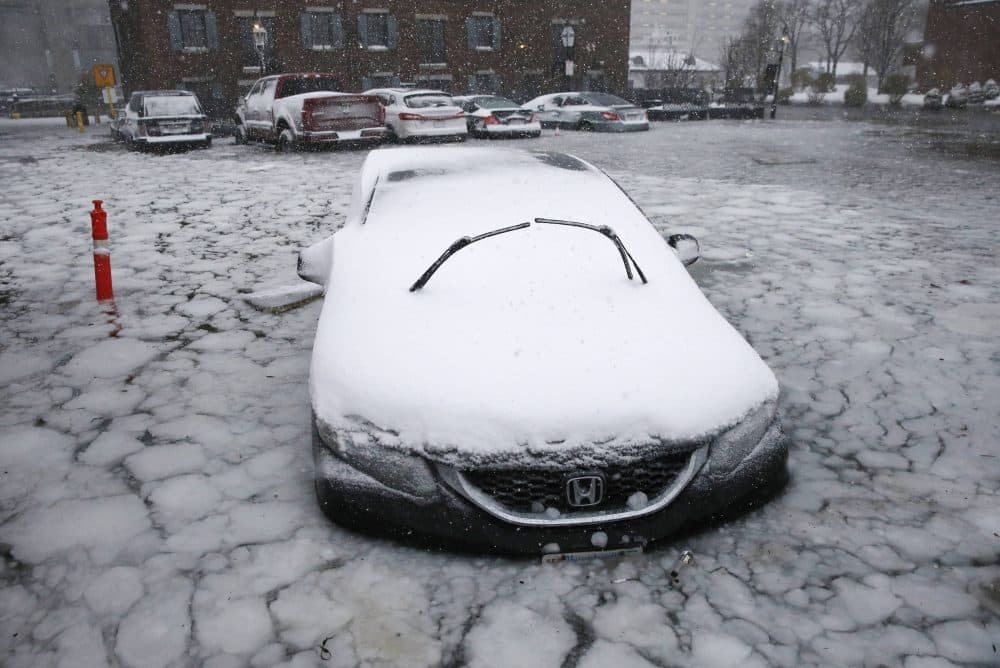 In addition to the flooding, the storm brought high winds and more than a foot of snow in some areas, with frigid temperatures set to follow it.
"With the eventual temperature drop behind the storm it creates a situation that's actually dangerous," WBUR meteorologist David Epstein wrote in his morning forecast. "That's why the storm's getting so much attention — because of the wind and cold, not because we're going to see record-breaking snowfall."
Still, Epstein predicted about a foot of snow for most of eastern Massachusetts, with smaller amounts on Cape Cod and the Islands.
As of 4 p.m. Thursday, Boston had nearly a foot of snow, with higher amounts just west and south of the city:

But the Cape and Islands saw higher winds. Gusts of 75 miles per hour were recorded in Wellfleet and on Nantucket Thursday morning.
Outages were a concern all along the coast, especially in southeastern Massachusetts. Nearly 20,000 customers were without power as of 6 p.m. Thursday.
On Friday, the MBTA is planning to run regular service on its subways and buses, and on the commuter rail. Many buses were on snow routes Thursday, and the commuter rail ran limited service. Ferry service will remain closed on Friday.
Gov. Charlie Baker had asked residents to stay off the roads Thursday.
"We're all hardy New Englanders but it's pretty important for everybody to pay attention and be prepared for the impacts of this storm," Baker said.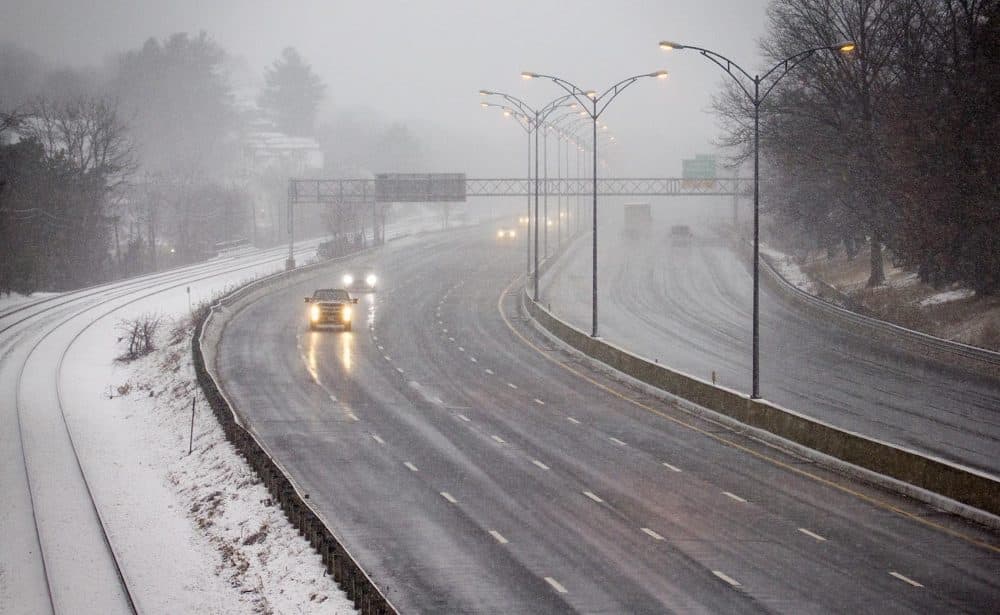 The speed limit on the Massachusetts Turnpike was lowered to 40 miles per hour early Thursday.
Jim Quinn was headed into work as a paramedic when he stopped at the Natick rest area on the Pike to clean off his windshield. He said it took him an hour to get from Worcester to Natick.
"It's rough going," he said. "If I wasn't having to go to work I wouldn't be on the road. [There are] not a lot of plow trucks out there, but it's going faster than they can keep up with it."
The governor said the state was in contact with utilities in preparation for outages.
"That combination of very high winds and wet snow, followed by extremely cold temperatures, could lead to power outages," Baker said early Thursday, "which we will closely monitor and have currently planned to have utility crews staged and ready to respond to outages."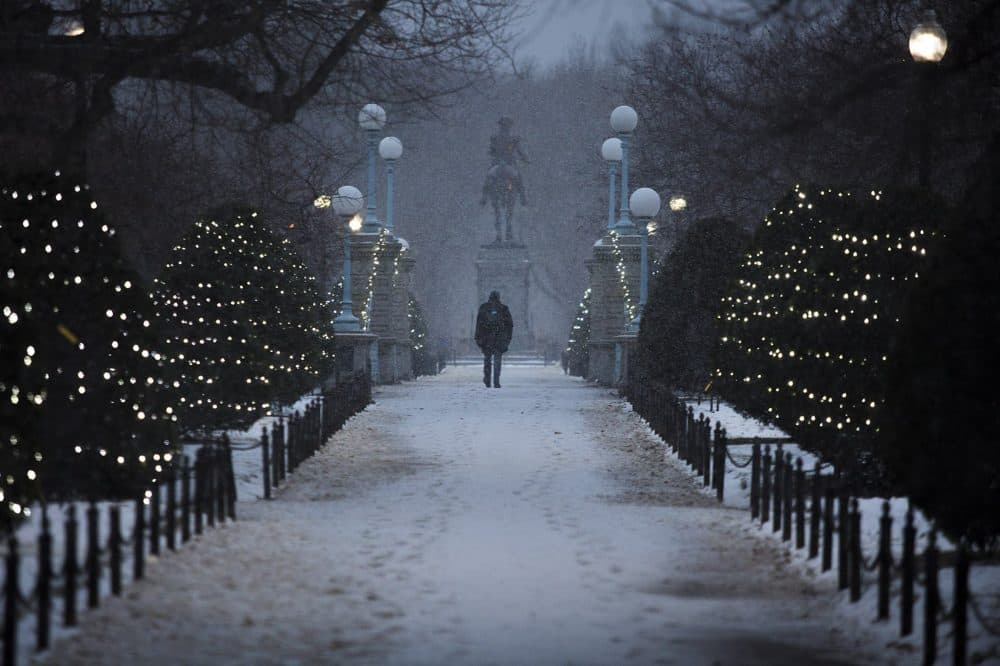 State officials stressed residents should take care to stay safe and warm during the storm, offering safety tips.
Schools across the state closed Thursday as well, including in Boston.
"Friday night and Saturday we're going to have very cold weather — below zero," Boston Mayor Marty Walsh said. "So it's important for us that we get this snow off of the ground as best we can [Thursday], because once the freeze comes in, it will be almost impossible to move the ice that will be formed."
The mayor also warned residents that they'll be ticketed for failing to shovel sidewalks. Boston is one of many communities with a parking ban in effect.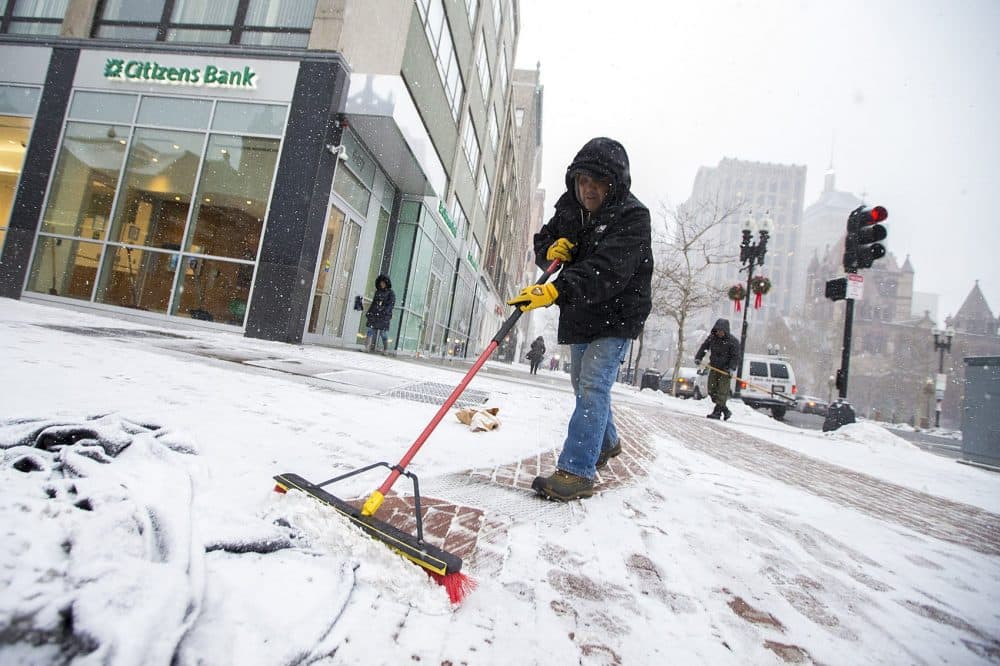 With reporting by WBUR's Lynn Jolicoeur, Lisa Creamer and Meghan B. Kelly, and WBUR's Newscast Unit
This article was originally published on January 03, 2018.