National Weather Service Warns Of 'Very Cold Wind Chills'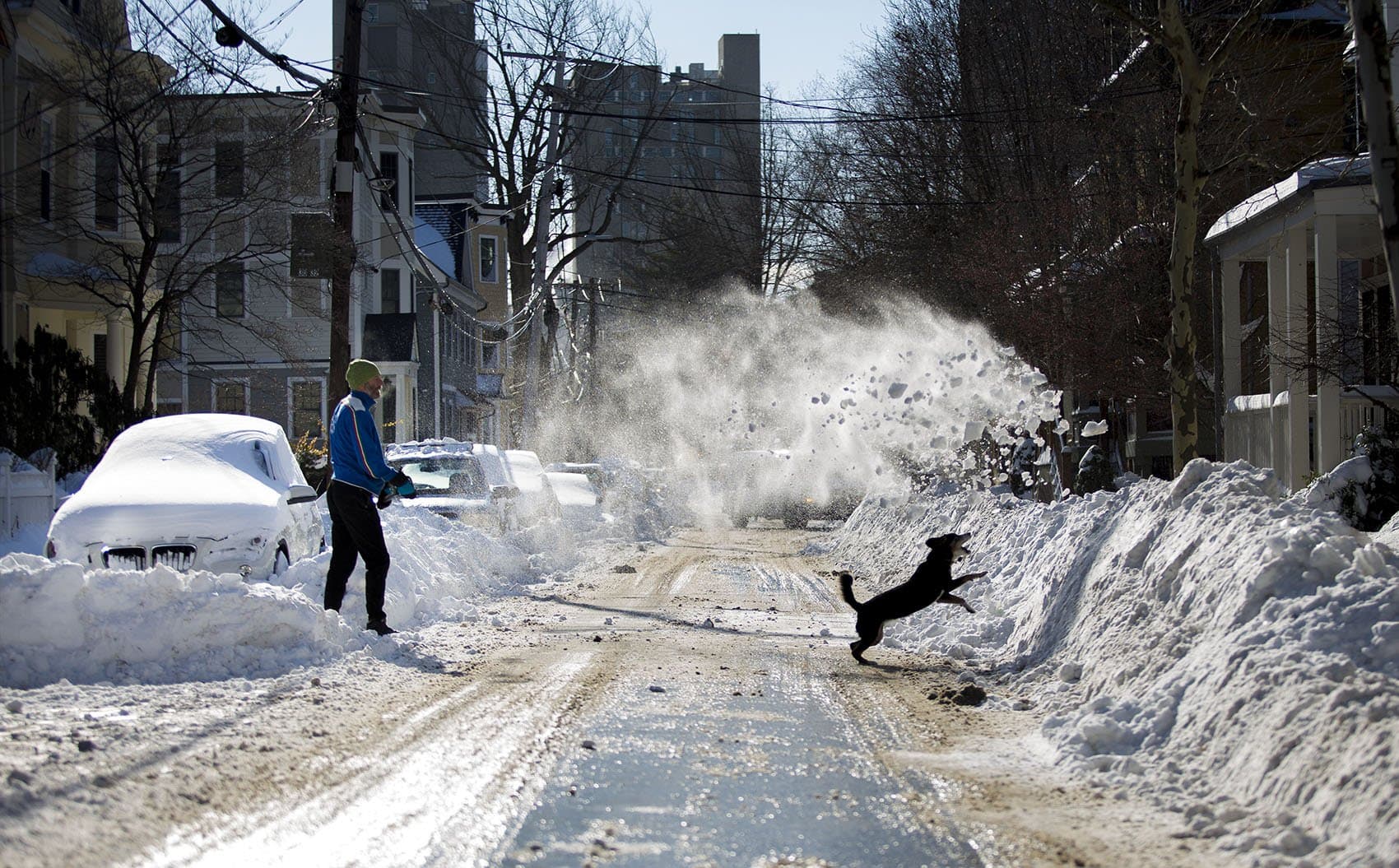 This article is more than 4 years old.
Eastern Massachusetts cleaned up Friday after a major snowstorm tore through Thursday, and before frigid temperatures descended on the region.
Story continues below
Current conditions in Boston
A wind chill advisory went into effect at 4 a.m. Saturday for eastern Massachusetts and Rhode Island and is set to run through 10 a.m. Sunday. The National Weather Service is warning of "very cold wind chills" from 5 below zero to 25 below zero. The NWS says the wind chills "will cause frostbite in as little as 30 minutes to exposed skin."
WBUR meteorologist David Epstein says "temperatures Saturday will not break 10 degrees in Boston and the period from late [Friday] evening through Sunday morning is probably going to end up the coldest of the entire winter."
The bitter cold follows Thursday's nor'easter, which dumped at least a foot of snow on Boston and other areas, while winds gusted and record-breaking high tides flooded some streets and homes up and down the coastline.
The storm, which scientists called a "bomb cyclone," walloped nearly the entire Eastern Seaboard, from Florida all the way up to Maine.
The National Oceanic and Atmospheric Administration verified Friday that water levels in Boston reached a peak of 4.89 feet above the average of highest tide readings for the day. That broke the record of 4.82 feet above, set during the infamous Blizzard of '78 in February of that year.
The flooding sent large trash containers floating down Boston streets, forced the shutdown of a subway station as water cascaded down the steps, and prompted rescues of people trapped in cars and homes in Boston and several other Massachusetts communities by rapidly rising waters.
The harbormaster of Scituate, Stephen Mone, said he feels lucky to be alive after falling into the icy harbor there Thursday. He was rescued by a man who saw him fall into the water while trying to retie the lines on his boat.
"I saw him and I just said, 'I don't have much more time, I can't hold on anymore...' and he grabbed me," Mone said.
He said with the man's help, he was able to pull himself back up from the freezing waters onto the dock.
Now, the cold.
Plumber Fred Webster, who owns Milltown Plumbing and Heating of Chelmsford, said homeowners can prevent pipes from freezing by turning the heat up and moving anything that's blocking radiators or heating vents.
"Do not turn your thermostat down to save energy, because the cost of savings will definitely go upside down if you dip low enough to have a frozen or broken pipe," he told WBUR.
Boston Mayor Marty Walsh told Morning Edition that the city is going full bore to remove the snow from every street, with about 700 workers, both city employees and private contractors, out on Friday.
Boston's parking ban lifts at 5 p.m. Residents have 48 hours after the snow emergency is lifted to remove their space savers.
With reporting by WBUR's Meghan B. Kelly, Benjamin Swasey and its Newscast Unit, and by the Associated Press
Correction: An earlier version of this story said the MBTA was operating on a reduced schedule Friday. It operated on a normal schedule. We regret the error. 
This article was originally published on January 05, 2018.