Meet Boston's New Artists-In-Residence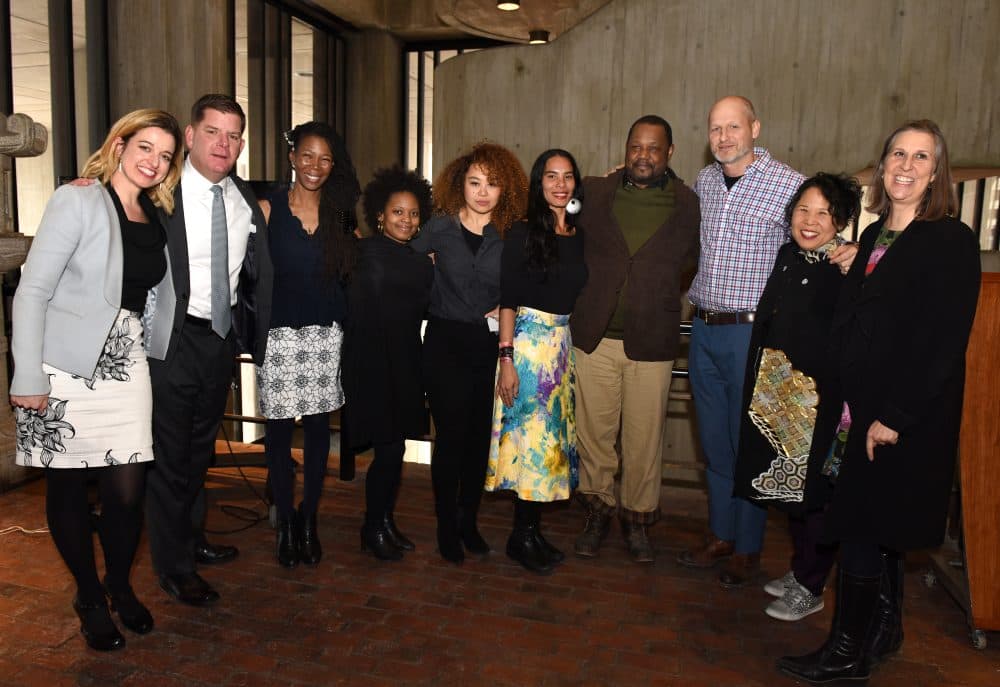 This article is more than 3 years old.
The new group of artists for Boston's residency program will spend the year paired with one of the city's Centers for Youth & Families, focused on the theme of resilience and racial equity.
In its third year, the Artists-in-Residence program aims to "explore how socially engaged art processes can be used to bolster City initiatives such as climate change, immigration and income inequality," according to a statement from the city.
Here's a look at the artists announced on Monday (with information primarily provided by the city):
A poet who lives in Roslindale, Daniel Johnson was the founding executive director of the nonprofit youth writing center 826 Boston. He's working on completing "In the Absence of Sparrows," which remembers his friend journalist James Foley who was killed by militants in Syria in 2014.
Roxbury choreographer Marsha Parrilla founded Danza Orgánica, a social justice-focused troupe. Originally from San Juan, Puerto Rico, Parrilla is a dance ambassador at Boston's Institute of Contemporary Arts in Boston.
Artist and activist D. Farai Williams is the founder and facilitator of Dynamizing Equity (dEQ) and Idjeli Theater Works (ITW). She lives in Roxbury and, among other things, is an racial equity strategist with the Disruptive Equity Education Project (DEEP).
Nepali visual artist Sneha Shrestha (who goes by IMAGINE) mixes Sanskrit scriptures with American graffiti and has painted around the world. A Somerville resident, Shrestha founded the Children's Art Museum of Nepal.
Taiko drummer Karen Young lives in Jamaica Plain. She is the founder and artistic director of The Genki Spark, a multi-generational, pan-Asian women's arts and advocacy organization that uses taiko drumming to build community.
A Boston writer with a background in journalism, Nakia Hill works in managing creative writing spaces for underserved young people. She's working on non-fiction poetry and personal narratives. She's been published in The Christian Science Monitor, Huffington Post, The Bay State Banner and Sister to Sister Magazine.
Boston visual artist Steve Locke has had exhibitions around the world, including a solo exhibition at Boston's Institute of Contemporary Art and a residency at the Isabella Stewart Gardner Museum. Much of his work is focused on portraiture and language. He is a tenured professor at Massachusetts College of Art and Design.