'Night With Janis Joplin' Wants You To See The Iconic Rocker Beyond Her Untimely Death
Janis Joplin played the last concert of her life at Harvard Stadium on Aug. 12, 1970 in front of nearly 40,000 fans. Some of the sound equipment had been pilfered before the show, causing a long delay during which Joplin was spotted backstage, boozing it up with her drink of choice, Southern Comfort.
It was just three years after her explosive performance at the Monterey Pop Festival and a year after Woodstock that she died, overdosing on heroin on Oct. 4, 1970. Early the next year, Joplin — or her estate — had the big breakthrough hit with the release of her second solo album, "Pearl." It was propelled by the Kris Kristofferson-penned hit, "Me and Bobby McGee," and went on to sell more than four million copies.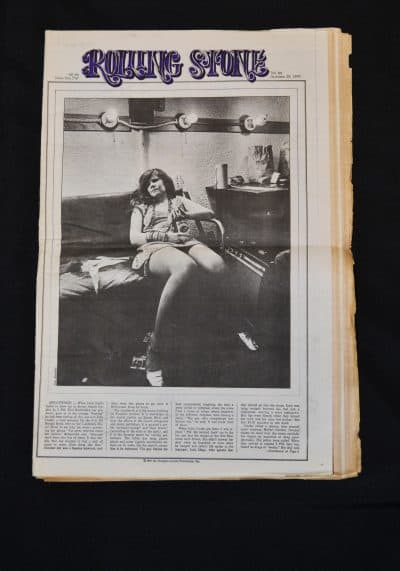 Joplin, the pre-eminent gritty blues-rock belter of her day, became a star. She'd been on the ascent, but, as will happen, her legacy was secured after she became an initial member of the so-called 27 Club. Before Joplin, there was Rolling Stones' Brian Jones and Jimi Hendrix; soon would come the Doors' Jim Morrison and, much later, Nirvana's Kurt Cobain and Amy Winehouse. All dead at 27.
But Joplin lives again in "A Night With Janis Joplin" at the Boch Center's Shubert Theatre with a three-show run (Friday, Jan. 19 and Saturday, Jan. 20) that begins on what would have been the singer's 75th birthday. The Boston engagement comes halfway through a 41-city tour.
"It's conceived as a concert one week before her passing," says the show's creator Randy Johnson, "and I believe it's a concert she would have done at some point in her life where she actually sets the record straight. She doesn't die in the show. She actually lives on … and she does live on."
The show is about 70 percent music and 30 percent monologue.
The actress who played Joplin during the show's Broadway run, Mary Bridget Davies, earned a 2014 Tony nomination for her work. On this tour, Joplin is played by Newton-born Kelly McIntyre (who's doing Friday and Saturday evening shows in Boston) and Katrina Rose Dideriksen (the Saturday matinee). Four other singers portray seminal Joplin influences: Odetta, Bessie Smith, Nina Simone, Etta James, Aretha Franklin and an un-named blues singer who tackles Joplin's favorite from "Porgy and Bess," "Summertime."
"They either do it duet form or you'll see the genesis of the song and see how it's evolved and morphed into Janis' version," Johnson says. "She talks about [those singers] being such a profound influence on her. They all show up and interact with Janis throughout the show. It's an imaginative, surreal element. The journey of Janis came through these extraordinary powerful women."
"We like to think we're different from the jukebox musicals, like the Carole King musical, because there's no plot per se," says McIntyre. "There's no scenes, there's no dance numbers, there's no set changes. It's a concert. But we also like to say we're not a tribute show because we're not trying to sound exactly like these women; we're paying homage to all of these singers' legacies. It's pretty much a celebration of the music back then."
David Bieber, a Boston-based pop culture archivist, supplied about 25 pieces of Joplin memorabilia from his collection that will be displayed in the theater's lobby.
"She was such a forerunner," Bieber says. "Very authentic -- original, but with references to the past. In the '60s you think of women in music and you think of the girl groups. Janis came out of the underground in Texas and moved to San Francisco. She and [Jefferson Airplane's] Grace Slick were the 'hippie chicks,' the top women who were fronting bands. How unusual it was then and how it was a clue to a new direction that would come. She was changing the nature of what had been established; she was transformative. A potent song stylist and interpreter, with a dramatic sexual energy on stage. She was one of the leading characters of the San Francisco sound that washed over the country."
Her death was front page news in newspapers across America. And, Bieber says, "There has been continued presence of her music through the decades. She's become an iconic reference point for not just the music, but the culture."
Johnson calls "A Night With Janis Joplin" a "rock and blues opera. It was always designed not to be traditional theater — that's not what I do. If you listen to the music and the dialogue and the score, there's a through line throughout that tells the trajectory of Janis' life."
Johnson, who's now in his late 50s, says he became a fan of Joplin before he even hit his teens. It was 1968 and he says he was attracted to R. Crumb's garish cover art on "Cheap Thrills," the second album by the band Joplin fronted, Big Brother and the Holding Company.
"I bought it at Woolworths," he says, "and played 'Summertime' and 'Piece Of My Heart' over and over again to the point where my parents moved my record player to the garage."
More than four decades later, Johnson was approached by the curators of Joplin's estate, her siblings, Laura and Michael Joplin, and their manager. They wanted to discuss a Joplin-based show. Johnson had a history with these sort of things; he had previously written, directed or produced a series of concert-cum-plays centered around Elvis Presley, Patsy Cline, Conway Twitty, gospel singer Sister Rosetta Tharpe and the Leiber-Stoller songwriting team with "Smokey Joe's Café."
"It was amazing," Johnson says. "We were supposed to have a 20-minute meeting; it turned into a deep, three-hour conversation about Janis. I left the meeting and the next day they sent me copies of her diary, her writings, her recordings. Everything I needed to know about Janis. I just listened to them and Janis' words. For me, to get it first hand from the people who lived it and the woman herself was extraordinary.
"She was wickedly smart, she designed all of her stage clothes, she picked her songs, she didn't do what the record label said -- they respected her and let her create her own art."
Once he struck a deal, Johnson says he shut off cable TV and the internet and hunkered down. "I lived Janis. There were so many different aspects of her. The more I listened the more I was engaged in the process. This woman surprised me; this was a woman I really came to like and admire and care for. One morning I woke up at 3, knowing exactly what the show should be, put on a pot of coffee and 18 hours later the first draft was done."
There are several ribald and raunchy Joplin biographies out there. The first was "Going Down with Janis," written by her ex-lover Peggy Caserta in 1973. Joplin was bisexual; Caserta was the lover who lasted longest in her life and they shared a passion for sex and heroin.
Johnson didn't want to go there. "I didn't read any biographies," he says. "They're just other opinions — sometimes good opinions and sometimes not." But he insists he doesn't sanitize Joplin's life. "She drinks throughout the show, as she did in real life," he says. "There is a passage where she assesses her demons. But everybody has demons. Hers just happen to be seen through the lens of a microscope, her life and times."
"You do see a downfall in her spirit throughout the show," McIntyre adds. "You can tell that she's headed out and she knew she was headed out by the end of her career. From the first act to the second act it gets a little more internal and a little more painful."
As this is structured more as a concert than a biographical piece of theater, Joplin does not die at the conclusion. "Everyone knows the end," says Johnson. "The last 15 minutes of the show is really her being heartfelt and honest about her views on life. I believe she had a premonition or feeling something was about to happen."
McIntyre saw and watched everything about Joplin she could find online "to get her mannerisms down." Joplin was vulnerable, but swaggering and McIntyre found her "super complex. There are so many things about her that people didn't really know and all these things we talk about in the show. She was a painter. She had so many intricacies about her personality. She was very lonely, but also had a very normal childhood. She was very loud and she had a big personality. When people think of Janis Joplin, a lot of times people just think of her demise. We're trying to make her more human."
When Johnson was trying to finish writing the show, he found himself at a roadblock. He didn't have a finale. He was thinking of "Ball And Chain," but judged it "too heavy." Then he got a call from Jerry Ragovoy, who wrote or co-wrote a number of the songs Joplin sang, including "Piece Of My Heart," "My Baby," "Get It While You Can," "Cry Baby" and "Try (Just A Little Bit Harder)."
It turned out Ragovoy had one more song, one he said Joplin had been slated to record the day after she died. She had only recorded a scratch vocal for it. He asked if Johnson wanted to hear it. "I said 'Absolutely!' " Johnson recalls. "I was thrilled to hear from Jerry Ragovoy and the song was 'Rock My Way To Heaven' and the lyrics start with 'Sometimes I think time is too short.' It debuted in my show, so it came full circle for Janis."
---
"A Night With Janis Joplin" is at the Boch Center's Shubert Theatre on Friday, Jan. 19 and Saturday, Jan. 20.