'American Crime Story' Tackles 'Assassination Of Gianni Versace' With Dazzling Bombast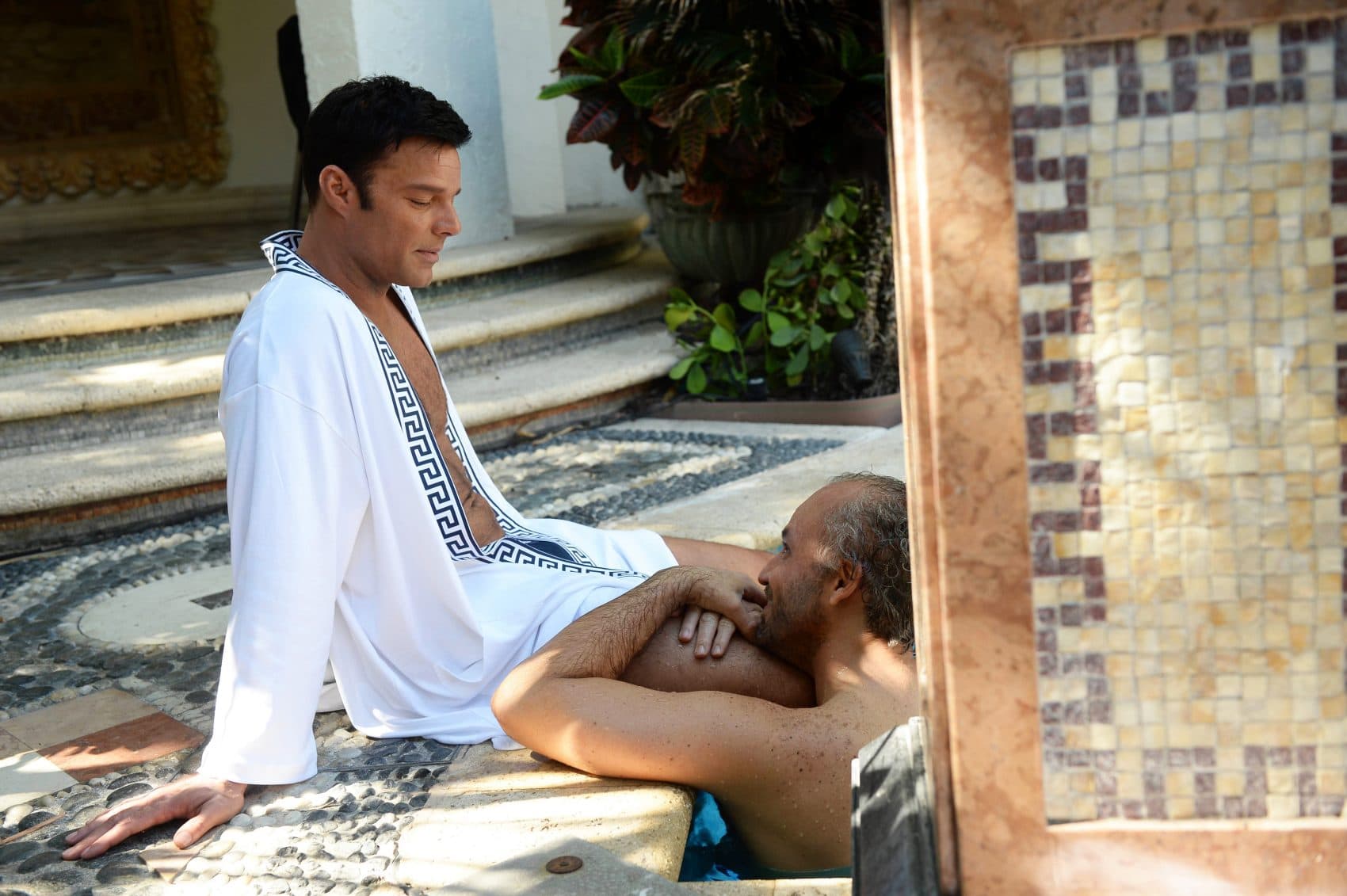 This article is more than 4 years old.
"American Crime Story," Scott Alexander and Larry Karaszewski's true crime anthology series, premiered its first season, "The People V. O.J. Simpson," in 2016. Executive producer Ryan Murphy, who's fronted too many seasons of "American Horror Story," has assumed showrunning duties for the second season: "The Assassination of Gianni Versace," in which he fully hitches his brazen kitchen sink storytelling style to a genre bound by more realistic filmmaking.
In "The Assassination of Gianni Versace," Murphy coyly pushes those boundaries only enough to bend them rather than break them, subjecting the legend of the great fashion designer's murder to a fresh round of sensationalization as only he can: With dazzling bombast. But the show isn't uniquely vulturous. The show's hyper-stylized dramatization of Versace's demise is in keeping with the beloved American tradition of picking dry the bones of slain celebrities, infused with class and surprising heartfelt empathy that adds dimension to the tale's tragedy. Americans love their blood and guts. "The Assassination of Gianni Versace" has the grace to make us feel guilty about it.

Murphy and Tom Rob Smith, who authored every episode in the season using Maureen Orth's book "Vulgar Favors" as his basis, make the wise choice to begin at the end in the first of its many notable riffs on classic movies like "Sunset Boulevard." We start with the crime and work our way backward, revisiting the characters we meet in the pilot's pre-credit introduction anew over the course of years; if you know nothing of how Versace met his end, you'll be caught up in the show's first seven minutes. One sunlit morning in Miami Beach, Gianni (Édgar Ramírez) wakes up beneath the saffron hued clouds painted on the ceiling over his bed, and ambles over to his balcony to take in the view of the beach his lavish mansion affords him. At the same time, Andrew Cunanan (Darren Criss) sits on the very same beach, anxious over a deed he's yet to do. The two men go about their very different days, Murphy cross-cutting from one to the other with a delicate care to demonstrate their grand existential disparity.
It's a superb establishing moment that gives way to a sequence laden with great filmmaking and capped off with an act of violence whose blunt efficacy would make Martin Scorsese proud. To our eyes, the violence is random, but as "The Assassination of Gianni Versace" unfolds from its opening scene to its climax, that element of chance dissolves into something that very nearly feels like fate. On one hand rests Gianni, brilliant and bold, an artist coming into his own in the fashion industry as he spars, if lovingly, with his sister, Donatella (Penelope Cruz), over the direction of the company that bears their name. So too do they spar over such matters as his wish to come out on the world stage.

"You live in isolation, surrounded by beauty and kindness," Donatella chides him in "Don't Ask Don't Tell," the season's fifth episode. "You have forgotten how ugly the world can be." Gianni retorts, "Is the brand of Versace braver than the man?"
"The Assassination of Gianni Versace" positively brims with Smith's spryly poetic dialogue, keeping the show lively at both its most adversarial and its most funereal, and it should be both: The story of Gianni is larger than life even when focused on his death and his difficulties. That scope differential between him and his killer-to-be is necessary, if not for illustrating their reality then for thematic effect. Cunanan is a monster, and "The Assassination of Gianni Versace" avoids mistaking him as anything else. But in contrasting Gianni's endless privilege to Cunanan's encompassing paucity, the show reminds its viewers of what exactly Cunanan felt was worth killing for in the first place.

Headings aside, "The Assassination of Gianni Versace" is less about Gianni than about Cunanan, a surprise given the temptation of extravagance offered by Gianni's wealth and the aesthetic beauty of his world. The plain truth is that we know more about Gianni than we do Cunanan, and the most hideous mysteries have more allure than the gilded lives of the pretty and famous. He's on screen more than Gianni, smooth-talking his way into hotel suites, San Francisco's most exclusive clubs, the well-appointed homes of wealthy and powerful closeted men; we're given a window into his method, watching him practice aw-shucks entreaties to strangers in the mirror. None of this surprises us, though. It's the expectation Criss lays out for us about 15 minutes into episode one, "The Man Who Would Be Vogue," as he goes tit for tat with a friend.
"I tell people what they need to hear," he says, speaking to his sexuality on the surface while giving us fair warning about the skein of falsehoods he's wound leading up to this moment. When your narrator is as unreliable as Andrew Cunanan, the facts of his life become secondary to the what-ifs of his life. In a manner of speaking, "American Crime Story" does him the favor of myth making, of giving him the visibility in death that he lacked in life. It's a morbid thought, but watching "The Assassination of Gianni Versace" leaves one with an unnerving sense that if he was around to watch the series for himself, he'd probably love it. Murphy and Smith give him what he apparently hungered for his whole life, the reason he sought out Versace and lied about himself to everyone in earshot: Fame. Maybe it's more like infamy, but he'd probably take it.

Murphy soaks the show in a palette that ranges merely from bright to lurid, splashing enough electric candied colors across the frame to send us into sugar shock; he staffs the series with past collaborators (not only Criss, but Max Greenfield and Finn Wittrock as well), plus a terrific supporting cast that includes Ricky Martin as Gianni's lover, Antonio D'Amico, and "Orange is the New Black" vet Dascha Polanco as one of the detectives investigating the Versace shooting. He doesn't emphasize name recognition and style at the expense of substance, though. "The Assassination of Gianni Versace" is a terrific example of true crime done right, prioritizing creativity without sacrificing honesty, but the element that resonates best with us is its central theme: The power of truth versus the cowardice of lies.
Versace embraces who he is, not only as a designer, but as a man. He literally and figuratively wears his personality on his sleeve (and on the sleeves of his clients). Cunanan determinedly lies so that he doesn't have to face up to who he really is. The only character who gets close enough to Cunanan to figure that out is David Madson (Cody Fern), his overly kind lover and the second victim in the killing spree that would end with Gianni's blood spilled on his front steps. No wonder Cunanan felt so compelled to take Gianni's life, as well as his own: He couldn't stand to see the fashion titan succeed, in business and in self-acceptance. Murphy treats Gianni's comfort within his own skin as triumph; maybe Cunanan wouldn't like the show that much after all.