In 'Brodsky/Baryshnikov,' Great Friends Plumb Existential Depths
"However, if I were to summarize, my main interest is the nature of time. That's what interests me most of all. What time can do to a man." — Joseph Brodsky in an interview with Sven Birkerts for the Paris Review, Spring 1982
"Brodsky/Baryshnikov," a 90-minute reflection on aging, perseverance and mortality, contains worlds — while also acknowledging their impermanence. Its Boston premiere Thursday night, at the Cutler Majestic Theatre, brought the mostly Russian-speaking audience to its feet.
Conceived by director Alvis Hermanis, head of the New Riga Theatre, in Latvia, and known for his innovative theater and opera productions throughout Europe, "Brodsky/Baryshnikov" has a score, a script and action, though of an unusual sort: The score is primarily made up of 44 poems — some whole, some excerpts — written by Joseph Brodsky from 1957 to 1995.
They are spoken (in Russian with surtitles that unfurl atop an art nouveau-style small glass house) by Mikhail Baryshnikov — in whispers, shouts, shudders and occasionally wonder — live, from memory and out of hand-held books, as well as via recording. Brodsky, who died in 1996 at age 55, "joins in" his rhythmic renderings, also in Russian, emanating as if from a spinning reel-to-reel tape recorder placed on a bench. It's unsettling at first, but he becomes a fundamentally crucial presence.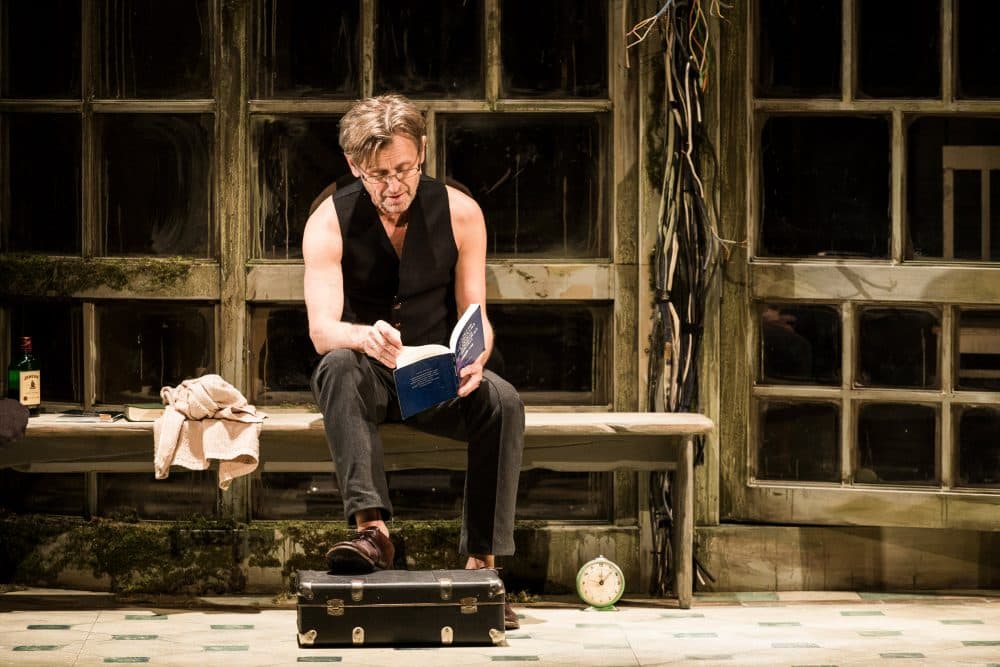 The men had been fast friends since they first met, at a party in New York shortly after Baryshnikov defected from the USSR in 1974. As the play shows, they remain so, with Baryshnikov carrying Brodsky not just in his heart and head but in his body, down to his now-circling, now-fluttering fingers. Brodsky, eight years older, had been expelled from his homeland two years earlier after being tried, and imprisoned, for dissident activities. The two, Baryshnikov quoted Brodsky as saying in a Poetry Foundation article, had "a lot to talk about."
They still do — Baryshnikov often in movement, with uncanny improvisations performed inside and outside Kristīne Jurjāne's astonishing set. Jim Wilson's "God's Chorus of Crickets" runs like a liturgical carpet beneath the onstage narrative.
Baryshnikov — drawn, disheveled, with shoes but no socks — enters the glass house through the back door carrying a suitcase. He walks through the space, lit by bare bulbs that brighten and fade, and out the front one, settling on a bench. Above him a malfunctioning fuse box now and again crackles and sparks. He pulls out a stack of books, a green alarm clock and a bottle of Jameson (apparently Brodsky's preferred beverage). Speaking so much poetry can make your throat dry.
He begins to read. What follows is essentially a eulogy by Baryshnikov for Brodsky in the poet's own words as filtered through the muscles and sinew, the roiled tongue and now-lyrical, now-tormented limbs of the famous dancer. Hints of the great Ballet Russes dancer Vaslav Nijinsky, of Japanese Kabuki and flamenco, and even classical steps — a tendu here, a dying swan arm there — emerge.
At times, the movements seem to channel the words. Inside the house, Baryshnikov runs in ever-tighter circles informed by Brodsky's words, "Spinning like a shaman in the room/ I wind its emptiness around me in a ball." And then, eerily, roles flip; Baryshnikov begins a poem, and Brodsky-on-tape, ghostlike, takes the next words out of his mouth, "I feel solidarity only with sorrow."
We see, too, not just the vulnerability but also the history carried in Baryshnikov's 69-year-old body, particularly when he shuffles off his shoes, rolls his pants above his knees, and takes off his jacket and vest: images of Baryshnikov in Balanchine's "Prodigal Son," in Twyla Tharp's "Push Comes to Shove," in his solo "HeartBeat: mb" flash by, but new adventures have taken their place now. As one of the evening's poems puts it: "Life — is the sum of tiny movements."
Transforming those poems, Baryshnikov conjures the preoccupations of the man. Language is primary among them. Another is, as Brodsky said, "What time can do to a man." Hence we hear: "The dark that awaits us we cannot dispel./ We roll down the flag and retreat to the keg./ Let us have a last drink and a draw on the fag." And this, using the butterfly as metaphor: "You touched so brief a fragment/ of time./ There's much that's sad in/ the joke God played./ I scarcely comprehend/ the words 'you've lived,' the date of/ your birth and when you faded/ in my cupped hand/ are one, and not two dates."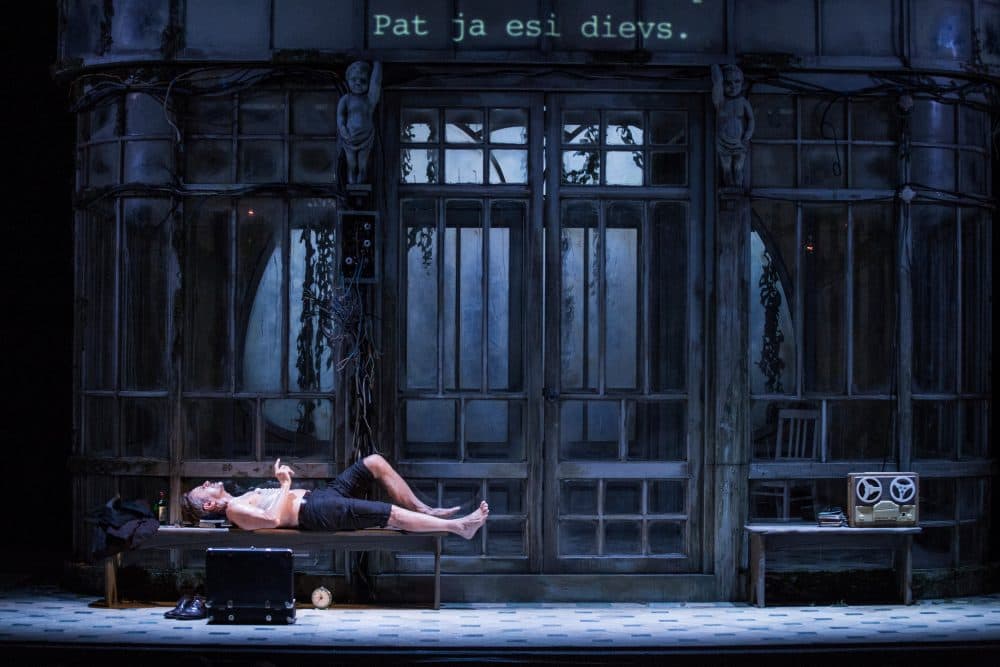 For those in the audience who don't speak Russian, the show presents some challenges: It is at once provocative and thorny, heart-wrenching and frustrating. Where should we look? At the surtitles scrolling skyward? At Baryshnikov channeling, through his body not Brodsky's words but their kinesthetic intent? But then, the set partly obscures some of that movement, too. How can we possibly take everything in?
Still, this paean to all aspects of the human spirit (and animal, too) will hit you where you live. At the end of the piece, Baryshnikov, for the first time, addresses the audience. "One more poem," he says, "written when Joseph was 17 years old." It was translated specifically for the show by Jamey Gambrell and speaks of love and hope and light. It begins: "Farewell,/ forget,/ and don't judge too harshly." Later: "May your road/ be courageous,/ May it be straight/ and clear." And at the end: "May many successes await you/ more than are waiting for me./ May the battle resounding in your chest,/ be magnificent and strong./ I'm happy for those,/ who may happen/ to travel/ along your way."
---
"Brodsky/Baryshnikov," presented by Cherry Orchard Festival, is at the Cutler Majestic Theatre in Boston through Sunday, Jan. 21.