Not Slowing Down After All These Years, Alejandro Escovedo Sings The People's Music
Alejandro Escovedo will tell you there's been good times and bad times over the years, but if you ask the Austin-based singer-guitarist about one of the best, he'll go back to when he was a 22-year-old fan, living in Hollywood. It was 1973. Escovedo and some friends were in a van, driving from Huntington Beach to see Iggy and the Stooges at the Whiskey a Go Go on the Sunset Strip.
"On Sunset Boulevard, down by Hollywood High, there was Iggy Pop walking down the street," says Escovedo, on the phone from his home. "We pull over and say, 'Hey, man, you need a ride? We're going to the Whiskey, too.' And he jumps in the van, smokes pot with us and tries to hit on the girls. We get to the gig and he let us in through the back door."
That was rock 'n' roll heaven. Escovedo says he got the same kind of vibe from the New York Dolls when they played the Whiskey. "They hung out with us. They weren't isolated, they were part of it. And I think that's why I can't stand elitism in rock 'n' roll. I really feel it is a people's music."
Escovedo is 67 now, but that sort of populism continues to course through his veins and his music, which, for lack of a better assignation, falls under the rubric of Americana.
He has been a full-time rocker for more than four decades -- first in the San Francisco punk band The Nuns, then the cow-punk band Rank & File and then a stint with the True Believers. He's been a solo artist since 1992, with 15 studio albums to his name. At City Winery in Boston on Sunday, Jan. 21, Escovedo will be playing, among other songs, the entirety of what many consider his best album, 2001's "A Man Under the Influence."
"I had a great time making the record, one of the most enjoyable experiences I ever had," says Escovedo. "I think the main inspiration for [featuring this record] was the fact that our guitar player, Joe Eddy Hines, who toured with us for many years throughout that time, passed away from cancer within the past year. It hit me really hard. He was a wonderful man and a great guitar player. I just wanted to do something in his memory and this is what I do: I play songs.
"So, we thought that album that represented his period of time in the band would be the one to choose, and also because it's an album I keep going back to, one of those records where it seems everything came together at that moment, which is a rare thing."
Chris Stamey, former co-leader of the power pop band The dB's, produced "A Man Under the Influence," and is joining Escovedo in Boston, both as a multi-instrumentalist in the band and opening act. He's re-arranged some of the album's songs. Others who played on the album are in the current group, too: guitarist Mitch Easter, drummer Hector Muñoz and pedal steel guitarist Eric Heywood (who also now plays with The Pretenders). Bassist Mike Luzecky rounds out the band.
When we talked earlier in the month, Escovedo had just played a benefit in Portland, Oregon, to cover medical expenses for his friend and sometime collaborator singer-guitarist Scott McCaughey (The Minus 5, The Baseball Project) who was felled by a stroke in November while playing with Escovedo.
"He's doing very well and played three songs that evening," Escovedo says. "We talked baseball, we talked rock 'n' roll and we talked about getting back together doing some of the songs we'd started."
The current 12-date tour is sponsored by the Prevent Cancer Foundation, of which Escovedo is a national spokesman. The tour is called Think About the Link.
Escovedo, too, has been in dire straits in terms of his health. He caught hepatitis C in 1997, but wasn't diagnosed until 2003. (The disease often leads to liver cancer.) In early 2017, he was able to take a pill that contains three powerful antiviral drugs and is now free of the disease.
"I made it through the near-death thing," he says. "There was a time where things were very bleak for me. And people came to my aid and really inspired me to get better, so whatever I can do in any little way, it's part of me. I've always been involved with doing benefits. I've always felt I'll do anything I can to give back to people for all the support and love that I get from my music and performing."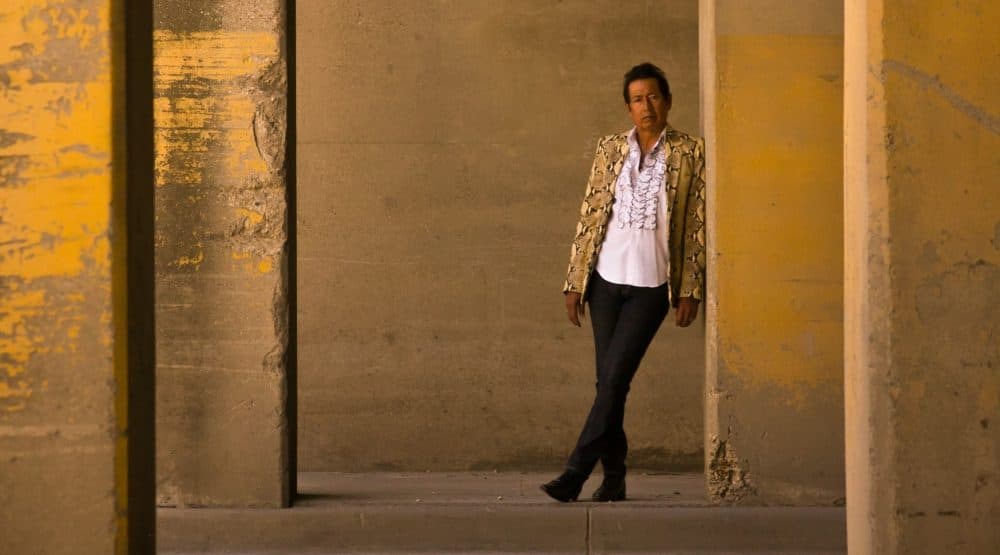 He also suffers from PTSD, the result of a 2014 hurricane in Mexico where Escovedo and his wife, Nancy, were honeymooning. The house they were staying in was destroyed.
Music runs in the Escovedo family bloodline. Alejandro is the brother of percussionists Coke and Pete Escovedo and uncle of Sheila E., to name just three of many musical Escovedos.
Escovedo writes serious songs, subscribing to Lou Reed's theory of making rock 'n' roll for adults. If younger kids dig it, fine, but, he says, "I would have a very difficult time pretending I'm any younger than I am. I find the things I speak [in song] about have always been true."
"The people I love," Escovedo continues, "were people like David Bowie, who was constantly challenging himself and the audience by all the transformations he went through."
Escovedo's music is sharply honed and melodic, often defiant and edgy. He can move from rip-snorting guitar-stoked rockers like "Castanets" to the layered, Roy Orbison-esque "Never Stood a Chance." Sometimes the intent of the song is clear; other times it's murkier.
Of "Castanets," Escovedo says many people hear part of the chorus -- "I like her better when she walks away/ I like her better when she never stays" — and take it as a kiss-off song. It's not, Escovedo says, explaining, "It's about a woman people don't understand. It's [me] admiring that walk, in a way. That walk has a lot of language in it that says many things -- it has a lot of confidence, it's very spirited, beautiful, rhythmic. I like her better because she has this attitude about her."
"I've always admired the abrasive honesty of Alejandro's lyrics," Tony Visconti, the famed David Bowie producer who's produced three Escovedo albums, told me a few years ago. "He was never afraid to go into uncomfortable human situations."
Escovedo feels that rock 'n' roll should never lose its sense of provocation.
"Personally, it gets hard not to have that element," he says. "I carry that as a result of the psychological and spiritual issues that come with growing up in the way that I did. Also, because the world is so scary at this moment, I think there are issues outside of us that put our existence in jeopardy. I think rock 'n' roll has to have an element of that."
Not to put too fine a point on it, but Escovedo is talking about living in the Trump era. His last album was 2016's "Burn Something Beautiful" but he's planning on making two albums this year, both limned with themes about the stressful times in which we live.
The first will be a concept album done with a full-bore rock 'n' roll band from Italy that Escovedo toured Europe with last year. "When we were on tour we talked a lot about Trump," he says, "because Trump came up a lot in the concerts. I would speak about my feelings and I'd work them into songs and sometimes we'd have 1,500 people chanting 'FU Trump!' in Spain or Ireland or somewhere. He's not very popular over there.
"We decided we'd make a record about two young boys — one from Italy, one from Mexico — and they meet in south Texas. They're working their way through America trying to find the America that they heard about on albums and saw in movies and read in books. And they're not finding it. They're coming up against a lot of adversity — border patrols and what-not — and they make their way to Los Angeles where they go to a punk rock show. And they suddenly embrace this community and this culture and they find the America within punk rock that they were looking for. They're up against a government that is trying to oust them, so there is a Trump-ish-like character on the album and in the story. There's also a love interest, the feelings of being isolated and removed from your culture. Out of the two, one of them is going to have a bad ending, deportation or drugs or the cartel. We're not sure yet."
The second album will be an acoustic effort with longtime pals McCaughey and former R.E.M. guitarist Peter Buck, all of whom collaborated on "Burn Something Beautiful." Acoustic, however, does not mean soft or light.
"The songs center around dealing with this world," Escovedo says. "I deal with PTSD and I think a lot of us do. It leads me to Trump and everything that's happening in the world."
When it all gets too much, Escovedo says, "Sometimes I have to turn it all off and walk away, go outside and do something physical to exhaust myself."
"But, you know, I'm optimistic because I've always been a person who believes in people. And that's worked against me sometimes. But I love people and I believe in the human spirit, the spirit of love and the spirit of determination and change and freedom and justice. So, I truly do believe in that, even though sometimes the easy part would be to give up and turn your back on it. I've had friends who've decided to leave this planet because they couldn't deal with the pain. But I don't see that as an option."
---
Alejandro Escovedo performs at City Winery in Boston on Sunday, Jan. 21.