Sens. Markey And Warren Vote Against Spending Bill To Reopen Government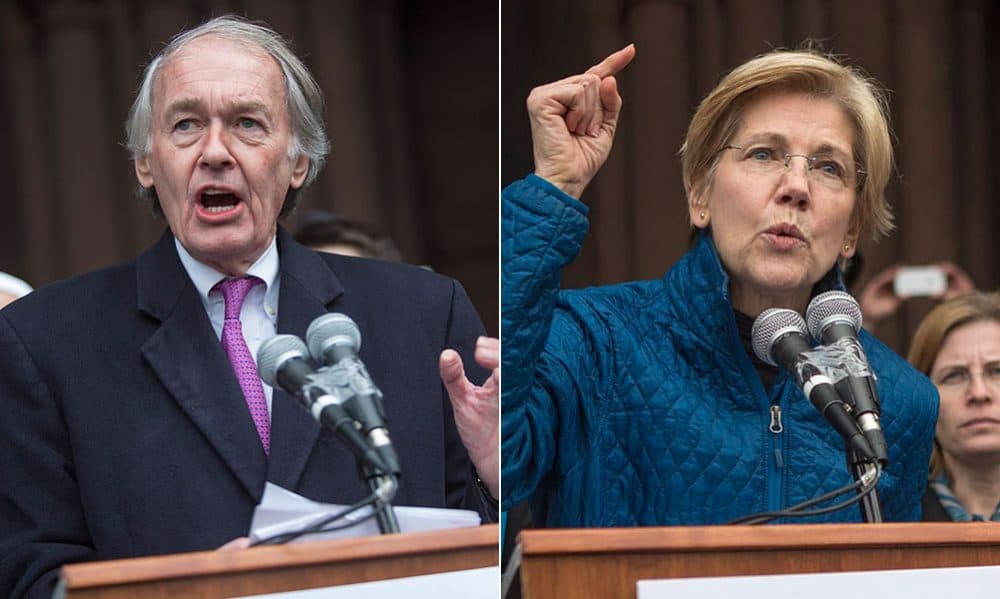 This article is more than 3 years old.
Massachusetts' two U.S. senators, Ed Markey and Elizabeth Warren, were among 16 Democrats who voted Monday against a three-week spending bill to end the partial federal government shutdown.
The measure, which funds the government through just Feb. 8, passed easily in the Senate, 81-18, with 33 Democrats joining 48 Republicans in approving it. The House followed later Monday, paving the way for the government to reopen. It had been shut down since midnight Friday.
The Senate vote followed a deal between the chamber's party leaders. As NPR reports:
In exchange for his support, [Democratic leader Chuck] Schumer said, he's received assurances from Senate Majority Leader Mitch McConnell, R-Ky., that if an agreement isn't reached by [Feb. 8], the GOP leader will bring a vote to the floor on legislation to grant legal status to those protected under the Deferred Action for Childhood Arrivals program (DACA), roughly 700,000 immigrants who are in the country illegally after being brought here as children.
The bill also delays certain taxes, including a tax on medical devices, and extends funding for the Children's Health Insurance Program for six years. (CHIP's funding had expired Sept. 30.)
Markey voted against the legislation, in part, he said, because it would provide no "certainty or resolution" for DACA recipients.
"Without guaranteed long-term funding for community health centers, the opioid crisis, disaster aid, and protections for our DREAMers, I cannot support this legislation," he said in a statement, adding that he remains "deeply skeptical of any short-term budget agreement that relies on the good faith commitment of President Donald Trump."
Warren, in a tweet, said new laws are needed, not "new promises":
New England senators were split 6-6 on the vote, with duos from Connecticut and Vermont joining Markey and Warren in opposition, and senators from Maine, New Hampshire and Rhode Island voting for the legislation.
In a joint statement, the Democratic senators from New Hampshire, Maggie Hassan and Jeanne Shaheen, spoke of the "common ground" legislators were able to find on the funding bill:
We have worked with a group of more than twenty senators – both Republicans and Democrats – to reach a bipartisan agreement to reopen the government, continue the Children's Health Insurance Program, and move forward on critical priorities including strengthening our military, stepping up efforts to combat the opioid crisis, providing funding for community health centers, and protecting Dreamers. Our negotiations, once again, affirmed that there is substantial common ground on every one of these issues, and while we still have more work to do, this agreement give[s] us time to hammer out the details. ...
Like Markey and Warren, seven of nine members of the U.S. House from Massachusetts voted against the spending bill. U.S. Reps. Stephen Lynch and Bill Keating approved the legislation.
It remains to be seen what would happen to immigration legislation, if it were to be taken up in the Senate and passed. As NPR details: "One potential issue is that the deal to vote on immigration proposals applies only to the Senate. The [Republican-led] House could choose to ignore whatever the Senate takes up."
This article was originally published on January 22, 2018.