Despite A Lack Of Gravity, TNT's 'The Alienist' Has Ambition And Pulp Watchability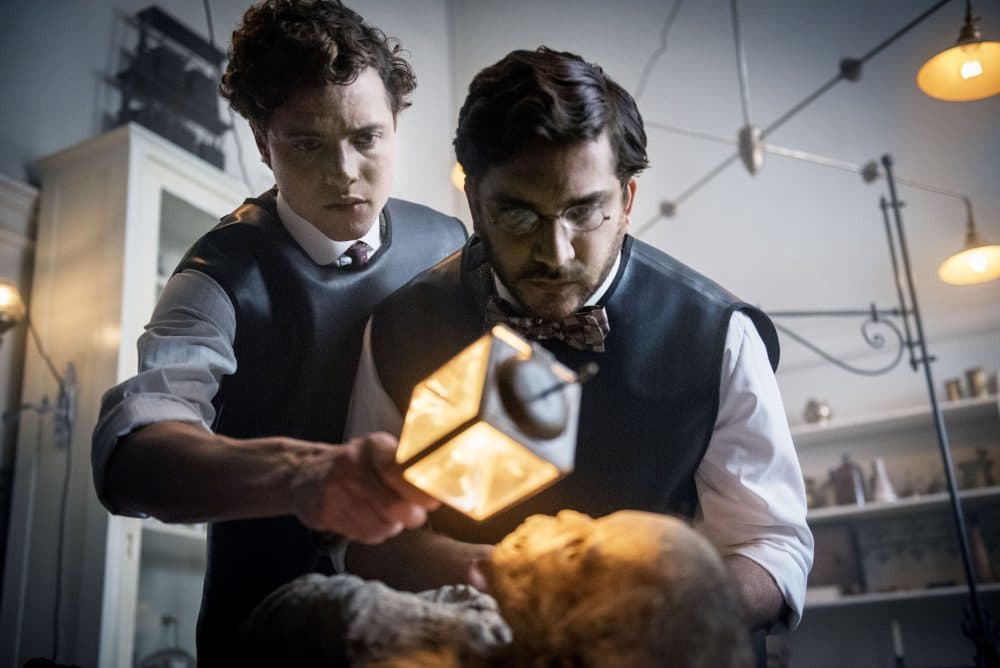 This article is more than 4 years old.
The unmistakable scent of missed greatness wafts over TNT's new psychological thriller and period drama, "The Alienist," from the opening frames of its pilot.
"New York City, 1896," subtitles tell us while a policeman, bedecked in a stovepipe hat, strolls along empty streets, snow crunching beneath his shoes. He stops, having spotted a severed hand on the ground before him. A drop of blood tumbles from overhead and splashes his cheek. He rushes to the nearest steel structure and bangs his billy club against it, alerting officers nearby who then repeat the process until the city is a cacophony of metal on metal, warning all of murder most foul.
The camera settles on an image of the New York skyline, the Statue of Liberty observing its soft, wintery glow from the left of the frame. It's a stirring sequence to open the show on, though maybe too obvious: "This is about America," the scene proclaims, as if a narrative set just before the turn of the century during the United States' post-reconstruction era could somehow not be about America.

But "The Alienist" doesn't need to go out of its way to invoke its national concerns. Its insistence on underlining what's self-evident only signals a sincere belief in its own importance. The show has more ambition than actual genre-shifting meaning, but that demonstrates just how far ambition can carry a series without the profundity to back it up. What the series lacks in gravity it makes up for in pulp watchability, and hoping for more than that is probably a fool's errand.
"The Alienist" is based on Caleb Carr's 1994 novel of the same name, the first in a series of historical fiction books about a criminal psychologist working in New York during the late 19th century and early 20th century. Hollywood tried to turn the text into a movie during the 1990s, sifting the project through too many hands before going belly-up in 1999. The story shifted to television in 2015, with "True Detective" director Cary Fukunaga on board to direct a 10-episode season before he dropped out of production in 2016. Now helmed by Jakob Verbruggen, "The Alienist" feels like a watered-down miracle, the adventures of Dr. Laszlo Kreizler adapted for television and buttressed by a stellar cast and delightfully macabre set and costume design.

Kreizler is played by one of the movie's more underappreciated leading men, Daniel Brühl, most recently seen in films ranging from "The Zookeeper's Wife" to "Captain America: Civil War." Dr. Kreizler is the "alienist" of the title, which, as a handy opening title card explains, is derived from the 19th-century belief that anyone suffering from mental illness was "alienated" from their true nature; hence, doctors working in the field came to be known as "alienists." Brühl plays Kreizler as congenial, a warm-hearted man with little tolerance for antipathy directed at his patients, whether from priests or from their own parents. His rebukes of any such prejudices nearly feel uncharacteristic, but perhaps that's a sign of Brühl's innate, unassuming quality as an actor. He wears such an amiable exterior that you never expect him to dole out harshness.
The plot sees Kreizler drawn to the brutal slaying of a young boy, an immigrant child prostitute whose social status pushes his case beyond the interests of investigating police officers. Kreizler, ever the wiser, concludes that the boy's killing is just one in a succession of many, each of them committed by the same unhinged individual, so he sets about with his own investigation and calls together a squad to help him find the truth: John Moore (Luke Evans), a womanizing illustrator working for The New York Times; Sara Howard (Dakota Fanning), a secretary working for the NYPD; Theodore Roosevelt (Brian Geraghty), in his pre-presidential days as New York City's Police Commissioner; and the Isaacson brothers, Marcus (Douglas Smith) and Lucius (Matthew Shear), two NYPD detectives known for using such revolutionary methods of criminal investigation as fingerprinting. (Their excitement at explaining the ins and outs of dactyloscopy is infectious.)

Kreizler and Moore are Verbruggen's "ins" to the fictionalized world Carr constructed on the page. Brühl's chemistry with Evans lets their director concoct a grim take on police odd-couple pairings; they're both straight men, but Kreizler is ever so slightly more eccentric than Moore, who can scarcely stomach the sight of the dead boy's corpse (much less recollection of it).
"The Alienist" couches a dry, morbid sense of humor in Brühl's gentle courtesy: "That's what I admire about you, John," he tells his partner toward the end of the premiere. "You represent the good that people want to believe is in all of us. It's why people like you more than they do me." But the buddy cop angle is a front for broader aspirations, notably the plight of immigrants traveling to America for a better life, gender identity in the 1800s, and class division.
More notable is how often these individual themes tend to intersect with each other. "The Alienist" determinedly stages the chasm separating the haves from the have-nots, cutting from luxury dining establishments — the likes of which most of the show's characters have yet to experience for themselves, to seedy underground brothels, to New York's sooty open air spaces, teeming with life and clamor and danger. In a cruel twist of irony, the more exclusive the social stratum we're in, the more opulent, lavish and escapist "The Alienist" becomes; the more common the stratum, the more constricting the presentation. In this series, poverty is a chokehold. Verbruggen and his production team craft the series to reflect as much.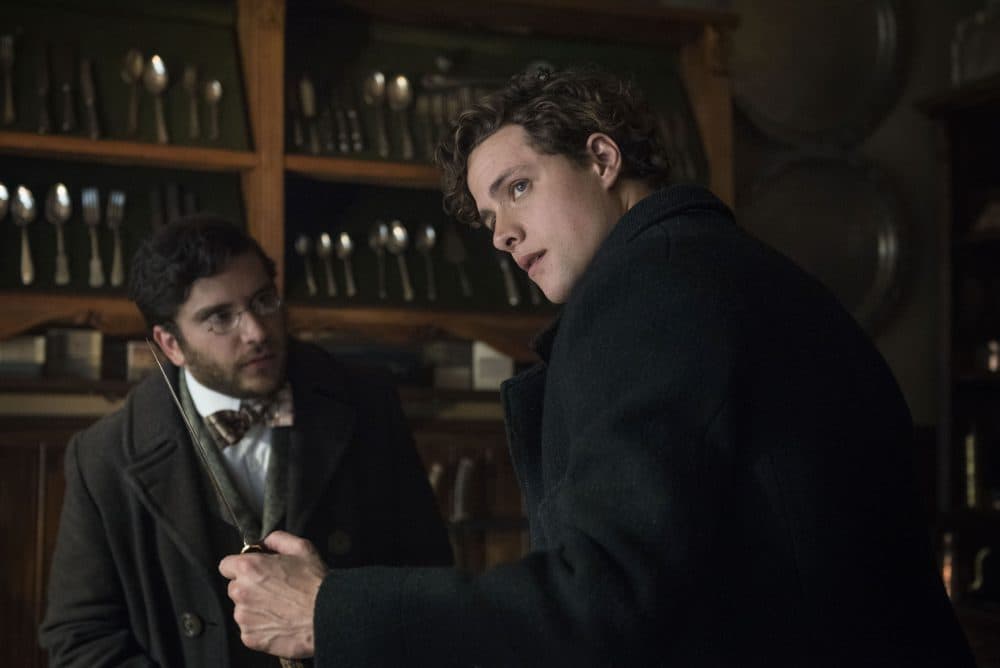 That being said, if the aesthetic of the series is to be captured in a single word, that word should be "foreboding." Verbruggen, perhaps best known for his direction on "The Fall," has a way with atmosphere. Even when our instincts tell us that all is well, we're kept in the thrall of fear wondering when the next victim might turn up, or how the killer might choose to taunt Kreizler and his efforts at finding him. (It doesn't help that the cops, led by a sinister Ted Levine, aren't exactly leaping at the chance to help out Kreizler and the gang here.) "The Alienist" is about its leads and its themes, but above all else it's about dread. "We know the killer's conscious thoughts are fixed on violence," Kreizler tells his colleagues. "If we get too close, that violence might well spill over onto us."
His words chill right to the marrow. Maybe "The Alienist" doesn't shake up its formula, but at least it knows how to use that formula to best effect. This early into 2018, that ought to be enough.
---
"The Alienist" premieres on Monday, Jan. 22 on TNT.