Threading Together Her Parent's Crafts, On-Kyeong Seong Sews Lush Mixed Media Art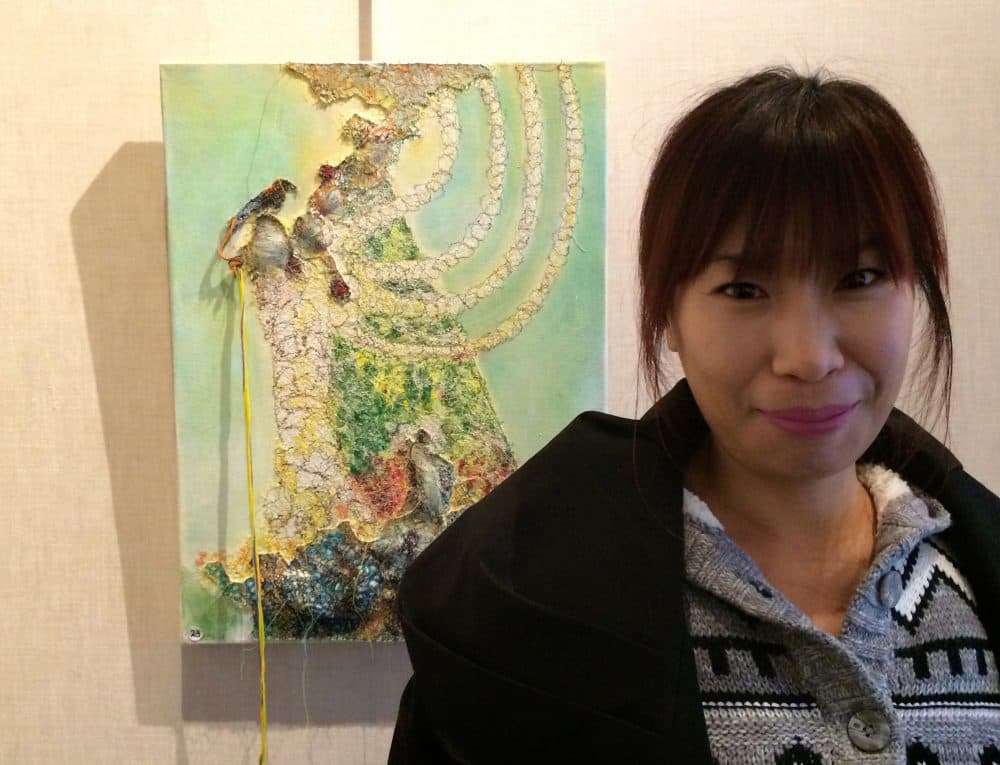 This article is more than 3 years old.
As a child growing up in South Korea, artist On-Kyeong Seong watched her mother sew intricate embroidery for her factory job while her father pursued a career as a portrait painter.
"My mom always brought home lots of work," says Seong. "I was very used to hearing the sewing machine."
Now years later, as an artist living in the Boston area, it's not such a stretch that those early memories should form the basis of Seong's art, now on display at Wheelock's Towne Gallery until Feb. 15. "It's all from my family in Korea," she says. "It's my memories and nostalgia for my mother."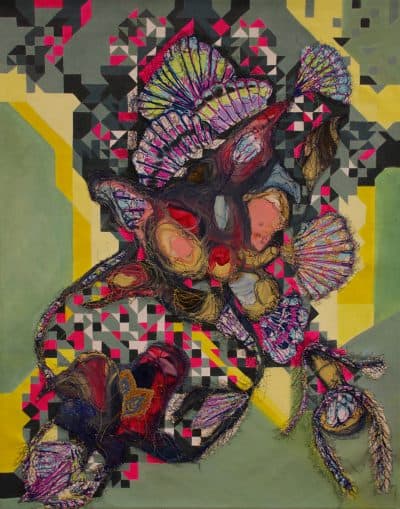 Seong creates lush, vibrant works that recall natural organisms, plant life and the underside and inside of things. Her canvases pulsate with color, strength and fragility all at once, thanks to delicate, dancing stitching across painted surfaces. Sometimes the stitching is tight and labyrinthine, almost but not quite embroidery. Sometimes the stitching acts more the way a pencil line would, feeling almost drawn, languorous and loose. Sometimes threads hang from stitching layered over oil paint. Sometimes the threads hide underneath.
Seong moved to the United States back in 2002, at the age of 28, following a career as a kindergarten teacher in a private school in Korea.
"It was my dream to be out there in different cultures and languages," she says. "I was thinking if I learn about different people and cultures and languages, then I'd go back to Korea and teach again, but in a different way."
Instead, she ended up staying in the U.S. where she decided to attend art school. In 2014, she earned a Masters of Fine Arts from the School of the Museum of Fine Arts at Tufts. Sewing entered her artistic vernacular in that period, when her mother came for an extended visit while Seong was occupied with art classes.
"She stayed two months," recounts Seong. "But I was afraid she would get so bored without me because I had to go to school. So I bought her a sewing machine. It was a very cheap sewing machine. I spent less than $50 from Amazon and I gave it to her. Then she left after two months and I wondered, what should I do with a sewing machine? I just felt like I didn't want to sell it because it was my memory of my mom traveling to the United States. I decided I might keep it."
It turned out to be a momentous decision. She started experimenting with the inexpensive Brother machine she had bought her mom and found that sewing was more fun than she had expected.
"I really started loving the sewing machine," she says.
Before long, she had incorporated sewing in much of what she was doing. An abstract expressionist at heart, Seong says the sewing machine for her is almost another form of action painting, in which she lets the machine run wild.
"I'm using the sewing machine like automatism, like Jackson Pollock," she says. "I can only manipulate the color. The sewing machine doesn't really do what I want it to do, so I kind of just let it go."
The works that make up "Interaction of Synthesis" came out of a period in Seong's life in which her father was diagnosed with gastric cancer, of which he eventually died. Seong, in shock from the diagnosis and death, started obsessively studying cytopathology, looking closely at cellular structure and microbic shapes.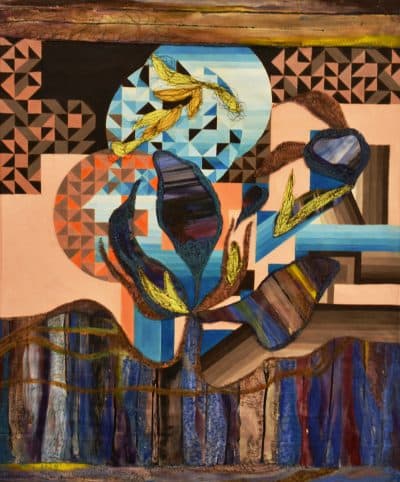 "I found that the cells were really amazing — their forms, their shapes, how they grow," she says.
She also began to see beauty in these forms. Inspired by these organic shapes, she was able to create a harmony and synthesis out of disorder and disarray.
In her Beverly studio, she moves between the easel and her simple sewing machine. She will often paint on stretched canvas using oil paint, then unstretch the canvas to allow her to manipulate it under the whirring bobbin of the sewing machine. If she decides she wants more color or different forms, she takes the unstretched canvas and hangs it on the wall or the floor to paint. And if more sewing is required, it's back to the machine.
The process results in layered canvases that she says are inspired by such contemporary artists as El Anatsui, Amy Sillman, Carrie Moyer and Ghada Amer. Certainly her works incorporate Moyer's candy colors and organic shapes, Anatsui's fascination with texture and material, and Amer's use of thread as a drawing tool.
"I'm thinking of the natural beauty they have," says Seong. So even if people find that something is very ugly, it has beauty inside. That's what I want to believe. Sometimes when I do my painting I'm doing really hair or plants … it's kind of grotesque, but I'm thinking that even though it has grotesque qualities, it has its own beauty. Beauty is beauty, but ugliness has its own beauty."
---
On-Kyeong Seong's solo show, "Interaction of Synthesis" will be on view at Wheelock's Towne Gallery through Feb. 15. The artist will give a gallery talk on Feb. 7, from 10:30 to 11:30 a.m.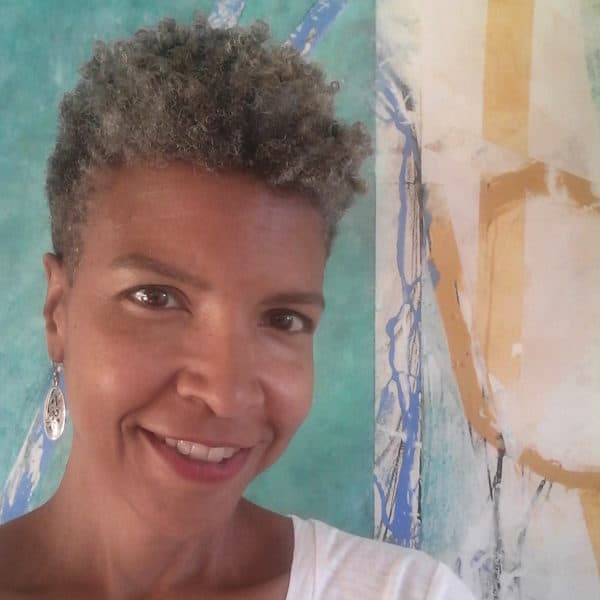 Pamela Reynolds Visual Arts Writer
Pamela Reynolds is a writer and a visual artist.