Netflix's 'Altered Carbon' Relies More On Storytelling Through Action Than Sci-Fi Philosophy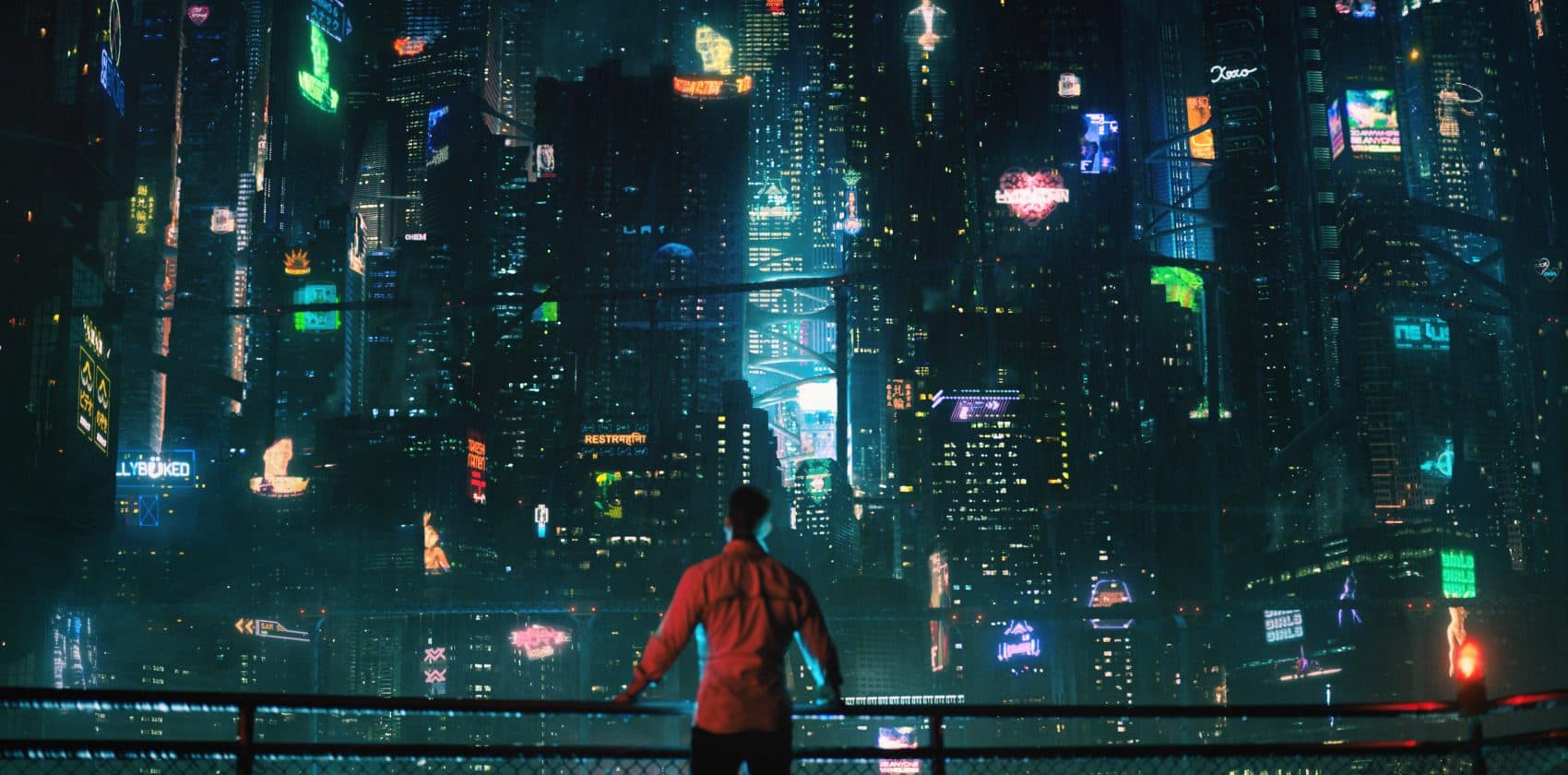 This article is more than 4 years old.
Watching "Altered Carbon," Netflix's adaptation of Richard K. Morgan's hardboiled sci-fi novel of the same name from 2002, demands that viewers deal with the show's two surface-level issues before streaming: its whitewashing element and its family resemblance to "Blade Runner" (both Ridley Scott's 1982 masterpiece and Denis Villeneuve's 2017 pretender to the throne). Otherwise there's little point in watching; you'll spend too much time reconciling the former and wrestling with the latter to pay attention, which is better off undivided.
"Altered Carbon" is complex, though "complex" undersells the burgeoning intricacies of its basic conceit. Morgan's book takes place centuries in the future, when mankind has colonized planets beyond our solar system and also invented sleeves and stacks, a nifty bit of tech that effectively renders humans immortal in theory. In practice, only the wealthiest get to live forever. The sleeve is an engineered human body, a blank slate of sorts. The stack is kind of like a portable hard drive for human personality. Everyone has a stack, and if their body dies, they can just load their stack into a new sleeve. Rinse, lather, repeat. Think of stacks as the series' equivalent of a one-up in a video game, the major difference being that people need ducats to swap sleeves. On average, they age out, die, resleeve once or twice and then die for good.

It's a great technological advancement with endless implications for the way that humans live, in keeping with intellectual properties like "Ghost in the Shell" and Drew Magary's excellent 2010 novel "The Postmortal." In "Altered Carbon," we observe these implications through the eyes of an Envoy, an erstwhile super soldier named Takeshi Kovacs. As you might guess in a TV show centered on the concept of body swapping, the Kovacs role is filled out by multiple actors: first Byron Mann ("The Expanse") and then Joel Kinnaman ("Robocop") — two Kovacs sleeves, and then last but not least Will Yun Lee ("Hawaii Five-0"), the original Takeshi. We meet Mann before we meet Kinnaman, 200 years in the show's past working a job that goes wrong and leaves him in stasis for crimes against humanity. We meet Kinnaman in the show's present, the hired muscle for Laurens Bancroft (James Purefoy), a man whose wealth can't be expressed in mere numbers.
Bancroft, known colloquially as a Meth (short for Methuselah), is one of society's privileged few with resources enough to go on indefinitely; the ultra-rich in this world literally live with their heads in the clouds, their houses suspended high above the cluttered neon grit of the city below. (As on-the-nose metaphors go, this one's blunt enough to pass critique.) Problem is, someone murdered Bancroft. Having revived in a fresh clone of his own body, and with no memory of the incident, he needs Kovacs to figure out who killed him. That's an easy enough task on paper and nearly Herculean in practice, as befits the show's foundational neo-noir trappings. Kovacs is a stranger in a strange land, and in a really strange body that he's none too happy to inhabit. Waking up in the future is bad enough. Waking up with a face you don't recognize is even worse.

You get the sense that "Altered Carbon" knows, in the parlance of today's approach to one-word trending criticisms, it is #problematic, and knowing it is #problematic, it finds ways to elide its problems. Having Kinnaman rage-scream at a surgical tray, Mann's reflection screaming back at him, in the first few minutes of the pilot helps. Flashbacks to Kovacs' days in his birth body, learning the secrets of the Envoy way from Quellcrist Falconer (Renée Elise Goldsberry) helps, too, as does a late-stage reveal from the seventh episode about Takeshi's upbringing and the series' overall diverse casting decisions. But "helps" isn't the same thing as "solves." Maybe expecting "Altered Carbon" to solve anything in a single season is expecting too much, or maybe the show should have just changed the text to allay its pre-release casting controversy. (In short, casting a white lead as an Asian character. It's more complicated than that, but that's the gist.)
Lingering issues in Kinnaman's casting aside, "Altered Carbon" creates an intriguing space for crafting performances, Kinnaman's in particular. He tailors his work in such a way that glimmers of Lee shine through, complimenting his own mannerisms: His loping cadence, his low-key intimidating screen presence, his wry ambivalence. Occasionally, characters swap sleeves only to have another character take over that same sleeve, and back and forth, changing personas repeatedly across roles. It's a challenge to keep track of but a delight to try, especially Mann, who returns later in the series after a seeming cameo in the pilot, now embodied by a new host. Nuanced identity is one way "Altered Carbon" keeps us on our toes guessing what's real and what isn't.

We're given narrative anchors like Kristin Ortega (Martha Higareda), an iron-tough cop on Kovacs' literal and figurative case, and Vernon (Ato Essandoh), a former soldier like Kovacs who has a grudge against Bancroft for his supposed involvement in his daughter Lizzie's (Hayley Law) traumatic assault. Fundamentally they're both audience identification characters, but showrunner Laeta Kalogridis fleshes them out enough that they're the most tangible figures in an intangible world. When anyone can be anyone, our concept of reality transforms. When you throw VR tech into the mix, and artificial intelligence (represented by Poe, the digital proprietor of a theme hotel based on the macabre poet's iconography), it becomes all but unrecognizable.
But Kalogridis never leaves us adrift for long. More so than "Ghost in the Shell" or either "Blade Runner" films, "Altered Carbon" relies more on storytelling through action than philosophy. As a consequence, it's rarely languid. The primary narrative determinedly canters forth, making the occasional pit stop for backstory before indulging its excesses: graphic violence and explicit sex. Torture in the real world is one thing, but have you thought about torture in VR, where your torment can go on indefinitely? And can you trust that the person you're in bed with is who you think they are? "Altered Carbon" is a show built around raising questions with answers that just raise more questions. Normally that might play as coy. Here it's one of the story's best pleasures, enough of a signifier to distinguish "Altered Carbon" from its most obvious influences.
---
"Altered Carbon" is available for streaming on Netflix beginning Feb. 2.