Tortured Pasts Come Back To Haunt In CSC's Intensely Gripping 'Death And The Maiden'
"When crazy people have power, you've got to indulge them." So says Gerardo Escobar, a lawyer chosen by the president of an unnamed country to lead an "investigatory commission" intended to look into allegations of human rights abuses over the course of nearly two decades under totalitarian rule — a dictatorship from which the country is only now emerging — in Commonwealth Shakespeare Company's intensely gripping, atmospheric staging of Ariel Dorfman's "Death and the Maiden."
Gerardo, played by Mickey Solis, is only stating the obvious, but the problem is that crazy people in power can only be indulged, not appeased — and the more they are indulged, the more they want: control over the lives of others, control over the fates of entire demographics, control over the bodies of helpless prisoners in their clutches. This is the side of the equation that Gerardo's wife, Paula (Flora Diaz), understands from firsthand experience. Fifteen years ago, in 1975, Paula was kidnapped by state security forces and subject to all manner of torture. The one semi-gentle person in the room of horrors where she found herself was a doctor with a penchant for sexual assault and a taste for classical music — specifically, Schubert's "Death and the Maiden."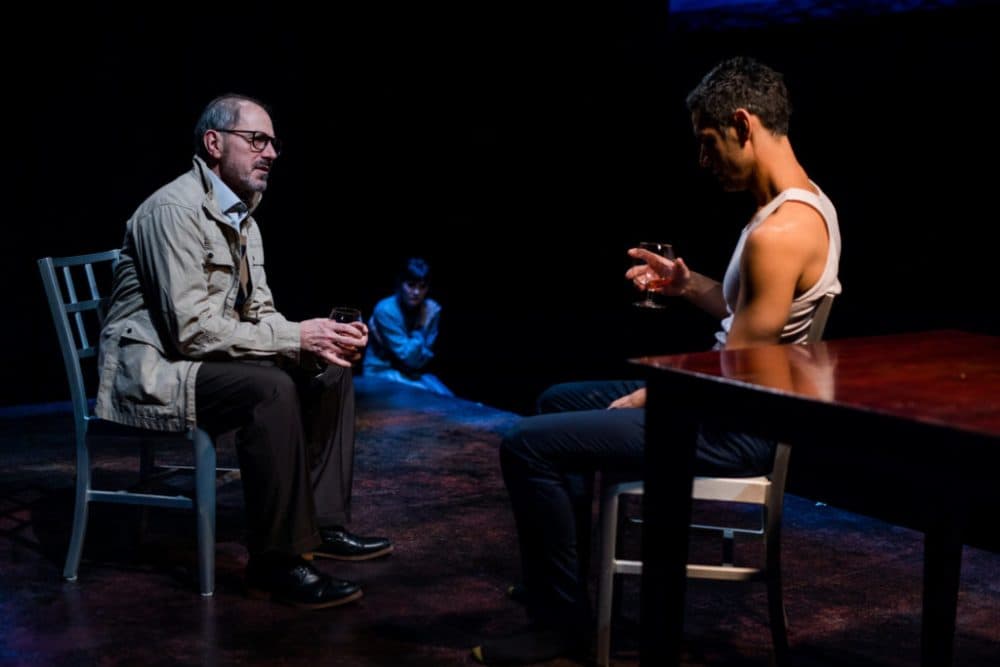 Paula was eventually released (without spilling Gerardo's name, thus keeping him safe), but since then she's struggled to contain her fury and her fears. Outwardly, she maintains a cheerful demeanor, teasing Gerardo lovingly and supporting his political advancement under a fragile, newly democratic regime. But even now, all it takes is a strange car in the driveway of their beach house or a knock on the door late at night to trigger a response of pure panic.
No wonder, then, that when a helpful stranger named Roberto (Mark Torres) rescues Gerardo from the roadside after his car breaks down and drives him home, Paula reverts to a fight or flight reflex. Her trauma-driven reaction is understandable, but when she claims to recognize Roberto's voice as that of the doctor who assisted in her torture sessions and violated her numerous times? When she attacks Roberto, ties him up, and holds both he and Gerardo at gunpoint, insisting that she will seek the justice that the still-corrupt courts refuse to deliver? What then? Gerardo fears she's having a "relapse," which suggests that her mental state in general may be questionable, but Paula exhibits such sureness and clarity of purpose that it's hard not to believe her, despite her drastic actions.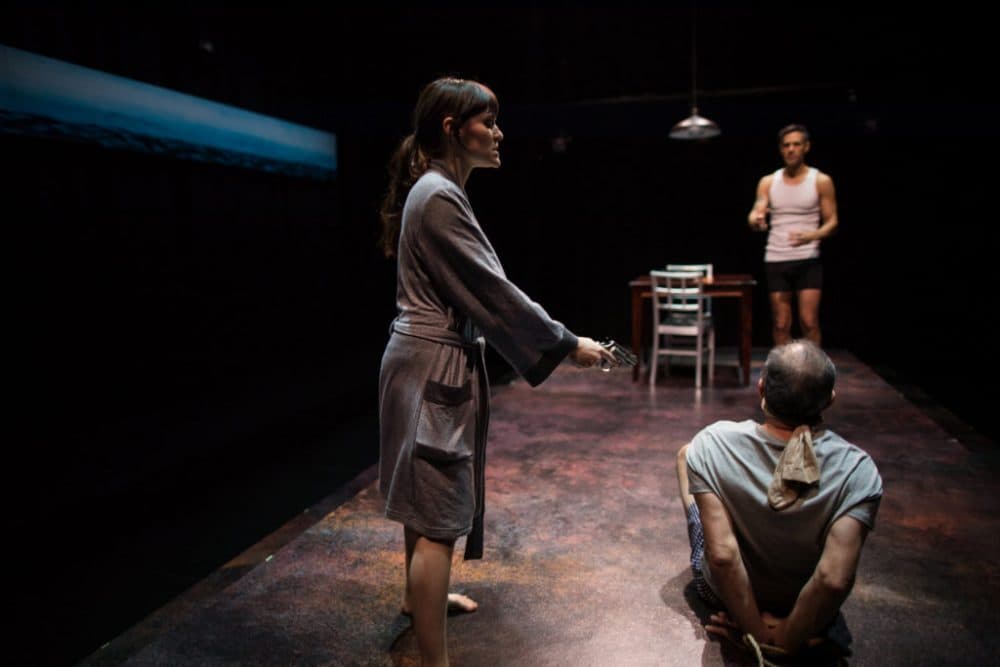 Roberto doesn't do himself many favors. Even before Paula ties him to a chair and sets a tape recorder in front of him to capture his confession, he talks about doling out death and retribution. "There are some people who simply don't deserve to be alive," Roberto insists, and while his words resonate with Paula's actions they also open a door to the possibility of his own culpability. Are his words those of an innocent man disgusted with a dictatorship that savaged his nation? Or are they the constant core sentiments of a psychopath for whom the targets are subject to change with the times?
Dorfman's play takes the time to narrow the focus of its inquiries from broader national and historical concerns to the personal and specific issues that linger between husband and wife. Do their lapses and small betrayals constitute a microscopic version of the social divides that still exist beneath a governmental push to smooth over the excesses of the past two decades? Are their interrogations about unshared, painful experiences equal, in some way, to the way despots seek to wring information from prisoners? Are all human relationships — even those rooted in love — an ongoing choice between complicated exercises in forbearance and willful blindness, or else raging storms of accusation and counter-accusation?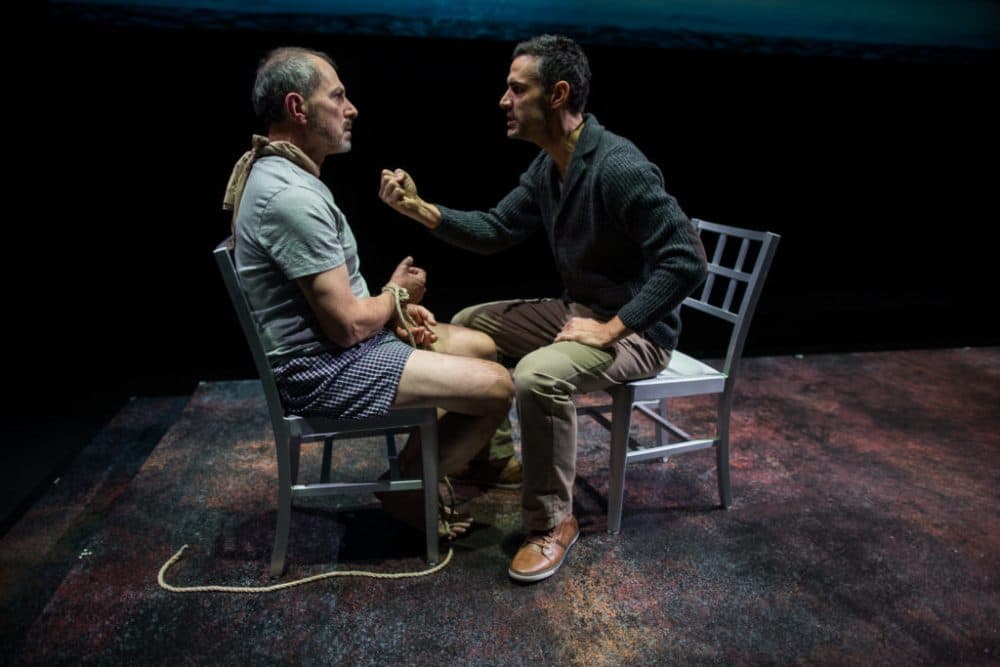 Director Steve Maler opts to keep the production simple and focused on his outstanding trio of actors. It's a wise choice. Solis and Torres are excellent, and Diaz steals the show with her layered performance, swinging from coolly etched reason to explosive passion and sticking the landing every time. Her laughter veils searing fury; her rages are rooted in justifiable cause.
The set, by Clint Ramos, is little more than a platform (and suitably so, for a play that's so overtly political). The furnishings are sparse — a small table, some dishes, a few sturdy chairs (which are put to forceful use). Jeff Adelberg's lighting and Arshan Gailus' sound design create a wonderfully involving, engaging mood; the ongoing sound of the surf nearby begins to feel like the restless throb of history's never-ending cycles of aspiration and collapse, while the palette of illumination (and key punctuations of darkness) conducts us through the characters' shared turmoil.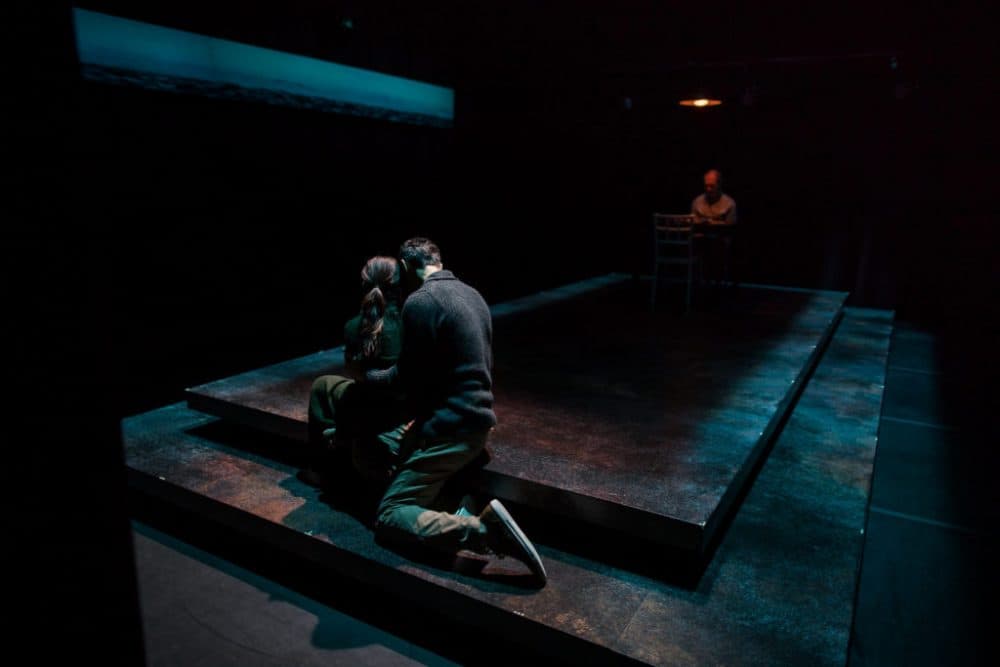 To hear an overwhelmed Gerardo cry out, "We'll die from so much past, so much pain, so much resentment," is to experience a deeply discomforting sense of recognition. But the play offers the guarded hope that even now it's not too early to think about how to set aside acrimony, seek reconciliation, and make a new start. Still, there are few illusions left standing after these 100 harrowing minutes, and a key moment in which two characters, having reached a sort of détente, exchange a wordless look that seethes with acid contempt on both sides. Such are the discontents, perhaps, of civilization.
---
"Death and the Maiden" continues through Feb. 11 at the Sorenson Center for the Arts at Babson College.