Report: Boston's Wide Income Inequality Narrows
The city of Boston's wide income inequality has narrowed some in recent years, according to a new Brookings Institution report.
Here are the details:
In 2016, Boston's highest-earning households — those at the 95th percentile of the city's income distribution — made nearly 15 times what households closer to the bottom of the income spectrum — the 20th percentile — earned.
To be sure, it's still a significant ratio, but back in 2014, when Brookings last measured, Boston's wealthy households made nearly 18 times what its lower-income households earned.
Those 2014 figures meant that Boston was considered the most income-unequal big city in America.
The new data mean that Boston now ranks No. 7 for city income inequality, behind Atlanta, Washington, D.C., Providence, New Orleans, Miami and San Francisco. Here's the table: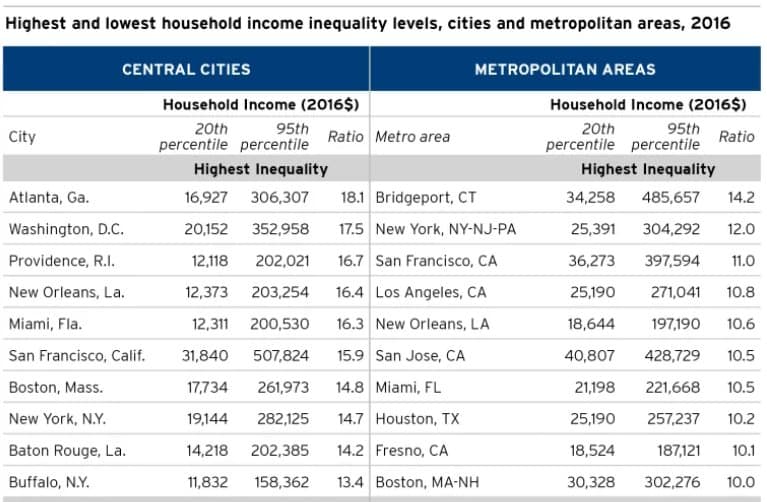 (Of note: In San Francisco, household income at the 95th percentile of the distribution is more than $500,000!)
Among metro areas, Boston's — a swath of the region stretching north into southern New Hampshire — ranks No. 10 for income inequality, per Brookings' so-called 95/20 ratio.
So what changed locally from 2014 to 2016? The Brookings report cites Boston as one of several big cities where "incomes at the lower end of the distribution grew significantly ... [while] top incomes did not."
Indeed, Boston households at the 20th percentile had an income of $15,148 in 2014, and that figure grew to $17,734 in 2016.
As we've reported, the state's median household income jumped nearly 6 percent in 2016, according to census data, after smaller gains in 2015. (The Brookings report is also based on census data.)
The 2014-2016 period also included two incremental hikes in the Massachusetts minimum wage, which rose from $8 an hour to $11 an hour over three years.
Two caveats, one on the data, and on city inequality in general:
As we reported back in 2016, Brookings said then that Boston's "large student population partly explains its relatively low 20th percentile incomes." So that could skew our place in the rankings a bit.
And then, as Brookings has written before: "Large populations, diverse housing  types, and generally progressive politics mean that most cities will always have higher shares of the rich and poor than smaller places."
Still, this week's report might please Boston Mayor Marty Walsh, who has said he's "made confronting income inequality a cornerstone" of his economic agenda.