New Play Forces A White Playwright And A Black Actor To Confront Feelings About Racism
Resume
Sometimes, making art can illuminate unexamined parts of ourselves. In Jamaica Plain, the creative process forced a local actor and playwright to reach beyond themselves and find honesty about complicated issues of race and history.
But first, to history. This story starts in Canterbury, Connecticut in 1833, way before the Civil War. That's when a black farmer's daughter, named Sarah Harris, asked a white school teacher to admit her into her all-white school. The teacher, Prudence Crandall, agreed, which led to white families withdrawing their children from the school. Crandall then opened her school only to black girls.
"The story of this woman who provided schooling to young black women in antebellum America when it was still a slaveholding country was pretty amazing to me," said Beth Miller, an amateur historian, in a recent interview.
Miller has been obsessed with Crandall's story since she wrote her college thesis about her. A new play produced by Boston's Open Theatre Project, called "An Education in Prudence," is inspired by Miller's scholarship.
Crandall's school didn't last long. The town of Canterbury passed a law making her school illegal. An angry mob attacked the school, breaking windows and throwing rocks at the women inside, even poisoning the school's well with feces.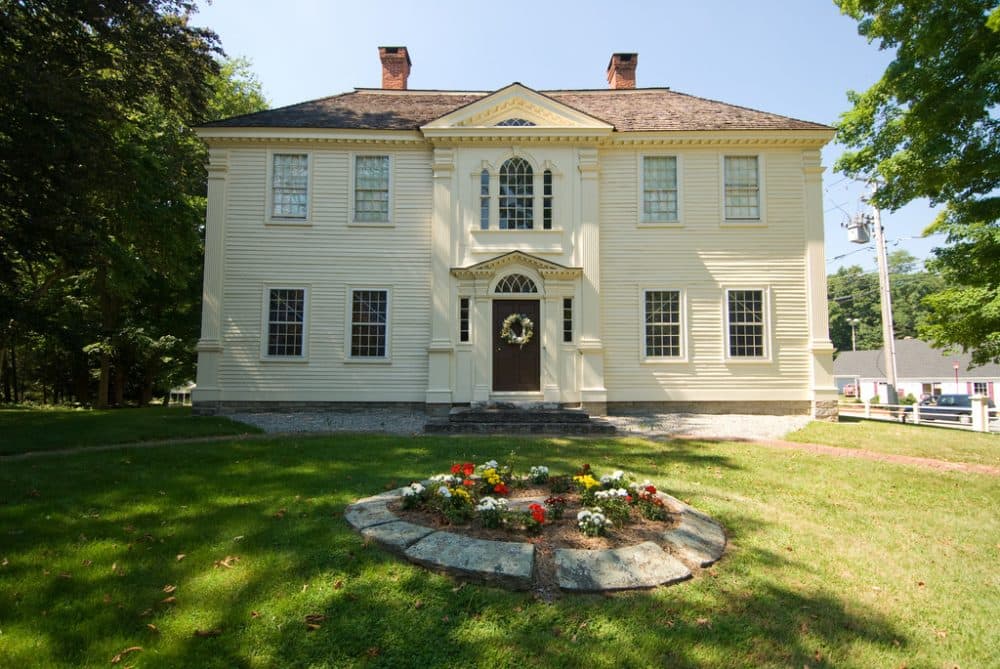 Today, the schoolhouse is a museum, Crandall is a saint of the Episcopal Church and an official heroine in Connecticut. But history has all but forgotten the black girls who risked their lives — to get an education.
"The black students become completely invisible, you don't really know anything about them at all. And Prudence became this kind of beleaguered feminine martyr and 'Oh, wasn't she wonderful for what she did.' And I just felt that that take on the history robbed the women of their humanity, of their identity, of their complexity," said Miller.
Though the Prudence Crandall Museum has made recent efforts to focus on the narrative of the African-American students, there is only one room in the mansion dedicated to the black students.
"When we go to the museum there's this huge sign out front talking about the teacher and what she did and she opened up a school for Negro girls and 1833," said Christa Brown, an actress in the new production. She plays a modern-day black woman named Julia and one of the students from the 1800s. "And Julia is like, 'What do the girls get?' They went through this traumatic experience, the threat of violence and everything. They were just trying to learn."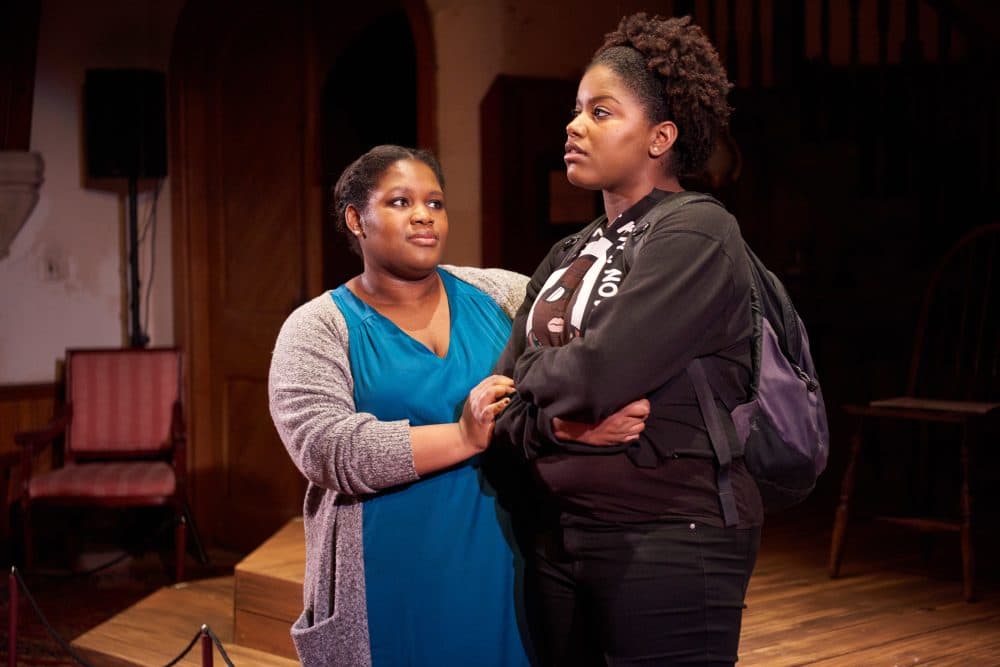 Brown, like her character Julia, is black. Julia is also angry. She's angry at racism, she's agitated by the micro-aggressions she faces, even by well-meaning white people. Meanwhile, Brown, the actress, has gone through life suppressing her feelings, lest she come across as an angry black woman.
"It could be anything like going to the grocery store and making sure that I'm articulate when I talk about, you know, what I'm going to order," she said, "or be extra polite or just really putting that effort and like I'm not the stereotype — that's daily."
Brown said playing Julia has been like taking off patches she put on wounds in order to survive. She's allowed herself to tap into anger, to question how much resisting racist stereotypes has shaped her identity.
"Really who am I? If I didn't care what society thought. If I didn't have any sort of reference to all of these caricatures of the black woman who would I be? Like am I some sort of person cobbled together because I've perhaps subconsciously ingested all of these ideas?"
Further complicating the issues explored in the play is the fact that the role that helped Brown explore more of her identity was written by a white man.
"I'm certainly the kind of Jamaica Plain white guy, who if you had told me about this play — its complexity, the fact that it centers on women, that it centers on this group of African-American women today and in the 1830s — I would say that is not a play that I should try to write," said Stefan Lanfer, the playwright.
He didn't initially think to write a play about the black students at all. Lanfer calls himself a liberal, yet the first drafts of the play he wrote were all white savior narratives about abolitionists. Like it did for Brown, the creative process allowed Lanfer to explore his identity, and his limitations. He realized that no matter how good his intentions, he was initially struggling to see the story beyond the white characters.
"If I'm honest about it, the very first draft of a play was really a play about these heroic white men," he said.
After working with several people, including black actors, a black director and a black dramaturg, the play shifted focus to the students history forgot.
"I wouldn't say it's me tackling the issues. I hope that it's the work of creating this platform where this whole team can come together and try to grapple with these issues together," added Lanfer. After scrapping his first drafts about the white heroes, Lanfer sought to stretch himself to empathize with a black woman who walks the world differently than he does.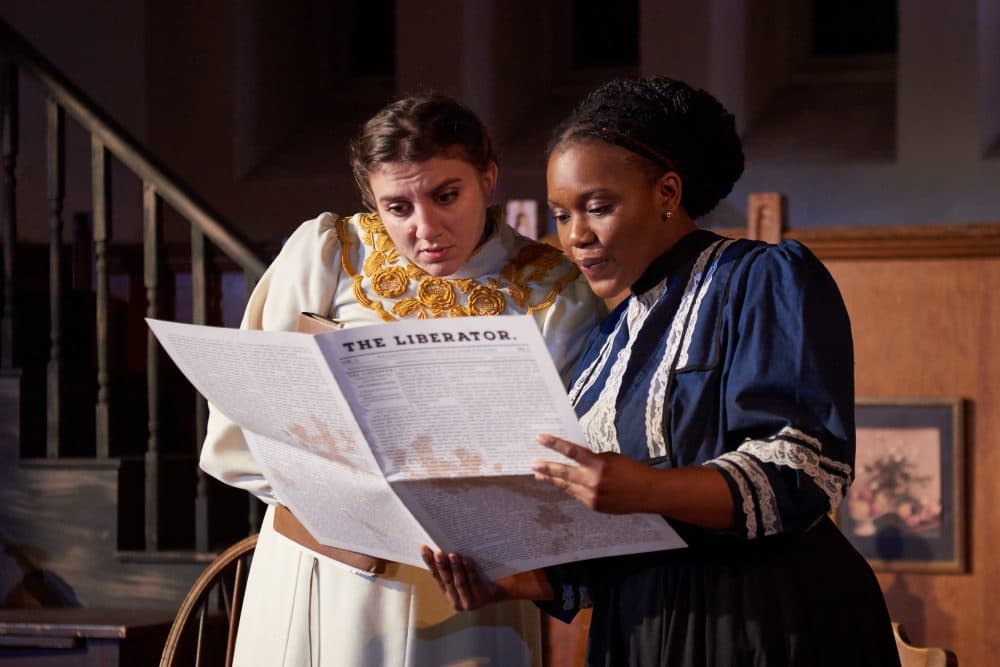 "The only path through the division that we're all experiencing in this country is through a level of empathy, through trying to see the world and experiences through other people's eyes," he said.
The creative process did that for Brown and Lanfer — illuminating their identities through the lens of our country's complicated history.
---
The Open Theatre Project's "An Education in Prudence" runs through Feb. 24 at St. John's Church in Jamaica Plain.
This segment aired on February 9, 2018.