Digital First Media Buys Boston Herald For Just Short Of $12M
03:05
Play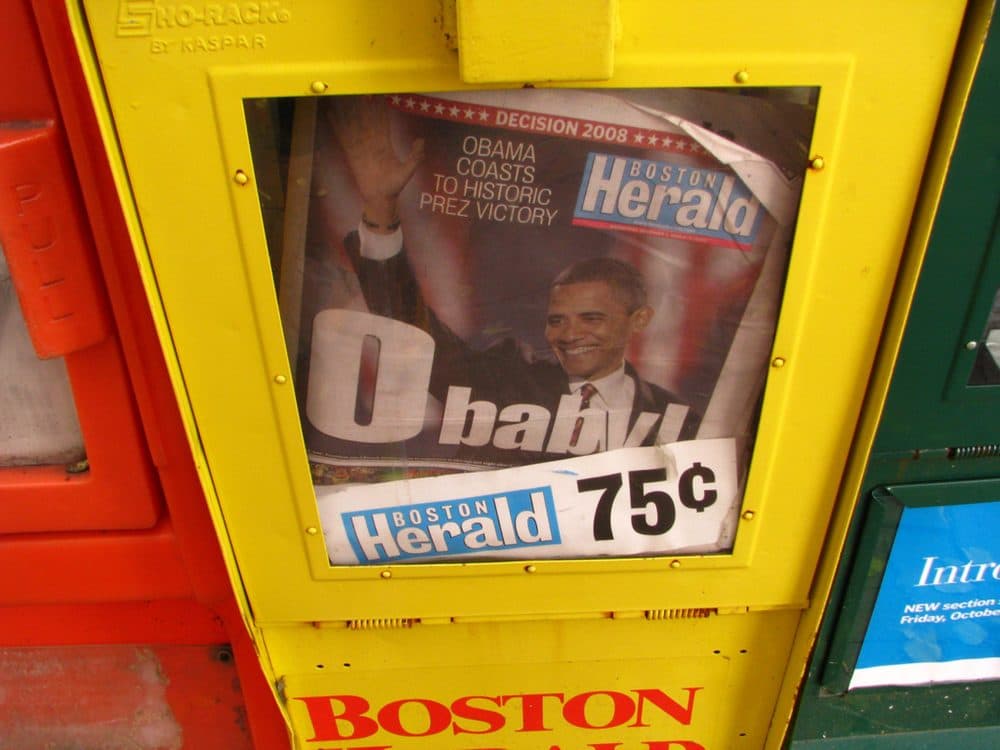 This article is more than 4 years old.
With the sale of the Boston Herald to a Colorado media company, Boston will remain a two-newspaper town.
Digital First Media outbid would-be buyers Gatehouse Media and Revolution Capital Group, paying $11.9 million for the paper.
The Herald's auction came after publisher Patrick Purcell filed for Chapter 11 bankruptcy on Dec. 8, 2017, citing declining revenue and readership.
The auction started Tuesday afternoon with Gatehouse's offer of $5 million. The bidding went on for five hours as the three companies went back and forth over the price. Revolution, which had tried to buy the Herald back in 2012, dropped out first.
Gatehouse was seen as the early favorite — it owns more than a hundred weeklies in Massachusetts and dailies like the Patriot-Ledger and Brockton Enterprise. Its New England arm, then called Community Newspaper Company, was once owned by Purcell from 2001-2006.
But when the auction was over, the winner was MediaNews Group, the corporate name for Digital First. The company owns dozens of newspapers, including the Lowell Sun and the Fitchburg Sentinel & Enterprise.
In a written statement, Purcell said he was pleased that the sale achieved his goal of keeping Boston a two-newspaper town.
Brian Whelan, president of the Newspaper Guild of Greater Boston, which represents 111 Herald workers, was also pleased.
"The Herald is still alive," he said. "It's going to carry on. That in itself is a positive. Let's just hope for the best."
Under the terms of the sale, MediaNews will keep 175 of the Herald's 240 workers. A big unknown is the fate of the newspaper's retirement pension fund, which is estimated at between $20 and $30 million.
On its website, Digital First Media bills itself as "journalists with deep experience speaking truth to power," but some doubt the company's track record.
Joshua Benton, director of the Neiman Journalism Lab at Harvard University, said Digital First is a chain that is known for cutting jobs all in its markets around the country.
"If they're the winner, there's a real concern about the stability of the journalistic operation [of the Herald] going forward," he said.
The bankruptcy auction of the Boston Herald, which was founded in 1846, is the latest chapter in one of the oldest newspapers in the nation.
Six years ago, Editor and Publisher named the fiesty, in-your-face-conservative tabloid one of the 10 newspapers in the country that "Do it right."
We'll learn how the Herald does under its new owner when the deal is done at the end of March.
This article was originally published on February 13, 2018.