'Black Panther' Rises To Top Of Marvel Pantheon With Its Own Powerful Myth
This article is more than 5 years old.
When "Black Panther" first published, it was one of the more politically subversive comic books of its day.
The Marvel hero appeared the same year, 1966, as the real Black Panthers. While Bobby Seale and Huey Newton's revolutionary Black nationalist party, quite literally, fought for the rights and protections of black Americans, Black Panther the comic book character battled the KKK and other white supremacists. Marvel had launched the first-ever mainstream superhero of African descent, blazing the trail for the likes of Luke Cage and the Falcon.
Now comes the modern Marvel/Disney take on the groundbreaking hero, timed for Black History Month. What does "Black Panther," the movie, have to say about 2018? Plenty.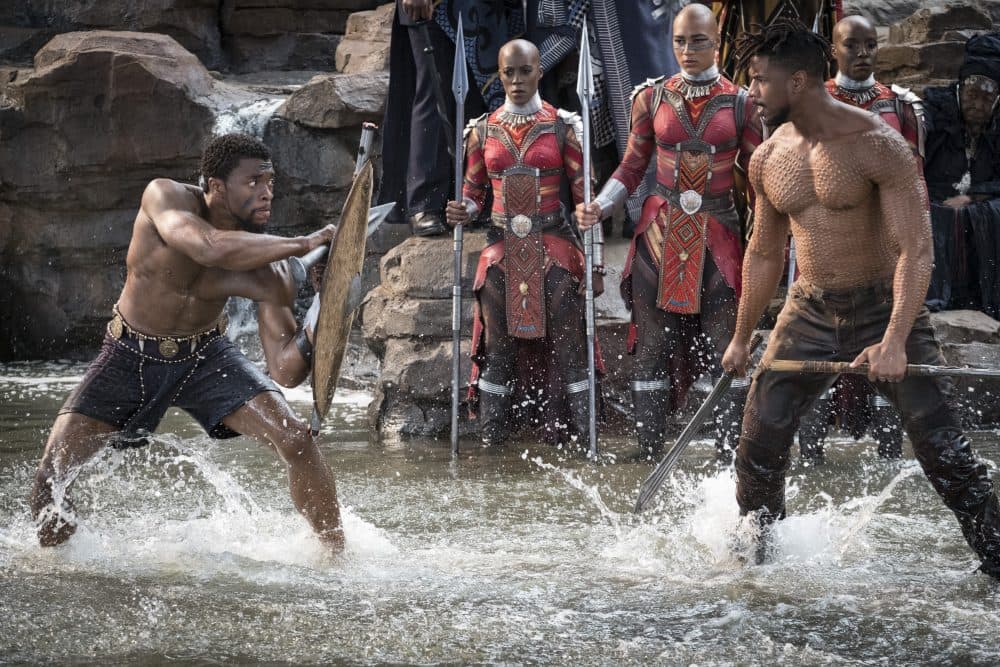 Whereas other franchises such as Thor, The Avengers and Iron Man have largely devolved to self parody -- a tiresome cocktail of explosions and one-liners -- "Black Panther" clings to its sincerity like a feline to your living room drapes. It feels both urgent and timely.
Last year, the Patty Jenkins-helmed "Wonder Woman" helped reclaim the mantle of the serious superhero movie. In "Black Panther," director Ryan Coogler ("Creed" and "Fruitvale Station"), with co-writer Joe Robert Cole ("The People v. O.J. Simpson: American Crime Story"), both African-American, further that cause, but in fresh and surprising directions.
For newcomers to the character (myself included), here's the backstory: Black Panther is the alter ego of the king of Wakanda, a fictional African nation that was never subjected to slavery. The current Black Panther has not always been Black Panther: This superhero and his cat-like superpowers — super strength, reflexes and agility — are passed down the family tree by drinking the juice of the purple flower that infuses each Black Panther with his powers. (In this story, males have the power, but not all of it. Any invader must also face a fearsome, spear-wielding palace guard that, in one scene, are referred to as "Grace Jones-lookin' chicks.")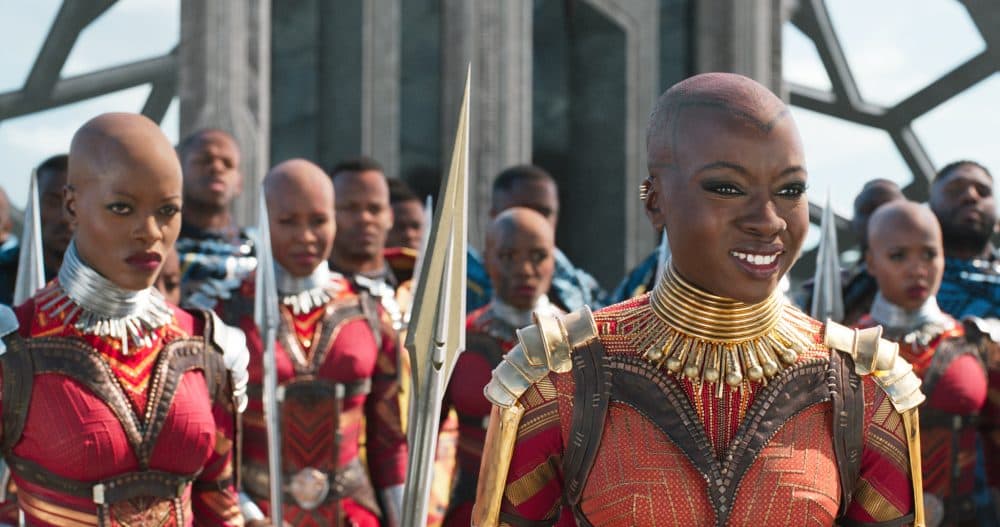 As the most recent keeper of the flame, T'Challa, played by Chadwick Boseman ("Get On Up") has got a lot on his mind. For one, his dad, the former king, T'Chaka (John Kani), has died in a bombing (see "Captain America: Civil War" for that plotline). As the new king, Black Panther inherits his royal family's secrets and intrigue. Plus, outside elements are bearing down on idyllic Wakanda, a peaceful and prosperous utopia protected from outsiders by (it seems) a force field.
Amid its unspoiled landscapes, the Wakandans have built a glittering city, more Disney's Tomorrowland than "Blade Runner," whose riches are made possible by "vibranium," a mineral that arrived in Wakanada eons ago from inbound meteor. The extraterrestrial substance powers monorails, spaceships and other cool technology, thanks to the Wakandan Design Group, a sort of national R&D branch run by T'Challa's wisecracking little sister Shuri (Letitia Wright). Like James Bond's Q, Shuri supplies Black Panther with all his cool gadgets. She also supplies "Black Panther" with its best lines: When a comic-relief CIA spy named Ross (Martin Freeman) shows up wounded in her lab, Shuri quips, "Another broken white boy for me to fix."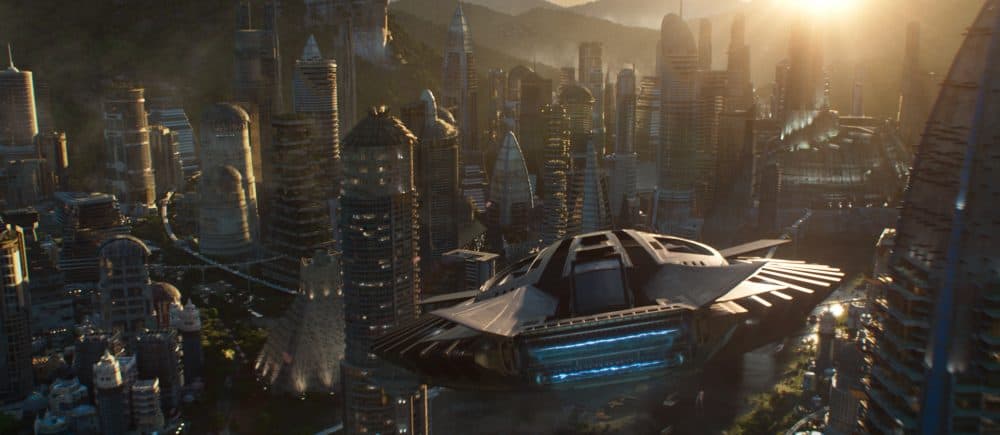 The promise of obtaining vibranium attracts arms dealer Klaue (Andy Serkis), whose own Popeye-like left arm sports a built-in bazooka blaster. Klaue also happens to be in cahoots with trash-talking Erik "Killmonger" Stevens. Menacingly played by Michael B. Jordan ("Creed," "Fruitvale Station"), Killmonger challenges Black Panther to the throne. Enter the film's villain. There's also the dilemma posed by T'Challa's ex-lover Nakia (Lupita Nyong'o). Amid all these machinations and complications, Boseman's performance brings the right mix of superhero gravitas and burdened dignity to the titular role.
That's not to say "Black Panther" sidesteps the genre's standards. There are the expected epic fistfights, and more than enough car chase and machine gun sequences. Clearly steeped in formative nerdlore, Coogler makes more than one reference to Tolkien and Lucas. In T'Challa's doubting of his mettle, you can see Aragorn's fear of his own royal bloodline. The most rousing action sequence mashes up Star Warsian spacecraft dogfights with Lord of the Rings-like swordplay and hand-to-hand combat -- and armor-clad war rhinos.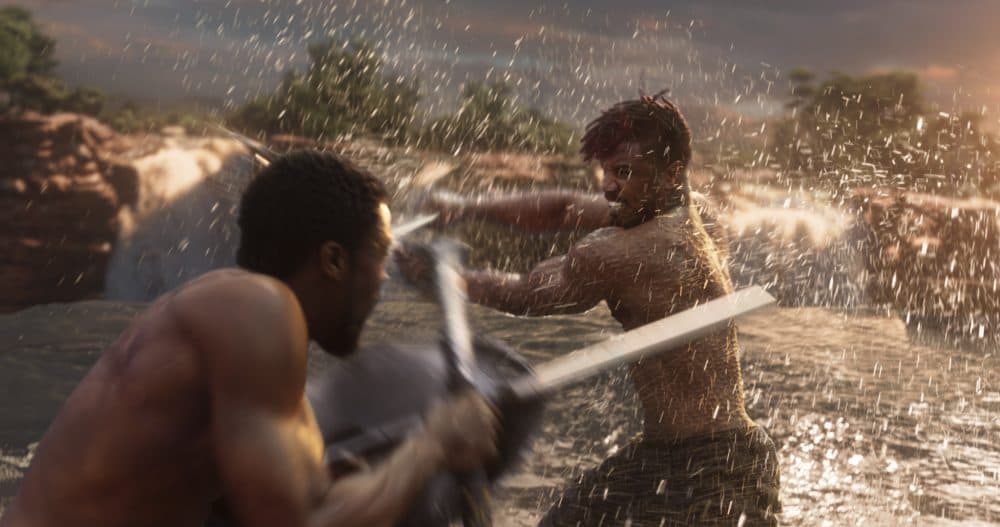 The world of "Black Panther" is a hybrid of magic and technology, the supernatural and the mundane, the past and the future. Characters wearing traditional-looking masks and skins populate sets that could've been designed by IKEA. The soundtrack juxtaposes djembe drumming and the vocal exuberance of Senegalese singer Baaba Maal against Snoop Dogg and today's big hip-hop stars like Kendrick Lamar and SZA. Beneath his high-tech cat suit, Michael B. Jordan's chiseled body is covered with "scarification" prosthetics. Yes, Black Panther/T'Challa flies around in a spaceship. But he can also travel to a cosmic, fuchsia-skied dream-world where he can speak with his dead father, who advises, "It's hard for a good man to be a king."
Most remarkable is the film's nearly all-black cast — including a regal Angela Bassett as Black Panther's mom, and Forest Whitaker as the guardian of the purple "herb." Refreshing, yes, for this white male viewer, and also initially disorienting. In a Hollywood tent pole action movie, I didn't expect to find the token white sidekick, but there he was (Freeman), spouting insensitive lines like, "You're telling me that the king of a third world country runs around in a bulletproof cat suit?" The typical racially-stereotyped baddie — Arab, Mexican, gangbanger — has been replaced by a pasty Anglo (Serkis).
Whereas other superhero nemeses might be driven by greed or some other fatal imperfection, Killmonger's motivation comes from settling racial scores. He's tired of Wakanda remaining on the sidelines. The nation has the wealth, technology and firepower to bring liberation to black people around the world; it could be a massive correction to the legacy of slavery, colonialism and racism. "I've waited my whole life for this. The world's going to start over, and I'm going to burn it all!" he boasts. From this premise springs the most potent political content of "Black Panther" — how to use power: to oppress or enlighten, or to withhold it entirely.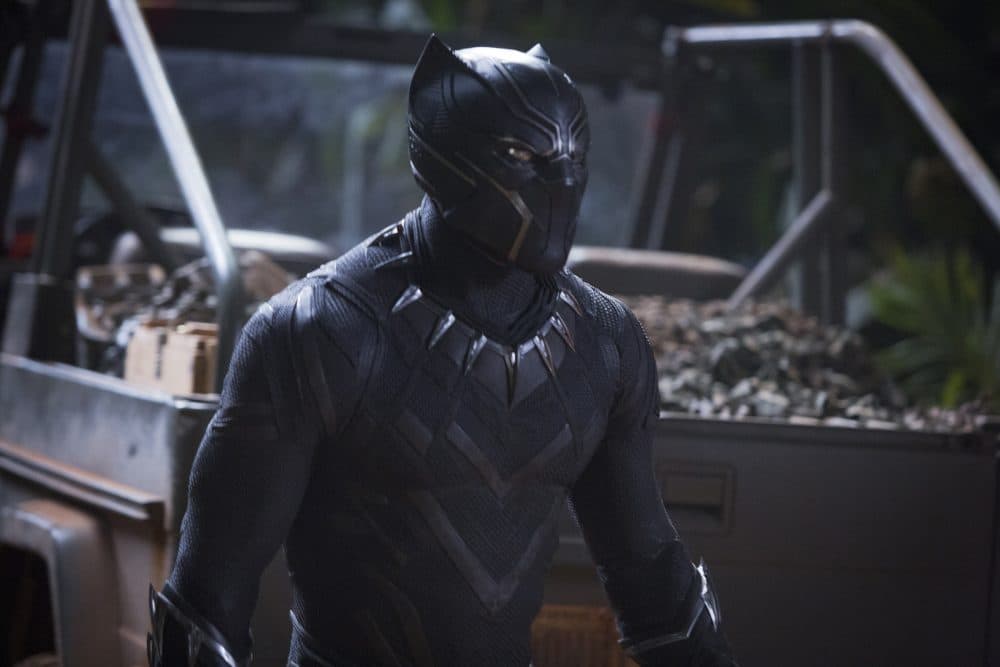 "Black Panther" more than takes its place alongside other recent entries in the Marvel and DC pantheon. It's way better than "Justice League" and easily half of the Avengers films, and at least as good as "Wonder Woman." But "Black Panther" is aiming higher. Coogler just might be aiming to give African-Americans and the African diaspora, at last, what feels like their own, rightful superhero — someone who, like all superheroes, is flawed and makes mistakes, but ultimately saves the day.
And, like the stories by Lucas, Tolkien and others, "Black Panther" forges its own powerful myth. The film's luxuriously animated prologue not only orients newcomers to the story. The sweeping CGI also serves as creation myth that conjures a place as rich and enticing as Middle-earth, a fabled homeland that is the setting for legends, heroics and derring-do.
There is a promised land, perhaps, called Wakanda. There is treachery and tough choices, but in the end, its people take their fate into their own hands.