'Torrey Pines' Combines 'South Park,' Teen Turmoil And Gender Bending At ArtsEmerson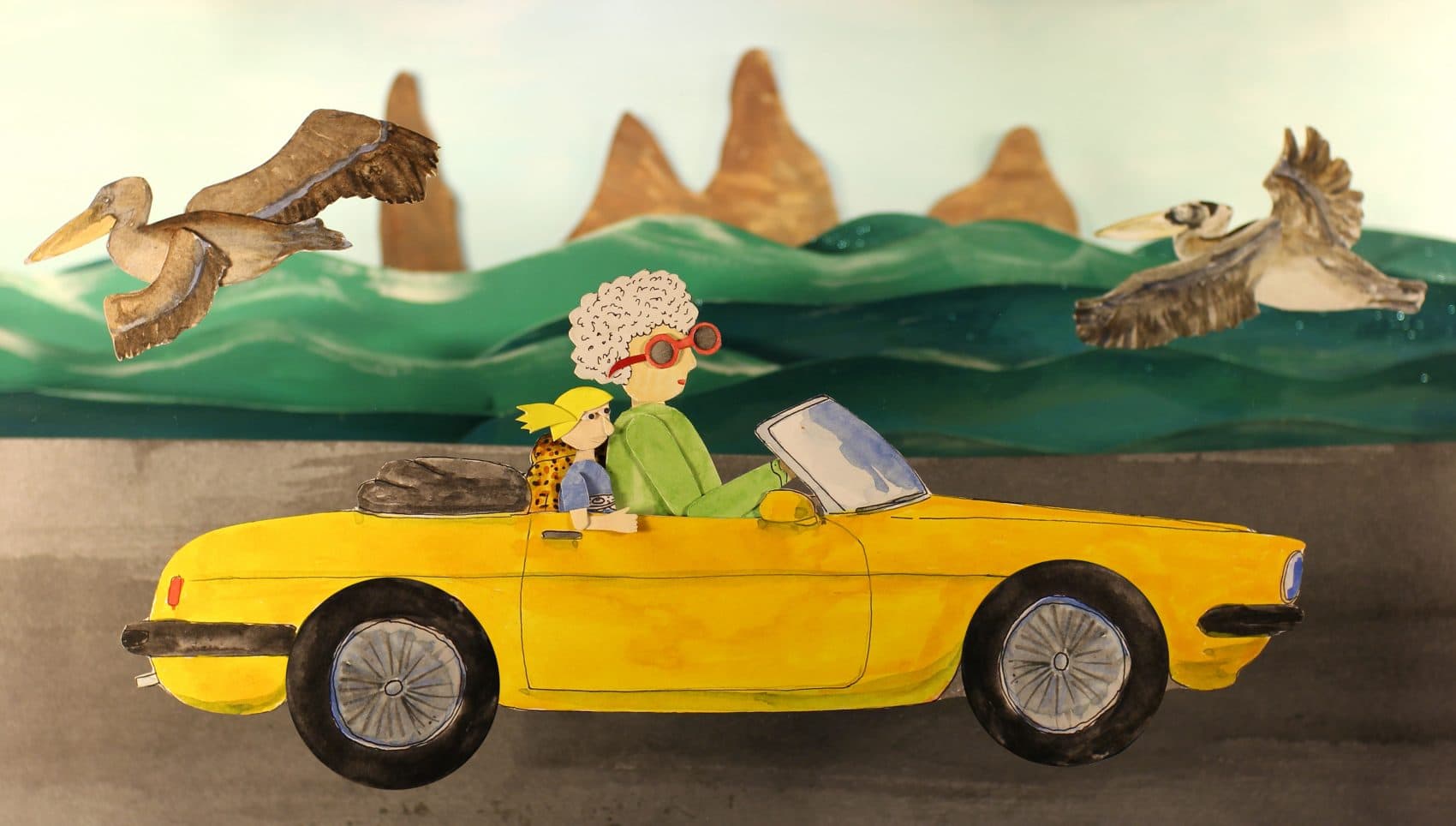 This article is more than 4 years old.
ArtsEmerson's Boston premiere of "Torrey Pines" is a voluptuously visual and auditory experience that combines cutout animation (similar to that in "South Park") with a "Beavis and Butt-Head" strain of adolescent humor, and deftly uses those things to pry beyond the refinements and calcifications of adulthood. The show targets the anxious kid that still lives in the nooks and corners of the adult psyche; with needle-sharp precision, it pierces one's shell of maturity and arrives at those buried precincts where juvenile terrors and anxieties remain.
Stylishly minimalist in the watercolor manner of a storybook come to life, and accompanied by a four-piece band and a sound-effects artist, "Torrey Pines" (through Saturday, Feb. 17 at the Emerson Paramount Center black box) possesses sensory immediacy while summoning memories of puberty, that fabled time when your body and your feelings conspire to mount a sustained, humiliating and disconcerting freakout.
The title doesn't refer to the main character — a blonde, pig-tailed middle schooler — but rather an oceanside natural reserve just north of San Diego, a placid setting for a journey that's anything but. The girl isn't given a name, which is just as well because this is not an exercise in dialogue; spoken meaning is carried less by sound than by illustration: Where words are implied they take on visual form, as in an argument where cartoon tigers appear and tear into each other.
The story, too, is suitably primal in its beats and narrative thrust. Our pig-tailed protagonist endures boring classes at school and fends off the awkward romantic attentions of the boy who sits next to her. She gets into screaming fights with her mother over nothing. She spends evenings watching television at the home of her chain-smoking, vodka-swilling grandmother. Falling asleep during an episode of "Star Trek," she finds herself having a nightmare in which she's participating in one of the sillier episodes of "The Next Generation" and mourning the death of the show's tough female security chief. Later on, she daydreams about making out with the ship's psychotherapist, a catsuit-clad beauty.

These scenes pair well with a passage in which she hangs out with another girl, playing with an electronic keyboard, watching a warped version of "Crocodile Dundee" on VHS, and eyeing her friend with a combination of shyness and attraction. But this is not a sweet story of a young person figuring out she's attracted to other girls. In a scene of striking body horror, our young hero catches a glimpse of her mother naked as she emerges from the shower and falls into a terrified reverie about the ways in which her own body is maturing, and the things that will mean. It's a moment that's simultaneously grotesque and full of bleak lowbrow humor, and it's only much later that we really connect the dots and understand the mysterious rumblings of her inner life.
Her external life is just as fraught, especially on the domestic front. Our protagonist has a father, but aside from a family photograph he's not in the picture. And while life under one roof with Mom is an ordeal, there are things happening outside the ken of the main character (and thus outside our understanding as well) that spur an impromptu cross-country road trip. It's a long journey. Desert skies, rolling greenery and various roadside adventures culminate with a startling twist and a satisfying arrival.
Don't worry if you find you're still putting the pieces together long after the show's end. "Torrey Pines" is intended to provoke strong gut responses and linger in the heart, all the better to gain some slight sense of what its young protagonist is going through, and it does so by reminding us of a time of turmoil in body and mind that we've all experienced.

---
"Torrey Pines" continues through Saturday, Feb. 17 at the Emerson Paramount Center Jackie Liebergott Black Box. For tickets and more information go to the ArtsEmerson website.