With New Cultural Venue, WBUR Aims To Be Physical Hub Of Boston Conversation
Resume
On Tuesday, WBUR'S General Manager Charlie Kravetz eagerly walked out of the elevator of the Boston University building that houses the NPR news affiliate on the Boston/Brookline line.
We'd taken the elevator from the third floor newsroom and studios at 890 Commonwealth Ave. to the street-level, 7,500-square-foot room that will be transformed into what will be dubbed "CitySpace," a store-front community and cultural center for live discussions, performances and visual journalism.
Ahead of the groundbreaking on Wednesday evening, Kravetz gave me — one of the station's arts and culture reporters — a tour.
Kravetz pointed out where a range of state-of-the-art equipment will eventually be installed, including robotic cameras and lighting; a 16-foot-wide high-definition screen that will be used to show documentaries; TV and radio control rooms slated to livestream events; floor-to-ceiling windows that will allow passersby to see the hydraulic stage.
Kravetz said these details are important, as they are part of a more ambitious puzzle: expanding the public radio experience from a remote, ephemeral moment to a real-life happening.
"That's our hope — that the kind of service that we do on radio can be translated to an in-person, tangible experience," he said. "We want this to be the home of the public conversation of Boston."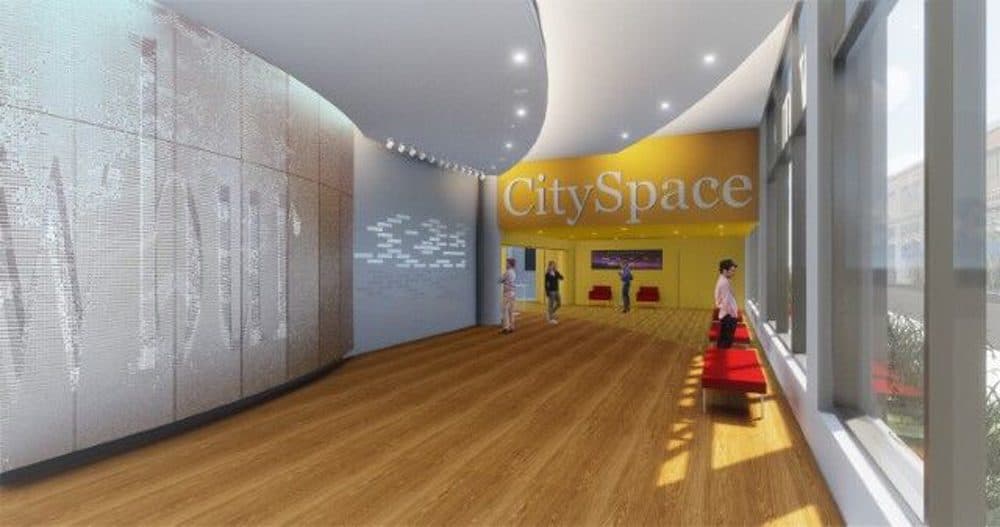 Kravetz said he envisions CitySpace as the nexus for dialogue in Boston, providing live in-person analysis of politics, the environment, life sciences, education and arts and culture.
"I think there is a giant demand for engaging more deeply in the cultural offerings besides just sitting in an audience. A lot of people will want to go to that post-show discussion," said Julie Burros, the city of Boston's chief of arts and culture.
The city's cultural report shows its arts scene lacks usable mid-size venues like CitySpace, which will hold at least 240 seats. There will be performances at CitySpace, but the focus will always be on discourse, Kravetz said.
That sort of interaction is what people crave, said Allyson Esposito, director of arts and culture for the Boston Foundation.
"In all sectors, folks are hungry for community right now. We're living in this era of podcasts and so forth," she said. "I think it's so exciting that WBUR [is] leading this opportunity to have an in-person connectivity to an abundance of issues, and an abundance of thoughts and topics."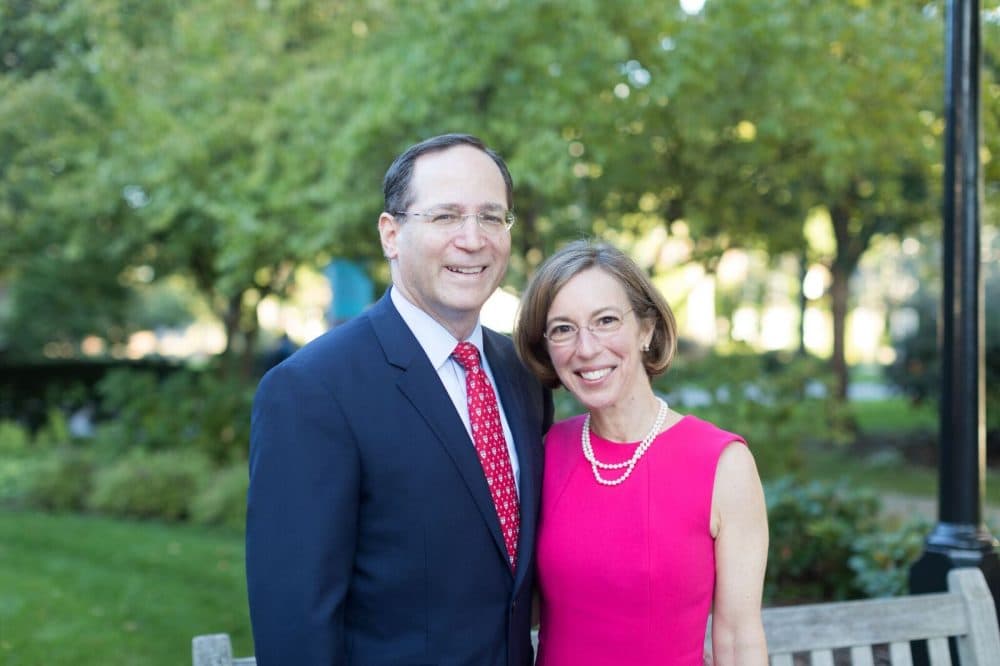 The hope of bringing people together to thoughtfully discuss this era's abundance of political and cultural issues is what led Jeannie and Jonathan Lavine, the co-managing partner of Bain Capital, to donate $5 million to build CitySpace.
Jonathan Lavine fears we've lost the spaces — sometimes even the ability to engage meaningfully with others.
"When you watch cable news you often see the famous split screen, and you forget that the people talking can't see each other, they can't look each other in the eye. They can't read each other's body language. They're not actually having a conversation," he said. "They are each stating different points of view in serial. I think that this [CitySpace] will be a place hopefully where people literally and figuratively engage."
With the Lavine contribution — the largest donation in WBUR's history — the station has raised $16 million and is still raising more to support future programming in the space. CitySpace is expected to serve 30,000 people a year through an ambitious 200 diverse events, according to the station's management.
The construction of CitySpace reflects a growing trend among media organizations across the country to develop public spaces for events and broadcasts. In recent years, New York Public Radio in New York City opened the Jerome L. Greene Performance Space and WGBH radio, also in Boston, established a public space at the Boston Public Library in Copley Square.
Back at WBUR, Kravetz said he knows CitySpace is a big undertaking, but he thinks the financial support so far shows Boston is hungry for the next hub of intellectual conversation.
"All that is saying that this community believes that this is going to be a tremendously important place for all of us to gather and wrestle with the big issues," he said.
WBUR's CitySpace is slated to open by January 2019.
This segment aired on February 28, 2018.