As Costs Climb At Public Colleges, State Leaders Weigh Fixes — But Students Demand More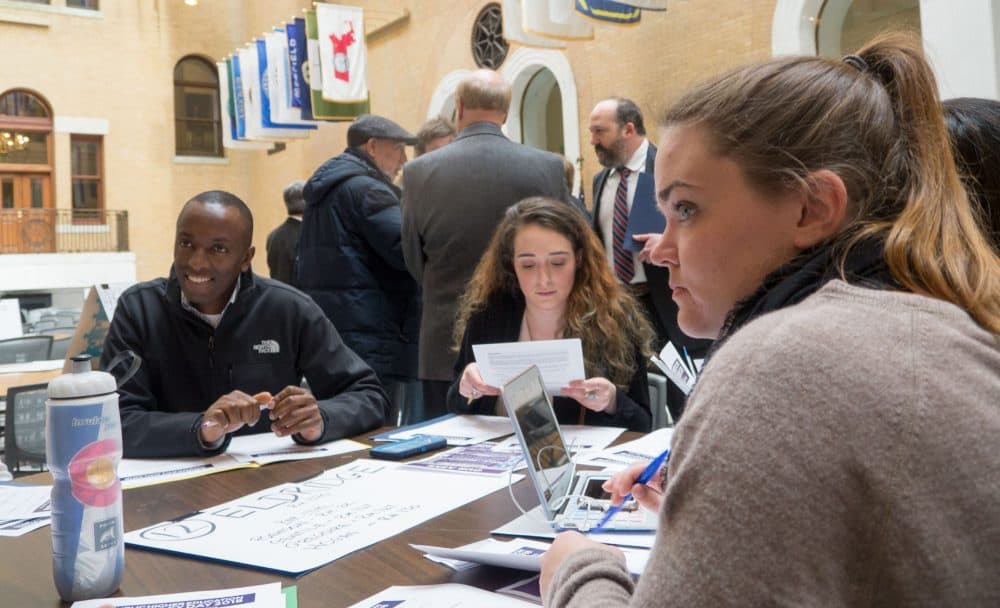 This article is more than 4 years old.
Students from the University of Massachusetts school system and other state colleges descended on Beacon Hill Monday to ask lawmakers to do more — maybe a lot more — to curb the rising costs of public higher education in Massachusetts.
This "advocacy day," during which students and staff lobby their legislators in the House and Senate, has been an annual practice since at least 2012. But this year, it's coming as state leaders are seeing the costs of public higher education here in Massachusetts — which is rising faster than in 49 states — as a big problem, one without a ready solution.
In the hallway before their meetings, students worked through their "asks." Those had been carefully coordinated by the Public Higher Education Network of Massachusetts (PHENOM), who put on the advocacy day.
Zac Bears heads that group, and explained the thinking: "We have a 'now' and a 'future.' "
In the short term, students are pushing for bills already being considered by state legislators:like the "finish line" grant, which would cover one year of tuition and fees for most students, and a "bill of rights" for student borrowers that advocates say would combat fraud.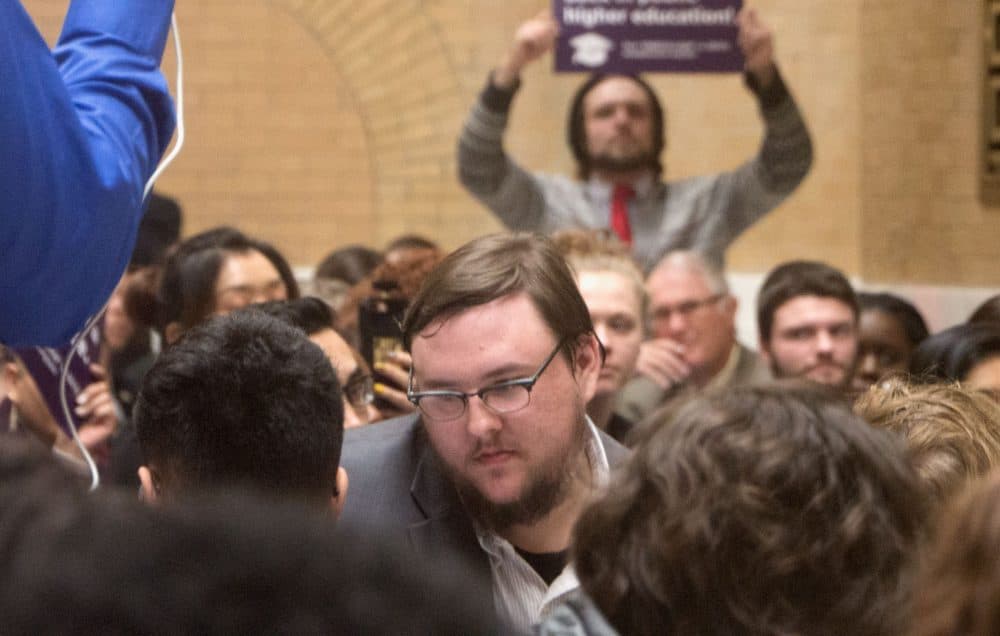 But they also have a more ambitious, long-term vision — especially to use $500 million in revenue from the so-called "millionaire's tax" being considered as a ballot item this November to raise school budgets and forgive some student debt.
PHENOM advocates got a friendly reception in some offices, like that of Sen. Pat Jehlen, a longtime advocate for public education.
Jehlen admitted that college students don't have as much legislative muscle as other groups. "They don't have a bunch of high-paid lobbyists to come around and visit with us. However! They have low-paid lobbyists!" Jehlen laughed, as she gestured at the people around her.
In a speech, Bears pointed to a report released last week from the Massachusetts Budget and Policy Center, a left-leaning think tank, which found that the per capita debt burden of all graduates from four-year public colleges and universities has more than doubled since 2003.
And regardless of where students go to school, the report found that they're covering more of the costs as state aid has dwindled. Tuition accounted for about 30 percent of all state colleges' revenue in 2001; now that number is between 52 and 62 percent, depending on the school.
Natalie Higgins used to run PHENOM, and has been to her share of "advocacy days." Now she's a freshman representative for Leominster. She said she hoped face-to-face contact with students would convey to lawmakers what numbers can't: that today's debt burdens weigh on young people.
"I'm including myself in the millennial category," Higgins said. "We want the same opportunities our parents had. The average debt graduating from a four-year public university is over $30,000. Can students pay that back? Absolutely. But it's setting us so much further back than our parents were."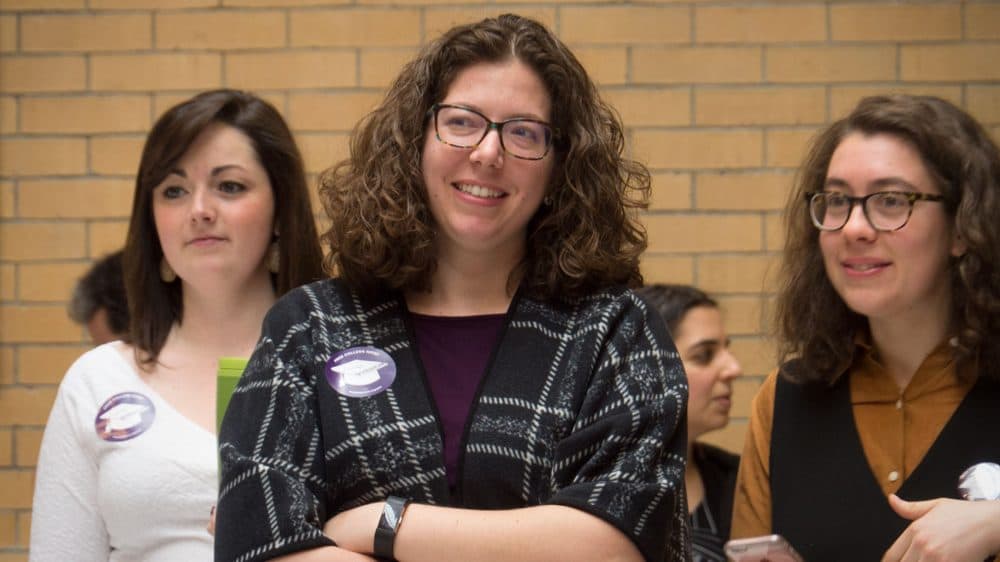 Other state leaders say they are trying to help. For example, Gov. Charlie Baker set aside part of his "state of the commonwealth" address in January to promise $7 million more in aid to the poorest community-college students, as well as expand early college efforts.
But for the student lobbyists, it isn't enough. "Seven million dollars is about $900 million short of starting to solve this problem," Bears said. "We need leaders to step up and commit to significant new funding for higher education."
In response, Colleen Quinn, a spokesperson for the state's Executive Office of Education, touted the governor's initiatives as efforts "that can significantly reduce the cost of a degree and give people the skills they need to find good-paying jobs."
Meanwhile, PHENOM advocates have an uneasy ally in UMass President Marty Meehan. He has spoken in favor of the "finish line" grant in the past, and has spoken out tentatively about revenue from the "millionaire's tax" being apportioned to pay for higher education, should that measure pass this fall.
Much of Meehan's annual "state of UMass" address Monday evening focused on affordability, saying rising costs present an "existential threat" to the universities' mission.
He discussed building partnerships with business and community members, as well as expanding online education as a cost control, "not just by delivering [learning] at a lower cost, but by generating new revenue to hold costs down for all of our students."
Meehan also promised to continue advocating for funding for the entire UMass system, but facing Baker and top lawmakers, he didn't speak specifically in favor of any of PHENOM's more ambitious reforms.
In late January, House Speaker Robert DeLeo didn't speak of reducing costs of higher education as he laid out his agenda. But he did speak of the importance of civics education — a vital duty to ensure that students understand "the rewards and duties of being an American in a well-functioning democracy."
It's not clear that hundreds of students' latest lobby will result in dramatic action on college costs — but it might qualify as a powerful lesson on politics and priorities in the meantime.