Life Lessons From New Hampshire's All-Female Winter Wilderness Training
Play
This article is more than 5 years old.
About 20 women decked out in hiking gear are sitting in a classroom as two New Hampshire state search-and-rescue officers tell them, step by step, how not to die if they get lost in the woods in the winter.
"It's very, very important to keep yourself warm and dry," says Lt. Heidi Murphy. "Always remember that -- warm and dry, warm and dry."
Murphy is Fish and Game's first and only full-time female conservation officer. She's leading this "Becoming an Outdoors-Woman" (BOW) class at the Owl Brook Hunter Education Center with Lt. Brad Morse.
"So just so you know, we've rescued very, very few women that make bad decisions," Morse tells the class, and they laugh. "Typically, if we've rescued a woman, it's because she got hurt. But we rescue lots and lots of guys that make bad decisions because they have to go to the hilltop, they don't care about the weather and they just keep on going."
"That is true," says Murphy. "Just know that you're not a loser … if you didn't make it to the top. Accomplishing your goal is just being able to do it in general."
BOW is full of these life lessons -- about planning and improvisation, grace under pressure and self-reliance. That's no small thing for many of the women in the class.
"Just the very essence of the topic is that we're surviving," says Claire Rouge. "I mean, the other [outdoor activities] are for my enjoyment, but this could really get me out of a jam."
Her daughter Vivi agrees.
"I just think it's so cool," she says. "I love the idea of being in the woods and making a fire and sleeping in the trees."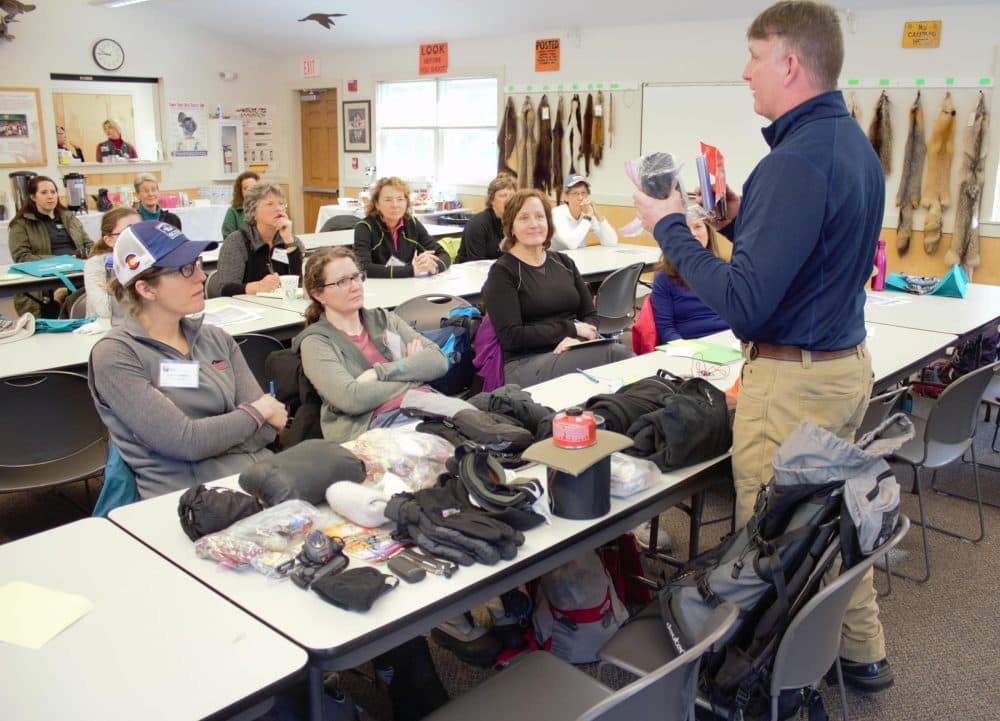 'Empowering' And 'Freeing'
BOW programs happen year-round across the U.S. and Canada. New Hampshire's is popular enough that participants don't always get their first-choice classes.
One fall, Claire Rouge says she ended up learning to field-dress big game.
"I broke down a deer, which was fascinating," she says. "And then they had a bear, and I guess one of the field biologists wanted the skull of the bear, so they wanted a volunteer to cut the head off of the bear."
None of the more experienced hunters stepped up. Then there was Rouge, a total novice, whose day job is in human resources at an insurance company.
"I'm like, gimme the saw," she says, laughing.
As Rouge matter-of-factly explains her bear-beheading process, her group heads into the snowy woods with Lt. Morse for fire lessons.
"So we all carry something called a ferro rod, OK?" he says, pulling out a small steel rod. "It's a special kind of steel that's got magnesium impregnated into the steel, and it burns at like 3,000 degrees."
Strike the ferro rod to make sparks and light a fire.
It's not the only special tool in Morse's pack, which he says is for a one-day winter hike. He's got waterproof matches, a first-aid kit, a stove, pounds of clothes and blankets. This is not survival for the unprepared.
He pairs his students off, and they tromp through feet of snow into the woods, to pull sticks off dead trees for their fires. They're armed with lots of tools, including a backpack-sized folding saw to cut logs.
Claire Rouge and Julia Wilcox dig out a space in the snow, arrange their logs into a platform, then bring out one more secret weapon: a cotton ball, covered in Vaseline to make it waterproof. They split the cotton ball open and shower it with sparks from their ferro rod, and it flames right up.
Morse shows them how to stack their piles of sticks on top, as both of them glow with pride.
"This is so empowering," Rouge says as the finished fire crackles. "Oh my gosh. It sounds good."
Nearby, Vivi Rouge is happily bundled up beside her fire, scheming about things to cook on it.
"I think it's very freeing to know that I could go anywhere and I can take care of myself," she says.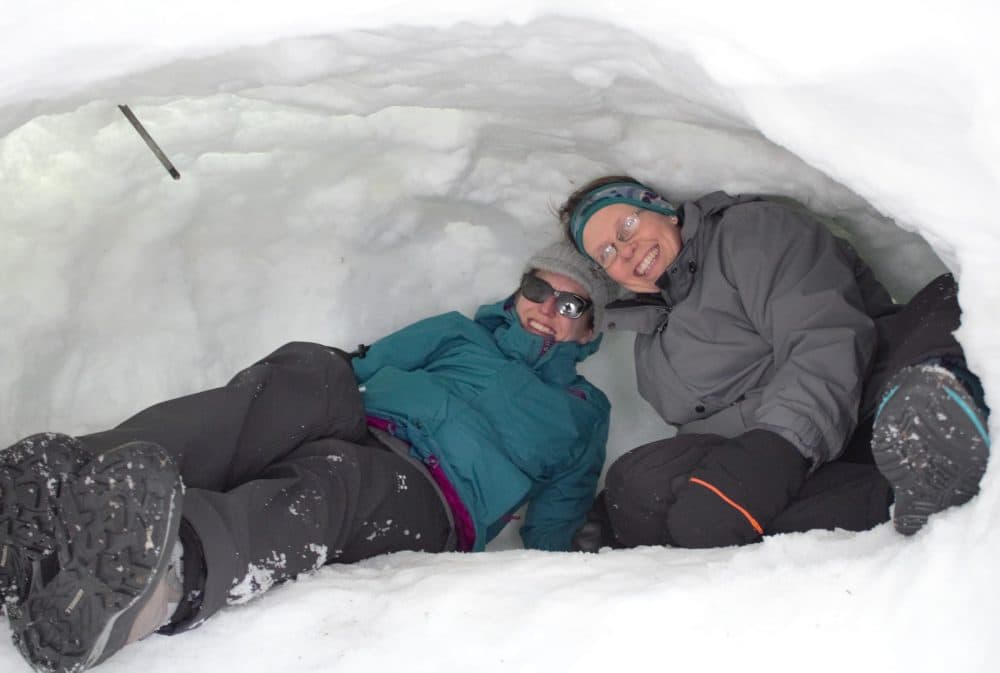 Learning As A Group
BOW really is about empowerment for women of all skill levels. Program coordinator Kim Proulx says the idea began as a research project in Wisconsin. It found competitive, co-ed environments made it harder for women to get involved in the outdoors.
"It's an intimidation factor too, sometimes," Proulx says. "It's like, 'Well, I don't want to be picked on or harassed because I can't do this right the first time,' and you never know in a co-ed situation if there's going to be that kind of tension.
"So having just women, and you're all there at ground level, saying, 'Nope, this is why we're here, and we're going to learn, and we're going to learn as a group' – it's easier to do something like that," she says.
All this team spirit comes in handy for the other skill on today's agenda: building snow shelters.
The women have learned to make simple lean-tos from tarps. Now they're on to something more labor-intensive: a big snow fort called a quinzhee, which Lt. Murphy says you might make if you knew you were going to be stuck for a while.
Susan Rosley and Karen Vanhouten have spent 20 minutes using folding shovels to dig a pile of snow for their quinzhee, and they've got a long way to go. They say they'd probably call home to be rescued before they got this far.
"I'd call my husband -- 'I think it's time to come get me,' " Vanhouten says.
"Yeah, really," says Rosley. "'I'm done hiking, honey!'"
This gets a big laugh. "'And bring the bottle of wine I left there too,'" Vanhouten adds.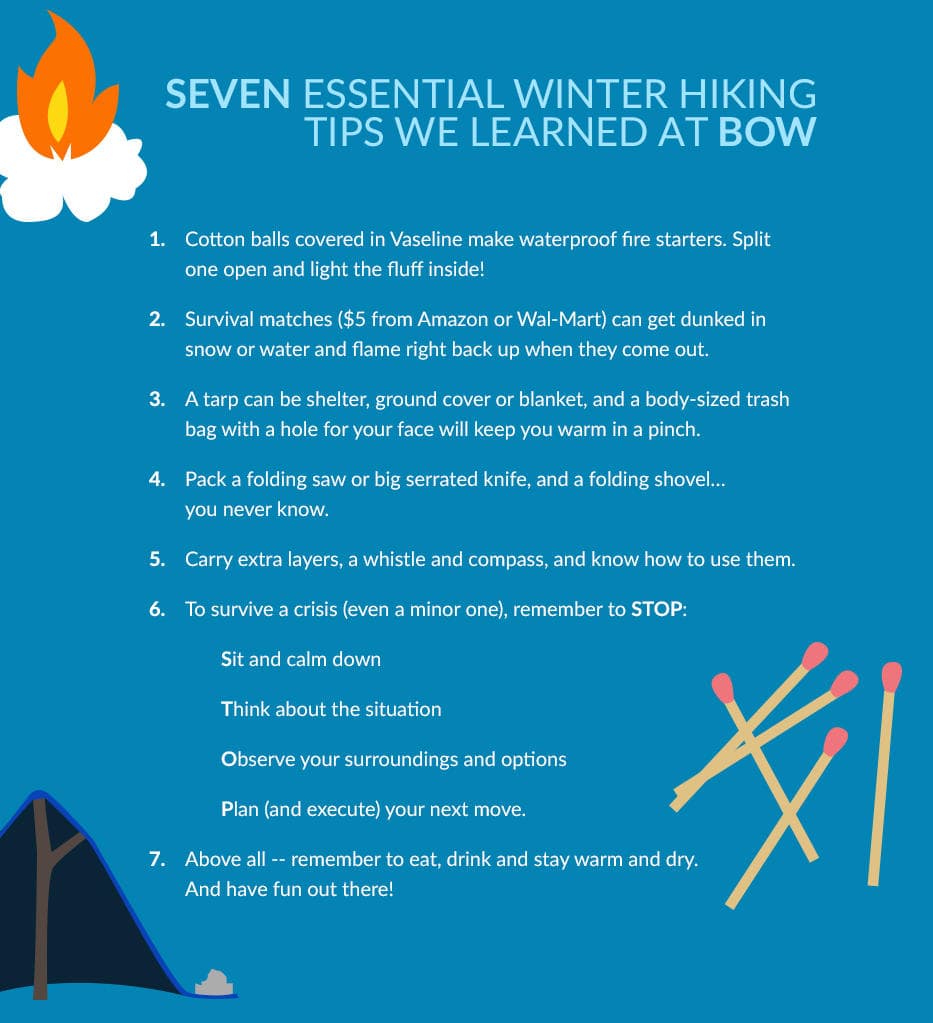 Like Lt. Murphy said in the classroom, the point is they're out here learning and trying.
Murphy has spent all day helping these budding outdoors-women with stuff they might not ask a man, like how to pee in the woods when it's dangerously cold.
"It is a great venue for people to be able to learn how to do something and not be embarrassed about it," she says.
Soon, the women's snow pile has doubled in size. It's almost ready to be patted down and dug out into a quinzhee.
As they shovel together, Karen Vanhouten and Stacy Cibula say this kind of group makes it easy to practice the heavy lifting that men often volunteer for.
"I don't think I rely on myself as much if there's men around, unfortunately," Vanhouten says. "Even though I could do it, I would rely more on my husband."
"I think I'm more willing to take charge in a group of women," Cibula agrees. "I still would pitch in if there were men, but I think men tend to dominate a situation, and so I'd probably step back."
Now, next time they're in the woods, they think they can take charge -- no matter who they're with.
This story comes via the New England News Collaborative, and was first published by New Hampshire Public Radio.
This segment aired on March 5, 2018.