In 'Astral Weeks,' A Tale Of Van Morrison's Time In The 'Weirder' Boston Of 1968
Its song lyrics are dotted with references to the artist's native Ireland. But on the back cover of Van Morrison's much-cherished album "Astral Weeks," there is an unexplained bit of verse that links the work to a different place altogether.
I saw you coming from the Cape, way from Hyannis Port all the way,
When I got back it was like a dream come true
I saw you coming from Cambridgeport with my poetry and jazz,
Knew you had the blues, saw you coming from across the river...
It always seemed safe enough to assume Morrison had written these words. But what the heck did they have to do with this album, a deeply meditative exercise in memory and nostalgia that was recorded in New York City and teems with references to Belfast?
In the years following the album's November 1968 release, the vague tidbit that the songwriter had lived in Cambridge for a while became received wisdom among fans of the deeply affecting, deeply mysterious piece of work, by many accounts Morrison's masterpiece. But his Cambridge/Boston period remained an under-explained footnote in his biography, an anomaly without context.
Like many fans of "Astral Weeks," local musician and marketer Ryan Walsh wondered about this for years. "The fact that these locales were listed on the back — I thought, this place must have meant something to him. And I'm from here and I love this city. I felt a weird duty to figure it out," Walsh says.
He did a deep dive and produced an eye-opening article on the topic that was published by Boston Magazine in 2015, which landed him a book deal with Penguin Press. The resulting work, "Astral Weeks: A Secret History of 1968," hits bookshelves this week. Walsh discusses his book in conversation with Carly Carioli, former editor-in-chief of Boston Magazine and of the Boston Phoenix, in an event at Brookline Booksmith on Tuesday, March 6.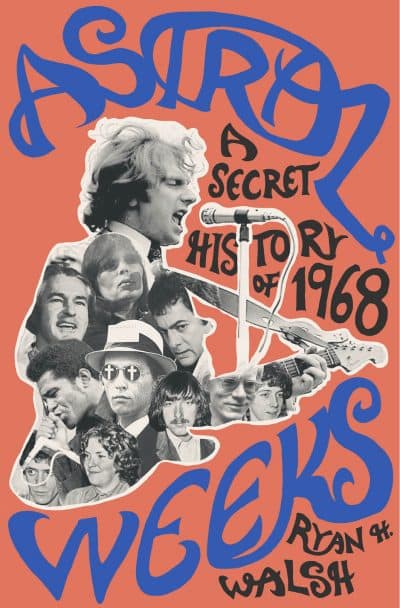 Readers shouldn't expect a simple guide to the album. The book goes far beyond "Astral Weeks," placing Morrison's time in Cambridge, from January through early September of 1968, in the vivid context of Boston's counterculture of the time. It contains the most information ever compiled about the background of "Astral Weeks," Walsh says, but along the way the author re-creates a geography of mostly-forgotten cultural landmarks.
His shaggy-dog tales range from the groundbreaking rock club Boston Tea Party — where the Velvet Underground played 43 times between 1967 and 1970, a period during which the New York-associated band only actually played its hometown thrice — to Tufts University professor David Silver's mind-bending weekly television program on WGBH, to the origins of WBCN's experiment with taking a break from classical music for a few hours of free-form rock programming in the middle of the night. The book also takes a close look at Mel Lyman, the musician-turned-cult-leader who headed a group called the Fort Hill Community in Roxbury and published the underground counterculture newspaper Avatar. James Brown's show at Boston Garden the evening after Dr. Martin Luther King Jr.'s assassination, record label MGM's ill-fated push behind the "Bosstown Sound" and the making of the film "The Boston Strangler" also make appearances.
Walsh's day job is as the marketing manager for ArtsEmerson. He's also fronted the local rock band Hallelujah the Hills for more than a decade, a group that's become a stalwart on the Boston scene without ranging too far afield. Aside from a few pieces for the Phoenix, he doesn't have much experience as a journalist. Which is part of why the Boston Magazine article, and now the book, lands as such a revelation.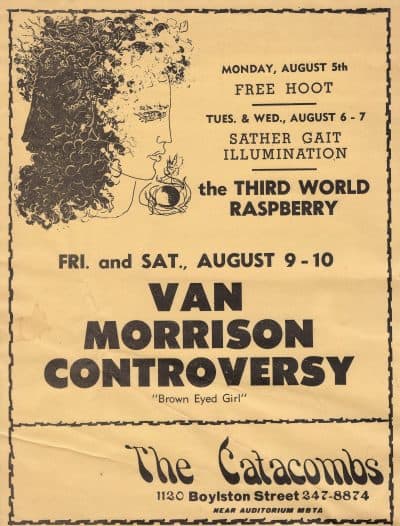 His vivid storytelling recounts his extensive detective work. He found himself in Manhattan, visiting with a one-time associate of Morrison's old record label who had apparent mob ties and told the story of how the singer's representatives bought him out of his unfriendly deal with the somewhat sketchy record company, freeing him to cut "Astral Weeks" with Warner Brothers. (It involved $20,000 delivered in a paper bag.)
Walsh was downing pastries and bourbon at the apartment of Boston rock luminary Peter Wolf (of J. Geils Band, not to mention the first group of WBCN rock jocks) when he realized he was seated right next to the holy grail of "Astral Weeks" obsessives — a recording from Morrison's August 1968 appearances at the Catacombs, a tiny rock club on Boylston Street beneath where Little Steve's Pizzeria sits now.
Across five shows that month, Morrison worked out the loose, jazzy, meditative sound that would appear on "Astral Weeks," a sharp break from the R&B-inspired rock he made with the group Them, or even the perfect pop of "Brown Eyed Girl," released the year before. As Walsh would discover, Morrison's Boston bassist, Tom Kielbania, invited friend John Payne, a former Harvard University student, to sit in on flute at one of these gigs. Payne's touch on flute and alto sax would provide some key flavors to "Astral Weeks."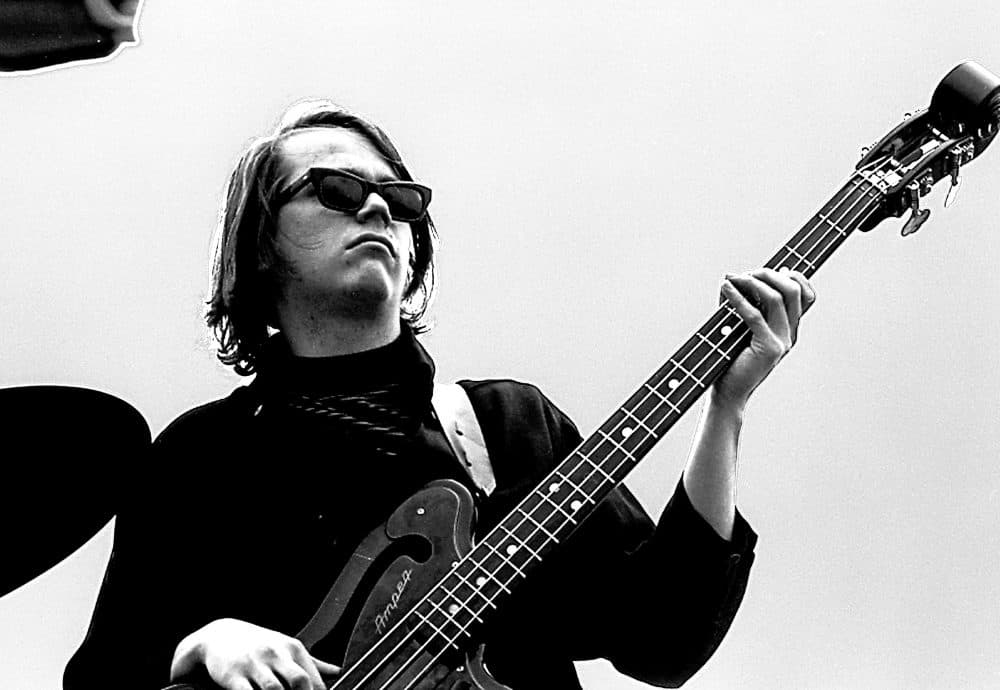 Walsh pieces together the months leading up to those shows. He uncovers stories about Morrison sitting at the kitchen table in his apartment on Green Street in Cambridge, between Harvard and Central squares, strumming an acoustic guitar and improvising lyrics that his then-wife Janet "Planet" Rigsbee would transcribe and organize into a binder that became the raw material of the "Astral Weeks" songs.
He sorts through the surviving evidence to construct a tour itinerary covering Morrison's time living in Cambridge, during which, it turns out, he tried out three separate supporting bands.
"One guitarist described the whole summer as almost on the edge of insanity," Walsh says. "A 16-year-old provided the transportation. They're getting in accidents. Van's drunk at every show. Some of the band is trying to make it into a hyper-electric punk band and Van's getting furious. They're fighting about money onstage with club owners. Just real madness."
Morrison's musical wanderings led him to a Cambridge club called the Electric Circus; Rocky Point Park in Warwick, Rhode Island; the auditorium at Wayland High School; and gigs on Cape Cod where the band improvised the kernels of a little ditty called "Moondance." It didn't really fit in with the "Astral Weeks" material but of course became a foundation of Morrison's catalog on the following album.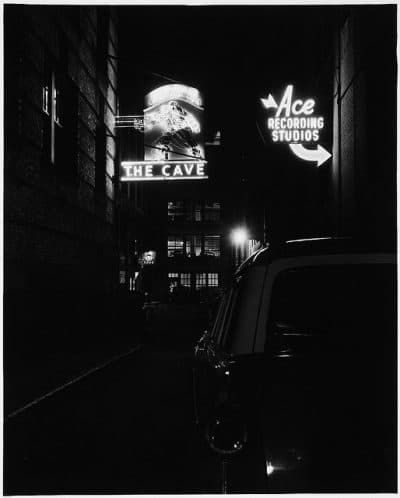 The musician eventually auditioned for producer Lewis Merenstein at Ace Recording Studios on Boylston Place, the narrow alley across from Boston Common near the Colonial Theatre. Merenstein was entranced immediately, and whisked Morrison away to cut an album in New York. A month after that, the record was in stores. And Morrison's time on Green Street was over.
As Walsh's book makes clear for the first time, "Astral Weeks" really was forged in the crucible of Morrison's eight months living in Cambridge, writing songs and playing shows around New England.
But the final, glorious piece of that puzzle came when a Warner Brothers archivist let him listen to the one song from the compact and efficient "Astral Weeks" sessions that didn't make the album. It's a 14-minute slow-burner called "Train." About four minutes into the song, Walsh says, he heard some familiar words: the ones printed on the back of the album.
"Suddenly Morrison is singing in my ear about about Cambridgeport, and he sings about it in this way that's totally mythologizing it. He sings about Cambridgeport in a way that's like he's talking about a misty hobbit village," Walsh says, clearly still excited about the find. "It really was an incredible validation for me."
But even amid all this newly uncovered context, the beguiling mystique of "Astral Weeks" — with its stream-of-consciousness lyrical reveries and hypnotic sounds — remains undimmed, even for Walsh.
"Even after I know every single gritty detail about it, I can still put it on and be like: Wow," he says, though he hopes he's indeed cast a different light on the city of Boston.
"I can't say I made the case that Boston's a cooler city than it may be perceived as," he says, "but I do make the case that it's weirder than anyone thought."