A 'Reclamation Of America As Indigenous Country,' T.C. Cannon's Paintings Confronting Colonialism Feel As Urgent As Ever
06:30
Play
This article is more than 3 years old.
As I walked into the Peabody Essex Museum's "T.C. Cannon: At The Edge of America" exhibition, the first thing I saw was this imposing painting, filled with olive greens, corals and oranges, about 7 feet tall and 4 feet wide.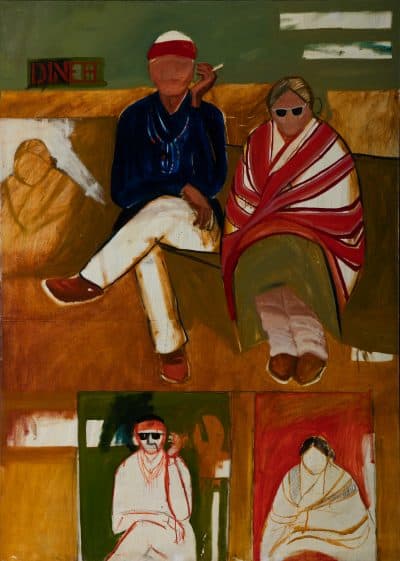 In the painting, a Navajo man and woman sit together, wearing traditional native garments, but with modern, posh sunglasses. Their clothing is time-honored, but their pose — one of them casually holding a cigarette — looks very of-the-moment and stylish. The two figures are hybrids of both past and present.
T.C. Cannon's "got this mix of old and new — insider, outsider; native and non-native," said Karen Kramer, the PEM's curator of Native American and Oceanic Art and Culture.
Cannon painted the piece called "Mama And Papa Have The Going Home Shiprock Blues" in 1966 while he was a student at the Institute of American Indian Arts in Santa Fe. Though native art had a rich, diverse history, Cannon's contemporary sensibility revolutionized its course. He strayed from the conventional paintings of indigenous people, which consisted mostly of sentimental images of rituals.
Cannon, who grew up in an Oklahoma farming community and was half Kiowa and half Caddo, revolutionized native art at a time when indigenous life was still harshly regulated by white governments.
"When Cannon painted these works, it was still illegal for native people to practice their religion on their terms, outside of Christianity," said Kramer, referring to local, state and sometimes federal regulations that intruded upon or banned Native American ceremonial rites or restricted tribes from accessing sacred sites on government land — until the American Indian Religious Freedom Act of 1978.
Cannon died in a car accident at the age of 31, in 1978.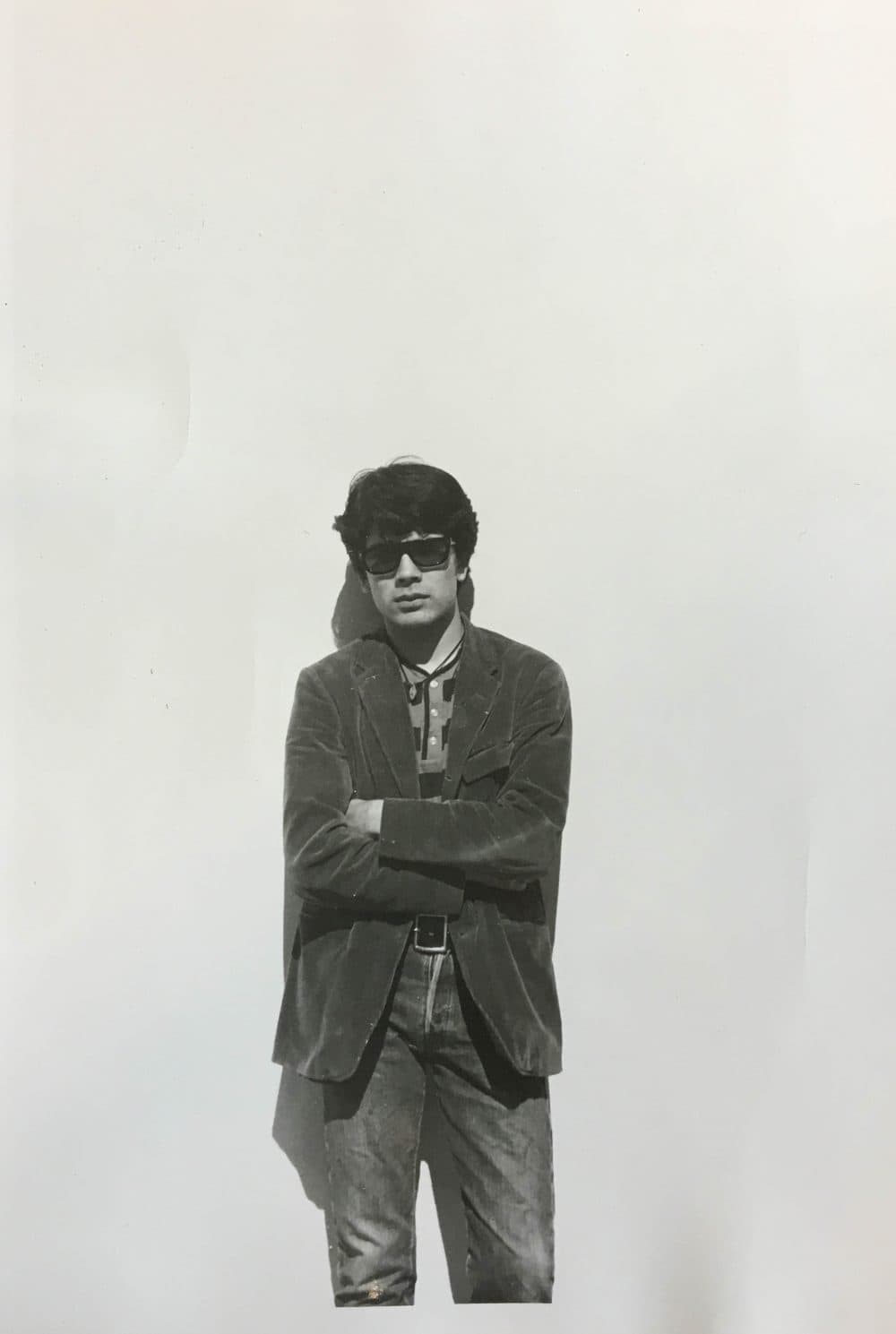 His work is filled with dichotomy: Native American aesthetics blend with Western techniques. You can see influences of Matisse and Rauschenberg in his paintings, filled with bold colors and intricate patterns. Cannon's indigenous subjects are depicted wearing traditional textiles but sit in contemporary backgrounds, like a modern living room. His paintings try to restore indigenous people's agency; he's presenting them on their terms, never filtered or explained to a white audience — something incredibly subversive for the late '60s.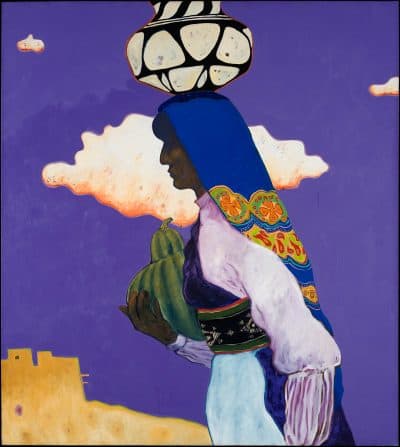 "Cannon's work is a powerful reclamation of America as indigenous country ... he's also asking us to grapple with these difficult shared histories," Kramer said.
The more than 90 works at the PEM, including 30 major paintings, works on paper, poetry and musical recordings, poetically and forcefully confront colonialism and its brutal legacy. Now, in the era of Standing Rock and when data from the Centers for Disease Control show Native Americans are killed by police at a higher rate than any other racial group, Cannon's work resonates with urgency.
"With phrases like, 'Even now the grass is black with blood' — that to me is a reference to the fact that this this kind of violence against native communities is still continuing," Kramer said.
As part of the exhibition, the PEM commissioned two songs by singer/songwriter Samantha Crain. She's native too, Choctaw from Oklahoma.
For the first song, Crain traveled to a the Daybreak Star Indian Cultural Center in Seattle that housed one of Cannon's largest works: a 22-foot long mural depicting the history of native people in the U.S. (the mural is now part of the PEM exhibition).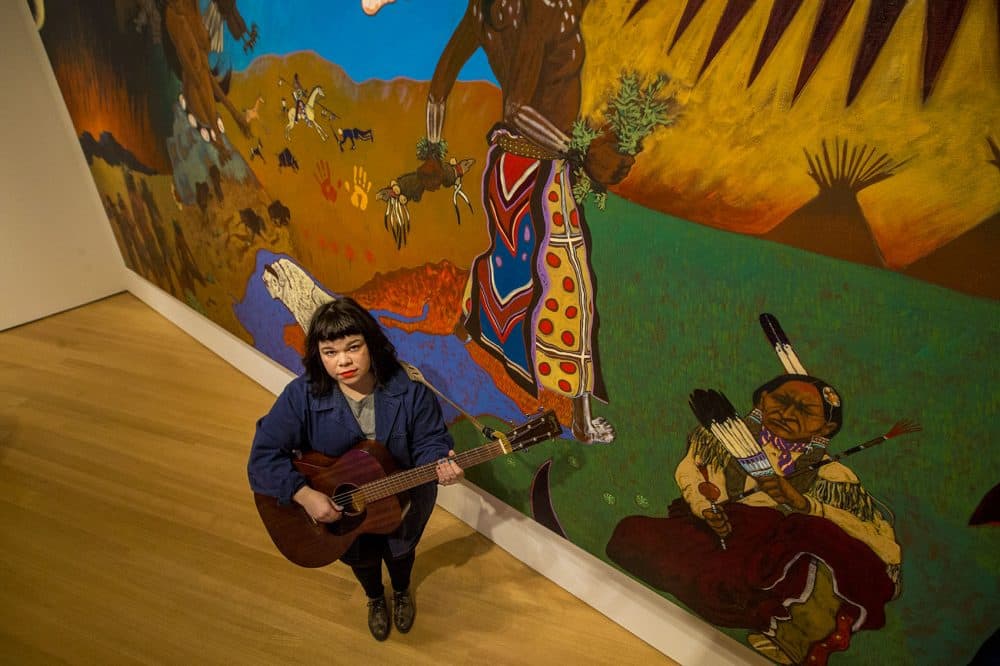 Strumming Cannon's own guitar, lent to her by the cultural center, she wrote the first song in one hour. It's called "The One Who Stands In The Sun," which is Cannon's indigenous name.
"It turned out to just kind of come out of me," Crain said. "I was just like immediately inspired by [the painting]."
The song, a folk ballad with acoustic guitar and an echoing synthesizer, is meant to have a call-and-response quality between Crain and Cannon. "Through this whole process, I've almost felt a little bit, like, watched over almost by T.C.," she said.
In the second song, called "Angelus," Crain composed a melody to complement a poem and a painting of Cannon's grandmother. The painting shows Cannon's grandmother pregnant with his father, her face strong and defined, walking through a landscape of black ground and bright blue sky.
For Crain, Cannon's images and words tell the story of so many indigenous people like her: the story of resiliency, of defying stereotypes by simply existing. History is never behind them. It's inside of them, around them — they are living it now.
---
"T.C. Cannon: At The Edge of America" is on view at the Peabody Essex Museum until June 10.
This segment aired on March 9, 2018.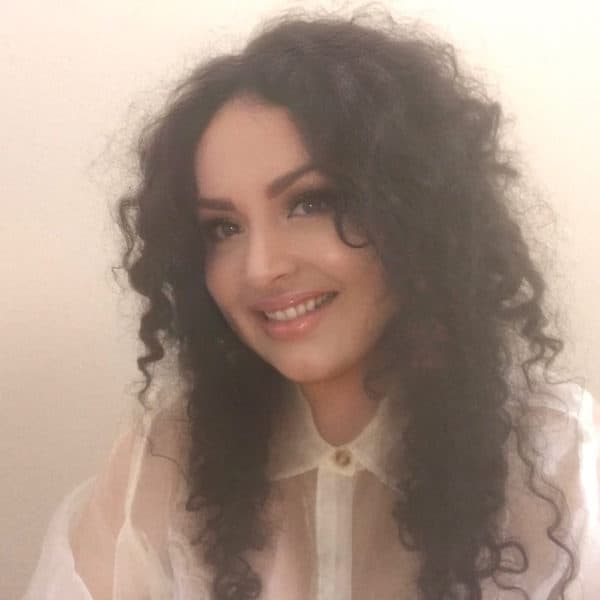 Maria Garcia Managing Editor
Maria Garcia was WBUR's Managing Editor and the creator of "Anything for Selena."