This Week, Mosaic Artists Put The Pieces Together In Boston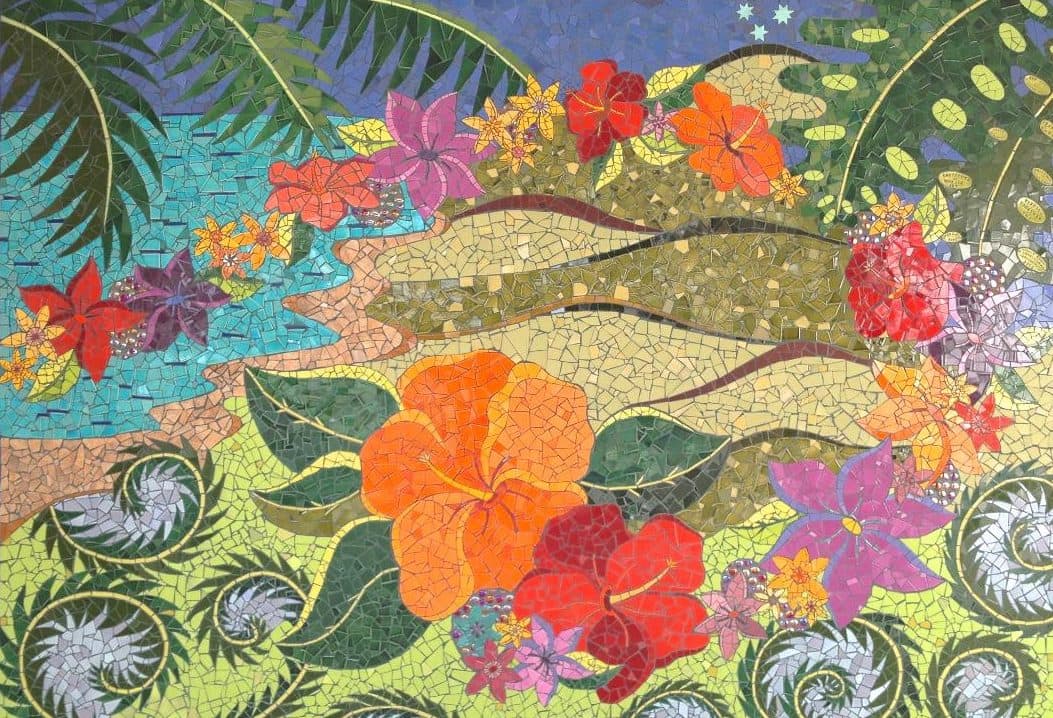 This article is more than 3 years old.
There's something powerfully cathartic about smashing a hard material to teeny bits, then putting those little shards together again in a way that is beautiful, cohesive and whole.
Mosaic artist Laurel True has witnessed this power in far-flung places around the globe, including Turkey, Kenya, Ghana, Mexico, Argentina and Costa Rica. One of the most dramatic examples came in Haiti, about six months after the devastating earthquake that leveled much of the country in 2010. True journeyed to the port town of Jacmel, on the country's southern coast, where she, alongside Haitian youth, constructed a mosaic memorial for those who lost their lives in the quake.
"This is a time when people have lost their houses and their loved ones," recalls the New Orleans-based artist. "It's just a super traumatic time for people. And to be able to engage in something that is engaging, distracting from daily trauma, provides a sense of respite and pride, a symbolic and literal rebuilding. They were making something. That is a very satisfying thing when there is natural disaster or community trauma."
In short, mosaic-making is healing.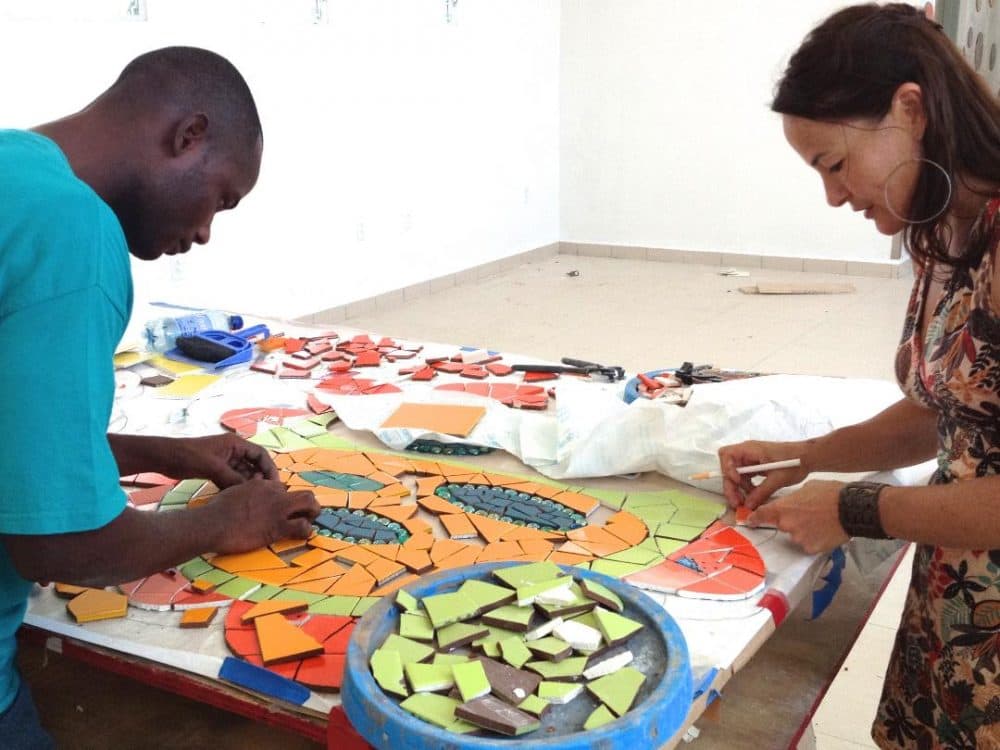 This week, True and hundreds of other mosaic artists are in Boston for the annual American Mosaic Summit to discuss exactly this -- how making mosaics can promote healing and well-being not only for the mosaicists who practice it, but for the community at large. There will be lectures, talks, workshops, exhibitions and art tours showcasing global large-scale and smaller-scale mosaic projects. There will also be a "mosaic marathon" in which mosaic artists will furiously combine their collective energies to create a mosaic artwork during the course of the six-day conference. Whatever they come up with will ultimately be donated to a local charity. True will be delivering a presentation on "Mosaic Art and Public Health" in which she will discuss the power of mosaics in health care settings.
"Those of us who have been working in mosaics for a long time know very well the benefits from breaking things and putting them back together in an even more beautiful, meaningful way," says Dawnmarie Zimmerman, executive director of the Society of American Mosaic Artists, which is organizing the event along with the Society of Arts and Crafts and the Boston Society of Architects. Zimmerman herself has been a practicing mosaicist for more than 17 years. "We kind of live the metaphor of it in our daily practice of making art. It's really a perfect marriage of medium and meaning."
In fact, the metaphor of healing is so perfect it can almost seem banal when it comes to artists breaking down rocks, minerals, ceramic tiles, stones and glass into a messy jumble of fragments that they then reconstitute into a colorful, uplifting image or pattern.
"Those of us who have been working in mosaics for a long time know very well the benefits from breaking things and putting them back together in an even more beautiful, meaningful way."

Dawnmarie Zimmerman
It's a "very obvious metaphor of putting the pieces back together, reassembling broken things," says True. And yet, the impact of a rich, vibrant kaleidoscopic on both artists and viewers is so striking it cannot be ignored. For artists, creating mosaics can be "calming and soothing, and that certainly contributes to a sense of personal well-being," says True.
And then there is the sensation of being a part of something much larger than oneself.
"When you are part of a mosaic project, you are linked to the people you are working with," she says. "You are an integral part of a process that will create this beautiful thing."
But the magic really happens once the work is finished. When a work of art finally emerges from the dust, all the good vibes emanating from it make everyone who passes by just a tiny bit happier. An explosion of colors and textures oozes vitality and life, whether the imagery involves bright flowers and happy birds, brilliant abstract patterns or vibrant city scenes. And all the positive energy is even more apparent with mosaics found in health care settings, where True has done much of her work. There, the healing metaphor comes full circle as patients and their loved ones find encouragement, solace and wonder on the walls as they heal.
True has been a mosaicist and educator for 25 years. In 2005, she co-founded the Institute of Mosaic Art in California, a complex of classrooms, exhibition spaces, a retail store and library dedicated entirely to mosaic art. She ran the institute for five years while simultaneously spending part of her time in New Orleans. In 2010, she sold that business and relocated indefinitely to New Orleans where she opened True Mosaics, a professional mosaic studio specializing in site-specific installations, public art, private commissions and community projects. Because she loves to travel and had more time to do it once she was no longer tied down by the institute, she founded the Global Mosaic Project, which partners with organizations, schools, community groups and businesses to bring participatory mosaic projects to underserved communities around the world. Through that initiative, she has done murals on public streets, adorned park benches, city sculptures and sidewalks on several different continents.
One of those projects was the memorial "Tree of Life" mural done with kids living in Haiti in 2010. It was on a return flight back to the U.S. following that project, that something serendipitous happened that would propel True further into the realm of health care.
"My friend and I were bumped up to first class by a flight attendant who knew about the work we had been doing," says True. "Through a stroke of luck -- or fate -- we sat next to a man who introduced us to Dr. Paul Farmer, co-founder of the public health organization Partners In Health."
After seeing pictures of the mural she had just completed, Farmer invited True to work with Partners In Health on a new hospital they were building in the central valley of Haiti in the town of Mirebalais. Over the next two years, True designed and created, with the help of a team of Haitians and visiting artists, a series of mosaic murals and seating areas for Mirebalais Hospital, the first of many projects. She has also collaborated with the Beverly, Massachusetts-based Build Health International, the U.N. and the Canadian Red Cross on projects in health care settings. In Haiti, her mosaic projects can be found in orphanages, rehabilitation centers, research laboratories and children's wards.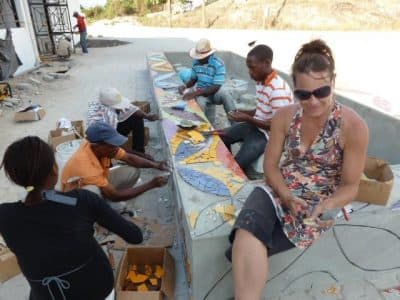 "Think of living in an extremely poor community without health care services, and you walk or travel just to get to this hospital, and not only is it going to provide healthcare services but there's beauty," she marvels. "I think there's a sense of belonging when people see something beautiful, as well as when people contribute to something beautiful. And I love working with populations that don't necessarily have access to things like making a community mosaic."
But it's not only in Haiti that True has observed the intriguing restorative power of mosaic-making. After 9/11 in the United States, she says she noticed a surge in people taking her mosaic classes, on the hunt for some activity that could be restorative and reaffirming. She noticed the same thing in New Orleans, following Hurricane Katrina.
"In a nutshell, mosaics just help to foster well-being" she says. "It creates a sense of dignity, it beautifies the environment, it creates mental and emotional engagement."
And what do mosaics have that, let's say, painting or photography doesn't?
"It's something about the texture," posits Zimmerman. "When I watch people looking at works for the first time, their hands go out. There's something that visually draws people to it, and there is a bit of a meditative quality to it, something about your eye tracing the individual pieces and putting the visual puzzle of all those pieces together to make sense of a greater whole."
"It seems too simple, but I've heard so many people say it makes them happy."

Laurel True
True thinks it's the accessibility. Museums can be stiff and intimidating but everyone feels comfortable admiring a mosaic on a park bench.
"What's the thing about mosaics?" asks True. "It seems too simple, but I've heard so many people say it makes them happy."
---
The Annual Mosaic Summit is being held at the Westin Boston Waterfront from March 13 to 18. The Mosaic Arts International Exhibit runs at BSA Space through April 27 and the Mosaic Arts International Invitational: Sophie Drouin will be on view at the Society of Arts + Crafts through March 18. Admission to both exhibits is free and open to the public.