Outside Investors Tap Into Vermont Maple Syrup Industry
Resume
Demand for maple syrup and maple products is growing by about 6 to 8 percent per year globally. The prospect of that kind of return is drawing investors to Vermont like moths to a flame.
And maple producers and processors in Vermont are trying to walk a fine line between price and production. Production is rising thanks to ever more efficient technology. That is putting downward pressure on prices as the supply expands.
But it isn't scaring off out-of-state investors, who are increasing the number of taps they're installing to try to satisfy rising demand for syrup worldwide.
'New Sugar-Makers, New Investors'
Trudging through thick snow, Paul Lambert, a maple syrup and maple products producer at Silloway Maple in Randolph Center, talks about how the industry is expanding all around him.
"Everybody's adding taps, adding trees. New sugar-makers, new investors. So there's a lot of syrup being produced," Lambert explains.
Demand is rising domestically and abroad in Asia, Europe and the United Kingdom.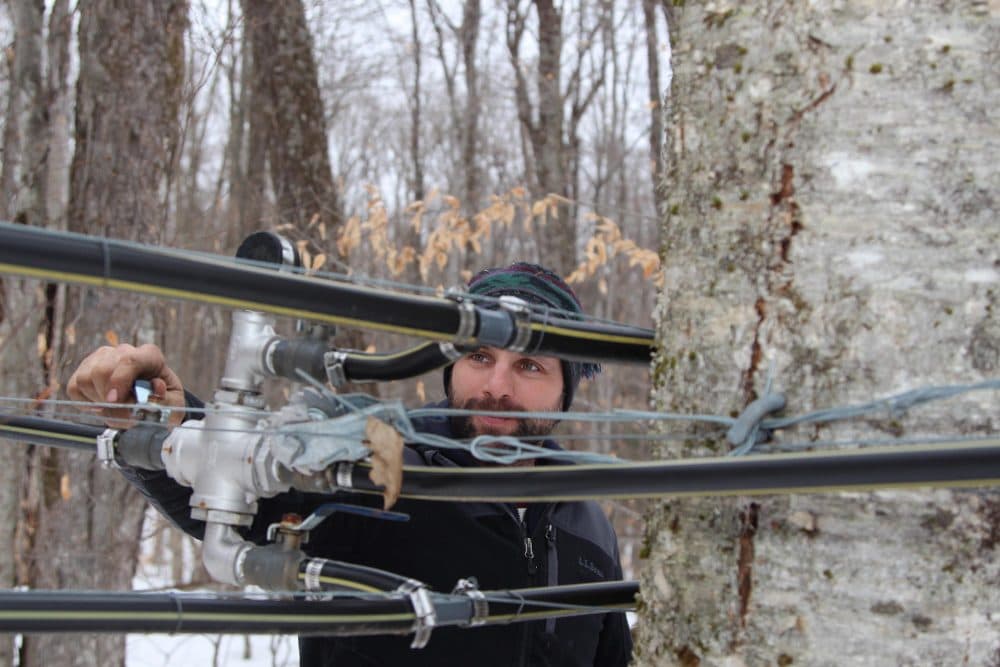 "We're seeing huge increases in production, both in Québec and in Vermont," says Henry Marckres, who recently retired from the Vermont Agency of Agriculture, Food and Markets, where he was consumer protection chief and resident maple specialist for 34 years.
Québec and Vermont are by far the two largest syrup-making regions in a narrow geographic section of North America — the only place in the world where syrup is made.
"Where that's going to level off, I'm not sure," Marckres continues. "I do think there has to be a point of reducing some of the expansion to maintain a good price, but we haven't seen it yet."
That is one principal reason why out-of-state money is flowing into the Vermont maple production industry.
"It used to be this thing that these guys down the back roads, they're the only ones who knew how to get the sap, you know," says Bob Sabolefski, a traditional, small-batch producer in Stowe. "And then the technology came into it and spread out the season, and all of a sudden you can ... make money off of it."
Movements In Prices
New York-based Crown Maple started working 4,400 acres near Manchester Center in 2016. In Marshfield, another New York company, The Forest Farmers, bought 2,400 acres last summer, and plans to have 130,000 taps in place in three years. The company is financed by two private equity partners from Massachusetts.
"We can make up to about 200 gallons of syrup per hour," says The Forest Farmers CEO Mike Farrell as he works beside two state-of-the-art evaporators in the company's modern sugarhouse. The company is also harvesting and processing birch sap in Marshfield.
Farrell is the author of "The Sugarmaker's Companion," and he formerly led Cornell University's Uihlein Sugar Maple Research Forest for 12 years. Farrell is bullish on the long-term market, but he does have short-term concerns.
"We started this venture about three years ago. And bulk prices were acceptable," he says.
Then, the price for bulk maple syrup — the price paid to producers — hovered around $2.30 to $2.40 per pound, in some cases more.
"And they've done nothing but come down since," Farrell says.
The bulk price is now around $2 per pound.
"And I think if bulk prices were the level they were today three years ago, I'm not sure that we would've invested so much into the larger-scale production," Farrell says.
Sweet Tree Holdings in Island Pond is another example of large-scale investment in Vermont. It arrived in 2015. It has 500,000 taps installed, with plans for 1.5 million taps within five years.
Sweet Tree's story shows how maple syrup has become a commodity, like oil or metals. It came to Vermont as a subsidiary of an investment arm of MassMutual Life Insurance. Then in mid-January, MassMutual sold Sweet Tree to a private equity firm in Montreal called Fiera Comox.
Sweet Tree's Joe Russo runs the Island Pond operation, and he says Fiera Comox wants to triple production.
"It's very, very, very simple," Russo says. "The upside is absolutely gargantuan."
Russo does not want to entertain questions about financing, such as why a company like MassMutual would sell what he described as an appreciating asset.
One of the world's top maple processors is Butternut Mountain Farm in Morrisville, which buys from producers and then brands the syrup for big volume customers like Whole Foods and Walmart.
"Like most commodity markets, it will attract people at higher prices and they will tend to retreat during lower prices," says Butternut's CEO John Kingston, adding that the company — in business since the 1940s — understands the vagaries of the marketplace, how prices can fluctuate, and how to remain successful as they do.
The arrival of so-called "Big Maple" investment concerns some Vermonters. A bill before the Vermont House proposes a review of sugaring operations with 100,000 taps or more.
"There's a little a bit of fear of the unknown there," explains Matt Gordon with the Vermont Maple Sugar Makers' Association. He recently testified before the House Natural Resources, Fish and Wildlife Committee, which is considering the bill.
"A large operation years ago might have had 10,000 taps. And now that we're talking about 100,000 taps or more — it's complete sea change for the industry, just in terms of scale," says Gordon.
However Gordon adds that many of the association's members are already large-scale.
"Just by virtue of being large, of having a lot of taps, producing a lot of syrup, they are not necessarily harming their neighbors," he says.
This story was first published by Vermont Public Radio and comes via the New England News Collaborative.
This segment aired on March 14, 2018.