Report: Boston Sea Level Projected To Rise 1.5 Feet By 2050
This article is more than 4 years old.
By 2050, the sea level in Boston is projected to rise about 1.5 feet (19 inches) over 1992 levels, according to a new collection of charts for coastal locations across the country.
The project, launched this week by researchers at William & Mary's Virginia Institute of Marine Science (VIMS), is designed "to monitor and forecast changes in sea level at 32 localities along the U.S. coastline from Maine to Alaska," according to a news release from the institute. The data show higher sea level rise on the East and Gulf coasts, compared with the West Coast.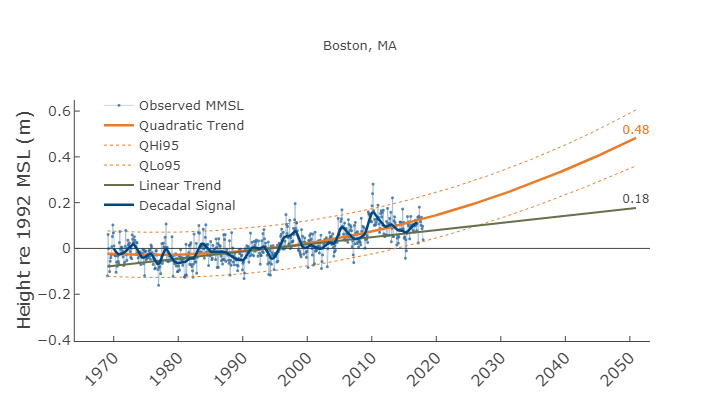 The VIMS projection for Boston sea level rise by mid-century is largely in line with other forecasts, including a 2016 report from the Boston Research Advisory Group, and broader geographic projections from the National Oceanic and Atmospheric Administration.
John Boon, a VIMS emeritus professor, said in the news release that its forecasts factor in acceleration in sea level rise over the last few decades, and a locality's sinking land.
"[L]ocal rates of relative sea-level rise give a direct indication of the extent to which homes, buildings, and roads are at risk of flooding," Boon said in the release.
If sea level rise were to continue on a linear trend, without acceleration, VIMS says Boston's rise would be 0.18 meters, or about 7 inches, by 2050.
Boston sea levels have increased nearly a foot since 1921, according to NOAA.
The data project's release comes amid heightened local focus on climate mitigation and adaptation, as Massachusetts was hit by three damaging nor'easters over the past two weeks.
On Thursday, Gov. Charlie Baker stood in coastal Scituate — which had flooded during the first of those storms — to announce a climate resiliency bond bill.
Higher sea levels are likely to result in more coastal flooding.
As NOAA put it in an analysis this week, "a sea level rise of 2 feet would more than triple the frequency of coastal flooding across the Northeast, without any change in storms."
This article was originally published on March 16, 2018.