Based On An Unfinished Russian Novel, 'A Dead Man's Diary' Unwraps The Creative Process On Stage
This article is more than 5 years old.
The magical allure of live drama unfolds in one of this season's most delightful surprises: Arlekin Players production of "A Dead Man's Diary: A Theatrical Novel."
The spell this production casts is even more impressive considering the dialogue is entirely in Russian. Dialogue is, however, only one piece of "A Dead Man's Diary," which runs through April 1 at the Paramount Center's Jackie Liebergott Black Box. Based on the Russian playwright and novelist Mikhail Bulgakov's unfinished novel, "A Dead Man's Diary" blends haunting imagery, an evocative soundscape and strange and compelling characters for an evening of mesmerizing theater.
The play opens in the lobby, where audience members pick up a small receiver with an earpiece, which allows them to hear the English translation of the play. They are treated to a bit of opera, and comments by Anatoly Smeliansky, deputy artistic director at the Moscow Art Theatre, where much of the action of the play takes place.
Once inside the theater, the audience chooses seats arranged around a large rectangular box, with small square peep holes at eye level revealing a man sprawled on a bed while several individuals wearing black trench coats and fedoras sit on chairs positioned around the inside perimeter. As the lights come up, the man on the bed sits up and begins to talk about finding inspiration in the objects around him. The panels with the peepholes are removed, allowing the audience to see through a wider window frame — two audience members per frame. The effect is perfectly unsettling: Are we watching or are we being watched? There are moments when it feels as if we are peering not only into a secret stage area, but also directly into the imagination of the play's protagonist: Sergey Leontyevich Maksudov (David Gamarnik). At other times, it seems Maksudov is turning to us for inspiration, or corroboration, or both.
The action revolves around Maksudov, a novelist who has been struggling to get his work published. In frustration, he has burned his novel, and the blackened pages are strewn across the floor. When he wanders around, searching for ideas, he shuffles through the discarded pages as if wading through piles of crunchy dead leaves. At times, the pages are clutched like precious bits of information.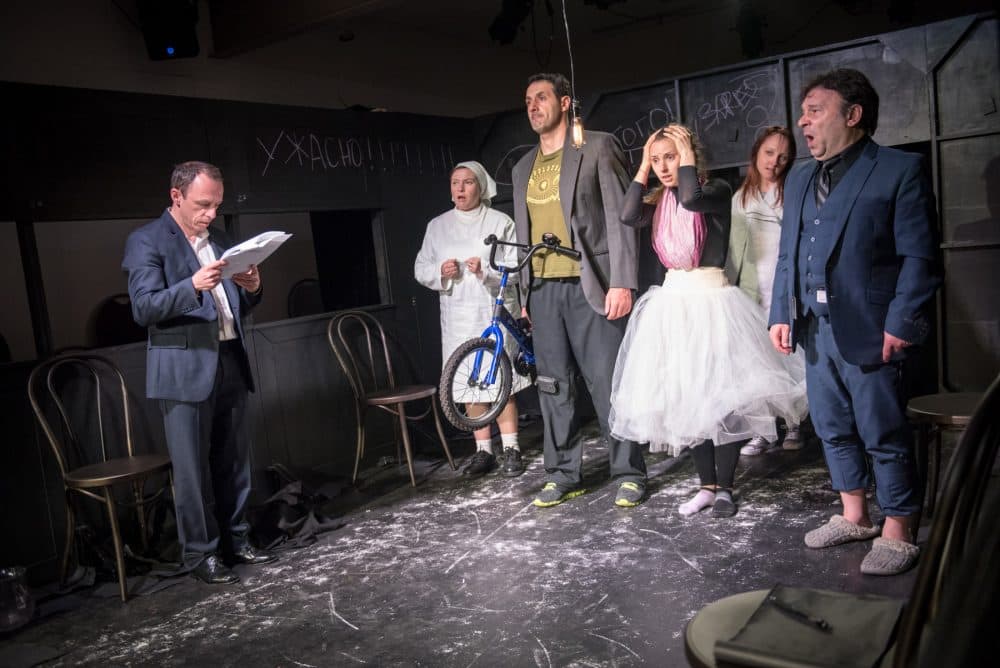 When he is encouraged to turn his novel into play for the renowned Moscow Art Theatre, he becomes enchanted by the crazy collection of actors, both on stage and behind the scenes and is eager to belong. (For fans of Russian literature, Maksudov is clearly based on Bulgakov's own experiences, with several references to "Master and Margarita" and real people who worked at the Moscow Art Theatre in the 1930s, including artistic director Konstantin Stanislavsky.)
When Maksudov finally gets his audience with the theater's god-like artistic director, his reading of the script is full of comic interruptions by melodramatic actors, the ministrations of the great man's acolytes, a nurse, even a mother, all of whom have opinions about how to improve his play. When he's told he must change his play entirely, his response to the absurdity is both hilarious and devastating. When a "muse" arrives in the form of a hilariously awkward ballerina, we know the creative experience has moved to shaky ground.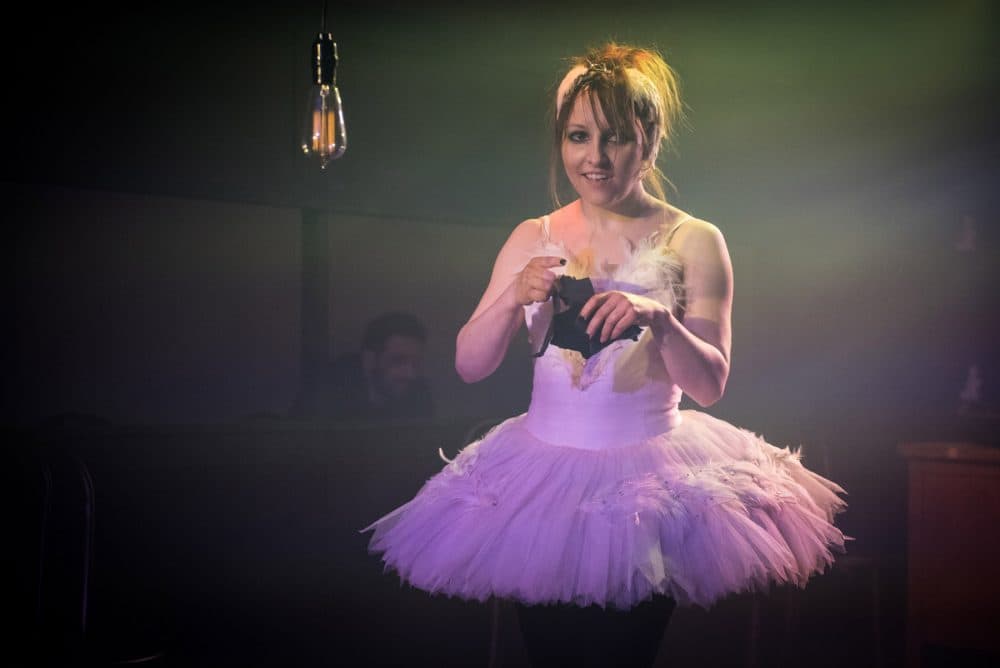 Throughout the production, director Igor Golyak connects these occasionally disjointed scenes of Maksudov's active imagination, with a remarkably fluid sense of movement. His ensemble of 14 shifts easily in and out of focus, depending on whether they need to step forward as an individual or sink back into the crowd. Composer Jakov Jakoulov has created a soundscape that effortlessly mixes a bit of operatic "Faust" with the sound of typewriter keys, along with segments of eerie, emotional music and rhythmic sounds created by the actors. It all works perfectly as transitions and sets the appropriate tone. Nikolay Simonov's scenic design and Stephen Petrelli's lighting create a rich, atmospheric world that feels like we've stepped into a film noir, full of mystery and possibility.
Golyak's inventive approach to Bulgakov's satire makes it easy to connect with Maksudov's emotional roller coaster. You may find by second act, there's no need for the English translation, so effective and affecting are the Arlekin Players' performances and the production's design. The beauty of this production lies in its understanding of the alchemy that is possible when visual, auditory and emotional elements combine.
---
Arlekin Players' "A Dead Man's Diary" runs through April 1 at the Paramount Center's Jackie Liebergott Black Box.