Mass. And Utilities Ditch N.H.-Routed Northern Pass For Hydro Project Through Maine
Play
This article is more than 5 years old.
The Massachusetts Department of Energy Resources and the state's largest utilities announced Wednesday that they've revoked their offer to buy a large amount of hydropower from Northern Pass, the massive Eversource power line project that would go through New Hampshire's White Mountains.
Instead, officials say they're finishing up contract negotiations with a competing, Canadian hydro-fueled project in Maine.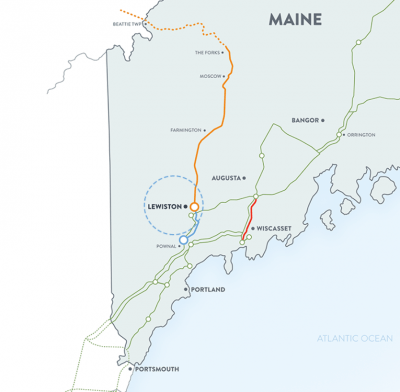 The 145-mile New England Clean Energy Connect (NECEC) project crosses from Quebec into western Maine, using a partly existing utility corridor.
Its developer, Central Maine Power Co., still needs a final permit from regulators in Maine.
"Today's update by the Electric Distribution Companies continues the Baker-Polito Administration's commitment to execute clean energy procurements that ensure the Commonwealth is positioned to achieve a clean, affordable, and resilient energy future while progressing towards greenhouse gas reduction requirements," Executive Office of Energy and Environmental Affairs spokesman Peter Lorenz said in a statement.
Central Maine Power spokesman John Carroll says the injection of bulk hydroelectricity will save consumers in Maine and Massachusetts billions of dollars, "because it's displacing other energy sources like coal, oil or natural gas from the daily bid price."
The $950 million NECEC project has support from Maine Gov. Paul LePage, but faces opposition from some environmentalists and the New England Power Generators Association.
"Massachusetts has moved from the fatally flawed Northern Pass to the fatally flawed Maine project that has not received a single state or federal permit," said NEPGA President Dan Dolan.
Dolan believes the cost of electricity from the Maine project will be double or even triple the current rate of wholesale power in the region.
Northern Pass is also still working on an appeal for a permit in New Hampshire -- but the project is now without a clear buyer.
Eversource said in a statement they understand Massachusetts' decision, "given the status of the New Hampshire permitting process."
"Despite recent delays, we continue to believe that Northern Pass is the best project for the region and New Hampshire, and we intend to pursue all options for making it a reality," the statement says. "Eversource and Hydro-Québec remain committed to the success of the project."
The $1.6 billion Northern Pass was the first choice of Massachusetts energy officials and utility executives for a major hydropower contract called for under a 2016 renewable energy law, but New Hampshire regulators said the transmission line would negatively affect the environment and tourism in the state.
The Sierra Club, an environmental group, said in a statement that it's "too soon to celebrate" Massachusetts' decision, because the NECEC project "carries many of the same problems as Northern Pass."
The Sierra Club said Baker should choose wind and solar projects instead.
With reporting by New Hampshire Public Radio's Annie Ropeik, WBUR's Bruce Gellerman and Maine Public's Fred Bever, and State House News Service's Colin Young
This article was originally published on March 28, 2018.
This segment aired on March 28, 2018.