Lack Of MBTA Drivers Leads To More Missed Bus Trips, T Officials Say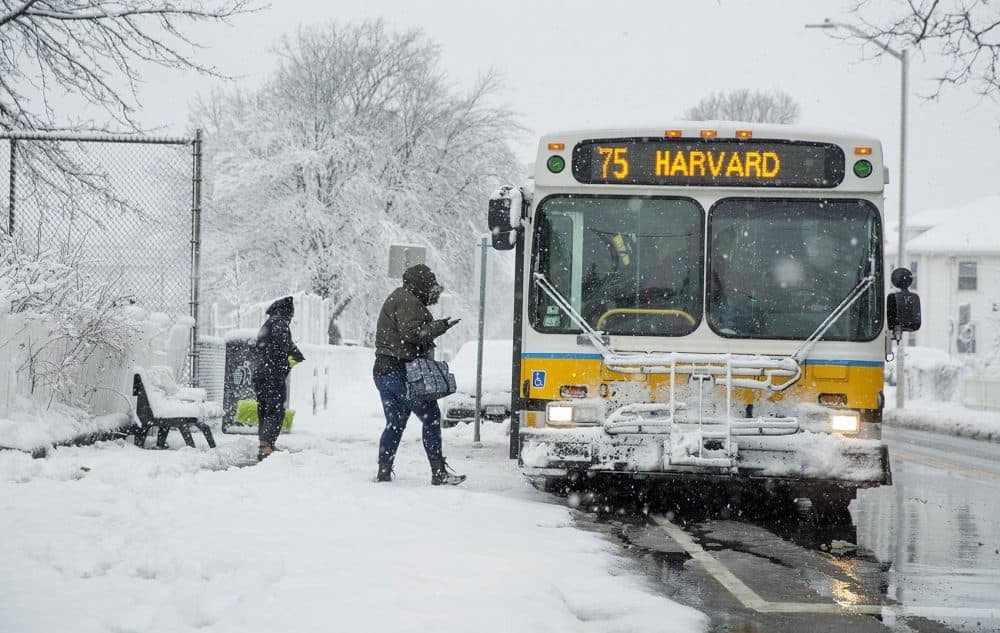 This article is more than 4 years old.
Every day hundreds of scheduled MBTA bus trips never make it out of the garage, and there has not been much progress solving that problem in recent years, according to T officials.
After dipping well below 2 percent in the early part of 2016, the rate of dropped bus trips has climbed back up to near the level it was at during the calamitous winter of 2015.
"I think we have made a little less progress than we would have hoped to by this date," said MBTA Fiscal and Management Control Board Chairman Joseph Aiello after Monday's meeting where T officials raised the topic for discussion.
About 85 percent of the dropped trips were caused by a lack of sufficient personnel on hand to drive the buses, according to the T.
T officials have met with the unionized drivers to learn about their routes, according to Jess Casey, the deputy chief operating officer for service planning and strategy, who said there is some consideration for allowing drivers to "switch back and forth" between busy routes and "difficult" routes.
"There are routes that are more difficult and more taxing for the operator," said Casey, who said drivers pick their routes on a three-month basis. She said, "If we built schedules where those difficult routes are scheduled for eight hours over and over and over again, we may seem to see those unscheduled absences."
The T is also moving from a paper schedule to a computerized schedule for employees, which Aiello said should help address staffing for bus routes.
"We have been effectively on a pencil and paper rostering system every day," said Aiello. By next spring, the T will have implemented a "fully automated" scheduling system "that should improve our response time" when there is an unscheduled absence, Aiello said.
After Gov. Charlie Baker brought in new leadership at the T in 2015, reducing absenteeism became a focus for the reconfigured transit agency. Less than a year after creation of the Fiscal and Management Control Board, T officials announced there was an average of 93 dropped bus trips per weekday in the first few months of 2016.
"We are reducing absenteeism, resulting in fewer dropped trips and creating an atmosphere where good attendance is valued," said Brian Shortsleeve in June 2016, when he was chief administrator of the T. Shortsleeve is now a member of the control board.
The number of unscheduled absences increased in fiscal 2017 compared to fiscal 2016, according to Casey, who said that on average each employee took an additional 3.25 more unscheduled absence days in fiscal 2017 compared to fiscal 2016.
In an average day in the last part of 2017, the T would be about 108 operators short of the required staffing, leading to roughly 300 dropped trips, according to data presented Monday.
Steve Poftak, a member of the control board, suggested T overseers should revisit the service-delivery standard of 0.5 percent dropped trips.
"We're clearly not hitting it," Poftak said.
The fiscal 2019 budget, which is scheduled for a vote later this month, includes funding for an additional 55 operators, according to Casey.
The T also plans another update to its attendance policy, according to Casey, whose presentation also raised the possibility of using independent medical examiners to help administer the T's family and medical leave program.
The family and medical leave program accounted for 67 unscheduled absences on an average day at the end of 2017, according to the T. Workers calling in sick accounted for 38 unscheduled absences on a typical day and unexcused absences accounted for 27, according to the T.
This article was originally published on April 02, 2018.