Of '70s And '80s Acclaim In Boston, The Cars Drive Into The Rock And Roll Hall Of Fame
Resume
"When I was indicted..." began Jerry Lee Lewis in an interview in Boston 31 years ago, shortly after he was inducted as a charter member into the Rock and Roll Hall of Fame. Either a Freudian slip or going for a play on words, he paused before calling it "bulls---. The Rock and Roll Hall of Fame means no royalty checks."
Two years later, The Who and The Kinks were picked. Asked if he was looking forward to the honor, The Who's bassist John Entwistle said, flatly, "No." The Kinks' singer Ray Davies had been wavering as to whether he wanted to accept. Ultimately, he did, but said from the stage, "I'm not comfortable at these affairs. It's a very posh event and we're all tarted up to be here... Seeing everybody here tonight makes me realize rock 'n' roll has become respectable — what a bummer."
In 2006, the Sex Pistols, rather impolitely, told the Hall they didn't want their filthy acclaim.
And now, it's that time of year again: The annual Rock and Roll Hall of Fame induction ceremonies and the attendant, sometimes heated, chatter about who should have or shouldn't have gotten in.
Boston has had, to say the least, minimal representation in the Hall, just Aerosmith and Donna Summer. But on Saturday, April 14, during the 33rd annual induction ceremony in Cleveland, the Boston-based new wave band The Cars join The Moody Blues (yay), Bon Jovi (boo), Dire Straits (meh) and Nina Simone (great singer — but rock 'n' roll?). The late Sister Rosetta Tharpe — gospel singer, founding mother of rock, pioneering electric guitarist — will be inducted in the "Influences" category. (The ceremony will be broadcast on HBO on Saturday, May 5.)
The Cars had been nominated twice — in 2016 and 2017 — but didn't get in. Last summer, when asked if being in the Hall of Fame mattered, Cars guitarist Elliot Easton replied, "Not even slightly.
"I could not care less if we get into the Rock and Roll Hall of Fame or not," he said. "I didn't do this to win trophies. A lot of people haven't gotten in. There are too many important people who aren't in it to really care. Certain people like Paul Revere and the Raiders, Lonnie Mack or The Chantels -- people who are hugely talented — have been passed over. Why would I give a damn that I'm not in there?"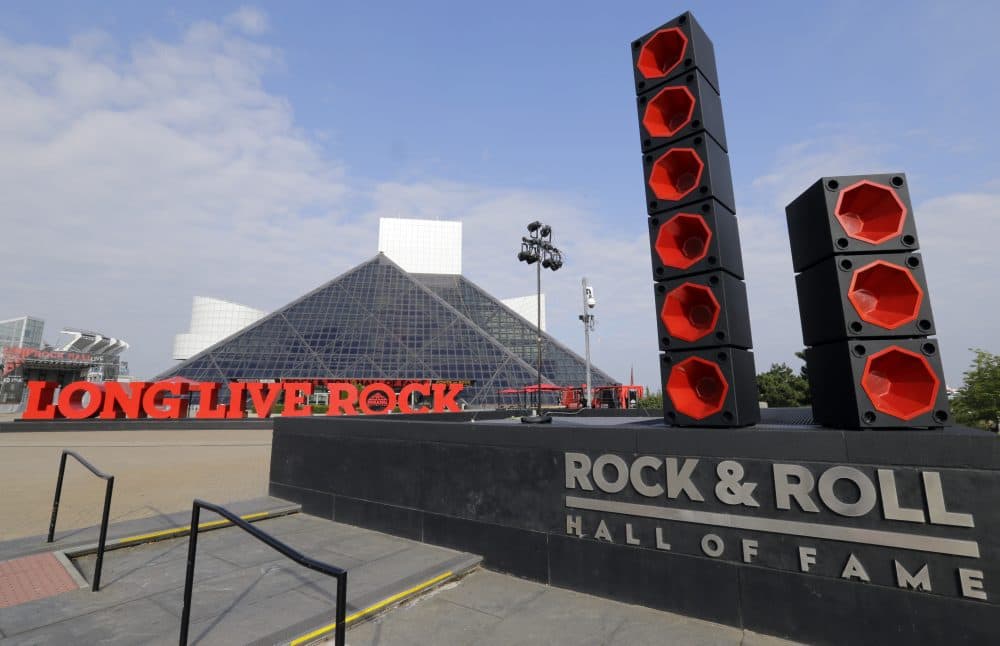 But now as the band is about to head into the induction ceremony, Easton has a different tune. "I think it's cool," he said. "Whatever the good and bad is about the whole thing, it is the Rock and Roll Hall of Fame and it's an honor to be inducted."
Reflecting on last summer's thoughts, Easton said with a slight laugh: "People have strong opinions about the Hall of Fame and we've all had our cynical moments. I guess I was feeling stunned because we'd been passed over for two years after being nominated, so maybe I was a little, 'What the hell, we're not getting in anyway.' You have feelings about that stuff, but it doesn't take anything away from the fact that we're going in this year."
Greg Hawkes, The Cars keyboardist, admitted he, too, has had some conflicting thoughts about the Hall of Fame. For one, he thinks Todd Rundgren and the Turtles — two acts Hawkes plays with off-and-on -- should be in the Hall. (Rundgren briefly joined Easton and Hawkes in a post-Cars band called the New Cars in 2006.)
"Todd is somebody who should have been in there long ago and certainly before me," Hawkes says. "Maybe I'm somewhat ambivalent about the Hall of Fame because some of their choices I'm bewildered by.
"But I think it's a nice thing to have happen," he continues. "And it's nice that people are saying 'Congrats' now. But I sort of feel like in a couple of months after the fact, it's going to all calm down and it'll be something I did in April and I'll be looking at what I'm doing in June." (Hawkes has several dates with Rundgren this summer.)
Hall of Fame criteria is notoriously nebulous. What's the determining factor? Art? Commerce? Some combination of the two? How do politics play into it?
"I don't even know how it works," Easton says. "I don't know what the process is exactly, how they decide each year who gets in and who doesn't."
If sales count, The Cars can boast selling more than 20 million albums in America and notching 13 Top 40 singles from their seven albums, four of which went top 10. Musically, the sleek, Roxy Music-influenced band often brought a detached sort of cool — like the "frozen fire" girl they sing about in "Let's Go" — to the catchiest of songs.
The Cars formed in 1976, its members coming from various other groups. They began life playing in the Boston clubs like the Rat, bringing a more synth-and-guitar oriented sound to the punk world. Boston Phoenix critic M. Howell, who covered them in those early days, praised their "cohesion and polish" and their ability to be "pop yet sophisticated, yet pull off the masterstroke of being both intelligent and emotional, no easy matter."
The gigs helped them hone their songs and sound, and they were able to record their eponymous debut album in just 12 days. It was a hit right out of the box, termed by mega online music guide All Music's Greg Prato "a genuine rock masterpiece."
The Cars took their place among emerging new bands that crashed the mainstream like the Police, Talking Heads, Devo and The Pretenders. Back in 1995, Hawkes said, "I always thought of us as a pop-art band, in the Warhol sense certainly, but also we were pop and sort of arty."
What the Cars did was bring a certain moodiness, quirkiness and ironic detachment to the mainstream with songs like "Just What I Needed," "My Best Friend's Girl," "Good Times Roll" and "You're All I've Got Tonight" — also, major league pop hooks from Ocasek and a textural sensibility. Other reference points: the Velvet Underground, Suicide, Kraftwerk.
They became one of the rare bands spawned by punk rock that broadened the terms without losing the edge. A minimalistic, Beat-inspired lyricist, singer-guitarist Ric Ocasek put wry twists on pop cliches, worked with paradoxes and wrote, time and time again, about women who — if you conjured them up — seemed to be gorgeous, icy, dangerous or unattainable. It wasn't that Ocasek's and Orr's vocals had no emotion, but there was a distance. They were the voices of someone, a desperate romantic maybe, trying to connect, but not quite able to do it.
Now, the long-defunct band is getting ready to play together again. The band lost bassist and vocalist Ben Orr to pancreatic cancer in 2000. The four remaining members last played live together in 2011 and, Easton says, "before that, it had been 20-something years."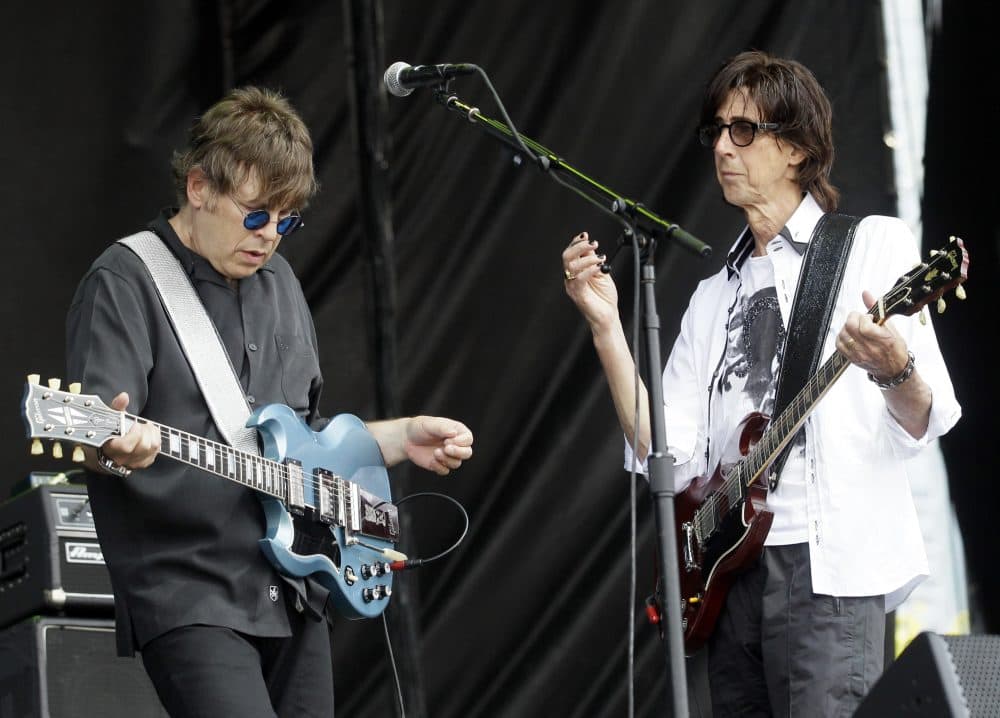 While Easton is busy with the Empty Hearts and occasional session work, and Hawkes with his aforementioned projects, Hawkes doesn't think songwriter-singer-rhythm guitarist Ric Ocasek and drummer Dave Robinson have been very active lately.
Easton says they haven't been given a directive what to play during the ceremony, but thinks it makes sense to go with familiar material.
"We've had a couple of conference calls trying to decide what songs we're going to play," says Hawkes. "It hasn't been easy. There's been talk of four and the only way we've been able to agree on three is to do four and see which three sound better. The first three that popped into my head were 'Just What I Needed,' 'Good Times Roll' and 'Let's Go.' And then it wasn't until we actually started talking about it that it occurred to me that two of those songs Ben sang. Did that mean we should do two songs that Ric sang? It's those kinds of funny dynamics that makes picking three songs more complicated."
Easton and Hawkes concur that Orr was a stronger vocalist than Ocasek.
"[Not having] Ben leaves a big hole in the band, let's face it," says Easton. "He had the greatest voice and when Ric would be singing lead in a song, Ben really helped us sound better, besides his amazing lead vocals." Adds Hawkes: "Ben was the better singer, the more melodic. Ric had his stylized quirky thing going. But especially early on, people used to say they couldn't tell 'em apart, especially on the first couple of albums."
Ben Orr sang "Drive," the ballad that in 1984 became The Cars biggest hit single. "If anybody's going to sing 'Drive' it's going to be Ric," says Hawkes. (Ocasek wrote it and sang on the demo version.) "I feel like his presence will be there, whether or not we do 'Drive' and whether or not there's a video montage of Ben during 'Drive.' If that doesn't happen, his presence will be there, I feel."
The band members live in various parts of the country: Easton in Los Angeles, Hawkes in a western Boston suburb, Ocasek in New York and Robinson on the North Shore. They were flew into Cleveland last weekend to spend the whole week rehearsing. They've filled Orr's bass spot (and backup vocals) by enlisting Weezer's Scott Shriner.
The Killers singer Brandon Flowers will be inducting The Cars. The Killers have been highly influenced by The Cars — they covered "Just What I Needed" on their last tour — and Hawkes says, "Knowing they did a cover is the kind of thing that gives an extra boost for us doing 'Just What I Needed.' I like that kind of symmetry or synchronicity, even if nobody is aware of it."
Easton has attended a number of the previous ceremonies and says, "I saw the first few and I got to see Keith Richards induct Chuck Berry and Sam Phillips induct Elvis [posthumously, of course] I saw some really good ones. I expect the vibe to be celebratory and joyful."
Hawkes, who's never been, says, "I don't know what to expect. It'll probably seem pretty surreal. It's starting to feel like a bigger deal than I expected, just because a lot of people are mentioning it to me, saying 'Congrats.' People I wouldn't necessarily have expected. It's kind of funny. I've got mixed emotions. I've got a certain amount of anxiety just because we haven't played in a long time."