Cambridge Police Are Under Scrutiny For Arrest Of Black Harvard Student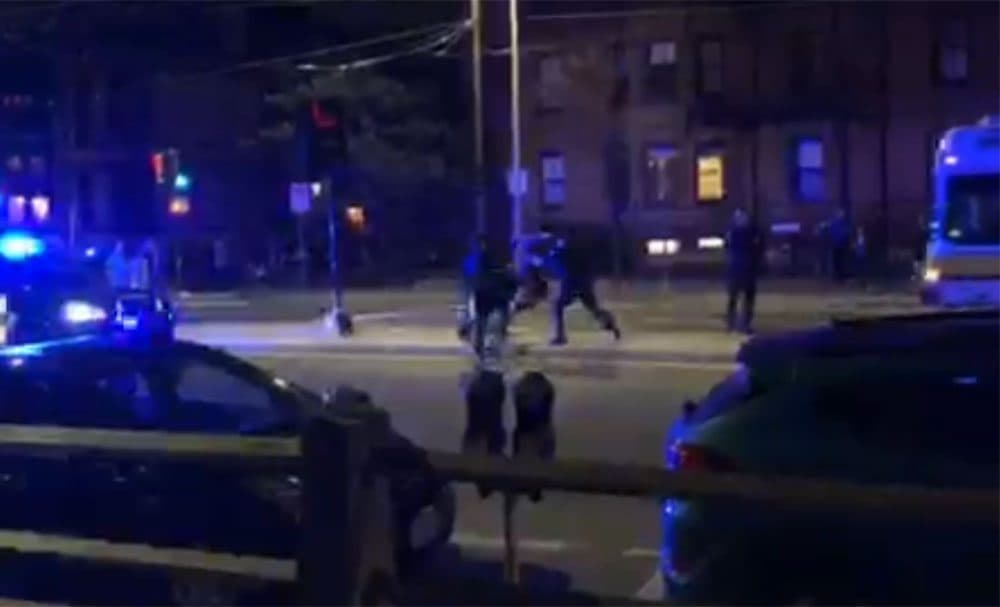 This article is more than 4 years old.
Cambridge police are being scrutinized for their use of force in arresting a black Harvard University student on Friday night. The city's mayor called video of the arrest "disturbing."
Shortly after 9 p.m. Friday, officers responded to multiple reports of a naked man on Massachusetts Avenue. After several minutes of conversation on the street's median, officers physically restrained the man, identified as 21-year-old Selorm Ohene, by taking him to the ground.
Video recorded by an onlooker shows an officer punching Ohene as they restrain him. Ohene can be heard yelling.
---
Editor's Note: This video contains scenes and explicit language that some may find disturbing.
---
In the incident report, Officer Steven Burke said he observed Ohene clench his fists. Burke said he then made the "tactical decision" to grab Ohene's legs and bring him down to the ground.
Once on the ground, Burke said that Ohene did not respond to commands to give officers his hands to put them in handcuffs, so Burke "delivered approximately 5 strikes with a closed [fist] to the area of his stomach."
Burke described Ohene's behavior as "aggressive, hostile, and intimidating during our interaction," and said that a woman who appeared to be an acquaintance of Ohene's said he had taken a narcotic of some sort. The woman said he possibly took LSD or "morning glory."
Cambridge Police Commissioner Branville Bard said in a statement that "use of force was required in order to effectuate the male's arrest." Bard said his officers "utilized their discretion and struck the individual in the mid-section to gain his compliance and place him in handcuffs."
But in a statement Sunday, Mayor Marc McGovern (a member of the Cambridge City Council) said that what is shown on the onlooker's video is "disturbing."
"When confrontations cannot be averted and include the use of physical force," he said, "we must be willing to review our actions to ensure that our police officers are providing the highest level of safety for all."
McGovern added: "Cambridge affirms that Black Lives Matter, but it must be true in practice as well. Policing in Cambridge is far ahead of many communities across the country, and yet we can always strive to do better."
The police department's Professional Standards Unit is reviewing the incident. Cambridge police are set to hold a media availability on the arrest Monday, and McGovern said the public will be informed of "any and all developments."
Ohene, of Cambridge, is charged with indecent exposure, disorderly conduct, assault, assault and battery on ambulance personnel, and resisting arrest. The incident report says that as he was being taken away, Ohene spit a mixture of blood and saliva at officers and ambulance personnel.