Actors' Shakespeare Project Makes 'Much Ado' About Gender Fluidity
"Much Ado About Nothing" centers on relations between two noble ladies and a couple of guys just home from a war. Except that in Actors' Shakespeare Project's production, one of those guys is a girl.
Indeed, this non-binary staging of Shakespeare's play (at Cambridge's Multicultural Arts Center through May 6) sparks with contemporary blurring of gender roles, featuring a butch, skinhead Borachio (Abigail Dickson), whose ambiguous sexuality steams up villain Don John and flummoxes idiot constable Dogberry, and a lady in waiting who isn't a lady at all.
"Much Ado" is the first ASP production to be helmed by incoming artistic director Christopher V. Edwards, whose buoyant staging hovers somewhere between the orchards of Messina, festooned with garlands and dripping with fruit, and the present, suggested by a jump-suited unisex army and acoustic covers of Beyoncé and Miley Cyrus.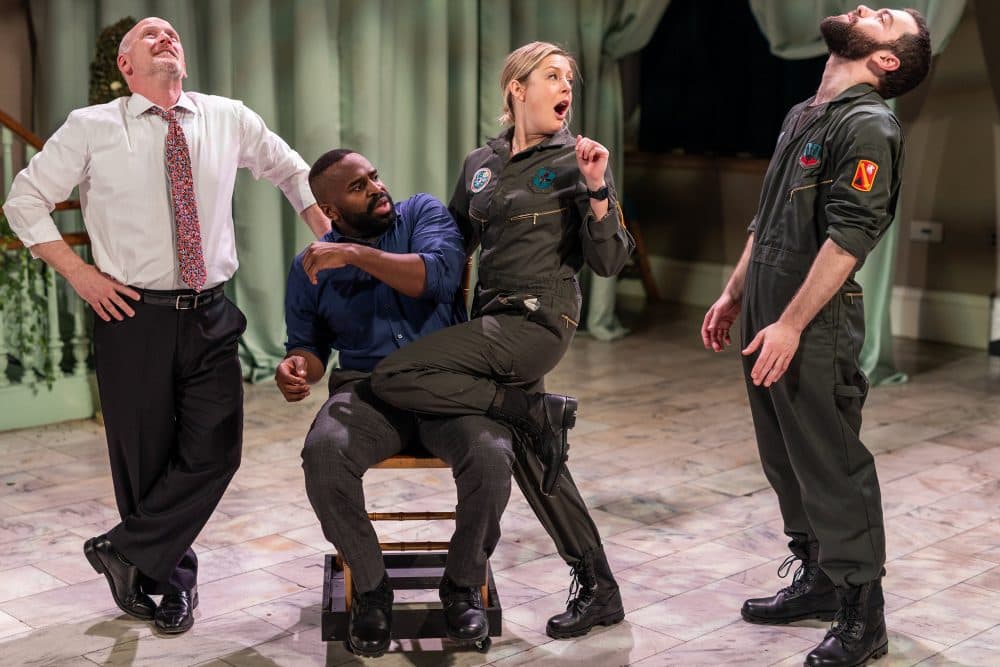 There is an improvisatory whiff coming off the production (especially as the actors warm up — seemingly endlessly — before the play officially commences) that feels forced, and that gentleman of the boudoir seems to have wandered in from "Torch Song Trilogy." But by and large, this chest-bumping, air-pumping treatment of the "merry war" among Beatrice, Benedick and the play's various subplots works. And despite the heightened, sometimes arcane language, the acting is refreshingly natural.
It's arguable, of course, that the verbally jousting Beatrice and Benedick are a subplot — that the main action of the play comprises the sudden, passionate attraction of Hero and Claudio, here both flirty women, and the subsequent thwarting of their romance by the malignant Don John, brother of Don Pedro, who commands the regiment in which both the love-wary Benedick and love-ready Claudio have distinguished themselves. (Hero and Beatrice are the daughter and niece of Messina governor Leonato, here a dapper if excitable Mark Soucy.)
But who can resist the barbed anti-courtship of "Signior Mountanto" and "Lady Disdain," collectively echoing Rosalind's claim, in "As You Like It," that "men have died from time to time, and worms have eaten them, but not for love"? Here, the sniping couple are played by a disarmingly robust Omar Robinson, literally leaping toward a change of heart, and a zinging yet fragile Brooke Hardman who, when she isn't throwing verbal darts, channels her character's romantic apprehensions into a sweet recapitulation of the Beyoncé ballad "Sandcastles." (Hardman is also credited with musical direction and, with Avery Bargar, who makes a stalwart Don Pedro, musical arrangements.)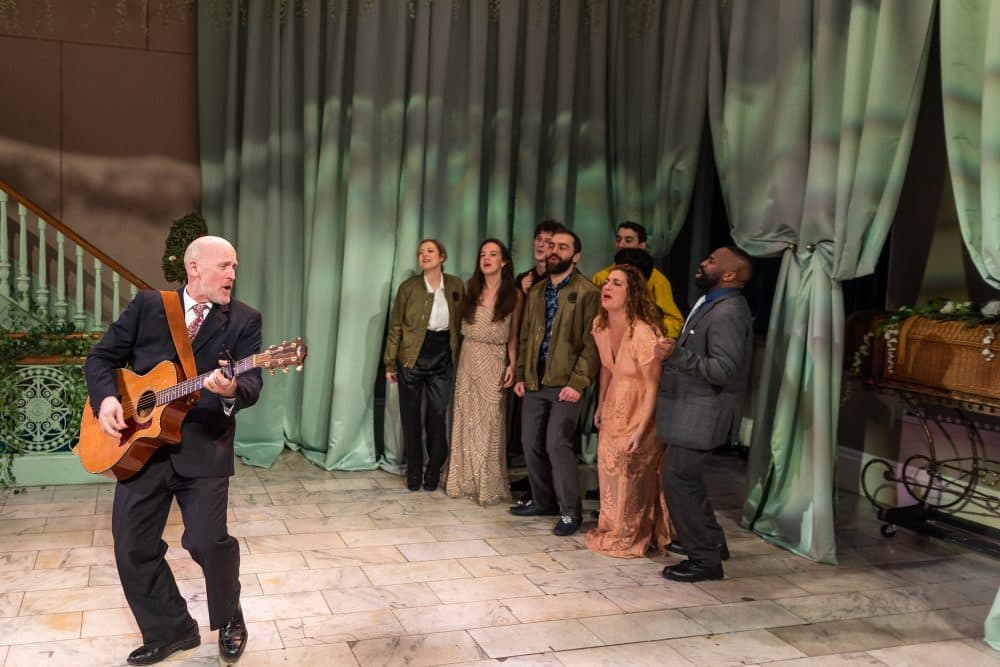 You could say that it makes no sense, within the context of the play, for Claudio to be a woman who has seen combat when Beatrice, racked by hatred for the lothario who has wrongly accused her beloved cousin, must enlist a man to enact her revenge. But the streamlined production aims to embrace both marriage equality and the right to "love who we want" (as the Miley Cyrus tune would have it) and identify as what we feel ourselves to be.
Moreover, Lydia Barnett-Mulligan's wide-eyed, playful Hero and Esme Allen's more straightforward Claudio make a compelling, well-balanced couple. Barnett-Mulligan's Hero is adorable (as the actress's portrayals frequently are) but she can be overly cutesy — as when she acknowledges Claudio's offer of marriage with a flappy little wave before settling into beams, giggles and a shyly engineered kiss.
But Allen's performance, in her gender-switched role, is among the production's most credible, incorporating Claudio's swift ardor, her callow betrayal and, singing to what she thinks is Hero's corpse, the chastened purity of her grieving love. And like Hardman, she proves a capable channeler of Beyoncé — whose "Die with You," despite the absence of a "Hey nonny, nonny," might have been penned for the Shakespearean moment into which it is thrust.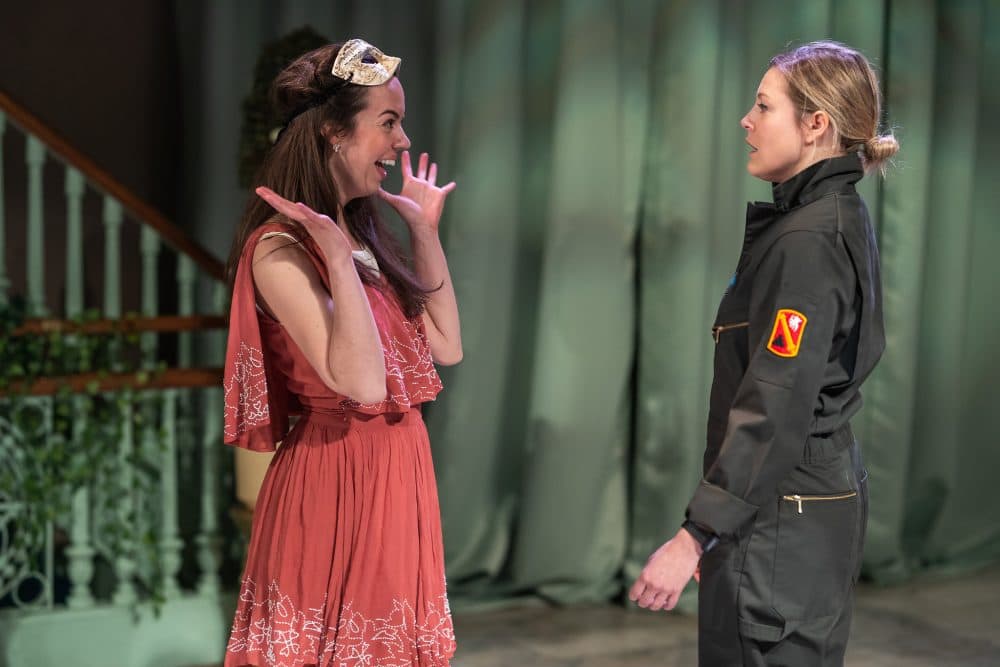 In Jon Savage's simple set design, the charming playing space of the Multicultural Arts Center is transformed into a green-accented, flower-trimmed bower, with most of the actors (several of whom double as musicians) portraying not only several parts but, perched on ladders and proffering fruit, a trio of orange trees among which Benedick and then Beatrice are tricked into believing each other unrequitedly smitten. One of the oranges is even shared with the audience — as is the overheard confession that lands Hero-besmirching co-conspirator Borachio in the inept hands of Dogberry and the Watch.
In the spirit of full disclosure, I must own that I have never found the malapropping Dogberry and his dimwitted henchmen funny. And that remains true even when the constable, got up in a helmet, reflective sunglasses and a yellow slicker emblazoned with "Security," travels by hoverboard as he does here. That said, Alejandro Simoes, adding an odd accent to the character's assaults on the English language, manages an apt combination of stern swagger and imbecility. And it must be acknowledged that he gets his (wo)man, thus snatching Shakespeare's rom-com from the jaws of tragedy.
---
Actors' Shakespeare Project's production of "Much Ado About Nothing" continues through May 6 at the Multicultural Arts Center in Cambridge.