Court Battle Continues Over Atlantic Ocean's First-Ever National Monument
Commercial fishing groups are joining in federal court to challenge the creation of the Atlantic Ocean's first-ever marine national monument. But the federal government is now asking for the case to be tossed out.
At stake is the future of roughly 5,000 square miles off the coast of Massachusetts called the Northeast Canyons and Seamounts.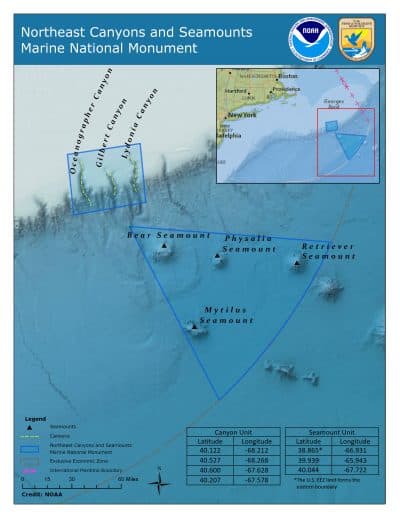 President Obama used the federal Antiquities Act to protect the zone in 2016, saying it contained critical wildlife habitat.
The order stopped commercial fishing there, but did allow red crab and lobster fisheries a seven-year window to close up shop.
Commercial fishing groups from Massachusetts, Long Island, and Rhode Island challenged the decision, and said the order punished fishermen and exceeded presidential authority.
In a filing Monday, the Department of Justice asked the Court to dismiss the lawsuit.
But, Secretary of the Interior Ryan Zinke has said the Obama-era decision should be rolled back to allow for a more local approach to fisheries management.
A lawyer for the plaintiffs says they'll continue to challenge the monument in court.
This story is a production of the New England News Collaborative and was originally published by WNPR.