With An Undercurrent Of Melancholy, New Documentary Shows 'Bloodlight And Bami' Of Grace Jones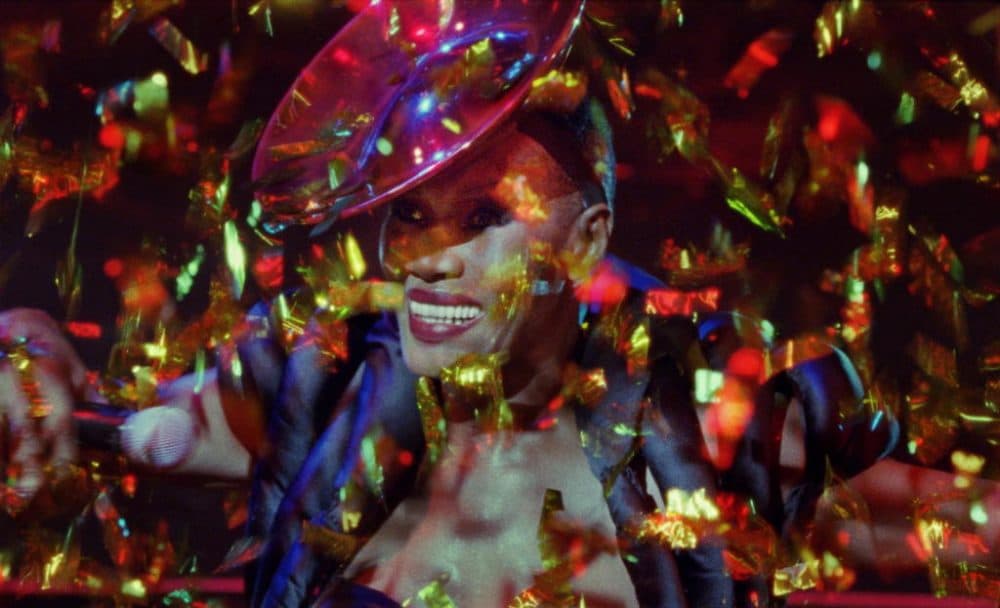 This article is more than 4 years old.
Director Sophie Fiennes' deliberately discombobulating documentary "Grace Jones: Bloodlight and Bami" teaches you how to watch it in the opening scene.
The film begins by seamlessly cutting back and forth between its 69-year-old subject during two wildly energetic and defiantly different renditions of her 1985 hit, "Slave to the Rhythm." In one, she's growling into the microphone from beneath a golden Death's Head mask while in the other smiling wide, shaking her hips inside a hula hoop. The stage affectations couldn't be more dissimilar yet the song and its singer remain 100 percent unmistakably Grace Jones. Fiennes is letting us know up front we're going to see a lot of different faces of Grace over these next two hours.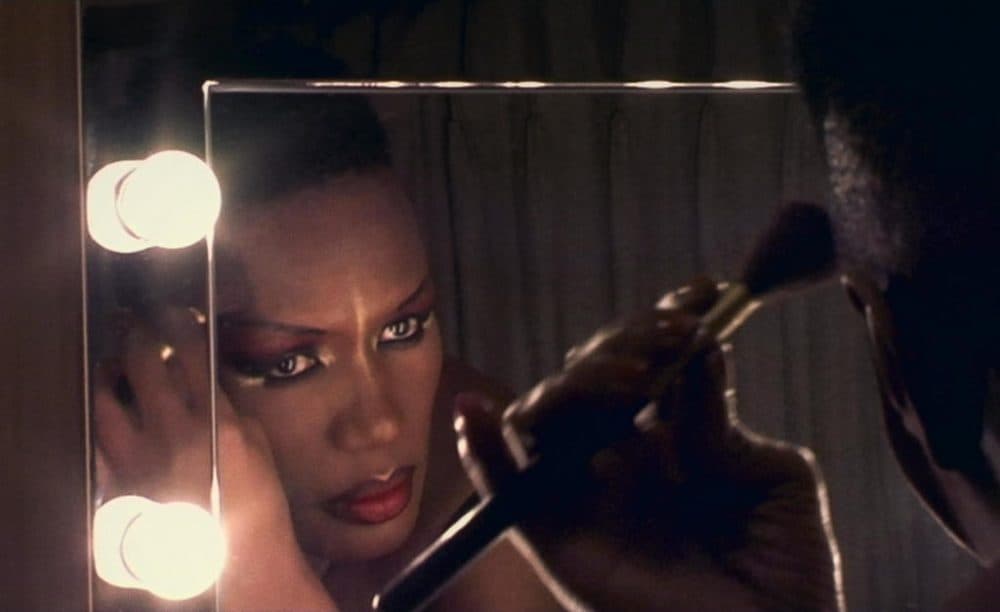 What we're not going to get is any gossip about the diva's days at Studio 54 with Dolph Lundgren, nor an explanation of how her work with graphic designer Jean-Paul Goude elevated the androgynous model-singer into a starkly intimidating icon of the New Wave era. Like most little boys of my generation, I first encountered Grace Jones when she played a bad Bond girl in "A View to a Kill," and was vaguely traumatized after she bedded 007 — probably because Jones seemed so much more masculine than the fey Roger Moore. (Around the same time, Jones was also memorably more mannish than Arnold Schwarzenegger and Wilt Chamberlain in the camp catastrophe "Conan the Destroyer.")
During the antiseptic '80s, there was something amazingly confrontational about Jones' statuesque, obsidian presence and her in-your-face sexuality that still feels disruptive today, but Fiennes' film has little interest in providing context for its subject's far-reaching influence. There are no talking heads here, nor are there even many mentions of the past. (If you haven't met Miss Jones, so to speak, the movie might be a bit mystifying.) Culled from footage Fiennes shot over a span of many years, "Bloodlight and Bami" drops us into the wildly diverse day-to-day lives of Grace Jones — whether on tour, recording her self-financed 2008 album "Hurricane," or relaxing at a family reunion in Jamaica.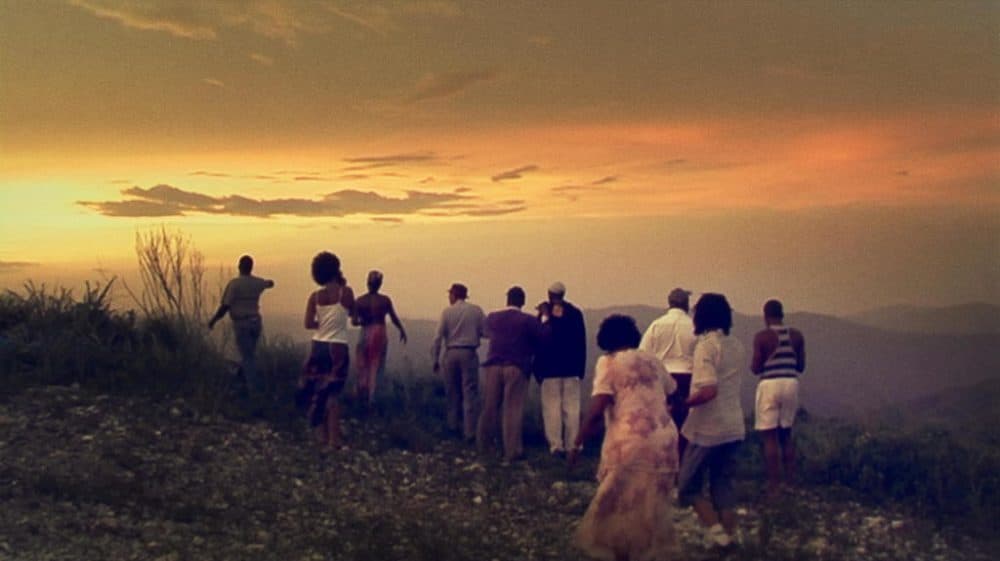 It's a prismatic portrait, albeit an occasionally confusing one as Fiennes eschews introductory titles, so we typically have to figure out who's talking to us on the fly. We see Jones barking orders in the recording studio, grinding it out onstage and telling terrifying campfire tales of growing up with an abusive step-grandfather known as "Mas P" — whose domineering personality the performer deliberately mimicked when first creating her persona. We hear her speaking several languages with revolving accents, equally at home in a Jamaican church service as in a Paris hotel, sipping champagne for breakfast while wearing only a fur coat. We even watch Grace Jones become a grandmother.
Some of the footage feels revelatory and some of it just seems random. What works as connective tissue are the stunning musical performances to which the film returns at regular intervals, with Jones strutting her stuff in staging originally designed by the late Eiko Ishioka. Kaleidoscopic light shows accentuate the star's regal, almost alien presence while she wears a collection of hats by Philip Treacy so extraordinary they earn their own screen credit. Songs like "Pull Up to the Bumper" and "Nipple to the Bottle" are presented in their electrifying entirety, and serve as jarring contrasts to a sequence in which Jones gets stuck performing her classic cover of "La Vie en Rose" on a tacky French television show with gaudy set dressings. "We are visual artists," she fumes.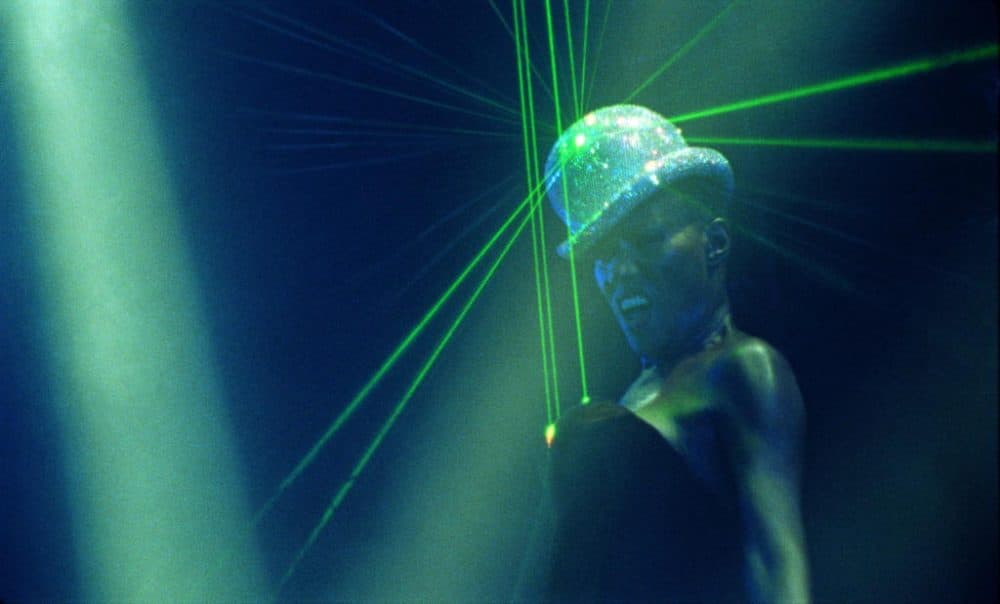 There's an undercurrent of melancholy to "Bloodlight and Bami," with Jones rolling her eyes at a new New York City where people are already leaving the party before midnight, longing for decadent days gone by. The film's most moving sequence finds her reunited for a photo shoot with Goude, the old Svengali with whom Jones sired a son. She warmly recalls buckling at the knees whenever he entered the studio, then putting on an even meaner face to mask so she wouldn't be caught swooning. It's the kind of intimate conversation between old lovers that a more conventional documentary would never be able to capture, and more than enough to forgive this movie's meandering.
And when Jones belts out a cheerfully self-regarding rendition of "Amazing Grace," even the most jaded viewer will be inclined to agree.
---
"Grace Jones: Bloodlight and Bami" starts screening locally at the Coolidge Corner Theatre on Thursday, April 19. See other screenings around the country here.