How Raytheon's Technology Targets Evolving Missile Attacks
Play
This article is more than 4 years old.
Part 1 of 2. Here's Part 2.
Waltham-based Raytheon is the largest producer of guided missiles in the world. And its plant in Andover, home to Integrated Defense Systems, is Raytheon's largest facility anywhere in the world.
It's so vast, there are even street signs marking long corridors. To keep traffic flowing, the 11,500 employees work in three staggered shifts.
Leading a tour of the plant is Ken Arruda, director of operations. "That's a mock-up of a Patriot GEM-T missile," Arruda says. "I can say that?"
Arruda periodically checks with two security agents who follow closely in tow. The government wants U.S. missiles, not loose lips, to sink ships.
GEM-T is the latest model of the three-decade-old Patriot missile. The ground-to-air, mobile system is made in Andover.
"Essentially we do work 24/7 to support the war fighter and to support all our different customers," Arruda says. "[We] have multiple customers around the globe, from the U.S. government to a whole bunch of different customers [in the] Middle East, Europe, Asia."
Saudi Arabia is one of 15 partner countries the U.S. government has approved to buy the Patriot missile defense system. Representatives of the countries are a permanent presence at the Andover plant, overseeing production of their multibillion-dollar contracts.
"There are ongoing conflicts in the world today that the Patriot air missile defense system is supporting today," says Thomas Laliberty, vice president of Raytheon Integrated Defense Systems. "And we've had over 100 engagements essentially defeating those threats with [a] 100 percent success rate."
That figure is in dispute. Last year the New York Times reported a Saudi Patriot missile failed to intercept a rocket launched from Yemen.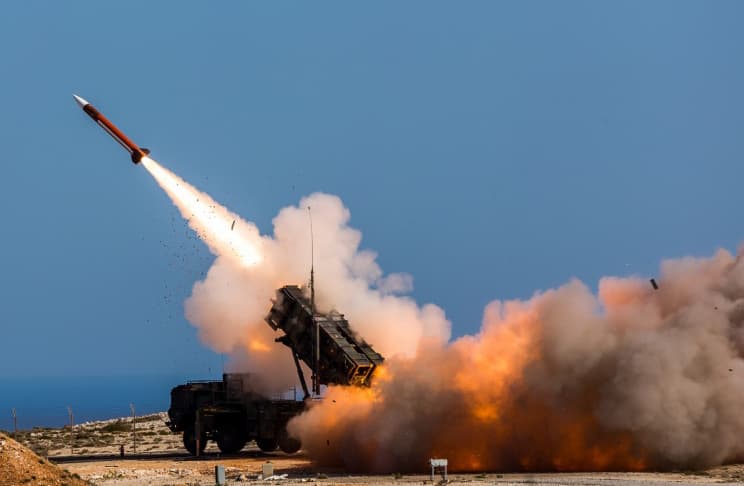 Laliberty says he's aware of the article, but stands by the statistic he gave me.
But Jeffrey Lewis challenges that stat. He specializes in arms control issues at Middlebury College's Institute of International Studies.
"If your goal is to shoot down ballistic missiles," Lewis says, "I am still waiting for a clear-cut case where a Patriot has worked." Lewis is the author of a recent article in Foreign Policy titled, "Patriot Missiles Are Made in America and Fail Everywhere."
Last month, Yemeni rebels again launched missiles at Saudi Arabia, when the crown prince of the kingdom was visiting Massachusetts.
Saudis claim the Patriots intercepted all of the enemy missiles, but using satellite images and social media, Lewis found that none of the Patriots hit their targets. He says one interceptor blew up soon after launch, while another boomeranged and smashed in a neighborhood in the Saudi capital.
"And we have lots of cellphone footage showing the interceptor flying out, turning around, and in one case very nearly kills the person filming," Lewis says.
The missile defense business is rocket science. The complex mission is described as hitting a bullet with a bullet.
"It's asking a lot of a missile defense system to actually work," Lewis says. "I think we have to have realistic expectations of those systems, and by realistic I mean low."
It takes more than 30,000 parts to build a Patriot missile battery, mobile missile launcher, radar, generators and truck-mounted control station.
Powerful microwave transmitter-receivers are the eyeballs of radar. Circuit cards are the brains, processing the billions of bits of data bounced off distant objects.
"We do all phases underwater, above water, ground, airspace, that's why we're here," says Tom Thrower, operation manager of the plant's Circuit Card Assembly Center of Excellence. "We're here to maintain the American way of life."
Raytheon spent $300 million creating circuit cards made of gallium nitride, or GaN for short. They're five times more powerful than traditional military radar semiconductors, they use less power, are more reliable, and can detect and track multiple threats.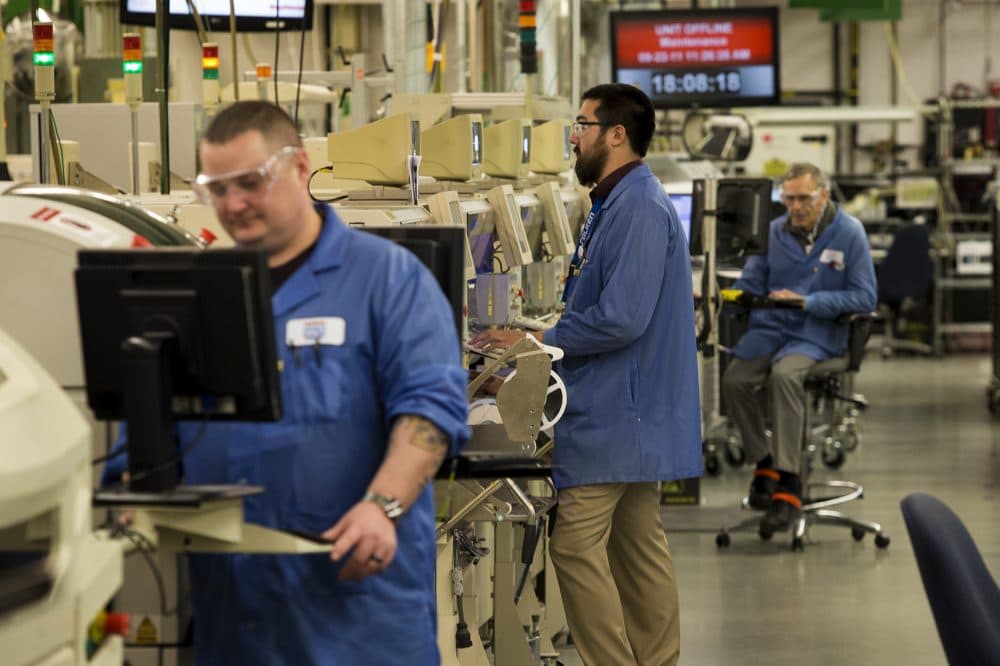 "I have no margin for error," Thrower says, "because if my product goes into the field and doesn't work, it's not like you drop your cellphone and tomorrow you have to go to Verizon and you don't have connectivity. Our soldiers, sailors, airmen, somebody is not coming home, and we take that burden very seriously."
He adds: "It's got Raytheon's name on it and people's lives are dependent on our product working as advertised."
To design the complex systems to defend against missile threats in the real world, Raytheon increasingly turns to the virtual world.
Dan Gale, manager of the Immersive Design Center, hands out special glasses to demonstrate Raytheon's Customer Automatic Virtual Environment (CAVE).
"Images are real and they do move," Gale warns, "so if you get dizzy, just take off your glasses."
The CAVE displays 3-D computer graphics on steroids, projected onto 72 huge video screens. The images create a large-as-life, immersive, interactive experience. Engineers in other Raytheon CAVEs around the world can collaborate virtually.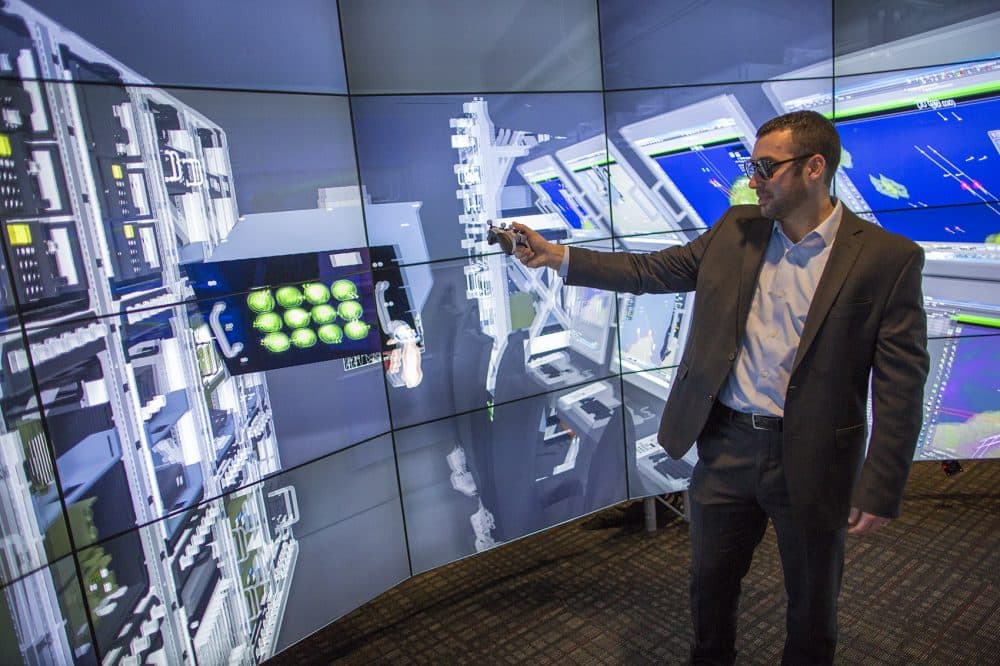 "Throw a headset on and beam themselves right back in as a full virtual avatar," Gale says. "So you look down, you see your toes. You look up, you see the sky."
It feels as if I'm standing inside a radar command and control shelter.
"Our customers can come in, bring their war fighters, and experience the human interface to our equipment," Gale says. "We can talk about equipment layout, and how it's cabled, how it's maintained and all of this is upfront, before we've released parts, cut metal or purchase anything."
As international tensions have soared, Raytheon's revenues have steadily risen -- to more than $25 billion last year.
The ballistic missile defense business is booming, but there's a new threat on the horizon that could accelerate the nuclear arms race into space.
Part 2, tomorrow: The nuclear arms race takes off into space.
This segment aired on April 24, 2018.