Setti Warren Drops Out Of Governor's Race, Saying 'The Money Just Isn't There'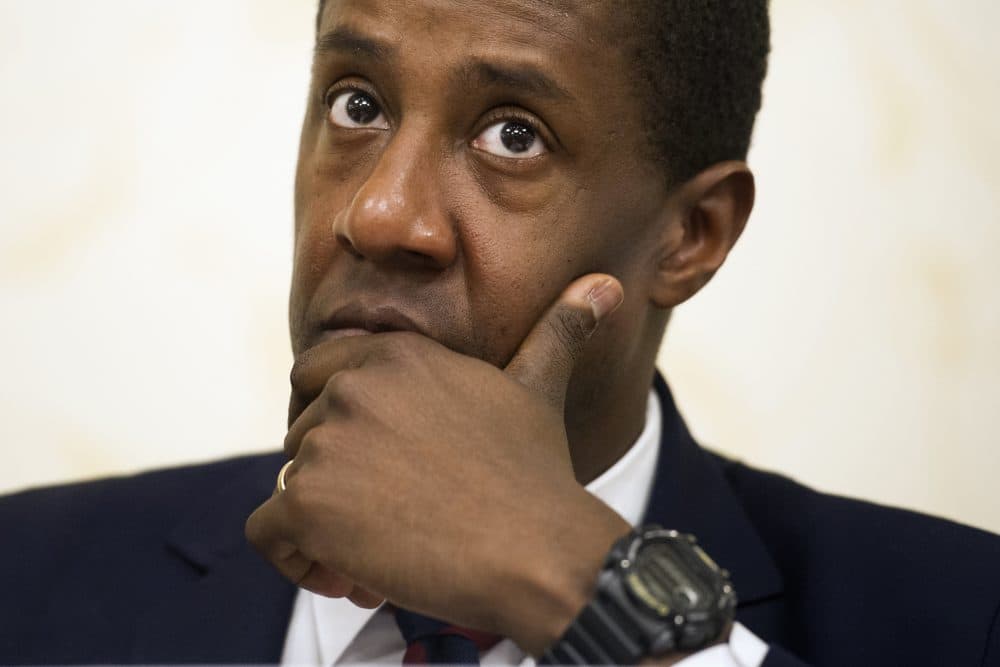 This article is more than 4 years old.
Former Newton Mayor Setti Warren is ending his run for governor.
The Democrat said early Thursday morning that his decision to drop out mostly stems from a lack of funds.
"Today, I have come to the difficult realization that this challenge is insurmountable. The money just isn't there to run the kind of campaign I want to run," Warren said in an email to supporters Thursday. "After talking to my wife Tassy, I have decided to withdraw from this race."
Campaign filings show Warren's campaign only has about $52,000 on hand, compared to the nearly $8 million in the war chest of his Republican rival, incumbent Gov. Charlie Baker.
A WBUR poll taken last month found 70 percent of registered voters had never heard of Warren — and that he'd lose head-to-head against Baker by 34 points.
The unexpected move leaves two Democrats — Bob Massie and Jay Gonzalez — in the race for governor. The late March poll found that the majority of registered voters had never heard of either of them, either.
Gus Bickford, chair of the Massachusetts Democratic Party, said he's not concerned that Democratic challengers are so far behind Baker in fundraising.
"We have our convention coming up in June and that has always been when the Democratic campaign for the statewide offices have begun, and we believe that continues to be true," Bickford said.
In a statement, Gonzalez thanked Warren "for his contribution to the race for Governor, and for highlighting the important issue of economic inequality."
He asked for Warren's supporters to back him.
Massie tweeted that "when lack of money forces a good candidate like [Warren]  to withdraw, it shows that our electoral system is broken."
Baker told reporters Thursday that he's focusing on his first term, but that he wishes Warren the best.
"He's a war veteran, Baker said. "He served the town of Newton for two terms admirably. He's a good guy."
With reporting by WBUR's Rachel Paiste and the Newscast Unit
This article was originally published on April 26, 2018.