This Photographer Projects Portraits Of Bostonians Onto The City To Confront Our Feelings About Immigration
Over the past year, you may have come across massive portraits of various Bostonians projected onto the buildings, bridges and even trees of our city.
After the sky turns dark, photographer Erik Jacobs and his team set up outside Symphony Hall, at the Public Garden and inside of Fenway Park with a cinema-grade projector. They turn it on and a face appears. Sometimes it's a musician, sometimes a famous baseball player, sometimes a student or a scientist or a police officer. What all these Bostonians have in common is that they're immigrants.
"The idea is that immigrants are part of the fabric of this city," says Jacobs. "And the way that the work is presented is, in some ways, a metaphor for that. We're taking the faces of immigrants and putting them onto the buildings and bridges and trains of this town."
Erik Jacobs is a photographer based in Medford. He started conceptualizing this project about a year and a half ago when President Trump issued his first executive order on immigration.
"I was just really heartsick," Jacobs recalls. "I just felt awful about the message that that was sending out into the world. I felt like I wanted to counterbalance that conversation with something that was a little more light and inclusive."
So Jacobs started this project: half-portraiture, half-public art installation. He began taking photographs of immigrants, or people from immigrant families, who live in the Greater Boston area — choosing a mix of well-known individuals like David Ortiz and less famous members of the city.
"I wanted to represent a pretty broad spectrum of the immigrant experience and represent the various ways in which immigrants contribute to Boston, specifically," he says.
Jacobs was very intentional about where these images were projected. Some were in heavily trafficked areas of the city, others out on a farm projected on a barn's silo. The locations chosen were as varied as the people he chose to photograph.
Here's a look at photographs of the projections:
---
David Ortiz ("Big Papi") is a three-time World Series champion originally from the Dominican Republic.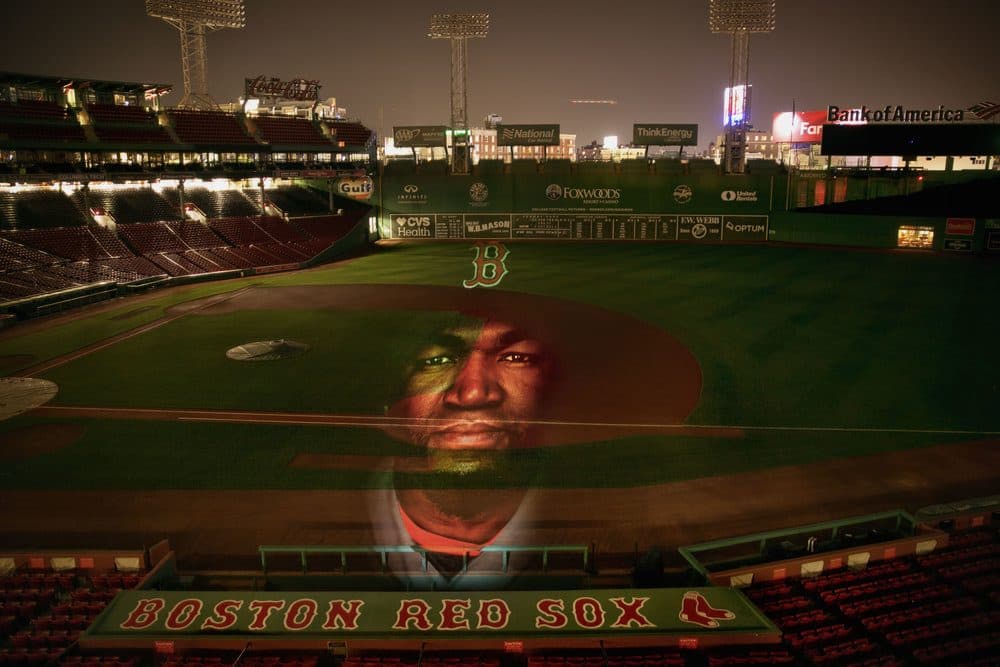 ---
Yo-Yo Ma is a world-renowned musician born in France.
---
Linda Dorcena Forry is a Haitian-American, born in Dorchester, who served as a Massachusetts state senator and now works at Suffolk Construction.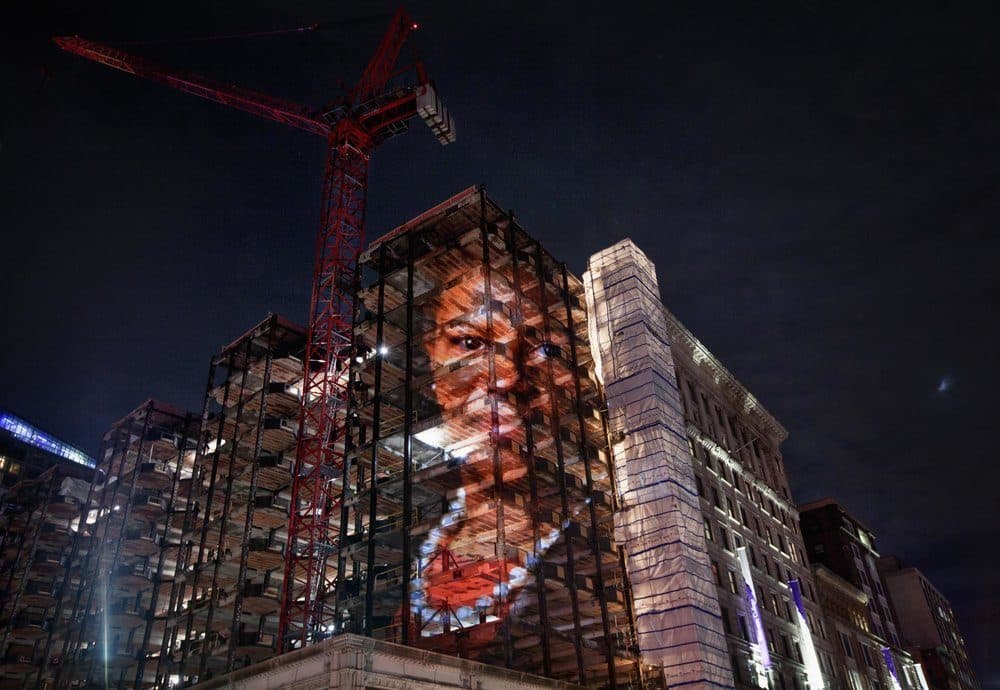 ---
Haseeb Hosein, born in Trinidad, is Boston's first Muslim police captain. He supervises the B-3 District of Mattapan and Roxbury.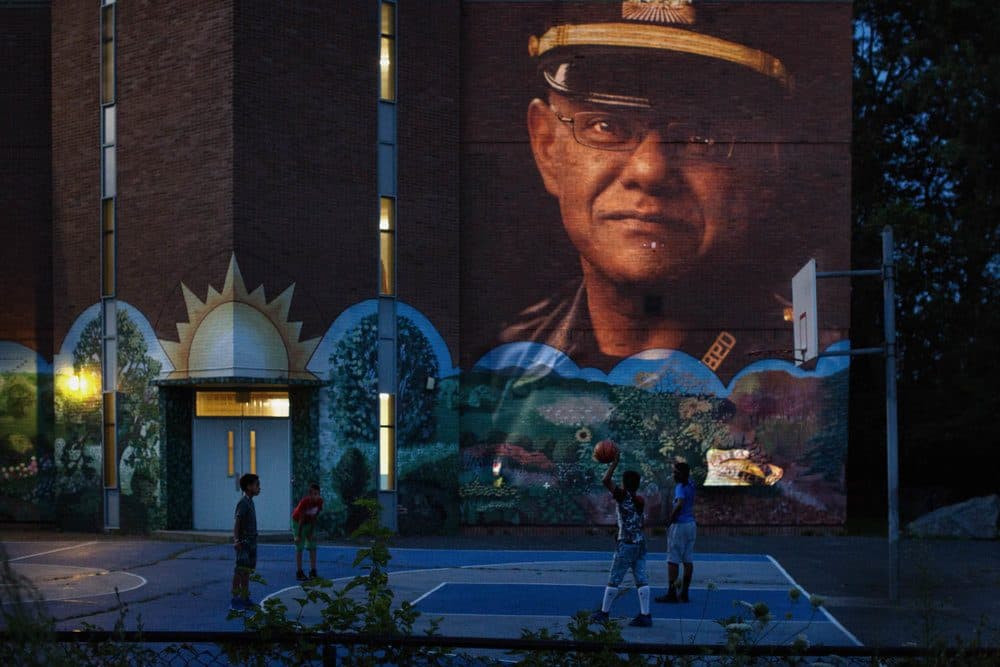 ---
Pardis Sabeti, from Iran, is a biologist who teaches at Harvard and is a member of the Broad Institute. Jacobs says she is one of the first portraits he took for this project because her original nationality would have barred her from the country under one of Trump's executive orders.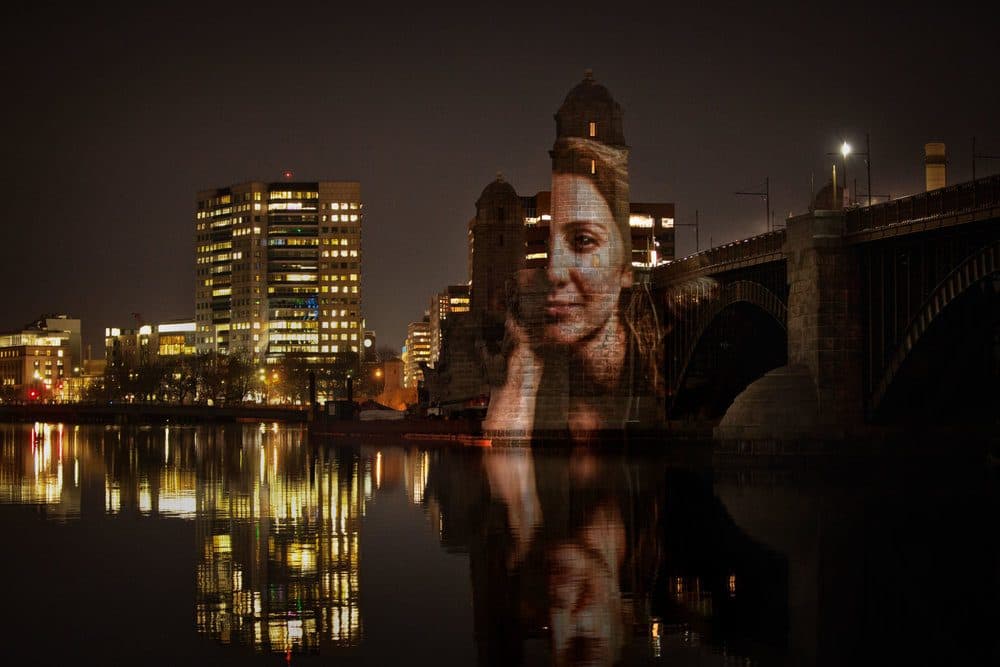 ---
Jennifer Hyoje-Ryu Kenty is from South Korea. She works as a researcher at Harvard and as an organic farmer at Alexander Farm in Winchendon.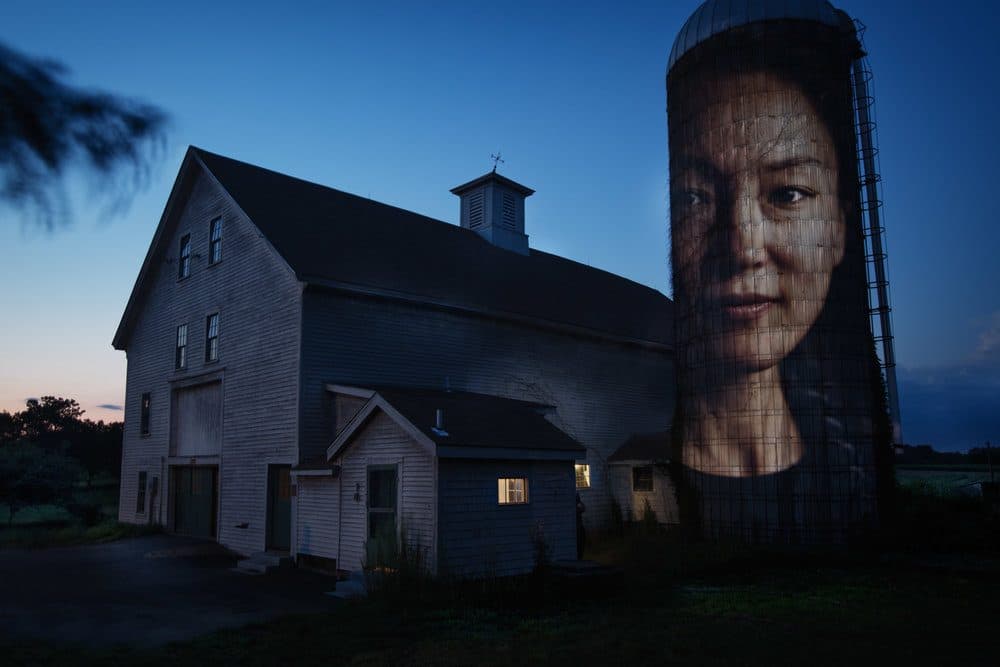 ---
When coming across these portraits out in the wild, it could be a bit disarming. It's not a gallery or a museum; you didn't sign up to be presented with this material. Plus, there's no placard underneath the portraits to explain what the deal is.
"Generally, the first reaction that people have when they see a projection is, 'Holy s---. What is that?' " says Jacobs. "They're totally surprised by this face that they did not expect to see. After that, there's intrigue and there's questions. ... And naturally conversations develop around that. And I love that part of the project. I feel it engages people in a way, or confronts people in a way, that is not confrontational. I think photography has that unique capacity."
Jacobs will be projecting the portraits on Friday night in the Boston Public Garden as part of ArtWeek. And the photographs of the projections, as well as a presentation of the projections on rotation, will be on display at the Edward M. Kennedy Institute through May 31.
He's shown the photographs around the world — most recently in China. "China was an interesting place to talk about this project," he says. "The amount of freedom I have to say what I want to say about an administration's policy is not the freedom that they're used to there." And he's been talking about creating a similar project in Philadelphia with immigrants in their community.
Ultimately, Jacobs wants people to start talking about immigration in "a civilized manner," and he hopes this public art installation is a step in that direction.
"I want this project to enable conversation and dialogue rather than shut it down," he says. "If this is just a project that causes more polarization, then I've failed."
---
On Friday, May 4, Jacobs will be projecting some of his portraits in the Boston Public Garden as part of ArtWeek. Photographs of the projections will be shown at the Edward M. Kennedy Institute through May 31.