There's No Sashaying Away From Greater Boston Stage Company's 'The Legend Of Georgia McBride'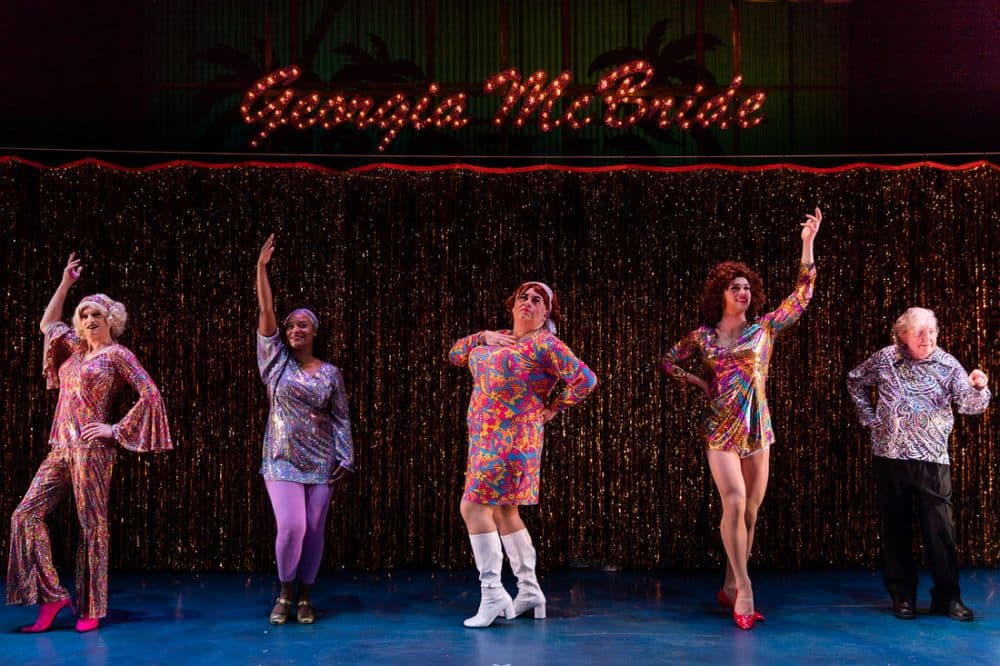 This article is more than 4 years old.
"The Legend of Georgia McBride" is a sweet, slender comedy by Matthew Lopez, author of the weightier Civil War-set "The Whipping Man." Certainly Lopez proves he can straddle far-ranging territory, moving from the war-torn Richmond of the earlier drama to the worn-out bar in the Florida Panhandle where, in this one, a straight Elvis impersonator is transformed into the legendary drag star of the title: sort of a cross between Reba McEntire and a Southern high school baton twirler.
Barely plausible but fun, "The Legend of Georgia McBride" first sewed on its sequins in 2015 at the Denver Center for the Performing Arts, moving from there to off-Broadway. Apparently a crowd pleaser, it has since sashayed around the regional circuit to mostly enthusiastic reviews and is now in its area debut by Greater Boston Stage Company (through May 20). But to my mind, the show manages to have it both ways about gender identity and drag while offering what is basically a sitcom with more heart than credibility.

Casey, the protagonist, is something of a Panama City Peter Pan who loves his wife and Elvis but is a bit of a fiscal disaster, squandering the rent money on pizza and jumpsuits. When wife Jo learns she is unexpectedly pregnant, he's over the moon: "We'll be the best parents since Mary and Joseph!," he declares. The more pessimistic and practical Jo points out that that couple's kid died.
It seems Casey can rock a jumpsuit, but hip swiveling to "Blue Suede Shoes" is not packing in a crowd at Cleo's, the dive bar where he impersonates the king. When proprietor Eddie's cousin Bobby shows up — in the professional persona of Miss Tracy Mills — with the remnants of a drag act, Eddie decides the bar's entertainment should go in a new, more glamorous direction. Casey is demoted to bartender. But when Miss Tracy's sidekick, whose drag moniker is Anorexia Nervosa (Rexy for short), gets too drunk to go on as a roller-skating Édith Piaf, an initially unwilling and terrified Casey gets conscripted.

Actually, this is hardly a leap since the Elvis of the fringed jumpsuit era was something of a drag act himself. And once he stops looking like a deer in the headlights, Casey, in the rockabilly persona of Georgia McBride, becomes a hit. Under Miss Tracy's tutelage, he comes to find joy (though he's uncomfortable about that) in his drag self, donning auburn wig, false lashes and red-white-and-blue platform boots to defiantly channel Nancy Sinatra while Miss Tracy, still fabulous though no longer young, presents herself in lip-syncing guises from Cher and Carmen Miranda to Marilyn Monroe singing "Diamonds are a Girl's Best Friend" in "Gentlemen Prefer Blondes" — wearing a larger-size version of the same pink gown with outsize bow.
It is certainly true that straight men have mastered the showboating genre of drag. And in "The Legend of Georgia McBride" the heretofore immature and dissembling Casey even finds a better version of himself in his feminine alter ego. But playwright Lopez also, if briefly, asserts the right of an oft-beleaguered gay community to own the art form. Returning from rehab (to perform as Amy Winehouse), Rexy recalls a violent Texas teen-hood from which it saved her. "Drag's not a hobby, baby," she asserts. "It's a protest."

Russell Garrett, who has also performed with Greater Boston Stage Company, is at the helm of "The Legend of Georgia Bride," both directing and choreographing a production that ricochets seamlessly between backstage grime and onstage glamor, its trappings becoming more resplendent as it goes along (and Eddie collects enough cover charges to afford a shimmering gold curtain and glittery duds).
In Cristina Todesco and Jeff Adelberg's set design, one non-rotating stage holds not only a jumbled, bedraggled looking dressing room but also Casey and Jo's cheap-paneled apartment (with black-velvet Elvis). By the show's improbably triumphant end, the title character's name is flashing like Times Square as all of the characters, including Eddie and Jo, take a figurative roll in the rhinestones. And, of course, veteran costume designer Gail Astrid Buckley gets to strut her stuff, transforming Rick Park's hulking Miss Tracy into iconic ladies ranging from The Lady in the Tutti-Frutti Hat to Judy Garland's Dorothy. She also repurposes Casey's white jumpsuit into several incarnations of skimpy, sparkling majorette wear.

As Casey, Jared Reinfeldt is convincingly boyish and then girlish and, facing his drag baptism by fire, both sympathetic and hilarious. Jade Guerra is a warm-hearted Jo, Ed Peed the initially gruff, somewhat seedy Eddie, who gets a makeover along with his business. Wiry Alex Pollock differentiates adeptly between the prickly, pratfalling Rexy and Casey's nerdy chum turned landlord Jason, who gets a mesmerizing little speech of his own about gender nonconformity. But the show, both on and off the barroom stage, belongs to Rick Park, an odd if apt choice for Miss Tracy. There is nothing outré about Park's performance as a formidable Cher, a bewitching Marilyn, or a tough, brusque mother hen of the greasepaint. I first fell for this actor in a long-ago show in which he played a shark. He puts teeth into Miss Tracy too.
---
Greater Boston Stage Company's production of "The Legend of Georgia McBride" continues through May 20.