Man Held Without Bail For Allegedly Killing 2 In Jamaica Plain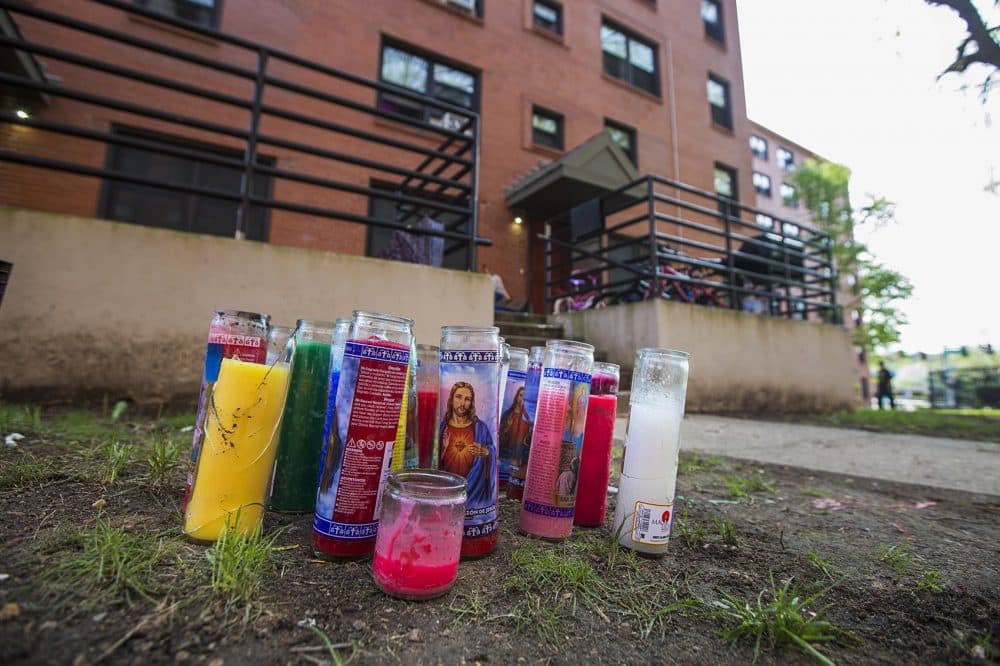 This article is more than 2 years old.
A Dorchester man is being held without bail on murder charges for a fatal double shooting at a Jamaica Plain public housing complex.
Twenty-eight-year-old Wilvin Guity was arrested over the weekend and appeared in Roxbury Municipal Court Monday morning.
Prosecutors say video footage shows Guity entering the Mildred C. Hailey complex on May 4 and opening fire on a group of approximately 15 people in a park.
That shooting killed bystanders Christopher Joyce, 23, and Clayborn Blair, 58.
Joyce was a Salem State University student set to graduate this spring, and Blair was a father of three.
The Suffolk County district attorney said in a statement that Guity's "distinctively patterned sneakers" led, in part, to the arrest:
Minutes before the shooting, surveillance cameras captured a white Ford Fusion arrive in the area of  Chestnut Avenue and a man wearing a gray hoodie and distinctively patterned sneakers, later identified as Guity, exit the rear passenger's side door. Guity was then captured on camera as he walked into the Mildred C. Hailey Apartments and opened fire on a group of approximately 15 people in a Centre Street park, prosecutors said. He then ran back in the direction of Chestnut Street, re-entered the white sedan, and left the area.

Ten different cameras captured the vehicle as it traveled to the Orchard Gardens housing development; five additional cameras captured Guity exit the vehicle on Degautier Way and enter a nearby liquor store. He was no longer wearing the gray hoodie but was still wearing the same patterned sneakers.

Based on information gathered during the course of their investigation, Boston Police homicide detectives executed a search warrant of Guity's home that resulted in the recovery of the same distinctive sneakers worn during the shooting, prosecutors said.
Correction: An earlier version of this post's headline said Guity was held on bail. He was held without bail. We regret the error. 
This article was originally published on May 14, 2018.