This 'Carbon Farm' Grows Plants Using CO2 Harvested From People Inside The Building Below
Play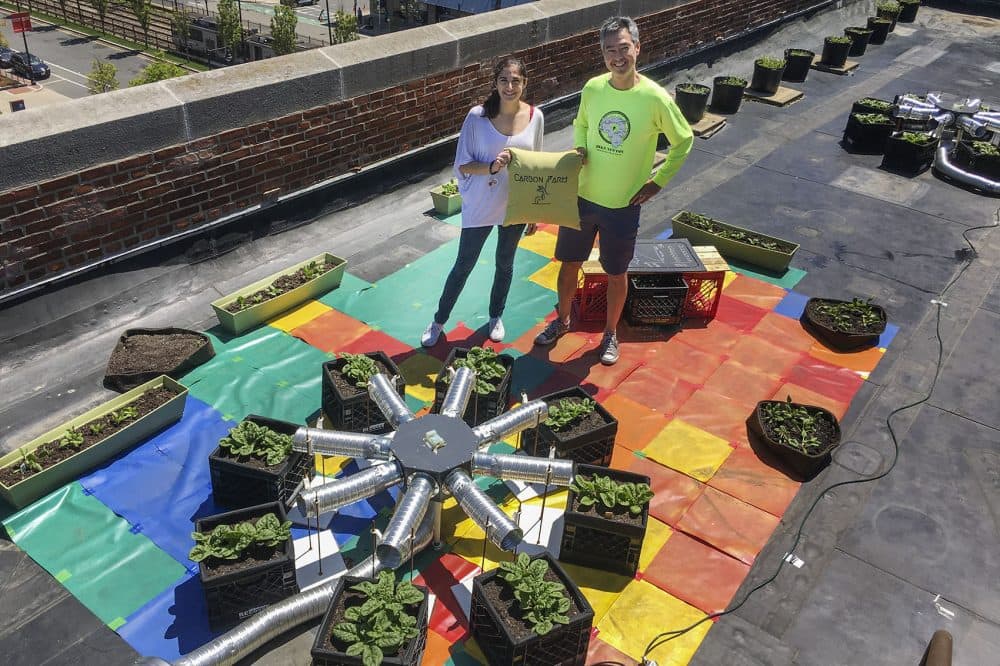 This article is more than 4 years old.
The fifth floor stairwell at Boston University's College of Arts and Sciences opens up to the sky.
Here, amid heating and air conditioning vents and ducts, an unusual crop is being collected, says Nathan Phillips, professor of earth and environment.
"We're growing food on the rooftop at BU and we're harvesting the carbon that comes out of the breath of all of the people inside of the building," he says. "And we're breathing it out every day at 40,000 parts per million in our breath."
In the atmosphere, CO2 — now at record levels, the highest in recorded history — is a powerful heat-trapping gas responsible for the rapidly changing climate. But carbon dioxide is also a critical factor in growing plants.
About a decade ago, Phillips got the idea of putting the high levels of CO2 that build up in classrooms to good use.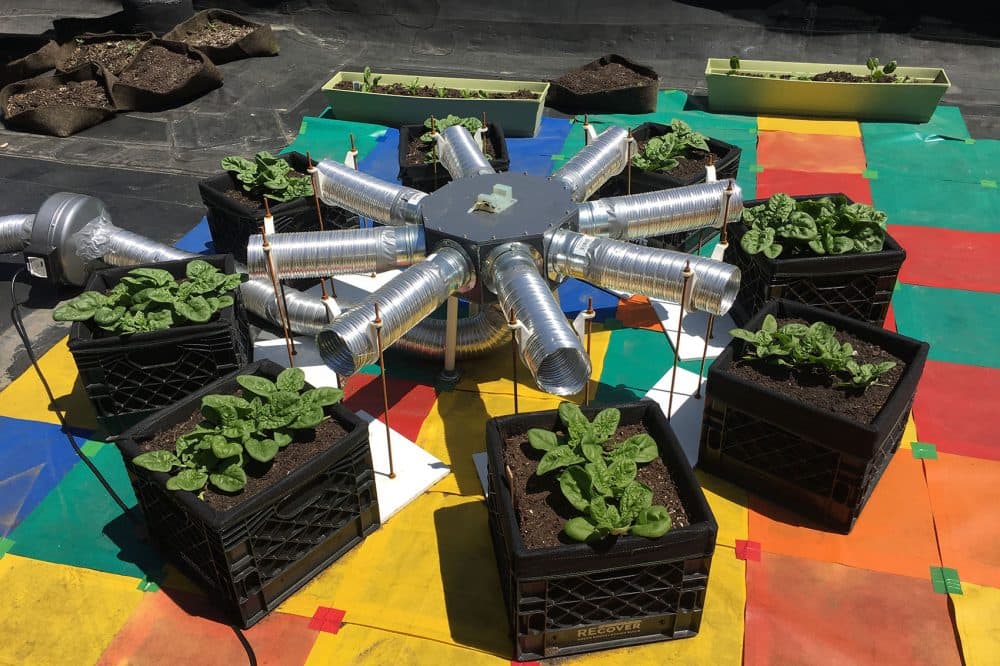 "We supercharge the photosynthetic process when we breathe on our plants," he says.
High concentrations of CO2 can make you sleepy, even kill you, but green plants love the stuff. In fact, it's essential for photosynthesis. That's the process by which plants use sunlight to convert carbon dioxide, minerals and water into the food they need — and produce life-sustaining oxygen for us.
The BU rooftop is dotted with metal mushroom air vents.
"The vents in many buildings, they have to exhaust the air, so they're blowing it out anyway," Phillips says. "We're just capturing it."
"I don't know of anyone else who's doing this," says Sarabeth Buckley, Phillips' grad student. "We're calling it the carbon farm at the moment."
The carbon farm is Buckley's Ph.D. research project, and she's collecting data.
Mechanical engineering students from BU laid coiled conduit from building vents. They carry carbon dioxide-rich classroom air. They also built ambient collectors that act as experimental controls. At the end of the pipes are spinach plants set in milk buckets at different distances.
"We're still working out the best physical system to move the air to the plants," Buckley says. "But at least in terms of the pilot study that I did, where I kept the plants closer to the vent, I did get some positive results from that. So the plants grew larger next to the vent, versus away from the vent."
The largest plants are at the end of eight coiled conduits. They look like octopus arms, carrying a strong and steady flow of waste CO2 from the academic hot air vents to leaves.
The possibilities of carbon dioxide-fed plants are literally breath-taking.
Urban greenhouse gardens are becoming increasingly popular. Hospitals, restaurants, even supermarkets are turning empty acres of space atop buildings into food-producing farms. But roofs are stressful environments. Hit with direct sun, they're hot, dry and windy, and rain can run off quickly.
But Buckley's yields in earlier tests have shown substantial improvements over typical rooftop crops. The possibilities of carbon dioxide-fed plants are literally breath-taking.
"For our initial pilot study there was around a 50 percent increase in growth," she says. So: faster, cheaper, better.
Buckley will harvest the plants, carefully count and weigh them, and put them in an oven to dehydrate, and weigh them again two more times.
"You also need the dry weight because that's what's most commonly reported in science," she says, "so we'll just have to dry them and then they'll become little crispy spinach plants, and that's not very tasty."
So while Buckley may be able to enjoy the fruits of her Ph.D. labors from her carbon farm experiment, she won't be eating these veggies.
This article was originally published on May 15, 2018.
This segment aired on May 15, 2018.