A Month Before Terrorism Plot Trial, Mass. Man To Plead Guilty
This article is more than 4 years old.
An Adams, Massachusetts, man accused of plotting a terrorist attack plans to plead guilty on at least some charges. Alexander Ciccolo's trial had been scheduled to begin June 19.
Law enforcement began looking into Ciccolo following a tip from his father, a Boston police captain. They arrested Ciccolo on July 4, 2015, after he received firearms from a cooperating witness.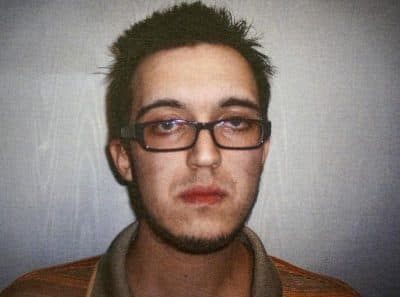 In an FBI interview, an agent asked Ciccolo about his support of ISIS and the terrorist group's tactics.
"Are they doing a good thing?" the agent asked.
"Yeah, yeah they are," Ciccolo replied. "They're doing a good thing."
Prosecutors said Ciccolo had partially constructed Molotov cocktails in his apartment, planned to build a pressure cooker bomb and attack a college cafeteria.
All pre-trial preparations have been paused, according to a court filing, "based on the good faith offer of a signed plea agreement."
A spokeswoman for the US attorney confirms Ciccolo plans to plead guilty next Monday but had no further comment.
Ciccolo's attorney had no comment.
Jill Kaufman and WBUR's Jonathan Cain contributed to this report.