Allison Katz — At MIT's List Center — Plays For Time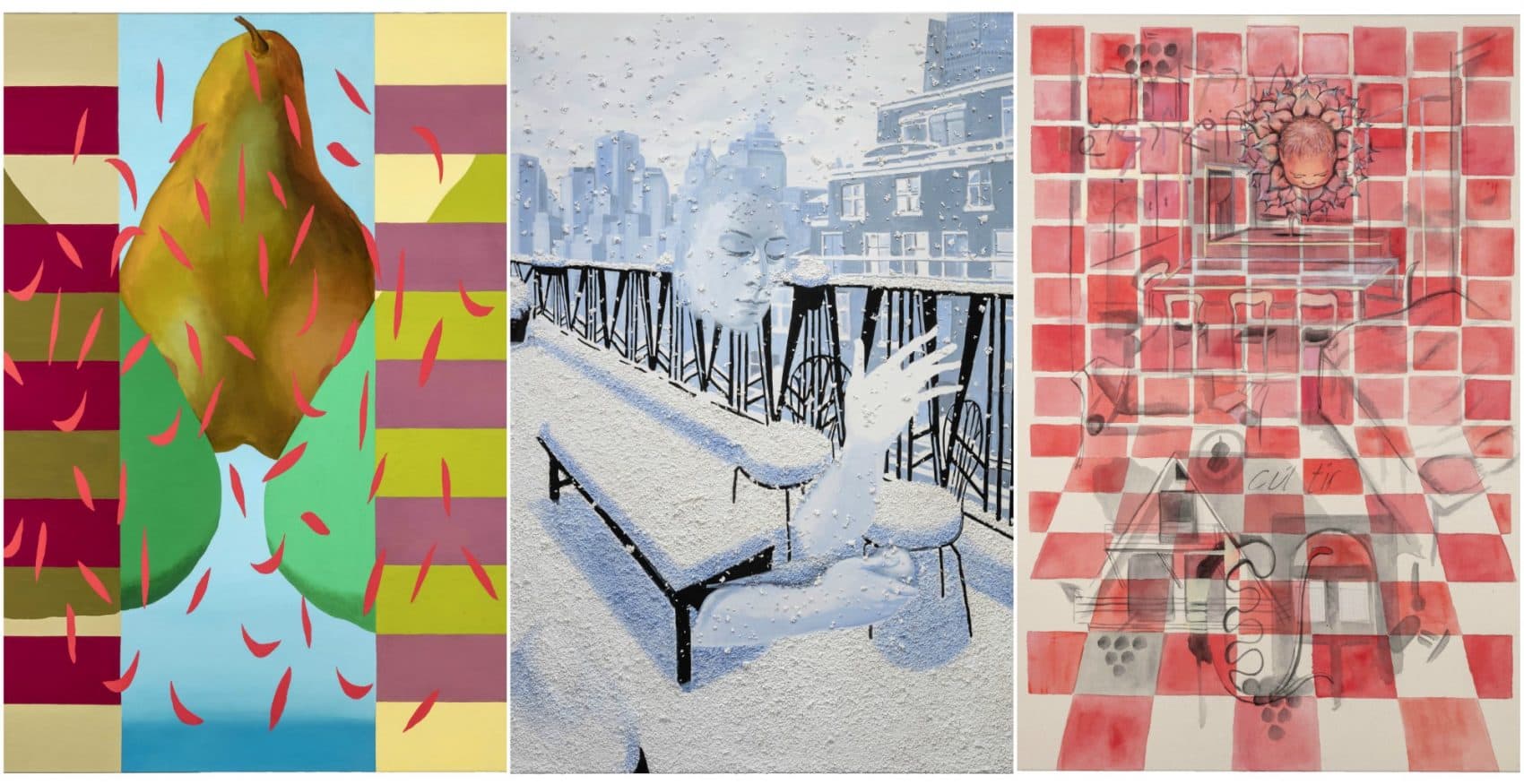 This article is more than 4 years old.
In the age of the iPhone, paper calendars — the sort we used to hang above our desks with each day marked with a fat red X — feel almost like a thing of the past. These days, we turn to our Google calendars to get a digitized version of the days, weeks and months ahead.
And yet the old-fashioned calendar still inspires and is very much the subject in Allison Katz's new exhibit, "Diary w/o Dates," on view through July 29 at the MIT List Visual Arts Center. Through 12 large paintings stretching the length of a 95-foot wall, Katz attempts, in her own words, "to confront time as both motif and subtext in painting."
In one painting, a disembodied woman's face and arms are a ghostly specter on a snow-filled city terrace. In another, a woman stands inside what could be a grotto, a gigantic mouth with teeth or, possibly, some other orifice. In a third, a woman reclines under a car, legs crossed, with a wrench in hand, a modern-day version of Manet's "Olympia." The feeling of each is one of allegory and myth painted in a flat, reductive style. Viewing them is like listening to someone who has begun a sentence without finishing it. And just as with a sentence that trails off before completion, what's left unsaid could be either a tantalizing mystery or a frustrating puzzle, depending on your point of view.
Taken as a whole, Katz, a Canadian-born artist who moved to London five years ago, says the work is about "calibrating various ways of internalizing time" especially in contrast to "the evenly-paced grid of the calendar/clock/grid model."
On Your Calendar
Calendars, of course, have been mankind's lifeline. They come in all shapes, sizes and formats. In history, we have seen the Mayan calendar, the Chinese calendar, the Icelandic calendar and the Indo-Islamic calendar, among many others. We've had the Julian calendar, the Hebrew calendar and the Zoroastrian calendar. Today, the world has mostly settled on the Gregorian calendar, but each culture and generation plays around with that framework, particularly when it comes to illustrating months. In recent history, 1940s pin-up girls have represented the months and more contemporaneously Sports Illustrated swimsuit models, all prancing on the same sunny beach, be it February or July. Other iconic calendars have promoted sports cars, fishing equipment and Pirelli tires. Somehow, a woman often seems to figure in.
Katz used the French Republican Calendar of 1793 as the departure point for her own exploration into time. The French Revolutionary Calendar, as it is more commonly known, was in use for a brief 12 years, from 1793 to 1805, and was an attempt to strip the calendar of all religious and royalist influences. Twelve months were divided into three 10-day weeks. The 10th day, décadi, replaced Sunday as the day of rest and festivity. References were strictly related to natural phenomena.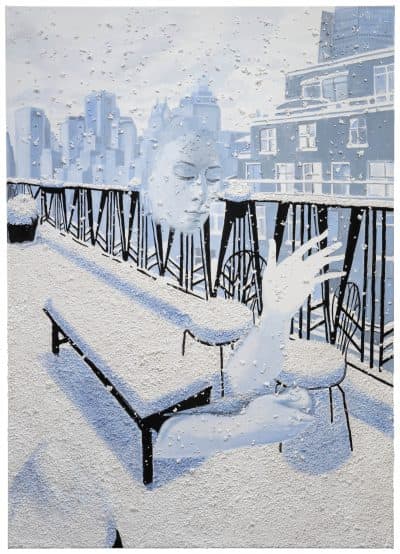 Katz's paintings start there. She says they are not meant to represent the French versions so much as to "begin with them and address the fact that those French revolutionaries were right to tackle the calendar."
"They wanted to completely start again and did not take for granted that the calendar's composition is a design, and therefore something that can be redesigned," she says. "Yet even after reorganizing and secularizing, letting cycles of agrarian change and Parisian weather patterns determine naming and measurements, the 'new' conception of time they ended up producing took the form of an illustrated calendar. It still consisted of 12 months as represented by 12 allegorical women that may not look so different from 12 fashion magazine covers."
Shortly after the French calendar was created, another satirical British version was published specifically to mock the idealistic French. The names of each month had been changed to something that could be out of Snow White and the Seven Dwarfs. Katz used this calendar for the names of her paintings in "Diary w/o Dates." The disembodied woman on the balcony corresponds roughly with January and is entitled "Slippy." The pear that morphs into two breasts corresponds with September and is entitled "Sweety."
"I named my paintings after the satirical, rhyming piss-taking versions given by the contemporary English press to the French Revolutionary neologisms pretty much as soon as they were released," she explains. "The instinct to ridicule the idealism of trying to return to a pastoral age of 'nature' in the face of violent revolution and aggressive industrialization seems continually relevant. The joke is a form of language resistance, humor as an undoing."
The Perpetual Calendar Girl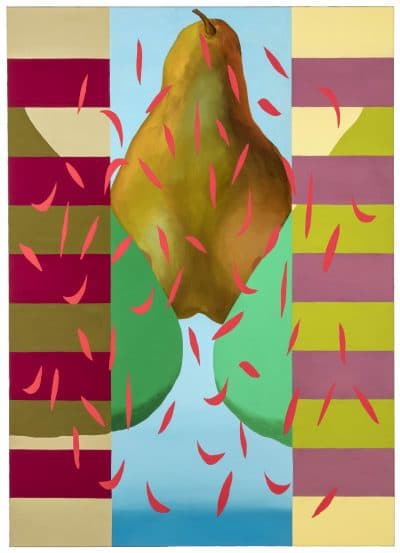 While women have been used again and again in calendars of all ages whether we're talking the French Revolutionary Calendar of the 1790s or the Pirelli calendar of 2017, it is the use of the female form that Katz wants to challenge.
"I want to contest the notion that the image of a nubile woman persists as the ultimate measure of ripeness, of being 'on time,' or that the expression of a woman's experience is more suited to the autobiographical style of diary writing than it is to independent acts of the imagination," she says.
She also wants to make a statement about a woman's capacity to invent for herself, rather than just relying on creation and interpretation by some (usually male) painter, not unlike many female artists who have explored the pervasiveness of the "male gaze" in art.
"I was considering it in relation to self-portraiture, being both the painter and the painting," she says. "I was considering this element more from the 'confessional' label that is often thrown onto women and their work. If they draw from life they are often bound to an autobiographical assumption, as if they lacked the imagination to invent, as if all they can do is transcribe emotional experience."
'What Kind Of Person Would Make This Painting?'
Yuri Stone, curator of the "Diary w/o Dates" exhibit, says he has tracked Katz, for a few years. Her paintings, often compared to David Salle's, use apparently randomly juxtaposed images often in a deliberately clumsy way and draw heavily from literature, poetry, history and wordplay, which Stone appreciated as a words man himself.
"She has one of these practices where every exhibition she would do or every painting of hers that I saw deviated from the previous pretty radically," he says. The stylistic changes were so dramatic that Stone says, "I would often be in a situation where I would think, 'Wow, is that an Allison Katz painting?' "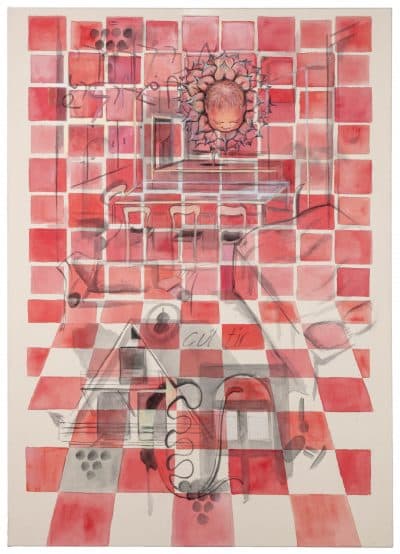 It was the literary bent of her work, as well as the style shifts that intrigued Stone enough to pursue bringing "Diary w/o Dates" to the List, after a previous run at the Oakville Galleries in Ontario, Canada. In the original exhibit, all 12 paintings were shown on a free-standing 12-sided wall, which Katz explicitly designed for the exhibition in collaboration with her cousin Caitlin Tobiasz, an architect. In that exhibit, viewers saw only one painting at a time — suggesting time as always something around the corner, just out of reach. In this exhibit, Katz has taken the opposite approach for, literally, the long view of time.
"There is a lot of potential in seeing everything and nothing at once -- which is what I hope will happen when you enter the room," she says.
Katz acknowledges that her work is continually in flux, something that some viewers, collectors and curators, might find difficult to keep up with. But all the change is a result of "investigating a voice." Her process, she says, involves asking herself, "What kind of person would make this painting?" And then slipping into that, like an actor assuming a role.
"That is more exciting to me than merely switching styles," she says. "I think there is a repetition of motifs or clues throughout the works over time that bind them together, so there are many links between them, but I definitely do want to stretch the limits of how a hand is both an inheritance (DNA) and a monkey (mimic). I actually find the concept of 'the signature' really inspiring and have made several works of self-portraiture using my own signature, or my initials or the words in my name (All Is On) -- definitely playing up to these expectations of the artist as a brand. But there are other ways to connect with a viewer, and surprise is one of them."
Indeed, "Diary w/o Dates," holds plenty of surprises.
---
Allison Katz's exhibition "Diary w/o Dates" is on view until July 29 at the MIT List Center for the Visual Arts in Cambridge. Concurrently on view is Carissa Rodriguez's film "The Maid." An opening reception for both will be held Thursday, May 17, from 6 to 8 p.m.