BE MINE: Necco, Maker Of Candy Hearts And Its Well-Known Wafers, Sells At Auction
The bankrupt 171-year-old candy maker known for its chalky Necco Wafers and those little inscribed hearts that are everywhere on Valentine's Day got a sweet message from a rival Wednesday: BE MINE.
Ohio-based Spangler Candy Co. had the winning $18.83 million bid for the New England Confectionery Co., or Necco, at a federal bankruptcy auction in Boston.
'I Like To See Our Traditions Continue'
The deal from the company that makes Dum Dums lollipops will most likely ensure a future, at least in the short term, for some of the nation's most familiar candies.
"They're a crowd favorite," said Chris Baker, who sells Necco candies at his Old Country Store & Emporium in Mansfield, Massachusetts. "I like to see our traditions continue. Any time we lose one, it's a loss for all of us. And this is something that everybody's had a million times."
Necco's court-appointed bankruptcy trustee, Harry Murphy, said the company's suitors were mainly interested in its "sugar line" — its tubes of wafers, sheets of candy dots, and the conversation hearts popular on Valentine's Day for phrases such as BE TRUE and O U KID.
The future of Necco's other products — including the chocolate Sky Bar, the Clark Bar and peanut butter-flavored Mary Jane chews — remains unclear, he said. The company would continue to be run out of its longtime headquarters in Revere, just north of Boston, at least through the fall.
Necco, which calls itself the oldest continuously operating candy company in the U.S., couldn't keep pace with multinational competitors.
In March, it announced it would close its plant and lay off hundreds of workers if it couldn't find a buyer. Last month, it filed Chapter 11 bankruptcy protection, saying it owed creditors millions.
Complicating matters, the Food and Drug Administration warned Necco on May 16 that its inspectors found rodent excrement "too numerous to count" at its main plant.
'The Great Necco Wafer Panic'
The warning that the company might go out of business triggered a run on Necco Wafers and other candies. A Florida woman even offered her 2003 Honda Accord for the entire wafer inventory held by Candystore.com, an online distributor. (The company brushed off what it dubbed "The Great Necco Wafer Panic" and turned down the offer.)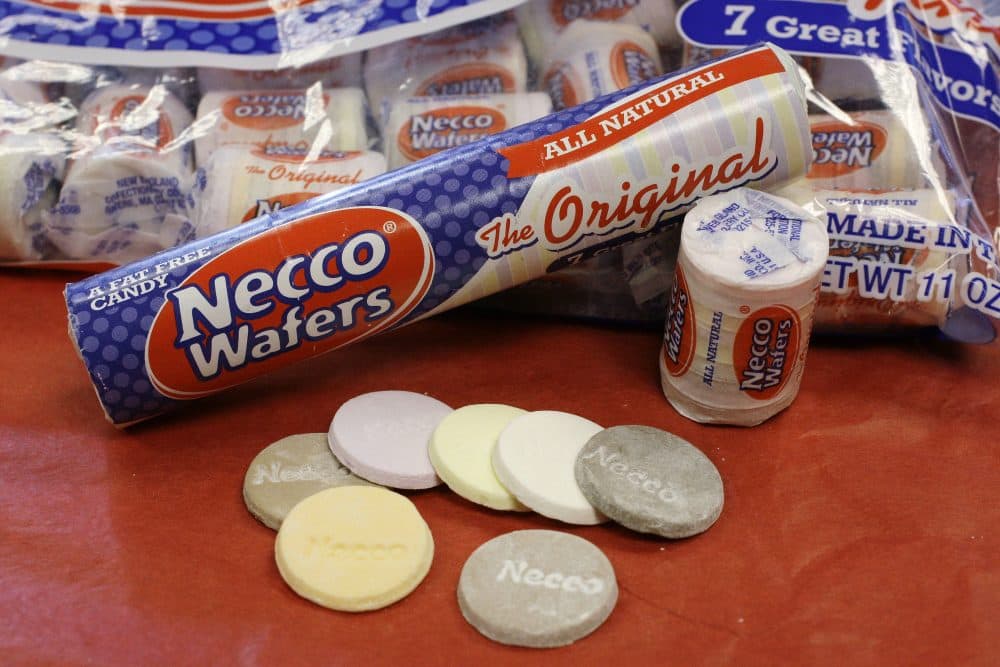 Necco traces its roots to 1847, and it's an immigration success story. Oliver Chase, a young English newcomer, invented a lozenge cutter. Sales of his candy took off, and he and his brother, Silas, founded Chase and Co., which morphed into Necco.
Union soldiers fighting in the Civil War carried Necco Wafers, the company says. So did GIs during World War II; the War Department bought them by the caseload and sent them to Europe and the Pacific because they didn't melt and seldom broke during shipping.
In 1913, the Arctic explorer Donald Baxter MacMillan handed them out to Eskimo children. In the 1930s, Adm. Richard Byrd included 2 tons of wafers on a supply list for a two-year expedition in Antarctica.
And Roman Catholics joke that they're the communion wafer of candy.
Critics insist they taste like antacid tablets, baby aspirin or chalk. But they have a certain old-school charm: pale, dusty candy discs packaged like a roll of coins and wrapped in wax paper.
"I don't think I've ever seen anything as beautiful as the production of the Necco Wafer," said Steve Almond, author of "Candyfreak," a best-selling book about America's confectionery industry.
"The street smelled like wafers when they were making them. The floors were a mosaic of broken wafers — all eight of those different colors. It was a beautiful thing."
"The street smelled like wafers when they were making them. The floors were a mosaic of broken wafers -- all eight of those different colors. It was a beautiful thing."

Steve Almond
Sweethearts, too, have become sentimental favorites since they began being stamped with pithy phrases in 1902. LOVE YOU, OOH LA LA and MARRY ME are classics, and over the decades, they've been joined by DIG ME, FAX ME and, more recently, TWEET ME, TEXT ME and BFF.
The 19th-century company has kept pace in other ways: In 2016, a Sweethearts online ad featured two gay men in their 80s, and Clark bars have made cameos in at least three episodes of "Seinfeld."
Even so, Almond takes a fatalistic view of Necco's future.
"The story of Necco is in some ways the story of American commerce and American culture," he said. "As sentimental as we might be about Necco Wafers, unless tons of people buy them, they're going to struggle. This is how capitalism works."