Pittsfield Judge Who Had Affair In Courthouse Chambers Resigns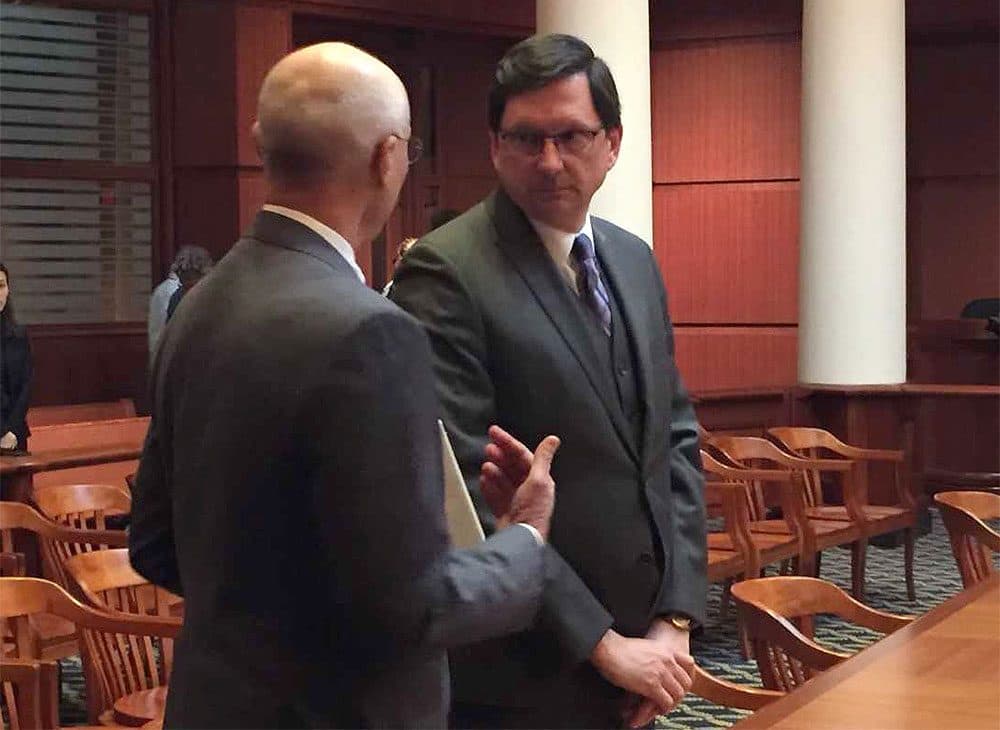 This article is more than 2 years old.
A western Massachusetts judge who engaged in sexual acts with a social worker in his courthouse chambers resigned Friday, one day after he was suspended indefinitely by the court.
Judge Thomas Estes said in a letter submitted to the chief justice of the state's district court system that he would leave the bench at the close of business on June 15.
"I am grateful to have had the opportunity to serve as a district court judge and submit this resignation with great sadness," Estes wrote.
The letter did not reference the circumstances that led the Supreme Judicial Court to conclude Thursday that Estes' "grave, willful and repeated wrongdoing," had damaged the public's faith in the judiciary.
Tammy Cagle, who worked on the drug court where Estes sat, has accused him in a federal lawsuit of pressuring her into performing oral sex on him and then pushing her out of the drug court when she tried to end the relationship.
Estes said their relationship was consensual and denies harassing Cagle or playing a role in her losing her job. He said Cagle initiated their first encounter and was the one who wanted to continue the relationship.
Estes' attorney, David Hoose, released the following statement:
Judge Estes was not only a good judge, he was an outstanding judge. As I said in my argument before the SJC, any Judge in the Commonwealth would trade his or her judicial evaluation with him. Judge Estes never denied the mistakes that he made in getting involved in a relationship with Tammy Cagle. Unfortunately, the entire proceedings against him were tainted by her frivolous complaint that she was sexually harassed. He will continue to defend against that allegation in the federal court.
A former public defender, Estes was nominated to the bench by Democratic former Gov. Deval Patrick in 2014 and had served as first justice of the Eastern Hampshire District Court in western Massachusetts. He was confined to administrative duties last year.
Had Estes sought to continue serving as a judge, he could have been subject to removal proceedings by the state Legislature and Republican Gov. Charlie Baker.
In a statement, a spokesman for Baker said, "The Governor believes his behavior is entirely inappropriate and is pleased he resigned."
Cagle's lawyer, Lenny Kesten, said Thursday his client was gratified by the court's decision to suspend Estes indefinitely, saying the justice "recognized that no matter how powerful you are, you cannot abuse the public trust."
With additional reporting from WBUR's Newscast Unit
This article was originally published on May 25, 2018.