Ancient Sturgeon Slowly Recovering In Lake Champlain, But Protection Efforts Still A Priority
05:40
Play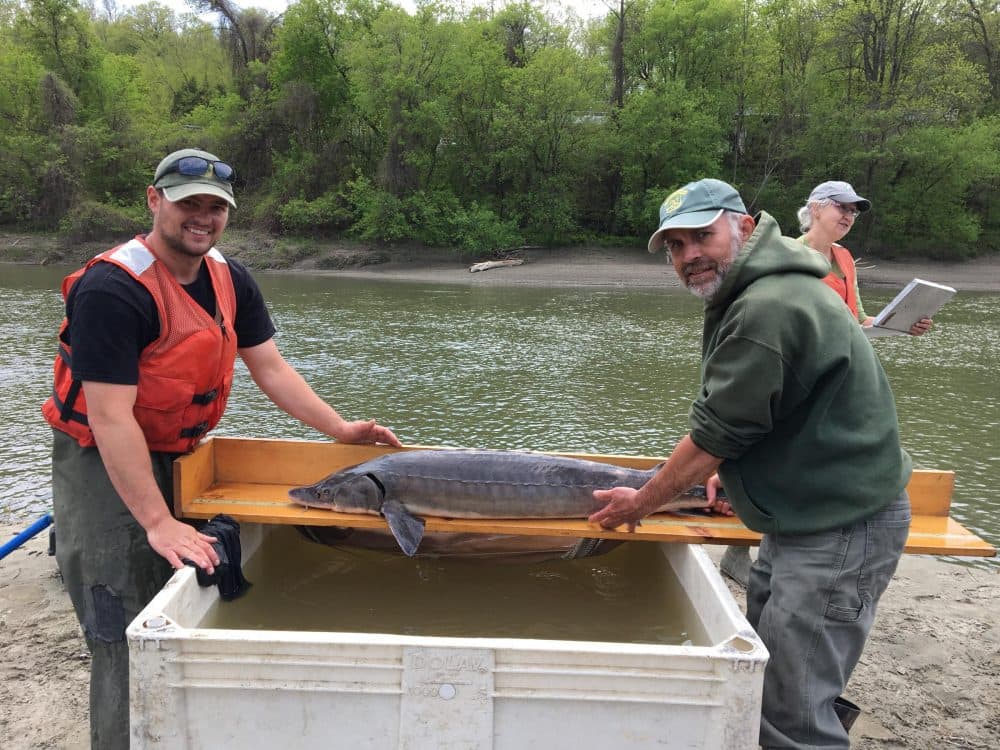 This article is more than 2 years old.
An ancient fish still swims in Lake Champlain. Biologists and anglers are seeing more giant, long-lived lake sturgeon here, even as an environmental group calls for greater protection for the species around the country.
Chet MacKenzie, with Vermont Fish & Wildlife, has worked with lake sturgeon for 20 years. When the fisheries biologist first began his research on Lake Champlain, all MacKenzie found were young fish and he wasn't sure they were still spawning in the lake's tributaries. The news these days is more encouraging.
"It's been kind of a wild morning," MacKenzie said last week as he eased an aluminum boat to the edge of the Winooski River near Burlington. Red buoys mark where the sturgeon spawn in the fast water below a dam.
"We picked up a dead sturgeon at the Heineberg Bridge that one of the wardens recovered, and brought that up," he continued. "And then this morning when we were setting nets, we had — the water was a little high — so we had a net drift on us. … As we pulled it in, we had a sturgeon there. We couldn't catch it because we didn't have the dip net with us."
MacKenzie has also used telemetry to locate two sturgeon upstream that are fitted with radio tags. The goal on this day is to see if he can find any more fish caught in the nets suspended above their spawning beds. It's part of a 20-year study of sturgeon populations in the lake.
Like any fishing, this task involves luck -- and timing. Retired biologist Madeleine Lyttle, who's here volunteering, and technician Taylor Booth both stand in front of the rocking boat and pull in a net that's held in place with anchors and buoys.
Vermont Fish and Wildlife Commissioner Louis Porter is also here, and it's his job to grab the big fish and get it on board.
MacKenzie lays out the plan for the team:
"If they say, 'we got a sturgeon,' you're going to be standing there with a dip net and you either hand it to one of them if they ask for it, or you run up and dip net the fish," MacKenzie said. "It falls apart if we get a second fish. I'm trying to drive the boat and keep us off the rocks. We got three one year, and it was a cluster."
The river is swift and murky. Lyttle and Booth haul up three nets, each one held down by a piece of railroad tie, but all they hold is sunken driftwood.
Then Lyttle cries out: "Got one!"
The boat lurches in the current as Porter reaches forward with the long dip net. After a minute of pandemonium, a 5-foot fish is alongside.
This sturgeon is a male. He hasn't been tagged before. So at a makeshift lab on an island in the river, MacKenzie inserts a tag and takes a tissue sample.
Sturgeon can live for a century, so it's quite possible MacKenzie, or the next generation of researchers, will catch this fish again — 10, 20 or even 50 years from now.
But their longevity has not guaranteed their survival. MacKenzie said just a 4 percent decline in their numbers can crash the entire population. That's because this fish takes its time to spawn.
"It's kind of like elephants," MacKenzie explained. "You know, these fish take 25 years to mature, and then you know, they live to be a 100 [years], and they only spawn once every five years. ... It doesn't take a lot being cropped off before you have problems."
Sturgeon evolved some 130 million years ago, but civilization has not been so kind. Dams blocked fish from spawning grounds. Overfishing added to the toll. But MacKenzie suspects that attacks by sea lamprey really pushed the Vermont sturgeon population over the edge.
He and Lyttle, who recently retired from the U.S. Fish and Wildlife Service, first worked on sturgeon research in the 1990s. They credit an aggressive lamprey control program with helping the fish recover.
"It's rare now to see a sea lamprey wound on a sturgeon. You remember some of those sturgeon," MacKenzie said to Lyttle.
"They looked like they were shot up with machine guns," Lyttle recalled. "It was awful."
Despite seeing more and more fish, MacKenzie said he can't really estimate their numbers in Lake Champlain. But that's the goal of current research, involving radio-tagged fish and identifying their spawning and winter holding areas.
"We're finding it's a lot easier to catch fish," MacKenzie said. "It's not just that we're learning. There seems to be more fish here."
Sturgeon are tough and tough-looking. They have leathery skin instead of scales, and they have bony plates for protection. Barbels on their snouts help them locate prey on the bottom.
MacKenzie is impressed by this hardiness of this species. He's surgically implanted radio tags into 24 fish and hasn't lost one. The procedure can take 15 minutes with only the fish's head in the water.
"Sometimes, the suture goes perfect and I'm done in five minutes — but I'm not a surgeon, so I'm doing my best," MacKenzie said. "So they are a rugged fish. But then again we had one dead right above Heineberg Bridge that was found this morning. Whether that was caught or something, we don't know. Whether it died naturally, we don't know."
Reports from anglers help the research. A fish caught in Otter Creek was the first sign that the fish live in that tributary. Yet some poachers are targeting the big fish. The biologist warned that lake sturgeon are still very much endangered, and they are protected under state law.
"Anglers providing us information if they incidentally catch a lake sturgeon has been critical," Mackenzie said. "But we're not encouraging anglers to fish for sturgeon. It appears some anglers are targeting sturgeon, and that's clearly against the law and we don't want that to happen."
While the lake sturgeon is classified as an endangered species under Vermont law, the environmental group Center for Biological Diversity wants federal protection as well. The center last week asked the U.S. Fish and Wildlife Service to list the fish as 'threatened' under the Endangered Species Act or "determine whether there are distinct populations of lake sturgeon that warrant separate listing."
The group says habitat loss, pollution, overfishing and climate change all threaten the fish in its traditional range in Midwest river systems, through the Great Lakes, and in the St. Lawrence River basin that includes Vermont.
The Center for Biological Diversity's Mollie Matteson is encouraged by the recovery of the Vermont population, but warned against complacency.
"It's an incredible long-lived species, [with] very slow reproductive rates," Matteson said. "So it's important to not draw quick conclusions from, you know, the fact that people are either seeing more or reporting more right now."
Back on the Winooski River, the caught 5-foot male sturgeon has been tagged, inspected for lamprey wounds and is now ready to swim free.
MacKenzie pilots the boat out in the stream. He wants to return the fish near a University of Vermont research site, so the scientists can use this individual to calibrate their underwater equipment.
"How about, like, right around here?" MacKenzie called to his colleagues as he guides the boat near the buoys.
The crew eases it into the water. The fish sinks slowly, then disappears as it swims upstream.
Disclosure: Vermont Fish & Wildlife Department is a VPR underwriter.
This story was first published by Vermont Public Radio and comes via the New England News Collaborative.
This segment aired on May 28, 2018.