Under The Shadow Of Slavery, Brookline Debates Renaming A School
Resume
Right now, the Edward S. Devotion School — one of Brookline's largest K-8 schools — is in the middle of a $120 million rebuild.
At the center of its Harvard Avenue campus, the yellow "Devotion House" stands as the lone remnant of an 18th-century estate.
When Devotion students return to the campus this fall, that yellow house will remain. But everything may well have changed around it — not just the school's floor plan and look, but its name and the town history to which it pays tribute.
On Tuesday night, Brookline's town meeting will vote on a warrant article that would change the school's name, prompted by the recognition that its namesake, 18th-century landowner Edward S. Devotion, owned at least one slave.
The article's language suggests changing the school's name to honor Roland S. Hayes, a pioneering African-American opera singer who lived in Brookline, or "some other appropriate name consistent with 21st century values and the Town's commitment to diversity and inclusion."
Since it was first raised, the name change has gained popularity in Brookline. But it has also sparked resistance — and a sometimes-fiery debate about memory, race and merit in the liberal town.
'Hidden Brookline'
Two women are behind that proposal: attorney Deborah Brown and school nurse and Devotion parent Anne Greenwald. I met them outside the little yellow house, which today stands as a museum to Brookline's earliest history and, now, to the prominence of slaveholding in that time.
For Brown, it started with a Google search: "It was kind of an accident. I'm a bit of a compulsive reader and it was like, 'Oh, "Hidden Brookline" — what's this about?' "
"Hidden Brookline" is a 10-year-old effort on the part of the town's government to look into its relationship with slavery. It found that relationship was profound. In the middle of the 18th century, about a quarter of Brookline households included at least one slave.
One of those households belonged to Edward Devotion, who died in 1744. In an inventory of the Devotion estate taken after his death, amid a count of acreage and household supplies, there are those two painful words: "one Negrow," valued then at £30.
Brown, who is African-American, has lived in Brookline for almost 18 years. Still, what she saw on "Hidden Brookline" surprised her.
"I knew about Brookline's relationship to the Underground Railroad. But I did not know about its relationship to slavery,'" Brown said. "Hence the 'Hidden.' "
It's an awkward fact for a town that takes pride in its reputation for diversity and open-mindedness. The trouble is that Edward Devotion was also an early member of another proud Brookline tradition: valuing public education.
In his will, Devotion stipulated that whatever remained of his wealth after distribution to his wife, church and grandson should go "toward building or maintaining a school as near the center of the said town."
As it happened, the town of Brookline didn't use that bequest to build a school anytime near Devotion's death. But when they finally did build a school on the former Devotion estate 150 years later, they gave him the honor of its name.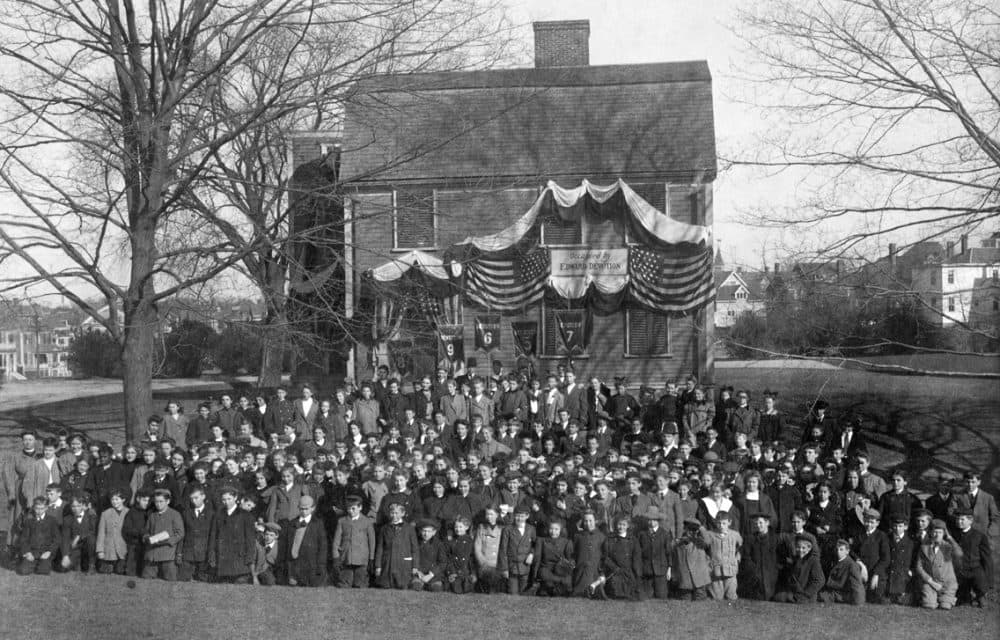 Brown says at first she struggled to get people to take the prospect of a change seriously. Then she teamed up with Greenwald, whose connection to the school runs deep.
Greenwald's children went there, her husband teaches there, and she was once president of its PTO. But even she didn't know the secret of its namesake — in part because Devotion is something of a mysterious figure.
"What more do we need to know?" Greenwald said. "He enslaved somebody."
Various community members say they feel the same way. (Brown and Greenwald say they are "cautiously optimistic" that their measure will pass Tuesday night.)
Bill Schechter, a history teacher and Brookline parent, points out that Devotion lived down the road from Samuel Sewall, one of Massachusetts' most prominent jurists in his day.
Sewall himself was not perfect: He famously had to atone for his role presiding over the Salem witch trials. But, Schechter noted, he also composed "The Selling of Joseph," an early antislavery tract, in 1700.
"It's very difficult to explain to a third-grader, or a fifth-grader, why they should be proud to go to a school named after a slaveowner," Schechter said.
The Meaning Of 'Devo Pride'
Not everyone in town agrees that the change is necessary — not even everyone in in the Devotion community.
"Devo," as it's known, has a long history; John F. Kennedy attended as a boy. And so some community members have bridled at the idea of changing its name for political purposes.
Like Phil Michelson, a TV and film producer who lives in Brookline. He went to Devotion in his youth, and two of his three kids currently attend the school.
"When I'm in Los Angeles and I meet somebody: 'Where you from?' 'Brookline.' 'Where'd you go?' 'Devo.' That means something!" Michelson said. "That says something about you: where you live, who you are, who went there before you."
Michelson and others have entertained the idea of a compromise: dropping "Edward" from the school's name, and letting "devotion" stand for something new.
"What Devo pride is to me is the teachers — who show up with a lousy contract, yet who go to work every day and try to give our kids the best education possible," Michelson said.
In online debates about the name change, Michelson says he's adopted the slogan, "Face it, don't erase it."
Dropping "Edward Devotion," Michelson says, might be considered a token gesture — made in dereliction of real 21st-century problems.
"We should care more about the fact that when young black kids go to The Gap, they might get racially profiled," he said. "Or if a black man drives to Brookline down Harvard Street, he's more likely to get pulled over by the cops."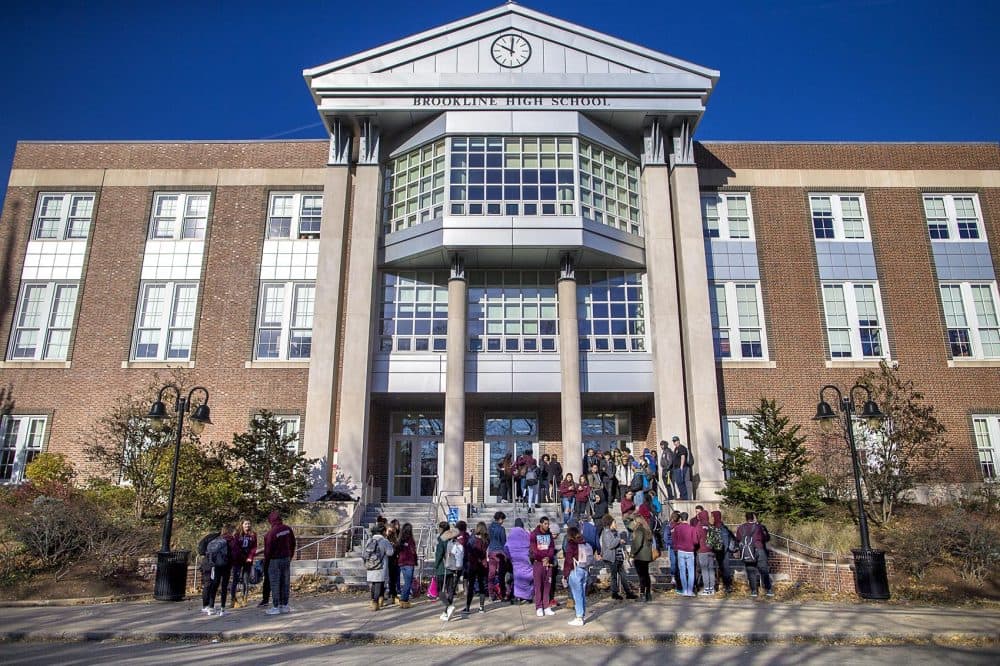 Earlier this school year, black and Latino students marched out of Brookline High School after the repeated use of racial slurs by other students. They argued, in effect, that Michelson is right — that reputedly progressive Brookline does display certain systemic biases against people of color.
But for Brown, the fact that many black Brookline residents feel "less than" is an argument for the name change, not against it.
"This is a step," she said. "I would argue that it's a big step, based on some of the resistance that we experienced. But you know, I think you have to start somewhere."
And this first step isn't an act of erasure, Brown argues. The yellow "Devotion House" will remain open as a museum. She says she hopes "it's open often enough that anyone can walk in, and they can learn about Brookline. And not just that glossy Brookline that people want you to hear about — but warts and all."
Greenwald says she understands what some alumni are going through as a process of "grieving." But she also has a message about the core of their "Devo pride."
"It's the community that people have, and the memories, are always there," she said. "It's not the name per se."
In the spirit of inclusion, Brown and Greenwald now say they aren't pushing for any particular new name for the school.
If the motion passes Tuesday night, they say they'll want to start a new conversation — about finding a person that diverse, sometimes divided Brookline agrees is worthy of the honor.
This segment aired on May 29, 2018.