Calling For Higher Minimum Wage, Anti-Poverty Protesters Block Traffic In Downtown Boston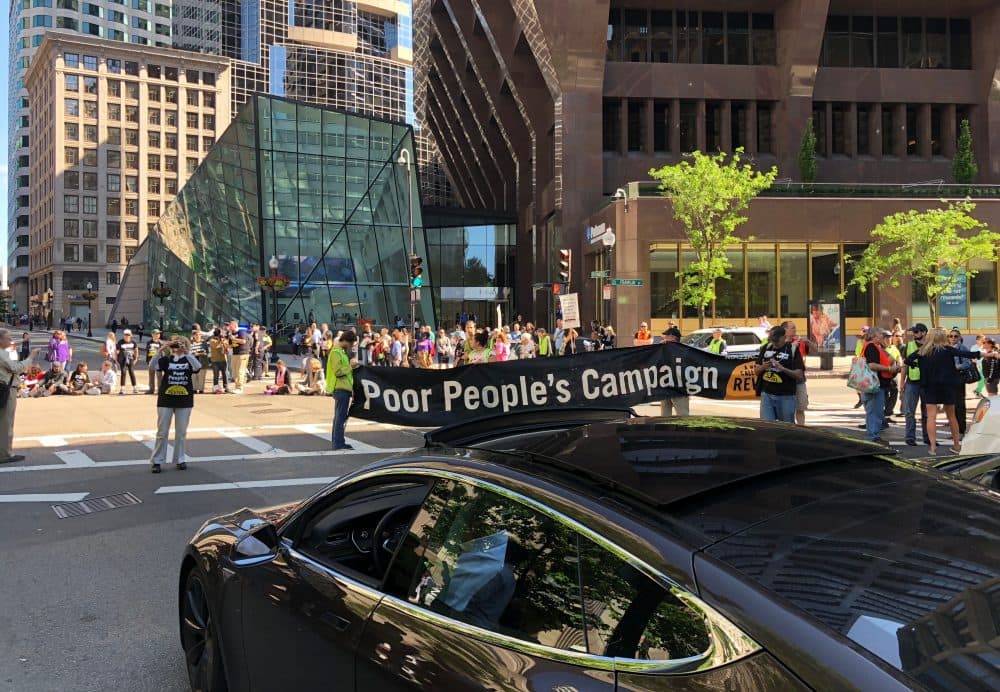 This article is more than 4 years old.
Calling for a higher minimum wage and other priorities, activists with the Poor People's Campaign shut down an intersection in Boston's Post Office Square on Monday afternoon, sitting down in the middle of Congress and Franklin Streets.
The protest came during week five of a six-week movement to revive the equality campaign that the Rev. Martin Luther King, Jr. launched before his death 50 years ago. Some demonstrators may be arrested.
"I'm mad. We got a lot to be angry about," said Valerie Copeland, who represents SEIU Local 509 and spoke outside the State House. "There is a war against poor people."
In Post Office Square, in the heart of the Financial District, chants competed with honking horns. The civil disobedience inspired a range of responses from passersby and those in the traffic jam it caused.
"I think it's awesome," said Todd Jamieson, a Roxbury resident who was walking by. He said, "People are struggling, but they're so caught up in their everyday lives."
A tour bus full of tourists was chagrined by the gridlock and unsympathetic to the goals of the activists.
"Let them get a job. Get off of welfare," said a man who said he is visiting from Maryland and declined to provide his name.
"Minimum skills. Minimum wage," said another woman on the bus.
The full agenda of the Poor People's Campaign has not been finalized, according to the Rev. Vernon Walker, of the Boston Rescue Mission. The campaign teamed up Monday with Raise Up Massachusetts, which is pushing for passage of three questions on the November ballot: a $15 minimum wage; paid family and medical leave; and a surtax on incomes over $1 million to fund education and transportation.
About 45 minutes after sitting down, at 4:40 p.m. the protesters continued to hold the intersection.
Walker said he is unconcerned the hassle experienced by drivers would sour them on the protesters' goals, and said the idea is to inform as many people as possible about the campaign. About 15 minutes after the intersection was shut down, cars cleared out of Congress Street and police blocked off the area to traffic.
Bob Massie, a Democrat who is running for governor, attended the portion of the protest on Beacon Hill and joined in as some of the demonstrators sang a protest song at its end. From the State House, the group marched to the Retailers Association of Massachusetts, which opposes the Raise Up ballot questions and is backing a different ballot question to lower the sales tax from 6.25 percent to 5 percent.
Raise Up last week accused the retailers association of holding up a potential compromise by insisting on "anti-worker changes" such as a sub-minimum wage for teenagers and changes to the law requiring time and a half pay on Sundays.
"We will continue to work with Beacon Hill leaders and anyone else who seeks balanced public policy, which will allow small businesses to continue to serve their customers, employ their workforces, and to compete in the 21st Century," Jon Hurst, president of the retailers association, told the News Service in an email.
Calling for a decrease in military spending and assurances of basics like food, housing and health care, demonstrators on Monday used dramatic and martial language to describe their struggle.
"Demons in high places," the Rev. Laura Reyes intoned before the marchers set off. She told them they were going "into the war zone."